The 6th Sports Hub Community Play Day, participants of all ages can look forward to an action-packed weekend where you can take part in a series of obstacle course to test your own "warrior skills". It is a whole day, fun-filled events on 16 September from 9am to 7pm inside the National Stadium. All activities are FREE for the public. 
We visited Sports Hub and there are many families and participants taking part in various activities under the canopy of the world's largest free-spanning dome. The nice weather puts us in a good mood and all ready to take on the challenges.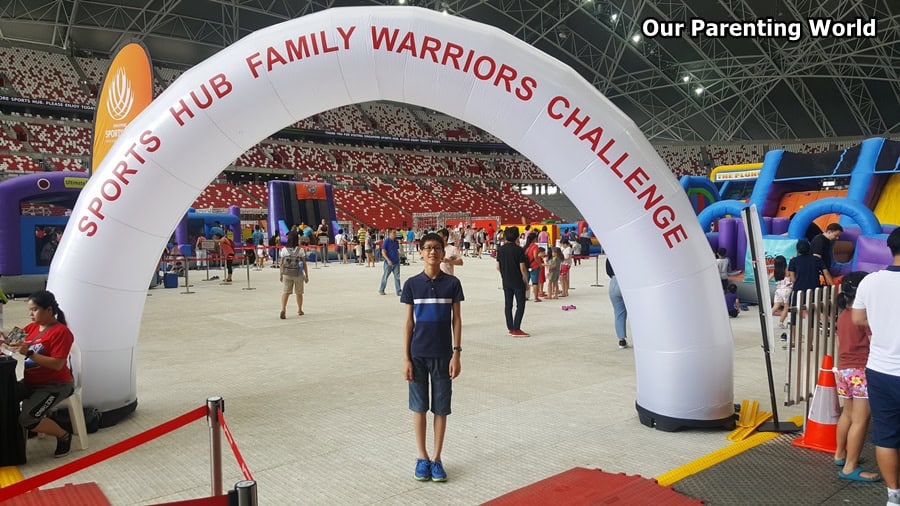 There are a variety of activities to take your physical limits including the Warriors Obstacle Course, Warriors Fitness Party, Fun Stepper, Sports Tryouts and Basketball Clinics with Singapore Slingers.
Sports Hub Community Play Day will feature for the first time an obstacle course on the stadium grounds, the Great Eastern Warriors Challenge where participants can look forward to tackling obstacles such as Fence Climb, Tyre Trouble, Rubber Burn and more. This adult-only challenge is designed for thrillseekers who want to test their physical limits. 
You can also stand to win a mystery prize when you participate in the Sporting Heroes Mystery Hunt & Book Recovery Mission!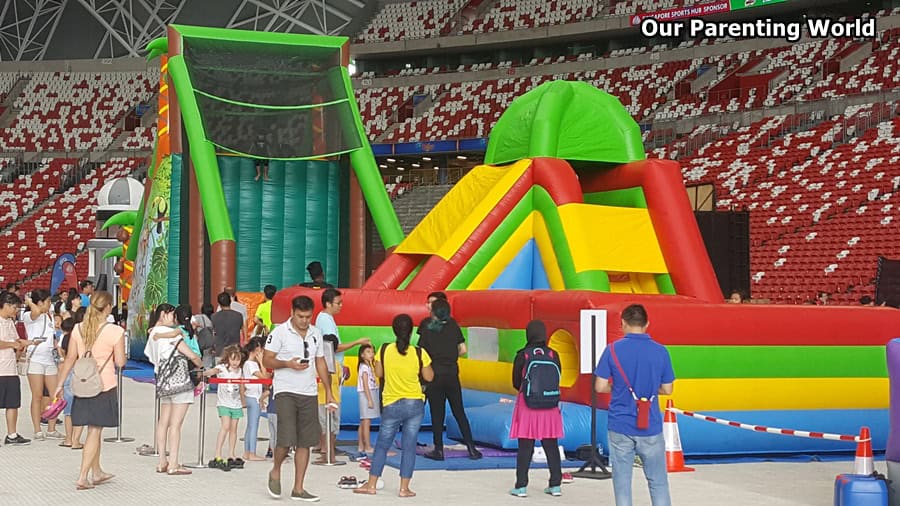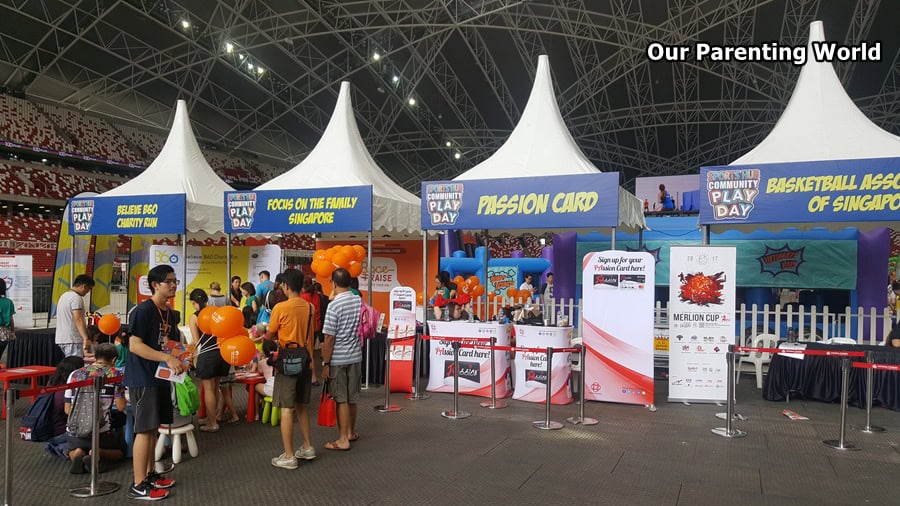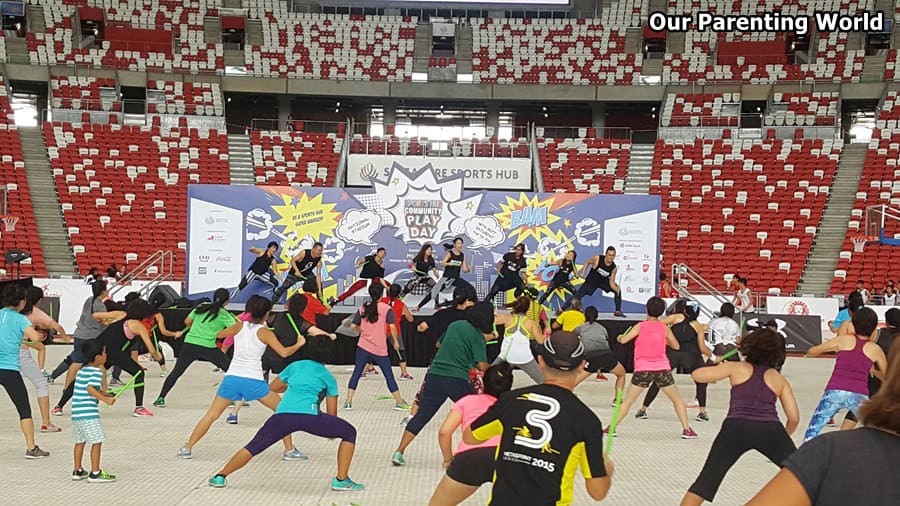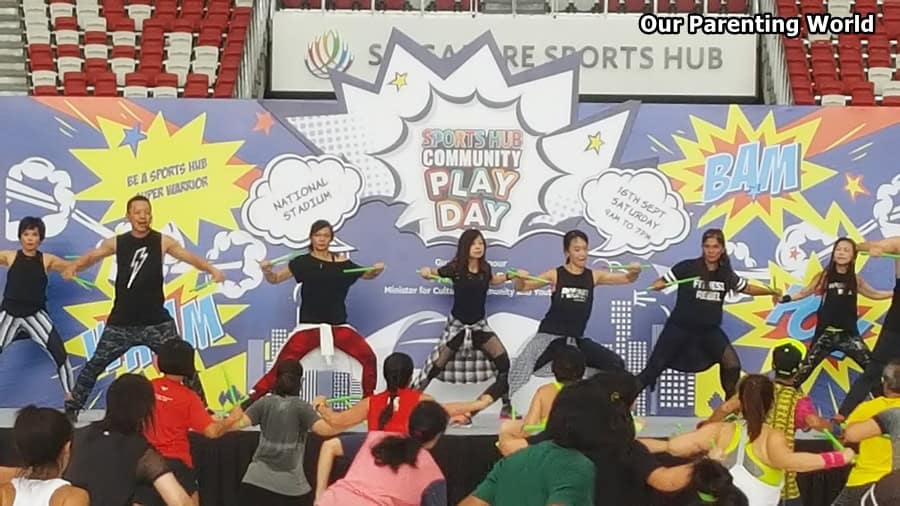 Kids are so excited when they see the giant inflatables that they immediately wanted to check that out! We joined in the Warriors Fitness Party for non-stop adrenaline pumping mass workouts which include Cardioblast and Zumba, to Pound Fit and Step Board to workout and burn our calories away! 
Other activities available include families and friends will be able to enjoy a lunchtime movie screening where free popcorn will be given out, as well as face-painting, food and drink sampling activities. Enjoy exclusive promotions by Great Eastern and the Women's Tennis Association (WTA). There are plenty of activities to participate in like the Fun Stepper where you can step up and conquer over 2,000 steps, learn how to play various sports like tennis, zorb ball soccer, and surfset at the Sports Tryouts station. 
Basketball Clinics with Singapore Slingers is very popular where you can learn basketball skills from the Singapore Slingers, what's more, stand a chance to win attractive prizes at the meet & greet sessions! Fans are able to meet and greet the Singapore Slingers basketball team, who will be playing in the upcoming Merlion Cup at OCBC Arena from 20 to 24 September 2017. 
The Sports Hub Community Play Day is a quarterly community engagement initiative aimed at bringing the community together and encouraging a more active lifestyle through sports and recreational activities.
Mr Oon Jin Teik, Acting Chief Executive Officer of the Singapore Sports Hub shared that "First launched in June 2016, the Sports Hub Community Play Day initiative has since drawn close to 70,000 attendees to date. This reinforces Sports Hub's commitment to building stronger community bonds and more active lifestyles. Together with our community partners, we aim to continue the focus on keeping fit through innovative and fun ways. This Saturday, we invite members of the public to join us for a day of fun."
Sports Hub Community Play Day
The Sports Hub Community Play Day is a full day of play, where everyone in the community is invited and encouraged to discover, rediscover and participate in sports and sporting activity with a view to adopting an (even more) active lifestyle.
Held quarterly, the Sports Hub Community Play Day also encourages patrons to discover and participate with the various facilities and activities available at the Sports Hub respectively, thereby aiding in the pursuit of active lifestyles. Each Sports Hub Community Play Day is held in a different location within the Sports Hub campus, thereby presenting different aspects of the Sports Hub in addition to the activities held at that particular facility or space.
To find out more about The Sports Hub Community Play Day and to stay updated to its latest events,  Please visit the Singapore Sports Hub:
Website: www.sportshub.com.sg
Facebook: sporesportshub  
Twitter: @sgsportshub
Instagram: sgsportshub