We have heard so much about fabric made from bamboo but have yet to try, we are delighted when we are introduced to Bebe Bamboo™ founded by Meiyan, a mother of 4 in October 2014.  She started her business as an online retailer and quickly became a distributor of several baby brands in Singapore, Malaysia and Indonesia. 
Being a mother and inspired by her brand principles, she started her own branding, Bebe Bamboo™ with useful products that sells an eco-friendly range of products made of bamboo which includes bath, bedding and clothing. In early 2015, Bebe Bamboo™ was awarded its first Parents World award for the most natural and super absorbent baby hooded towel. The recently introduced range of products are even bigger and better and still delivers the same high quality and comfort set out to produce from the beginning. She continues to draw inspiration from children and their parents and hopefully, adults' range will be available real soon.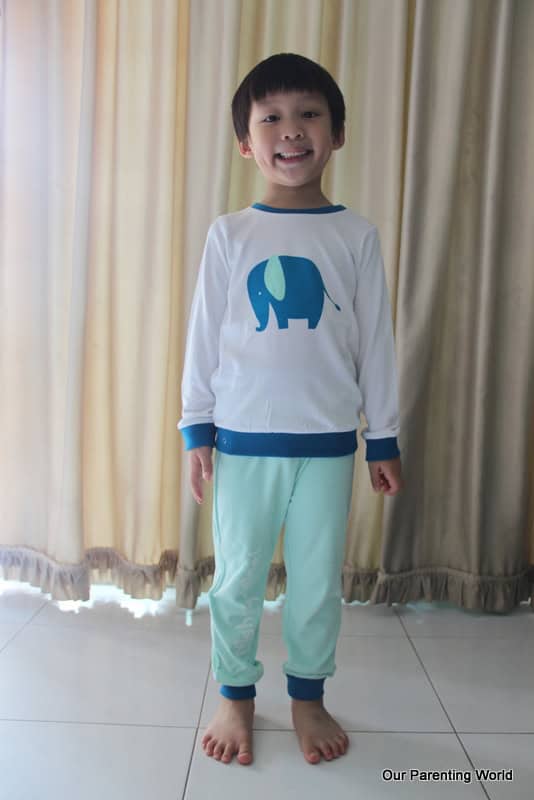 Front part of Snap Waist™ Pyjamas – Elly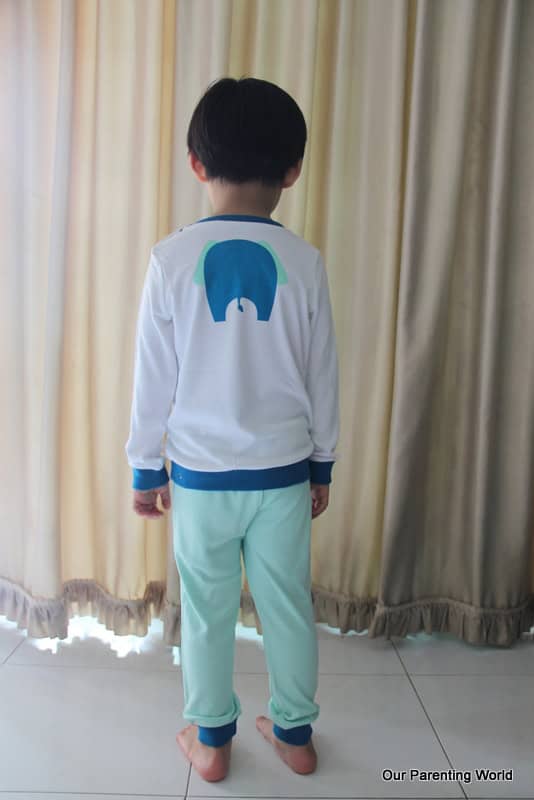 Back part of Snap Waist™ Pyjamas – Elly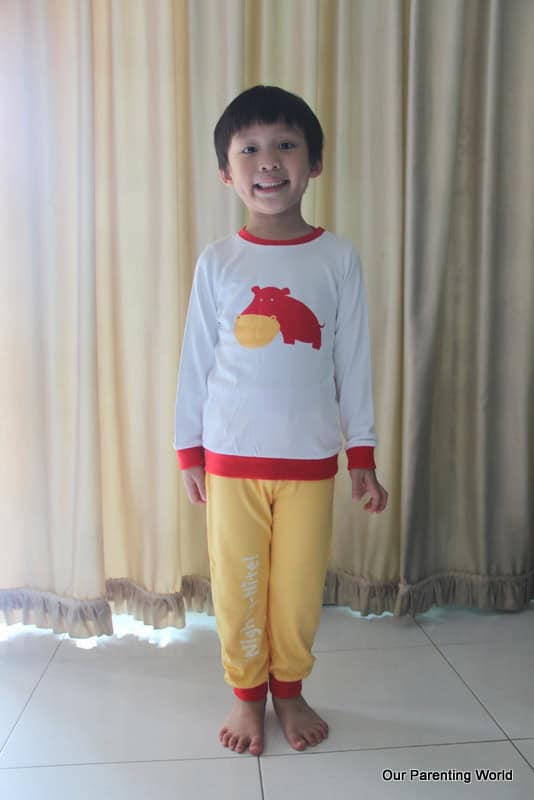 Front part of Snap Waist™ Pyjamas – Hippo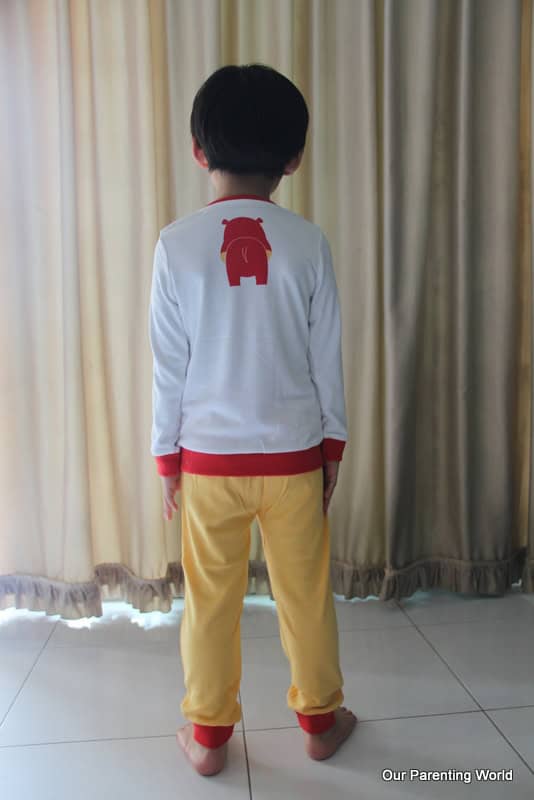 Back part of Snap Waist™ Pyjamas – Hippo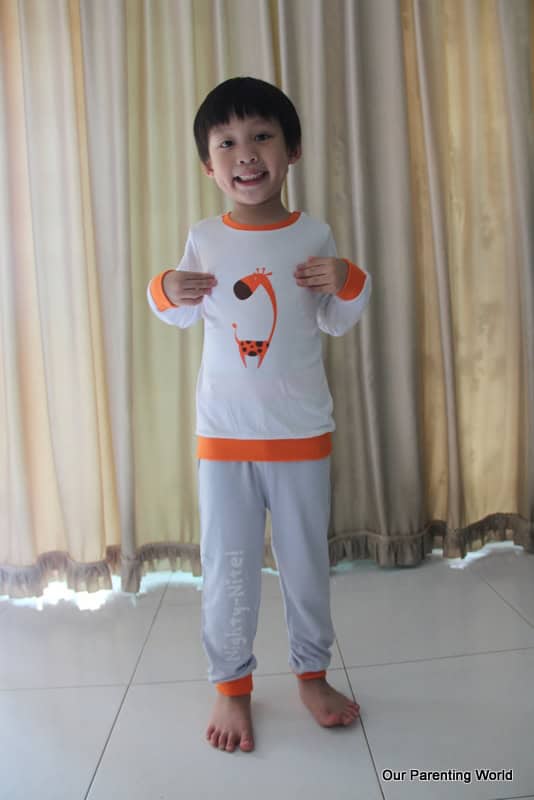 Front part of Snap Waist™ Pyjamas – Giraffe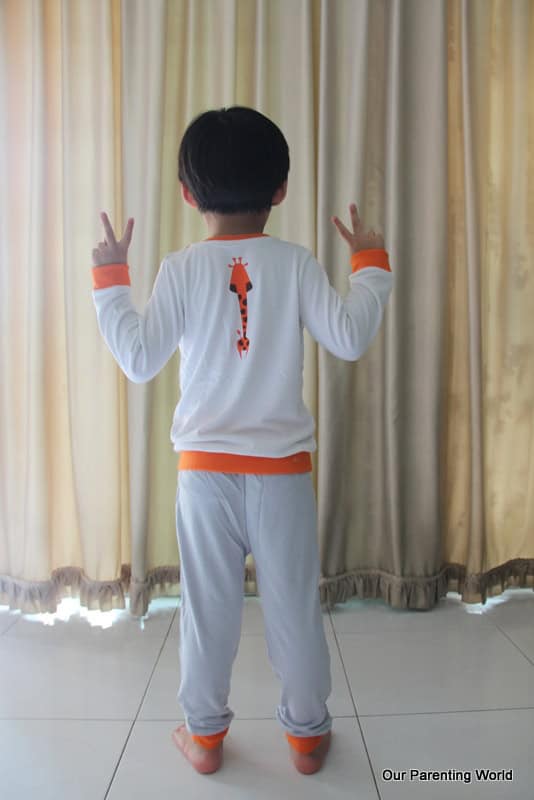 Back part of Snap Waist™ Pyjamas – Giraffe
Finding the right pyjamas and choosing the right one is very important for our little ones to have a good night sleep. Bebe Bamboo™ range of pyjamas include adorable pictures of Elly, the elephant, Hippo and Giraffe at SGD$39 each.
The materials is very soft made of 70% Viscose from Bamboo, 30% Organic Cotton (Oeko Tex Standard 100), it is absolutely comfortable and light. There are many advantages of using bamboo fabric, if your child has sensitive skin or allergy prone skin, it has anti-bacterial and anti-fungal properties that are gentle on the skin. It has thermo control abilities that on hot days, the material is breathable, able to stay 2 to 3 degrees cooler in hot temperatures and warmer in cold temperatures if you choose to sleep in air-conditioned room. 
Our little boy doesn't feel hot wearing the pyjamas, he likes the soft feel of the material, it is comfortable and cooling without making his skin feels sticky because of the hot weather. He also like the cute animals designs that comes with front and back of the animal for his pyjamas. Bebe Bamboo™ comes with specially designed Snap Waist™ pyjamas that prevents the top part from rising up and expose belly when your child sleeps.
We have washed and used the pyjamas many times while trying out the products, they are very easy to wash and dry quickly. It has less shrinkage than cotton and does not pill. Bamboo fabric is often described as feeling like pure cashmere. The pyjamas still look good and the bamboo fabric can prevent foul odor after each wash.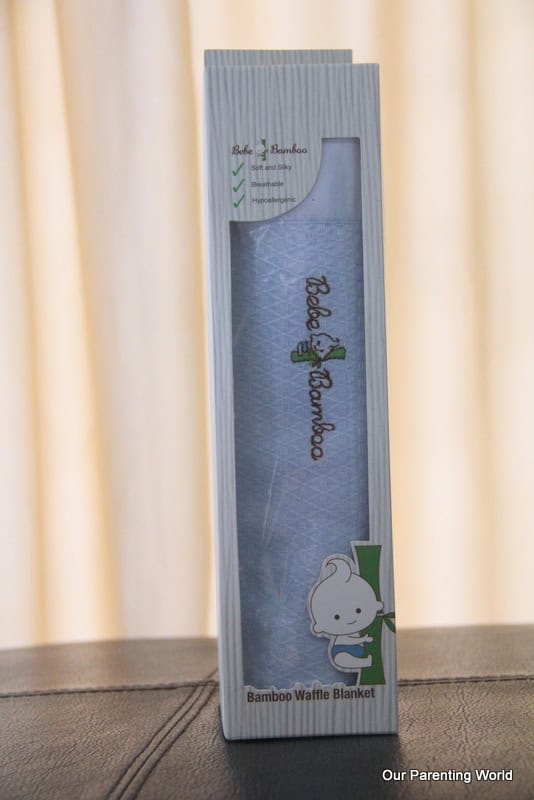 Bamboo Waffle Blanket that comes with 3 colours: Blue, Green and Pink priced at SGD$35 each.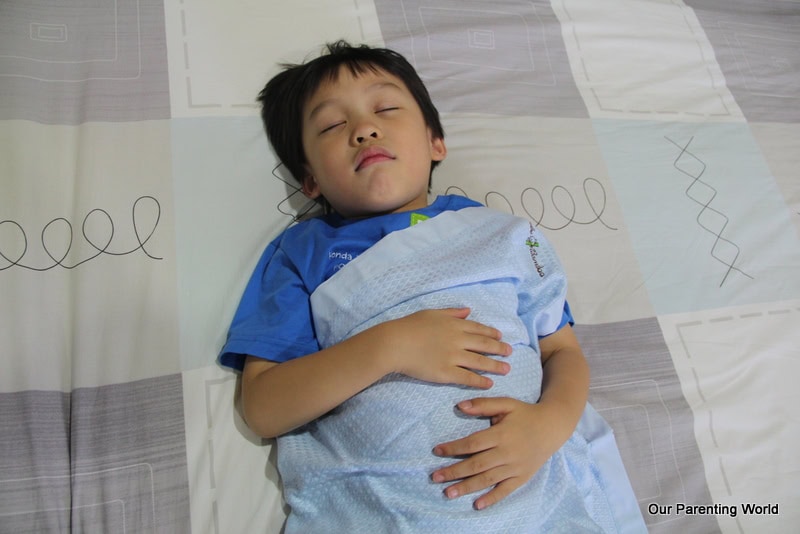 Bebe Bamboo™ Bamboo Waffle Blanket made with 100% bamboo (Oeko Tex Standard 100), a natural fiber is luxuriously soft and ultra comfortable. Our little boy usually doesn't like to cover himself with a blanket in this hot climate but he doesn't mind using Bamboo Waffle Blanket. The material is very light and he doesn't feel hot using it. We are happy to know that he enjoys snuggling into his blanket and falls asleep with it.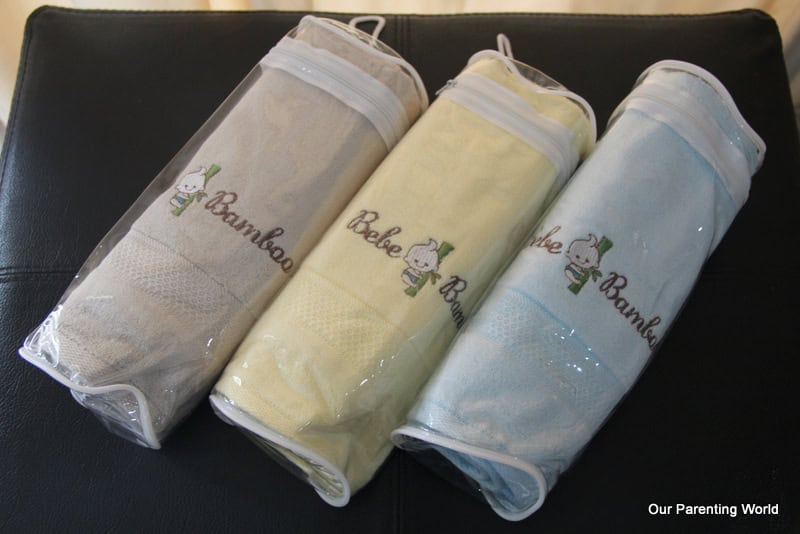 100% Bamboo Kids Bath Towel in a set of 3 at SGD$75 or you can choose to purchase Gray, Buttery Yellow or Blue towel at SGD$29.50 each.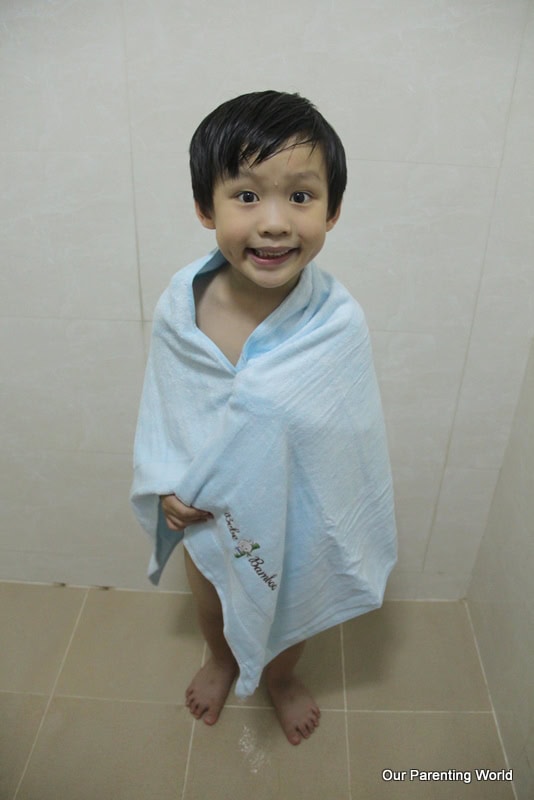 Using bamboo fabric bath towel made of 100% Bamboo (Oeko Tex Standard 100) ensures that it is soft and gentle on the skin and with its anti-fungal and anti-bacterial properties will resist and prevent mold, mildew, bacteria from growing and it is odour free. Bamboo fiber is naturally anti-microbial with no added harmful chemicals. It contains an agent called "bamboo kun", that prevents bacteria from cultivating on it.
Sometimes, we see little bad dots on our towels, we realised those are bacteria growing which is common in our hot climate. You can prevent that by using bamboo fabrics towels.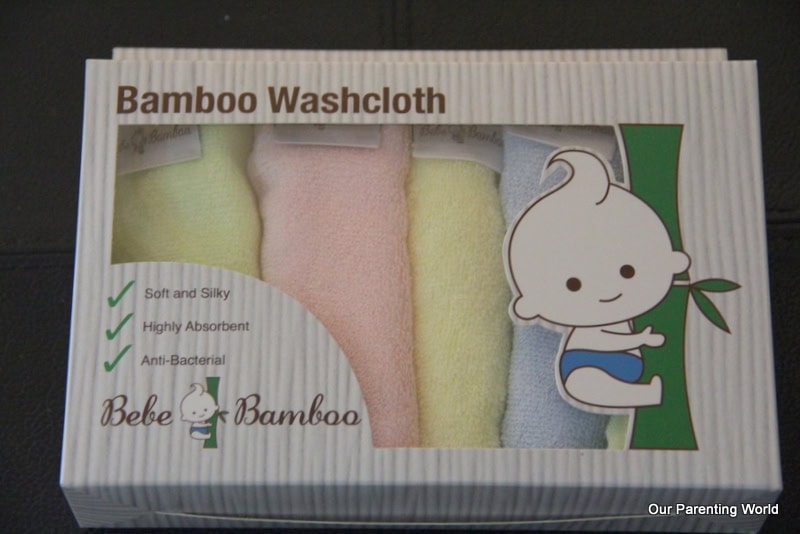 100% Bamboo Washcloth made with 100% bamboo consists of 5 washcloths in different colours in one box at SGD$25.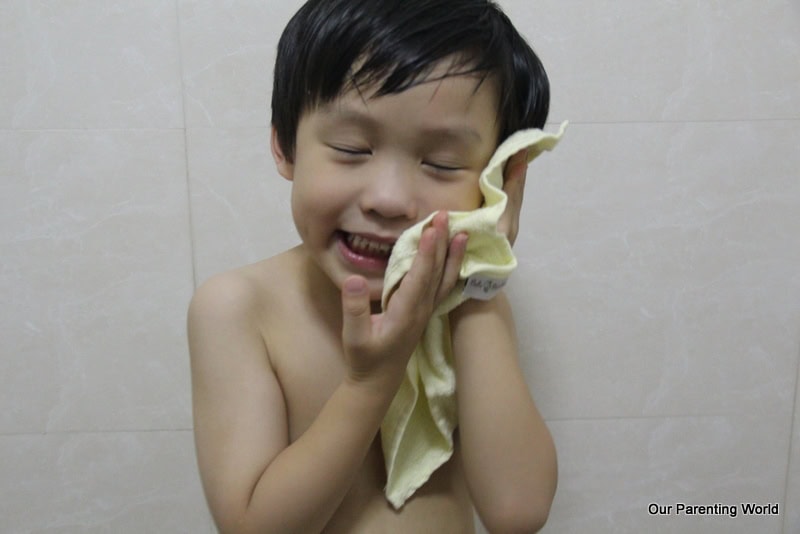 Our little boy loves using the bamboo washcloth to wash his face! They are very soft and safe to use on his tender skin, it is perfect for young and sensitive skin. You don't have to worry about bacteria growing and having to spread bacteria all over your face when you used the washcloth with bamboo fabric materials. 
In addition to its many benefits, we can protect the environment by using bamboo as pesticides and fungicides are not used on bamboo, it is hardly eaten by insects or infected by pathogens. Bamboo is a sustainable resource as it grows rapidly without the need for irrigation, chemicals or pesticides. Bamboo gives more oxygen and removes harmful chemicals from the air. Farmers can earn more per square metre than many other crops with its rapid growth. 
Bebe Bamboo™ products are Oeko Tex 100 certified – an industry standard given at point of manufacture. They are also CPSIA compliant – lead and phthalate free, flammability tested (USA regulation for children product safety).
With all the benefits of using bamboo fabric and protecting the environment, why not try out the extensive range of quality bamboo products from Bebe Bamboo™ for your children at http://bebebamboo.com
Bebe Bamboo™ is 1 year old and it will be launching 2 products : Bamboo Muslin Swaddles and Bamboo Non-Skid Socks at Baby Market Fair 2015.
Visit Bebe Bamboo™ at Baby Market Fair 2015 at Singapore EXPO for fantastic discounts from  9 to 11 October 2015. Please click HERE for more details.