Thinking of learning music?
Check out Believer Music where it makes learning music possible for everyone regardless of your age from children to adults.  Whatever your preference in music is, Believer Music offers a wide range of music courses from Keyboard, Drums, and Vocal Singing lessons. There are music lessons cater for children and adults for Electric Guitar, Cajon, Ukulele or Guitar classes. Parents can even join in the class and learn together with their kids. 
Believer Music  provides 'genuine opportunity for everyone to Play Music For Real' and specializes for total beginners of all ages.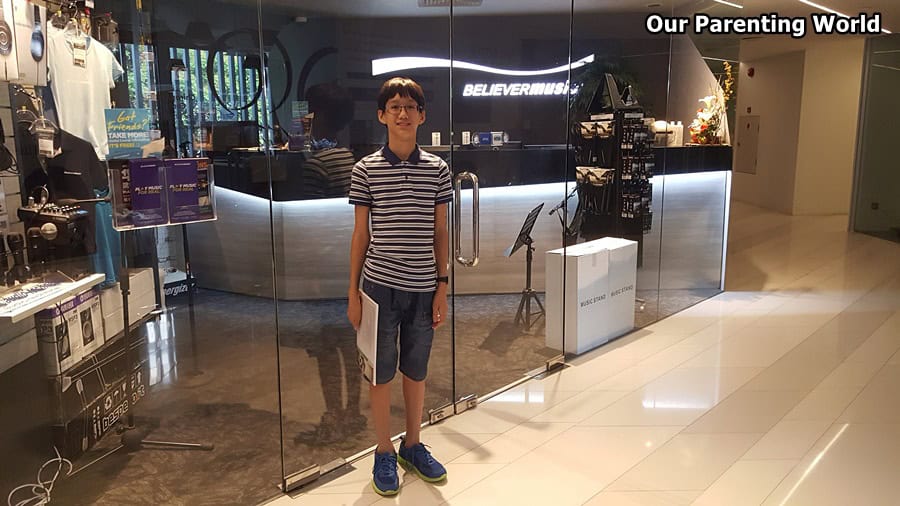 Our boy loves music. He always has a keen interest in music and he is excited to visit Believer Music to learn to play a contemporary musical instrument, guitar!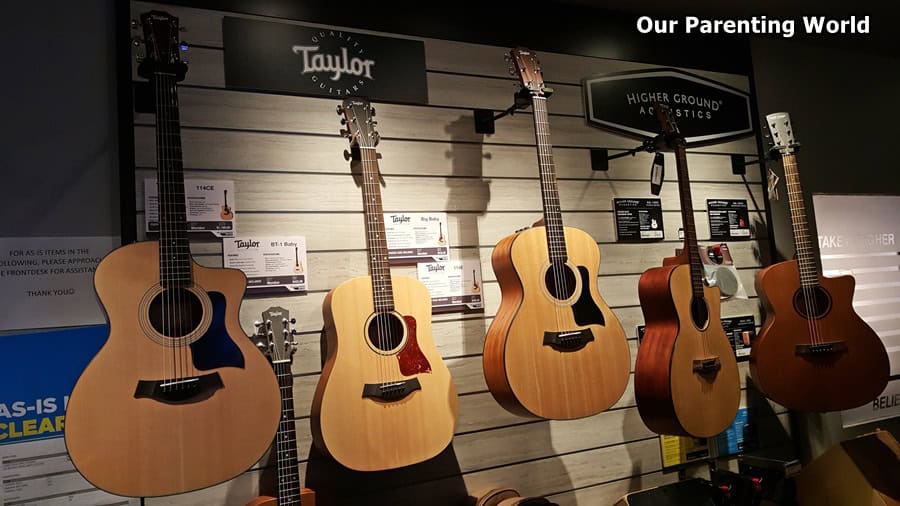 Believer Music has three branches at Tampines Plaza, International Plaza and One CommonWealth  all conveniently located near to a MRT station. We took up our guitar class at its flagship branch at International Plaza located directly beside Tanjong Pagar MRT station (Exit C) along the East West Line.
Believer Music is the leading executive music training centre in Singapore which features state-of-the-art studios with a 1,600 weekly capacity enrollment, providing learners with the optimal training environment for a truly genuine learning opportunity.
You can experience consistent, solid musical instruction that will take you higher and deeper into your musical journey. Believer Music has been around for 18 years and growing with over 20,000 members, it continues to transform and impact thousands with the power of music focusing on training for beginners in contemporary music covering: Guitar, Keyboard, Electric Guitar, Drums, Cajon, Ukulele and Voice.
It also sells a wide range of musical instruments including their own line of instruments under its brand name.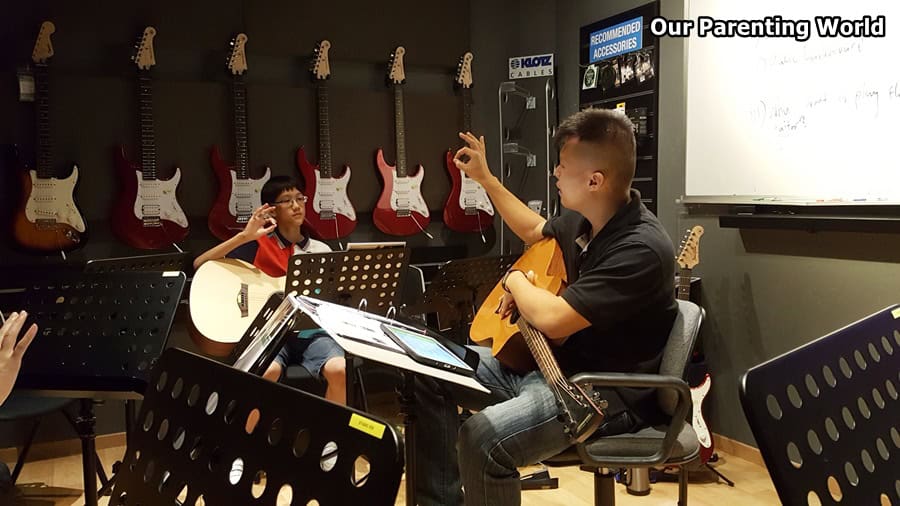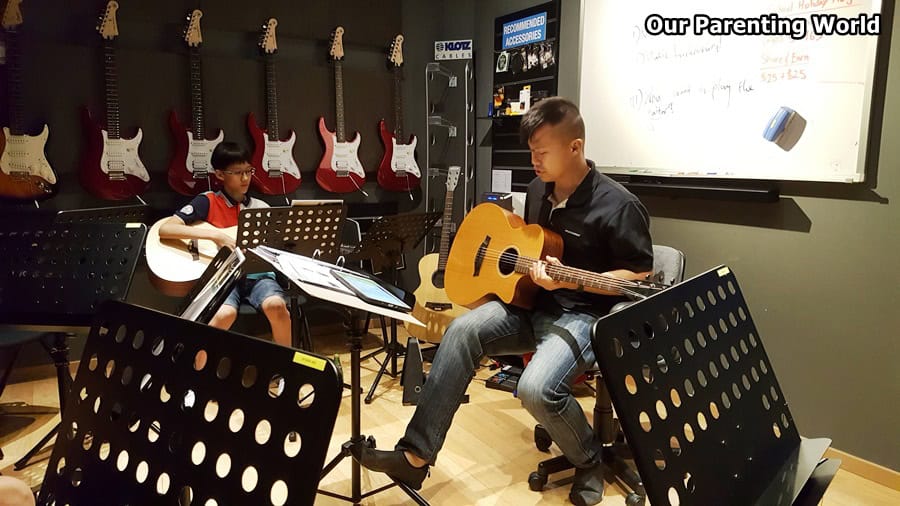 Our boy has no background in guitar and he managed to pick up quickly under the guidance of his friendly and attentive coach. The class is kept small and the coach is able to pay more attention to the students. Very soon, he has picked up the basic guitar chords, he is strumming away and singing along with his coach. 
The Contemporary Guitar Program™at Believer Music is designed to equip individuals with the proper techniques to play and sing casually for both individual and social enjoyment. 
The classroom is cosy and a comfortable environment to learn music. You can choose to bring your guitar and borrow one of the guitars from the classroom. 
"I enjoy learning from my coach, he makes the lesson very interesting, he shares stories and sings along with us. He is very friendly and patient, teach me the right techniques and I manage to pick up guitar very fast! He made learning guitar so easy. I am able to play a complete song within a short period of time. My parents are very impressed!"
Contemporary music for the family maybe something new for some families as most would think of learning music as classical training for their kids. Learning music is not just about taking exams but it is more for enjoyment and picking up a new skill like for our boy, he enjoys learning music and wants to learn to play different types of musical instruments. We do not wish to stress him further by taking up more exams so going to Believer Music satisfies his desires to learn new musical instruments. He does not need to practise really hard in order to prepare and sit for exams like classical piano or violin.  
Our hope is for our kids to learn and play music which is more of an enjoyment or a recreational activity. Most importantly, he can have fun, pick up new musical skill and enjoy the learning process! 
Believer Music Contemporary Guitar ProgramTM
Contemporary Guitar ProgramTM  Level 1 is a 7 weeks course and each lesson is an hour long, this is specially designed for beginner with no background. The course will cover the basic in strumming and chords and bypassing the tedious routine of conventional music courses, play and sing radio hits of the past and present. The main theme centers on THE STORY OF MANKIND: The Pre-Historic Age explores the early developments of humanity. Draw strength from the examples of early man as you witness the human spirit and will in action. 
If you would like to learn music, it is never too late! Visit Believer Music, it has so many courses for you to choose from Keyboard, Drums, Vocal Singing lessons, Electric Guitar, Cajon, Ukulele, Guitar classes. It has classes for kids aged 7 to 12, to 60 years and beyond. Believer Music made lessons stress-free, fun, affordable and easy to achieve and what's more you can have an enjoyable time, learn music and make new friends!
Believer Music's upcoming School Holiday Program
School holidays is coming, check out its School Holiday Program at https://playmusic4real.wordpress.com/2017/10/01/school-holiday-program/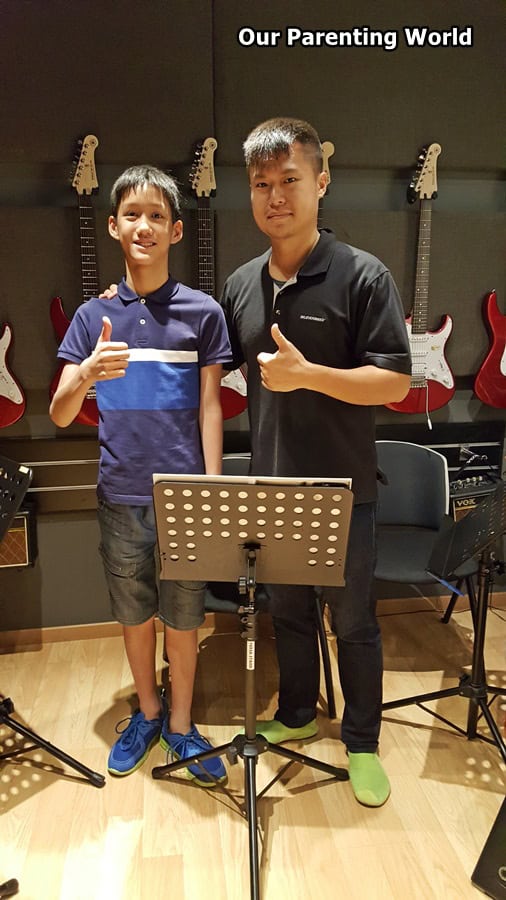 Believer Music (BM) makes learning music easy and enjoyable for everyone and here's why:
1) This is the only school that will offer make-up lessons at no extra charge so you don't have to worry if you can't make it when unexpected things pop up and you can't make it for class. 
2) Believer Music has three branches and you can use its Inter-Branch Make-Up Scheduler, you can attend classes at any of its branches on demand. This is subject to class availability.
3) You can earn credits for each of the course you sign up to earn BM$ that can be used to offset your future course fees. You can also earn credits from your friends who sign up using your unique code provided in your Member's Portal.
4) At Believer Music, it will take away the pain of learning and makes lessons easy and fuss-free, fun and enjoyable! It makes learning music possible for everyone of all ages! 
Believer Music 
Its available programs include:
– Contemporary or Believer: Drums / Guitar / Electric Guitar / Cajon / Keyboard / Keyboard (MandoPop) / Kids Cajon
Venues: 
1) TAMPINES PLAZA
5 Tampines Central 1 #01-01A Singapore 529541
Tampines Plaza is situated across Tampines Bus Interchange and a 5 minutes walk from Tampines MRT Station.
Operating Hours:
Monday – Thursday
11am to 9.45pm
Friday
11am to 8.00pm
Saturday
9am to 6pm
Sunday
11am to 6pm
2) FLAGSHIP: INTERNATIONAL PLAZA 
10 ANSON ROAD #03-28 Singapore 079903
International Plaza is situated directly beside Tanjong Pagar MRT station (Exit C) along the East West Line.
Operating Hours:
Monday – Thursday
11am to 9.45pm
Friday
Closed
Saturday
9am to 6pm
Sunday
12pm to 6pm
3) WEST AREA: ONE COMMONWEALTH 
1 COMMONWEALTH LANE #06-05 Singapore 149544
One CommonWealth is situated directly beside Commonwealth MRT station along the East West Line.
Operating Hours (effective 10 July):
Monday – Wednesday
1pm to 10pm
Thursday
11am to 10pm
Friday
Closed
Saturday
9am to 6pm
Sunday
Closed
To find out more, please call (65) 6323 0304, email at [email protected] and visit www.BelieverMusic.com