On summer vacations, all you want to do is hit the beach and enjoy the sun, sand, and sea. It is easy to forget practicing proper summer care. Here's how you can incorporate Bio-Oil into your holiday to ensure a fuss-free time.
Uneven Tanning
Creating a nice, even tan is not as easy as just applying sun tanning lotion. If the damage has been done, apply Bio-Oil to improve the appearance of uneven skin tone. Vitamin A in the formulation will improve the skin's elasticity, texture and tone. Bio-Oil has also been clinically proven to improve the appearance of uneven skin tone and mottled pigmentation in ageing skin. (Stephens USA, 2011)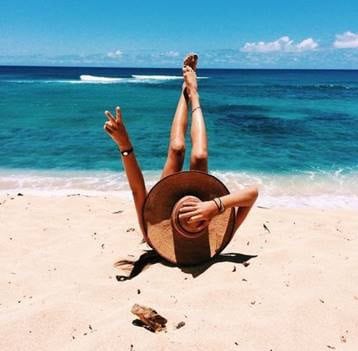 Picture Source: ShopStyle on Pinterest
Day out in the Sun
Constant exposure to the sun results in dry skin, or even getting sunburnt. Apply Bio-Oil to soothe the burnt area and prevent skin from peeling. Calendula oil, a natural oxidant found in the formulation will help repair damaged skin through clarifying and stimulating growth of new skin cells.
Fun in the Water
Prevent frizziness and hair damage by protecting your strands with Bio-Oil. The oil coats your hair and prevents unwanted chemicals from penetrating the shaft. This keeps your hair protected and hydrated at the same time through Vitamin E found in the formulation of Bio-Oil. A clinical study by proDerm Institute for Applied Dermatological Research observed that skin hydration improved 2 hours after applying Bio-Oil.
Every Day is Spa Day
A spa is sometimes the destination. Bring that everywhere with you in a bottle of Bio-Oil. Simply add a few drops into your tub for a luxurious bath experience. Bio-Oil's combination of Calendula, Lavender, Rosemary, and Chamomile oils will create a calming atmosphere. Your skin will also feel more nourished and smooth once out of the tub.
For Minor Boo-boos
Minor accidents tend to occur when in a foreign location. To prevent persisting scars, Bio-Oil is a solution. However, it is advisable not to apply Bio-Oil on broken skin and only to apply once the wound has healed for better results. During a 10-week experiment done in Peking, result shows 84% of subjects presented an improvement in the overall condition of their scars.
Picture Source: Elen Oliveira on WeHeartIt
Moisturise Everywhere
Overexposing your hands and toes to the sun or water will make them dry and wrinkled. To prevent peeling cuticles, apply Bio-Oil as a means of moisturisation. It is highly effective for hydrating skin and any dry spots. Vitamin A and Calendula Oil will help to smoothen the skin texture as well as stimulate growth of new skin cells allowing your skin to be rejuvenated after a day out in the water.
It is a norm to pack light and a hassle to bring different products while on a holiday just so you can continue your skin care regime. Going on a summer vacation especially means staying under the sun for long hours. This makes it easier for your skin to get dehydrated albeit applying sunscreen lotion to protect your skin from UV rays. Massaging your face with Bio-Oil at the end of the day will help to ensure your skin gets back its moisture with the Vitamin E and Calendula Oil in its formulation. This way, your skin will remain hydrated no matter how far away you go for a summer vacation.
Bio-Oil is effective as a daily moisturizer for the face and body. It works to replenish the skin's natural oil stripped away by factors such as extreme weather, frequent bathing and the drying effects of air conditioning. So simply slather Bio-Oil over your face and body for radiant skin. Recent clinical trials showed that applying Bio-Oil with its combination of PurCellin Oil™, vitamins and plant extracts nourishes the skin's natural oil layer, restoring the barrier function and preventing water loss. It also helps moisturise, smooth and soften skin, improving its suppleness, texture and tone. Applying twice daily and in circular motion is effective for best results. (MEDUNSA, 2011)
It's summer time!
Remember to incorporate Bio-Oil into your holiday to keep your skin hydrated! Whether you're having a day out in the sun or a chilly trip down-under, it's important to protect your skin and prevent it from peeling and being wrinkled.
We should never forget to moisture our skin and it is very easy to pack for a trip, just bring one product the travel-size Bio-Oil (60ml) for everything – from moisturising your skin to removing your make-up at night, this product packs a bunch. The goodness of Vitamin E and Calendula Oil in its formulation can be easily absorbed into the skin to ensure the skin gets rejuvenated for another fun day under the sun! 
Bio-Oil can be found at all leading pharmacies, personal care stores and selected hospitals and is retailing at:
Bio-Oil 60ml, S$15.50
Bio-Oil 125ml S$25.90
Bio-Oil 200ml, S$35.90
For more information, visit www.bio-oil.com