Gor Gor playing with his friends.
Di Di is sitting on the high chair waiting for Mummy and Daddy to bring him to the play area.
I want to play … I want to play … I want to play !!
Look at Di Di, he immediately go to the older children section instead.
Wanting to climb up the slide.
Di Di having fun
While Mummy is taking pictures of Di Di, she saw Gor Gor and his friend holding hands, aww … so sweet.
Gor Gor and his friend holding hands.
This picture is so funny, Di Di happens to walk past them. "Hi Gor Gor".
The boys are called to the birthday party room to gather and play games organised by the party organisers.
Group photo
Boys making funny faces
First game, the boys play musical chairs.
Second game, the boys are told to form a group of three.
They are to look for balls and collect as many as they can.
Gor Gor and his group won and they each get a goody bag.
The boys settle down to eat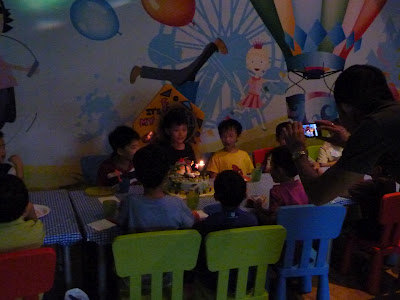 Celebrating Cayden's birthday and his beautiful birthday cake. Happy Birthday Cayden!
While waiting for Gor Gor, Di Di went to the little fidgets place to explore around …
Little fidgets area for babies and toddlers.
First stop, racing car. Zzzoooommm….
Second stop, soft balls area.
Di Di didn't play too long, he decide that he wants to go to the birthday room to look for Gor Gor.
Di Di found a seat besides Gor Gor.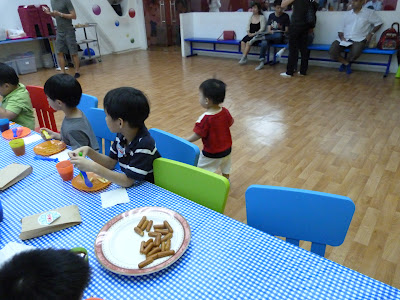 Wait a minute, let me go and say "Happy Birthday" to the birthday boy.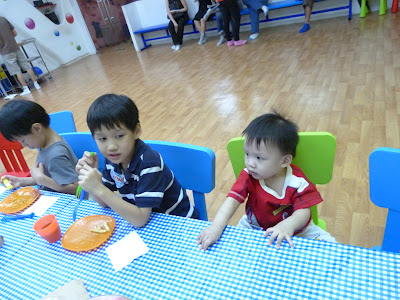 I am back Gor Gor, please introduce me to your friends.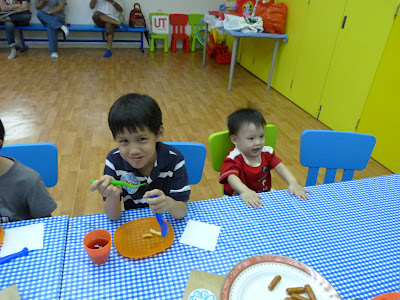 Hello nice to know you, Gor Gor's friends. My Gor Gor looks amused.
Gor Gor's friends told him that this baby is very cute. Aww … thank you.
Yum yum …
The boys gather again for the birthday boy to give out goody bags.
Thank you Cayden!