Gor Gor was invited to Luke's birthday party at The Cage.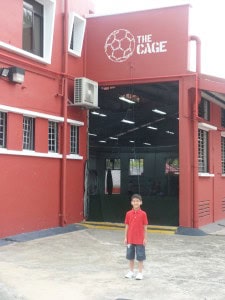 About the Cage, taken from its website: "The Cage is run by We Wanted to be Footballers Pte Ltd – WWTBF. The company is dedicated to the serious business of fun football for the recreational player or the "Sunday-morning-kickabout". Football is the country's most popular game and rightfully so. It is the most democratic of games – where economic or social standing really don't matter at all. And the simplicity of the excitement delivered – camaraderie of a team, getting control of the ball, speed, trickery, power – cannot be matched by other games.
Land scarce Singapore only seems to be able to provide the competitive footballer. The recreational player eventually turns to golf or tennis. WWTBF will change all of that. We provide comfortable facilities that will deliver a new brand of football to all."
It is very interesting as the pitch is indoor housed in each individual building so you can play football/soccer rain or shine.
Gor Gor has been taking soccer lessons so he is very happy to be able to play the game with all his friends.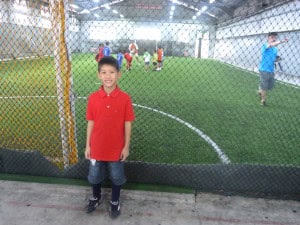 Gor Gor is all ready to play soccer.
The Coach giving instructions and teaching the boys how to play.
Gor Gor in action and he is having so much fun playing with his friends.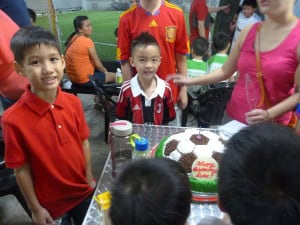 After playing numerous games, the boys were called to gather to sing Happy Birthday song to Luke.
Gor Gor and Luke taking a picture together.
The birthday cake is made to look like a soccer ball as Luke loves to play soccer.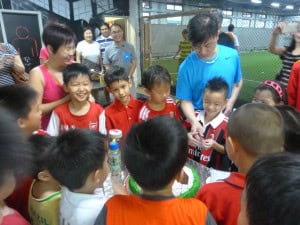 The boys singing Happy Birthday song to Luke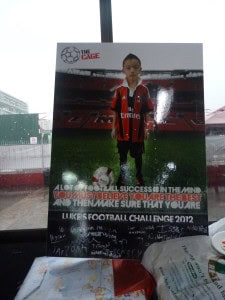 Happy Birthday Luke and thanks for inviting us to your birthday party!
The Cage is situated at
38 Jalan Benaan Kapal.
Singapore 399635 
For more information about The Cage's birthday gigs and packages, please click this link.