Gor Gor was invited to Ethan Lee's birthday party and it was a theme that majority of the boys would be excited about it. Nerf Gun Party at Botanic Gardens, Bukit Timah Core (Cluny Park Entrance).
The words on Ethan's invitation card :
"Bring your best game face for a nerf gun party"
At destination you will demonstrate your nerf gun abilities performing, target practice, shooting drills, field agility training and nerf battle.
Nerf guns will be provided.
Gor Gor and his friends were so excited. Gor Gor has two pairs of nerf guns at home and he often played with them. He was looking forward to demonstrate his gun abilities at the party and play with his friends.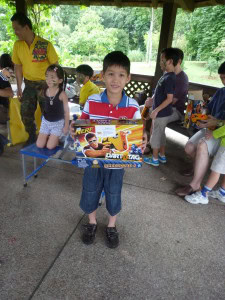 Gor Gor was given a nerf gun to play with. Thanks Ethan!
"I am all ready to battle."
The stylo commandor-in-charge was Ethan's Daddy, he gave instructions to the boys and taught them how to use the gun.
The boys were told to shoot the targets and move from point 1 to 2 and so on.
The stylo commandor-in-charge told the boys to get ready for the big gun battle.
The boys were all busy loading up their guns. Gor Gor was all ready to battle!
Nerf battle between the both sides … who will win?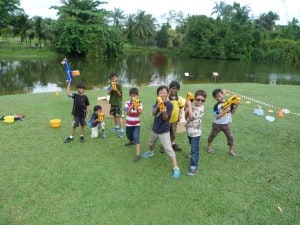 Group photo of the brave boys!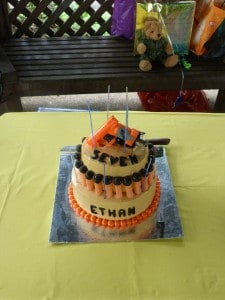 Nerf Gun theme Birthday Cake
Happy Birthday Ethan and thanks for inviting us to your birthday party! We have so much fun playing shooting games.