Usher in the fabulous Year of the Tiger and have a roaring good time at City Square Mall! As we begin to feel the hustle and bustle in the streets and the excitement in the air, gather your loved ones for a long-awaited reunion this Chinese New Year.
From 7 January to 13 February 2022, soak in the festivities and head on down to City Square Mall,
where you will be rewarded with special gifts and beautiful atmospheric displays. You can even check out your Zodiac readings and forecast too, ensuring that you're all set for the Lunar New Year. Be sure to mark your calendar so you don't miss out on all the fun and celebrations at City Square Mall this Chinese New Year!
Enjoy Spring in Full Bloom
We all know that the Chinese New Year festivities truly begin when places begin to decorate with a
myriad of oriental displays. To mark the beginning of Chinese New Year, City Square Mall's L1 City Green Park will be adorned with all things festive, where spring flowers bloom and dance to the warm glow of the luminous lanterns. Take your mandatory Chinese New Year #OOTD shot at City Green Park or take adorable portraits with your family. Charge your phones and cameras as we're sure that there'll be plenty of photos to be taken indoors and outdoors!
Venue: Level 1, City Green Park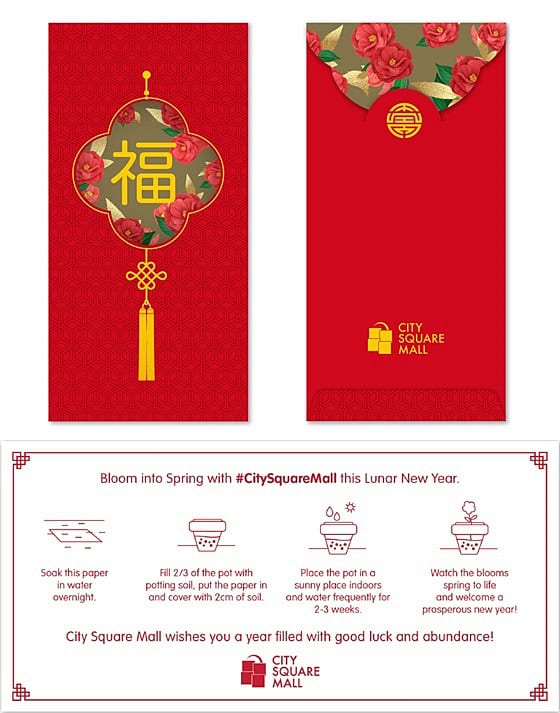 *Growth of flower may vary, depending on various factors.
Seed Good Fortune
As an award-winning eco-friendly mall, City Square Mall is dedicated to being eco-conscious. While we celebrate the festive season, we should always play our part in reducing carbon footprint. With this, City Square Mall uses FSC-certified papers to produce exclusive red packets, as well as plantable seed papers for festive greetings. Yes, you heard that right! You can grow the paper greeting as these eco-papers are embedded with a colourful variety of wildflower seeds. You don't need to have green fingers to grow these seeds as all instructions are included in the paper greeting, so simply follow accordingly and watch as these gorgeous flowers spring to life*.
Communicate a sense of style and environmental responsibility with these stylish red packets and be filled with warmth and cheer with tiger-ific greetings as we ring in the new year!
The Red Packet with Plantable Seed Paper Greeting comes wrapped in a paper band as part of City Square Mall's eco-friendly initiative. Redeem a pack of six with a minimum spend of $108*.
– $158* if inclusive of NTUC FairPrice, Q & M and/or School receipts. Limited to the first 5,000 redemptions, and 1 redemption per shopper per day.
Be Rewarded with Awesome CDL Gift Vouchers and A Merchant Voucher Pack
Welcome the new year with some festive shopping or enjoy family reunion dinners at your favourite restaurants, and be rewarded when you shop and spend at City Square Mall! With a minimum spend of $168*, shoppers can redeem a $10 City Developments Limited Gift Voucher and a Merchant Voucher Pack.
– $218* if inclusive of NTUC FairPrice, Q & M and/or School receipts. Limited to the first 3,000 redemptions, and 1 redemption per shopper per day.
Predict Your 2022 Fortune
As part of the rich Chinese culture, Zodiac forecasting is a huge factor during this exciting season. In collaboration with Way Fengshui Group, City Square Mall will be placing insightful Zodiac Forecast Displays at City Square Mall's L1 Atrium, where all information will be available in both English and Chinese! If you're curious about your respective Zodiac and the predictions for the Year of the Tiger, remember to check out the Zodiac Forecast Display and share interesting findings with your family and friends.
For more details on the promotions, please visit www.citysquaremall.com.sg 
All images credit to City Square Mall