BreadTalk has launched a highly-anticipated line-up of scrumptious festive goodies for the upcoming Lunar New Year. Look out for irresistible and adorable rabbit and carrot-themed creations, as well as perennial favourites cakes and cookies that are thoughtfully-crafted to include auspicious ingredients like pineapple, pumpkin and yam but are also symbolic of good tidings for a bountiful year ahead.
BreadTalk's 'Hoppy Prosperity' collection will be available from now to 5 February 2023, at all BreadTalk outlets island-wide (Prosperity Bunny and Mangococo are not available at United Square, Raffles City and ION Orchard), and online on GrabFood, foodpanda, Deliveroo, as well as their E-Store, www.breadtalk.com.sg/shop.
AUSPICIOUS BUNS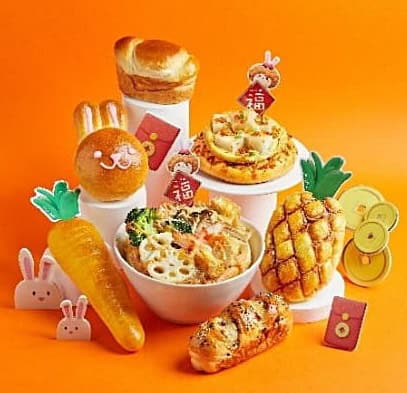 Bask in the festivities while indulging in BreadTalk's cute buns that commemorate the Chinese zodiac of the year.
Nibble on New Year Harvest 大丰收 ($2.30), a carrot-shaped bun filled with a luscious carrot cream cheese filling; Lucky Bunny 吉祥兔 ($2.30) a sweet bun with bunny ears and a creamy strawberry milk centre; and Hoppy Carrot 好采头 ($2.30) an inspired riff on the local hawker classic "Chai tow kway" transformed into a soft bun with egg , chunks of spicy radish cake and garnished with dried shrimp and spring onions.
For an added dose of good fortune, take a bite into the moist and crumbly "Ong Lai Huat" 旺来旺来 ($2.30) with tangy pineapple jam and chewy mochi enveloped within a Hong-Kong style Pineapple Bun, as well as Golden Pumpkin Bun 金瓜排包 ($4.80); a slab of six pillowy-soft carrot-shaped buns filled with a rich pumpkin paste.
Likely to become one of the bestsellers this upcoming Lunar New Year is the eye-catching spicy Mala Pot 麻辣锅 ($6.80) featuring a butter roll brimming with quintessential hotpot ingredients such as mala chicken, crab stick, enoki mushroom, shimeiji mushroom, broccoli, lotus root, pork meatball, cherry tomato and tofu puffs. This inventive creation is a play on the popular mala steamboat soupbase and symbolises the reunion of a family.
Back by popular demand, the likes of Bak Kwa Delight 肉干物语 ($2.30) crowned with strips of moreish bak kwa – a nod to the ubiquitous Lunar New Year snack, while Yammy Treasures 好"芋"当头 ($2.30) is an ingot-shaped bake with a savoury sweet smooth yam and egg yolk paste centre. During this festive period, customers can also mix and match any 3 buns* for $6 (U.P. $6.90).
*3 buns for $6 promotion is only applicable for New Year Harvest; "Ong Lai Huat"; Lucky Bunny; Bak Kwa Delight; and Yammy Treasures.
ZODIAC-INSPIRED CAKES

L-R: Mangococo, Prosperity Bunny and Yuzu Roll
BreadTalk's selection of zodiac-inspired sweet treats are not to be missed. Boasting a vibrant new look is the well-loved Mangococo 芒果椰椰 ($48.8) – adorned with a mini bunny mousse cake and cheesy carrot cookie, this ethereal chiffon cake possesses a refreshing burst of tropical flavours courtesy of a mango and coconut mousse, mango jelly and fresh pineapple coulis. The whimsical Prosperity Bunny 金兔报喜 ($6.90, 2 for $12) features vanilla chiffon cake coated in cake crumbs with an irresistible strawberry mousse filling – this will be a definite crowd-pleaser, especially among the young ones. Also making a special appearance on this joyous occasion is the luscious Yuzu Roll 柚子卷 ($12.80, $10 with any purchase) that impeccably pairs honey citron and butter cream.
Also making a comeback this season is Blissfully Prune 枣到幸福 ($20 for a whole cake, $3 for a slice) – a traditional baked sponge cake elevated with a joyful medley of prune paste, dried prunes and black jaggery sugar. Available from 11 to 22 January, customers may enjoy this delightful afternoon tea snack at just $16 with any purchase made.
CHINESE NEW YEAR COOKIES
An essential for entertaining at every festive get-together – BreadTalk's enticing range of sweet and savoury cookies offers something for each and everyone.
Be spoilt for choice with buttery bite-sized treats such as the new Cheesy Carrot Cookie 萝卜芝士饼干 – a cheese-flavoured carrot-shaped cookie with green tea accents; Peanut Butter Chocolate Cookies 花生巧克力曲奇; Chocolate Cookie 可可曲奇, Almond Crisps 杏仁糖酥, as well as perennial favourites the likes of Mini Pineapple Pastry 旺来酥, Cashew Nut Cookie 腰果酥 and Mini Ondeh Ondeh 斑兰椰 子酥. Each bottle retails at $14.80 and are available while stocks last.
Family and friends are guaranteed to go wild over the addictive Bottled Flosss ($9.80, 3 for $28), available in three tempting flavours – Original Pork Flosss, Spicy Pork Flosss and Crispy Pork Flosss.
FUSS-FREE GIFTING
Gifting is made easier with BreadTalk's thoughtfully-curated line-up of festive bundles! Share the 'huat' with loved ones by bestowing them with these assorted options ranging from $16.80 to $72.80.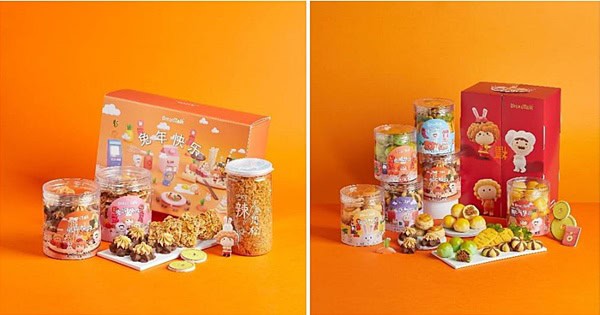 L-R: Happy Treasure and Big Blessings
1. Happy Treasures 开心宝 for $35.80 (U.P. $39.40)
This bundle includes two bottles of Cookies (assorted) and one Bottled Flosss.
2. Sweet Reunion 甜甜蜜蜜 for $16.80
This bundle includes six Assorted Jelly.
3. Big Blessings 好福气 for $72.80 (U.P. $88.80)
This bundle includes any six bottles of Cookies (assorted)
4. Lucky Floss Set 福气松松礼盒 for $28 (U.P. $29.40)
This bundle includes three Bottled Flosss.
To find out more, please visit the following:
Website: www.breadtalk.com.sg
E-Store: www.breadtalk.com.sg/shop
Facebook: www.facebook.com/breadtalksingapore/
Instagram: @breadtalksg
Hashtag: #BreadTalk #BreadTalkSG #HoppyProsperity