Get 'BREADY TO PARTY' as BreadTalk turns 22 this year!
BreadTalk would like to take this opportunity to celebrate and thank its customers for being an important part of their journey. From its first store opening in 2000 to over 640 stores globally presently, the unwavering support from its loyal customers has been the driving force for their continuous improvement on their service and breakthroughs with innovative buns.
To mark this joyous occasion and to get all customers into the celebratory spirit, the brand has conjured up a spectacular lineup of month-long promotions, new and anniversary-exclusive products – including a limited-edition reusable tote, as well as adorable Song Song Game Cards for customers to collect points which can be accumulated to redeem vouchers and win instant rewards with selected lucky cards.
BreadTalk is also on board Atome – Asia's leading buy now pay later brand where customers can redeem exclusive vouchers and earn cashback when they shop at BreadTalk during the Anniversary month! Enjoy 50% off with Atome with min. spend of $5, from now till 31 October.
All Bready to Party products, merchandise and promotions will be available at BreadTalk outlets island-wide*, from 1 to 31 October.
*Note: Box cakes and Snow White Roll from the "Bready to Party" collection will not be available at United Square, Raffles City and ION Orchard. The 7 buns for $10 promotion will not be available at Resorts World Sentosa, Marina Bay Link Mall, Marina Bay Sands, VivoCity, Raffles City, ION Link, Centrepoint and 313 Somerset.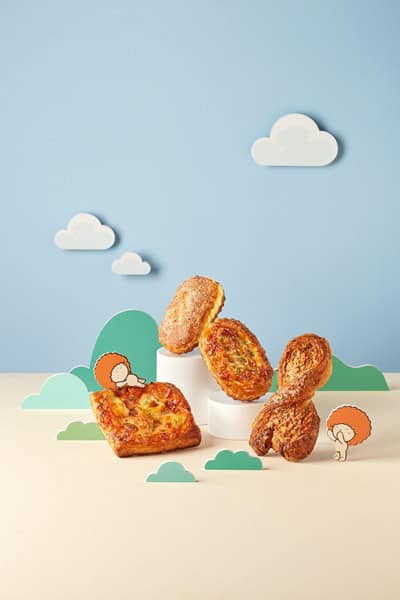 ANNIVERSARY-EXCLUSIVE SELECTION
Throughout the last 22 years, product innovation and creativity has always been at the core of this well-loved stalwart local bakery. This year is no different as the stellar bakery team has dreamed up several anniversary-exclusive items ranging from buns to cakes that are set to impress.
The latest additions to their extensive selection of mouth-watering pastries include the fragrant Nut for Sale 花生卷卷乐 ($2.20) coated in crunchy peanut butter and toasted peanuts as well as the buttery Lemon Puff 柠檬甜 堂 ($2.00) filled with a tangy lemon custard promises a fine balance of sweet and sour in every bite. The flaky and fiery Tuna Puff 香辣鲔鱼 ($2.30) with a Thai-style tuna filling, shredded gouda and mozzarella cheese adds a modern twist to the usual tuna bun, while Pizza Coin 披萨币 ($2.40), a crisp pastry topped with chunks of pineapple, ham and melted mozzarella cheese is also not to be missed.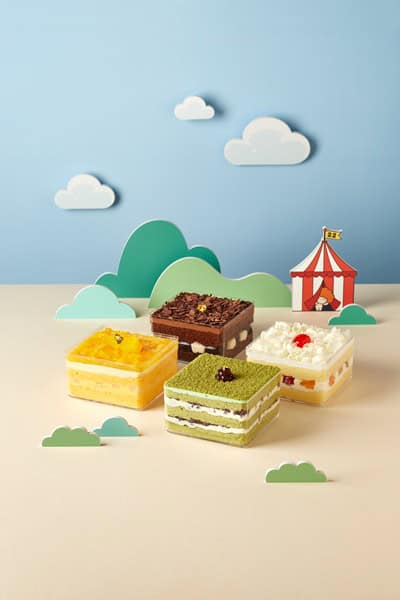 Customers can partake in the festivities with BreadTalk's signature Heavenly Cakes, now available in box form and perfect for indulging on the go! With four decadent flavours to choose from, these gorgeous layered desserts are a steal at $8.80 each, or $15 for two (U.P.$10.80 each).
Chantilly Box 珍多丽盒 is an unassuming creation comprising Chantilly cream cheese and vanilla chiffon cake layered with cocktail fruits, topped with a glazed cherry and white chocolate shavings. A more intense rendition of the classic Black Forest cake, Dark Forest Box 黑森林盒 is studded with dark sweet cherries which match impeccably with the chocolate chiffon, dark chocolate shavings and gold leaf – making it the ultimate bittersweet treat.
Inspired by the tropics, Mangococo Box 芒果椰椰盒 is a burst of flavours with a combination of mango and coconut mousse, mango jelly and the citrusy notes of fresh mango and pineapple coulis between layers of fluffy chiffon. Matcha no Keki Box 抹茶巧乐盒 is a riff on the popular matcha-inspired Japanese desserts with custard cream and red beans sandwiched between green tea chiffon.
Making a special appearance this anniversary is the luscious Snow White Roll 白雪卷, a returning favourite that features an ethereal and creamy filling similar to that of an ice cream, rolled within a melt-in-your-mouth milky cheesecake – customers can purchase this decadent treat for just $10 (U.P. $12.80) from 1 to 31 October 2022.
IRRESISTIBLE BIRTHDAY PROMOTIONS
As a token of appreciation for their customers' ardent support, BreadTalk has put together a series of attractive offers on a wide range of products for the month of October!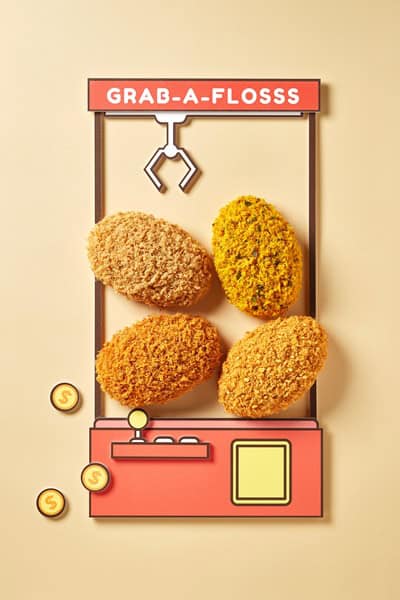 Buns Galore
After twenty-two years, BreadTalk's iconic Flosss bun remains the bakery's top-selling product till today. Unknown to most, this savoury bun was inspired by a nostalgic childhood staple – pork floss porridge, and has created a craze among consumers with more than 1.3 million Flosss sold in the first year it was launched.
From 1 to 16 October, the hallmark and bestselling range of Flosss buns is up for grabs at only $9 for 6. Besides the ubiquitous original Flosss 松松 and Fire Flosss 辣松, two other tantalising seasonal Flosss variations – Cereal Flosss 麦片松松 and Curry Flosss 咖喱松松 will also be available
during this period.
From 17 to 31 October, customers can also mix and match 7 buns for $10. From a wide range of 24 buns to choose from – options span signatures and best-sellers like the Sausage Standard 肠一肠; Cheese Sausage 芝士香肠; Ham & Cheese 火腿与芝士; and Sugar Donut 原味甜甜圈 to the all-new creations. With so many choices, there is definitely something for each and everyone!
Cookies and Pastries
For the entire month of October, customers may also purchase any one of BreadTalk's delightful cookies and receive a second one for free! Be spoilt for choice as this applies to not only the classic Palmier French Pastry 法国蝴蝶酥 ($8) and Song Song Cookie 松松饼 ($8) which are popular among the young ones as they are shaped in the silhouette of BreadTalk's lovable mascot, Song Song in both Chocolate and Caramel but also includes three new additions: the Earl Grey Palmier French Pastry 伯爵茶蝴蝶 酥 ($8) a classic butterfly-shaped flaky pastry which is ultra-crispy and buttery with subtle hints of Earl Grey, Thai Milk Tea Song Song Cookie 泰式奶茶松松饼干 ($8) and White Chocolate Sandwich Cookie 物语恋人 ($10.80) a delicious sweet treat for lovers of Japanese confectionary.
Tea-time favourites offer
Host a tea party with BreadTalk's latest duo of fluffy Chiffon Cakes ($4.50) available in Chocolate Chip or Gula Melaka at 2 for $8 from 9 to 31 October. A wholesome range of assorted Steam Cakes (U.P. $1.80 to $1.90) that are priced at $3.80 for any three awaits – options include Honey Marble, Marble Steam Cake, Orange Steam Cake, Strawberry Steam Cake and Green Tea Steam Cake, alongside moist and buttery Muffins in Chocolate, Raisins, Blueberry and Cranberry Red Velvet flavours, for just $1 each (U.P. $1.50)! These unbeatable offers on Steam Cakes and Muffins will run from 1 to 31 October.
Flash Deal
Give in to temptation as the Chiffon Cake in either flavours can be enjoyed at $3 each (U.P. $4.50) from 1 to 8 October followed by the toothsome Sugar Donut 原味甜甜圈 and Rainbow Donut 彩虹甜甜圈 selling at just $1 each (U.P. $1.70 – $1.80) from 9 to 16 October!
Beverage & Pudding offer
Pair BreadTalk's range of scrumptious bakes with refreshing drinks the likes of Cold Brew Oolong Tea 冷萃乌龙茶, Cold Brew Green Tea 冷萃绿茶, Milk Tea 奶茶 and Soy Milk 原味豆浆 for just $3 for 2 bottles (U.P. Up to $5.60). Available in three toothsome flavours – the silky-smooth Caramel Pudding 焦糖布丁, Dark Chocolate Pudding 黑巧克力布丁 and Mango Pudding 芒果布丁 can also be enjoyed at $8 for three (U.P. Up to $10.20). Both beverages and puddings will be sold at a promotional price for the entire month of October.
LIMITED-EDITION SONG SONG & FRIENDS TOTE
In an effort to go green and reduce plastic waste, customers are entitled to receive a complimentary limited-edition reusable tote with motifs of BreadTalk's adorable Song Song & Friends mascots – available in two anniversary-exclusive designs with a minimum spend of $15 in a single receipt at all BreadTalk outlets whilst stocks last.
BIRTHDAY FESTIVITIES WITH FUN AND GAMES
Instagram
BreadTalk is also taking the opportunity to show its appreciation towards customers who have shown unwavering support for the brand with a giveaway where five participants can stand a chance to win $50 cash vouchers when they take a photo with the Song Song Mascot that can be found at 13 selected outlets and tag BreadTalk on Instagram.
These outlets include Vivocity, Westgate, Causeway Point, BreadTalk IHQ, Junction 8, Toa Payoh, Northpoint, Novena Square, NEX, Tampines Mall, Chinatown Point, Jurong Point and Paya Lebar Quarter.
Song Song Game Cards
To make this year's anniversary celebration even more memorable, customers may collect specially
designed Song Song Game Cards to accumulate points and redeem vouchers or yield instant rewards with selected game cards in the month of October!
• Step 1: Spend $12 at any BreadTalk outlet to get 1 card
• Step 2: Collect Song Song Game Cards & Points and get instant BreadTalk and Atome rewards
with selected lucky cards.
• Step 3: Redeem $5 BreadTalk cash voucher when you accumulate 22 points and more.
For extra perks, customers may also join their online contest by posting a photo of the Song Song Game Cards on Facebook or Instagram and stand a chance to win:
• 5 x All You Can Stack Bread Buffet
• 5 x $50 BreadTalk Gift Card
* Please note that price of items are stated in nett and may vary at different outlets
Happy 22nd Anniversary to BreadTalk! Thank you for sending to us the lovely, exclusive selection of birthday treats! Come, get 'BREADY TO PARTY' and celebrate BreadTalk's 22nd Anniversary with brand-new treats, enticing promotions and game cards!
To find out more about BreadTalk, please visit the following:
Website: www.breadtalk.com.sg
E-Store: www.breadtalk.com.sg/shop
Facebook: www.facebook.com/breadtalksingapore/
Instagram @breadtalksg
Hashtag #BreadyToParty