Parents, if you are thinking of where to bring your kids to have a fabulous dining experiences together, look no further as Brewerkz, Singapore's homegrown craft beer and restaurant brand has launched their new kids' menu with refreshed favourites and innovative twists to classic dishes that are designed to please the young palate.
Brewerkz's new kids' menu is crafted by the talented Chef Seow Tzi Qin, known affectionately as "Chef TQ". He has a vast experience of crafting delectable menus and whipping up dishes across multiple cuisines from the kitchens of Tung Lok Classics, Singapore Airlines, Le Saint Julien, Les Amis, La Taperia, helming the 1919 Waterboat House as Head Chef, to Brewerkz in 2019 as the Group Executive Chef. Chef TQ aims to continue his culinary innovations and serve up his own unique brand of Asian-European flavours to Brewerkz customers.
Our team speaks to Chef Seow Tzi Qin, Group Executive Chef at The Brewerkz Company where he shares more about his culinary journey, the new kids' menu and his inspiration behind the creation of the new menu and more.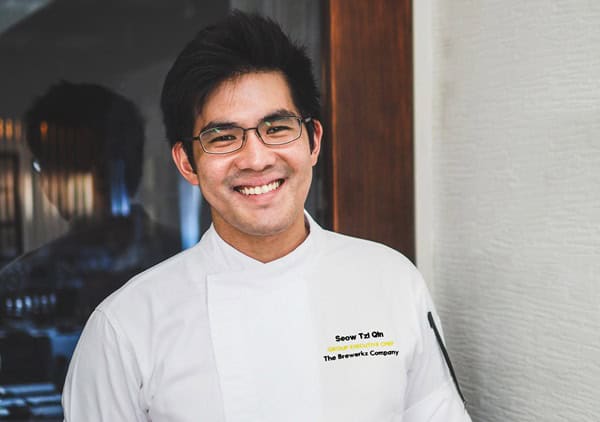 Exclusive Interview with Chef Seow Tzi Qin, Group Executive Chef at The Brewerkz Company
1. Can you share with us more about your background, what made you decide to become a chef and how do you develop your culinary skills?
Watching my mum cook and eating the food she prepared for us when I was young inspired me to pursue the culinary journey. If there is one type of flavor profile that is almost impossible to replicate, it's "mummy's food".
I started my training after National Service. Picking up Chinese, Indian, French, Spanish and American cuisine at different establishments and experiencing various culinary concepts, be it fine-dining, bistro style, bar food or catering. They all require different skillsets and helped to broaden my horizons, equipping me with more tools along my culinary journey.
This strong foundation helped me design my personal style of Asian-European fusion as I helmed the kitchen at 1919 Waterboat House and later joined the Brewerkz family as Group Executive Chef, where I head up and manage five restaurants, including opening the newest Brewerkz One Fullerton in a style of my own.
2. Can you share with us your vision of the type of food that you offer at Brewerkz?
At Brewerkz, my team and I offer up contemporary Western and Asian inspired cuisine with a strong element of local flavors, prepared using local and sustainable produce where possible. I place an emphasis on quality, availability and sustainability and also inject fragments of childhood memories into my cuisine, to create shared memories with our diners.
3. Brewerkz has launched the new kids' menu with refreshed favourites and innovative twists to classic dishes, can you tell us more about the new menu and your inspiration behind the new menu and dishes?
I was inspired by my childhood memories, and especially memories of all the old school local snacks I had as a child. Our Pork Floss Pizza is one example – inspired by the famous staple pork floss bun from neighbourhood bakery bread, but our young diners will taste for the first time pork floss on pizza dough and mozzarella cheese, drizzled with Japanese mayonnaise.
Another example is our Pulled Beef Mantou Sliders- a cross between the steamed or fried mantou buns we are used to dipping in our chilli crab gravy. And the kong bak pau, one of my favorite childhood snacks that my grandmother made for me.
Lastly our Traffic Light Popsicle – a tri-coloured popsicle like the ones you fish out of the mama shop ice cream freezer, but made with real fruit juice and another childhood favorite- Yakult! I don't know if the Lactobacillus ever worked for my intestines but I knew Yakult tasted great.
4. What can parents and children look forward to when they dine at Brewerkz?
A fulfilling experience with an upgraded menu, a sophisticated alfresco vibe, and beautiful waterfront views. To end the meal with a little fun, Brewerkz also specially procured capsule toy machines filled with mystery gifts such as stationery, figurines or toys, giving each young diner a free turn with every kids meal purchased.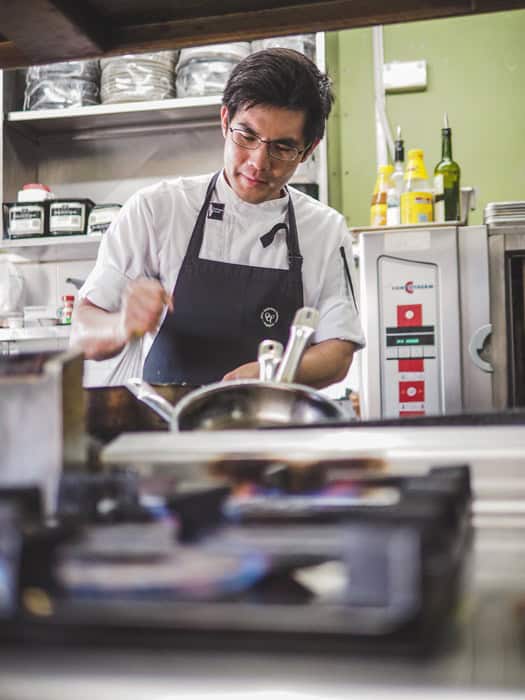 5. What are some of the must-try and signature dishes at Brewerkz that you would like to highlight and share with our readers?
The classic beef burger has undergone an uplift and is now the outlet-exclusive Shogun Burger, made with an indulgent Japanese OHMI A5 Wagyu blend of beef chuck, short ribs and top sirloin.
The classic pub grub dish, fish and chips, has also been transformed into a healthier and umami-packed Whole Roasted Wild Dover Sole with succulent white flesh and delicate flavour.
Dessert fans can rejoice in the decadent Black Diamond Truffle, an earthy truffle-flavoured ice cream accompanied by a symphony of Valrhona chocolate and white chocolate Chantilly cream infused with Earl Grey and lavender.
As part of Brewerkz's goal to incorporate more sustainable practices in its processes, new menu items such as the 3 Cheese Truffle Foccaccina is baked with spentgains, a by-product of beer production, while the Burratina Gazpacho is made with a blend of "ugly" vegetables puree. It definitely does not taste "ugly" though!
6. We noticed a wide variety of craft beer available for diners in the restaurant. Can you share with us some of the unique flavored beer offered?
One of our latest collaboration beers – Islander Brew. A collaboration project with Sentosa Development Corporation (SDC), Islander Brew is Singapore's first leisure destination-inspired beers. A series of four exciting flavours, each beer features a unique taste inspired by edible plants found in Sentosa – cocoa, lime, jasmine and nutmeg – and are named after the island's gem – Siloso Beach, Tanjong Rimau, Fort Siloso, Bukit Manis. The landmarks were chosen to represent leisure offerings that embody one of the four themes under Sentosa's Make Time for a Holiday campaign – Island Life, Heritage Discovery, Wellness Escape, and Nature Adventure.
SDC and Brewerkz have also joined hands to make the Islander Brew Singapore's first carbon neutral beers. This effort is part of SDC's broader decarbonisation roadmap for Sentosa, and Brewerkz's aspirations to create increasingly sustainable products in its business activities.
Our signature series that are always on tap and on our shelves, all year round include Golden Ale, Bohemian Pilsner, India Pale Ale and Oatmeal Stout.
7. As a successful chef, any practical advice for someone who would like to be a chef?
A key motto to live by is: Experience, Practice, then Mastery. Learning goes a long way, be patient and take time to build a strong foundation.  When the opportunity comes, take the leap of faith to plunge into the unknown as you will never know what adventures the future has in store for you.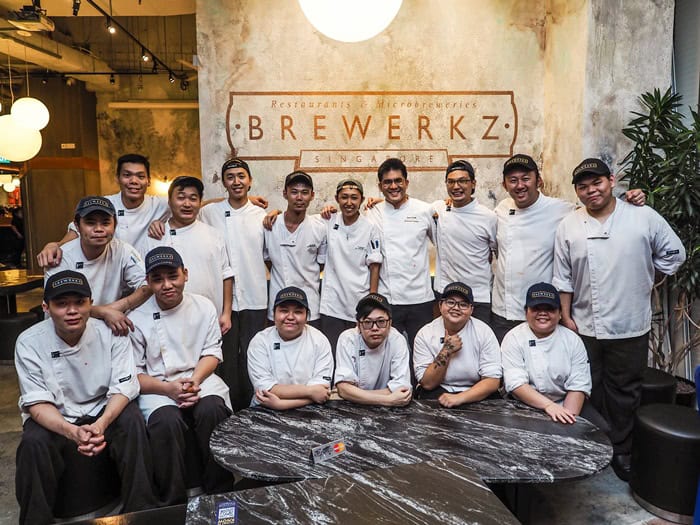 All the above images credit to Brewerkz
8. Lastly, moving forward, what's your future plan for Brewerkz? Any upcoming promotion or highlights that you would like to share with our readers?
The second quarter will be exciting! We have launched a weekday only Lunch Set Menu at our One Fullerton outlet on 1st April. In May, we will be launching a weekend Brunch Menu on Mother's' Day and we are revamping our Food & Beer Takeaway menu on our estore in June.
Innovative New Kids' Menu at Brewerkz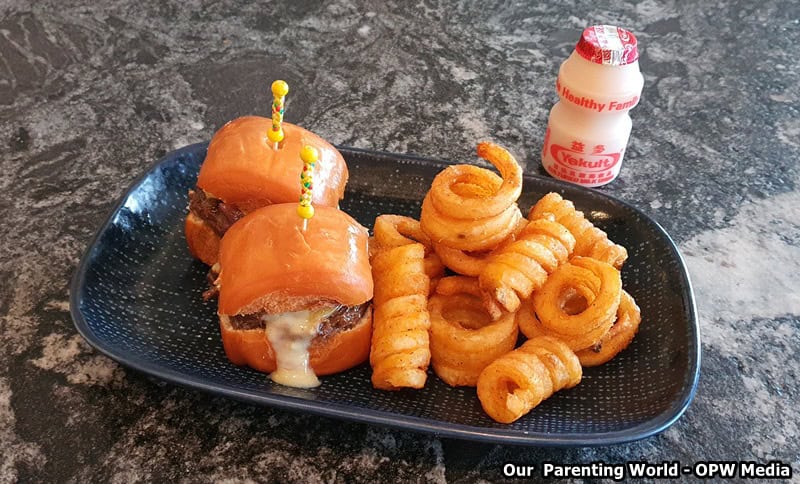 Pulled Beef Mantou Sliders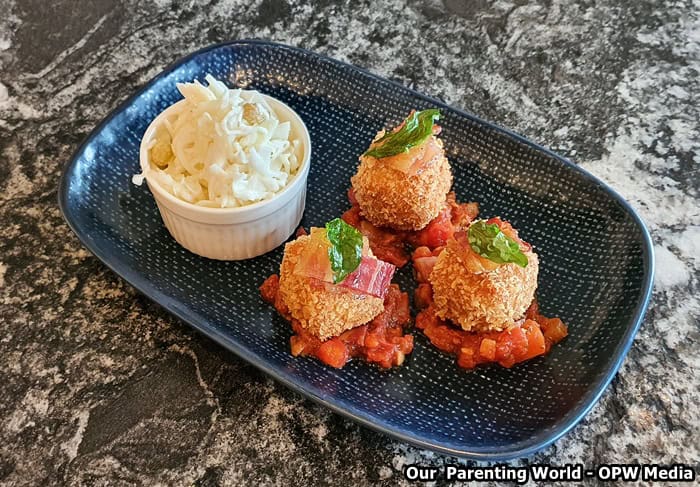 Mac & Cheese Cubes
We visited Brewerkz at One Fullerton, the stylish new restaurant offers a pleasant and cosy dining space that is great for families. Kids can look forward to enjoy new dishes with a creative and healthier spin on popular classics like Pulled Beef Mantou Sliders, Mac & Cheese Cubes, and Traffic Light popsicle, the dishes effortlessly introducing a balanced diet children love, created by Executive Chef Seow Tzi Qin.
The Pulled Beef Mantou Sliders consists of tender, savoury meat that is sandwiched between two deep-fried and crunchy mantou served with crispy curly fries and Yakult. The Mac & Cheese Cubes, these appetising bite-sized cubes are made of macaroni and cheese croquettes, deep fried and bursting with flavours, served together with marinara sauce and topped with chewy candied bacon. 
Traffic Light popsicle
The Traffic Light popsicle is a healthy frozen fruit ice block pop dessert that will delight your kids. The colourful popsicle is made with real fruit juice. Absolutely delicious and our kids love the dishes so much that they finished up everything! 
In addition to the above kids' dishes, look out for the Grilled Chicken Skewers consisting of a medley of chicken, sausage in honey soy marinade, cherry tomatoes and pineapple. There are other delights including the all-time favourite Fish & Chips, made with hake for a softer and juicier mouthfeel, and the Pork Floss Pizza, a lighter meal option featuring mozzarella cheese, pork floss and Japanese mayonnaise.
Each main course is served with a choice of drink and dessert, plus a token for a spin on the capsule toy machine. Even the dessert and drinks are given the healthy treatment as Brewerkz brings in new beverage options like Yakult, and the Traffic Light, a fruit juice popsicle that offers young diners a healthier choice for their complimentary dessert.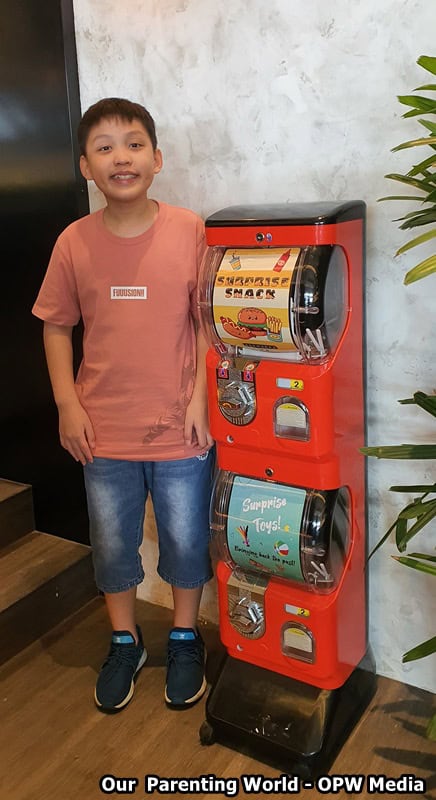 Look at our kid's happy face! In addition to complete the meal on a sweet note with dessert, Brewerkz has also specially procured capsule toy machines filled with mystery gifts such as stationery and figurines, giving each young diner a free turn. Our kids are fascinated with the capsule toy machine and enjoyed the fun of picking up their mystery gift.
Brewerkz, and the restaurant plans on constantly reinventing their menu to introduce exciting new offerings for all ages. The new kids' menu is now available at all Brewerkz outlets in Singapore: Riverside Point, One Fullerton, Indoor Stadium and Orchard Rendezvous Hotel. Brewerkz is a great place for families and young children to chill out and have a wonderful dining and memorable bonding time together. 
Restaurant Details
Brewerkz One Fullerton
1 Fullerton Road,
#01-01 One Fullerton,
Singapore 049213
Tel: (65) 6592 5224
Operation Hours:
All days: 12 PM-10:30 PM
Brewerkz Orchard Rendezvous Hotel
1 Tanglin Road
#01-02 Orchard Rendezvous Hotel
Singapore 247905
Tel: (65) 6884 7077
Operation Hours:
Mon-Thu: 5 PM-10:30 PM
Fri, Sat, Eve of PH & PH: 12 PM-10:30 PM
Brewerkz Riverside Point
30 Merchant Road
#01-07 Riverside Point
Singapore 058282
Tel: (65) 6438 7438
Operation Hours:
All Days: 12 PM-10:30 PM
Brewerkz Indoor Stadium
2 Stadium Walk
#01-06/07 Singapore Indoor Stadium
Singapore 397691
Tel: (65) 6345 4330
Operation Hours:
All Days: 12 PM-10:30 PM