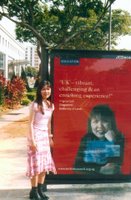 I am very honored to be chosen by British Council to be its brand model and ambassador. I would like to thank British Council and its staff for the opportunities.
British Council has displayed its promotional posters in many places like various bus stops, buses advertisements, newspapers, magazines, posters at various educational fairs and institutions, books and pamphlets and leaflets.
We are also very grateful for the opportunities to be able to share with many others about our experiences, to help to create awareness and also establish ties between Singapore and United Kingdom. Promoting and helping Singaporean students to settle down well in United Kingdom.