Bromin Product Review and Our Parenting World's Exclusive Interview Series: Exclusive Interview with Mr Gabriel Tay, Bromin's Proprietor/ Designer
It is not easy to choose a good school bag for our kids, especially one that is light and will protect their backs. There is a growing number of children experiencing backaches and pain in their spinal cords because of heavy school bags. 
Bromin, a Singapore-based bag maker and importer, is pleased to announce it has launched a new series of light-weight ergonomic school backpacks for early schoolers aged six to 10. The ergonomic Bromin backpack promotes better spinal health for school children and weighs just under 0.7 kg which is a breakthrough from the usual weight of 0.9 kg. What's more, the backpacks are priced affordably under S$90 and have lifetime product warranty.
Exclusive Interview with Mr Gabriel Tay
Our Parenting World (OPW) is pleased to be able to interview Mr Gabriel Tay (GT), Bromin's Proprietor/Designer to share his thoughts and to find out more about Bromin, the lightest Ergonomic School Backpack designed in Singapore.
About Mr Gabriel Tay, he is the designer and owner of Bromin. He comes with a decade of bag design experience. He shared that "Bromin backpack is at least 0.2 kg lighter than other ergo-friendly backpacks in the market. This was achieved through sourcing for lightweight, durable and environmentally friendly materials for the school backpacks. I hope that the lightweight ergonomic bags will help the children to manage the weight on their shoulders and reduce a risk in injuring themselves from carrying excessive weight, thereby ensuring they develop good body posture from young."
Gabriel is a father and he was surprised that an ergonomic school backpack could cost a couple of hundreds of dollars in Singapore. He spent time researching on this product category and got in touch with several manufacturers to design and fabricate the ideal bag he would like his children and other school children to be carrying. 
1. Can you share with us more about your background and how did you get started in Bromin?
GT: I have been an entrepreneur for the last 14 years, and specialise in school uniform design and sale. In early 2017, I ventured into bag retailing business and started Bromin Emporter. Bromin started from importing fashionable bags from Japan, such as Mis Zapatos for ladies and Propellerhead for men.
Central to Bromin's mission is to bring well-designed quality backpacks, bags and tote bags to the discerning consumers in Singapore.
For the children category, Bromin has invented and is selling our own bags – Bromin Tech and Bromin Lite school backpacks which are ergonomic and is currently the lightest in its category at under 700 grams – 200 grams lighter than our competitors.
2. What was your childhood memory of carrying a school backpack?
GT: The bag was heavy! School bags in my generation lacked the sophisticated concept of ergonomic and school teachers used to make us bring along textbooks, worksheet folders, colour pencils and whatnots. What I have designed using lightweight, splash-proof nylon fabric and roomy compartment do not add extra weight to the Bromin user.
3. How old are your kids, and how did they inspire your innovation of an affordable ergo school backpack?
GT: I have a daughter who is aged eight years old (Primary 2) and she sparked off this business idea. I was sourcing for a schoolbag when she entered Primary 1 and an ergonomic bag costs at least S$100. I am in the bag production business so I know bag materials and how to produce a sturdy and highly functional school backpack with top-grade splash-proof nylon cloth. She is a girl so I naturally do not wish for her to carry unnecessary weight on her shoulders that will weigh her down and distort her body posture during her growing up years.
4. What was the most challenging part of achieving a lightweight bag product?
GT: Ensuring the inner bag compartment does not have redundant space that takes up weight is the main challenge. A school-goer easily carries 5 to 7 kilogrammes around in school. I designed great back support with plush cushions, and waist and chest straps to even out the weight of the bag.
I source for lightweight, splash-proof and durable nylon material and meticulously supervise the stringent manufacturing process.
I also made effort for the bag to bear reflective light strips in accordance with EU standards, and the materials are eco-friendly so you do not have to worry about an unsustainable supply chain.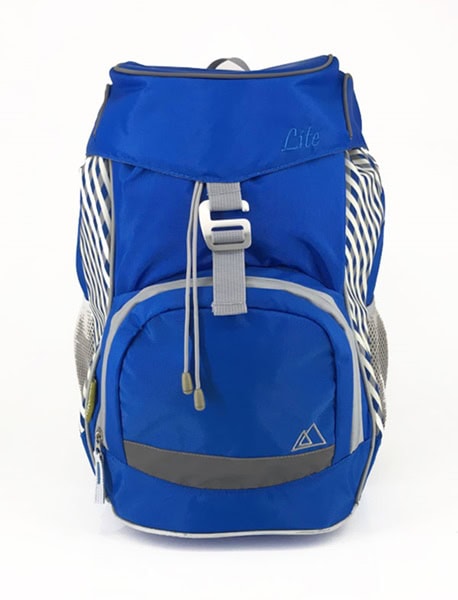 5. There are other ergonomic school backpacks in the market, how can parents chose the right bag for their kid and how does Bromin differentiate from other brands?
GT: Weight on your shoulders and quality material are the main criteria given how active our children are in school. We do not want them to carry a bag that is spoilt every few months so quality is important. I suggest to let your child try on the ergonomic bags. The colours must be to their liking too – we did a marketing test and concluded that sporty blue and fuchsia pink colours are attractive to the boys and girls. When they like it, they carry it with enthusiasm.
Bromin bags come with a lifetime product warranty to give parents a peace of mind.
I also recognise that there is the option of trolley bags, but with staircases in the school compound, I observe that children end up carrying the trolley schoolbag more than pulling them around.
6. Will you consider breaking into the young teen ergo bag market?
GT: Yes, we are looking at the teens market. However they are a very different segment and we are working to develop this area in the near future.
7. Why is it important for early schoolers to carry light bags?
GT: For their body frame of 20-kg to carry the weight of a 7-kg backpack is challenging and could cause them a burden. So my mission is not to add extra weight to their backpack.
8. Do you have any advice to someone who aspires to be an entrepreneur? What are some of the key elements to have a successful business?
GT: For this Bromin Tech and Bromin Lite ergo bag venture, I spotted the gap in the market for an ergonomic lightweight and durable backpack for early schoolers with an attractive price tag of under S$90, and seized the opportunity to realise my business plan after speaking to my long-time supplier.
My past career highlights include designing and fabricating laptop bags for Apple distributors, Lenovo, and food delivery bags. These gives me good training for Bromin ergo backpack design.
9. Lastly, do you have anything you would like to add on and share with our readers about having the right backpack for children and why Bromin is a suitable brand for them?
GT: It is really important for a child to be able to support the weight of the backpack, so feel it for yourself when you take up a Bromin ergo bag. We are pleased to announce that Bromin lightweight ergo backpacks will be available from 13 Nov at Tom & Stefanie outlets in Singapore! Shoppers can go to Eastpoint Mall Simei, Westmall Bukit Batok or One KM Mall to purchase the bags. The promotional prices are same as online until end of 2017: Bromin Tech (SRP S$88; current launch price of S$68) and Bromin Lite (SRP S$108; current launch price of S$88).
Thank you Gabriel Tay for taking our interview!
Thanks to Bromin! We had the opportunity to try out its Bromin Lite Bags and our kids can't wait to carry these bags.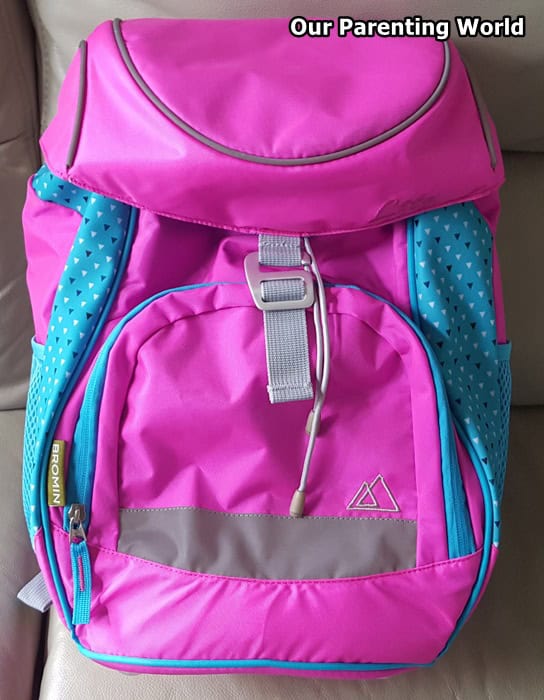 Girls will be thrilled to have this lovely pink bag that comes with water resistant high density nylon and is lightweight. The pretty pink bag has a trendy flip top cover with G-hook buckle for quick access.
A drawstring opening that stays open enables your child to find her things easily. It is a well-padded, high quality bag that will not cause a burden on her back when she is carrying it.
It has a large front compartment that extends inward into the bag, keeping the bag compact even with a full load.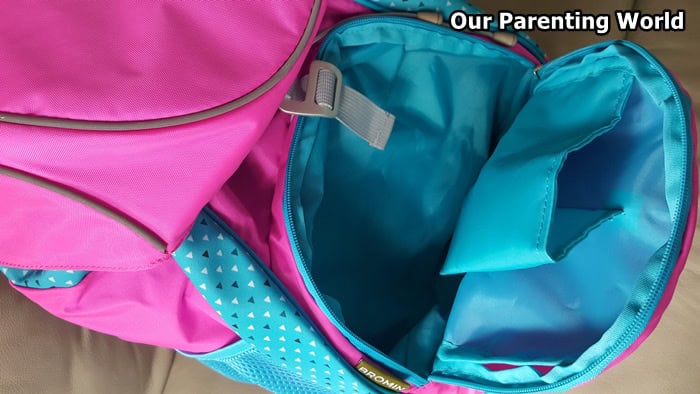 The front fully zipped pocket of the bag is spacious and the bag comes with 2 side pockets. 
The interior of the bag is roomy and its segmented with detachable option which enables the child to adjust the compartment size.
Now comes to the boy's bag, it has the same functions and features but let's take a closer look at it.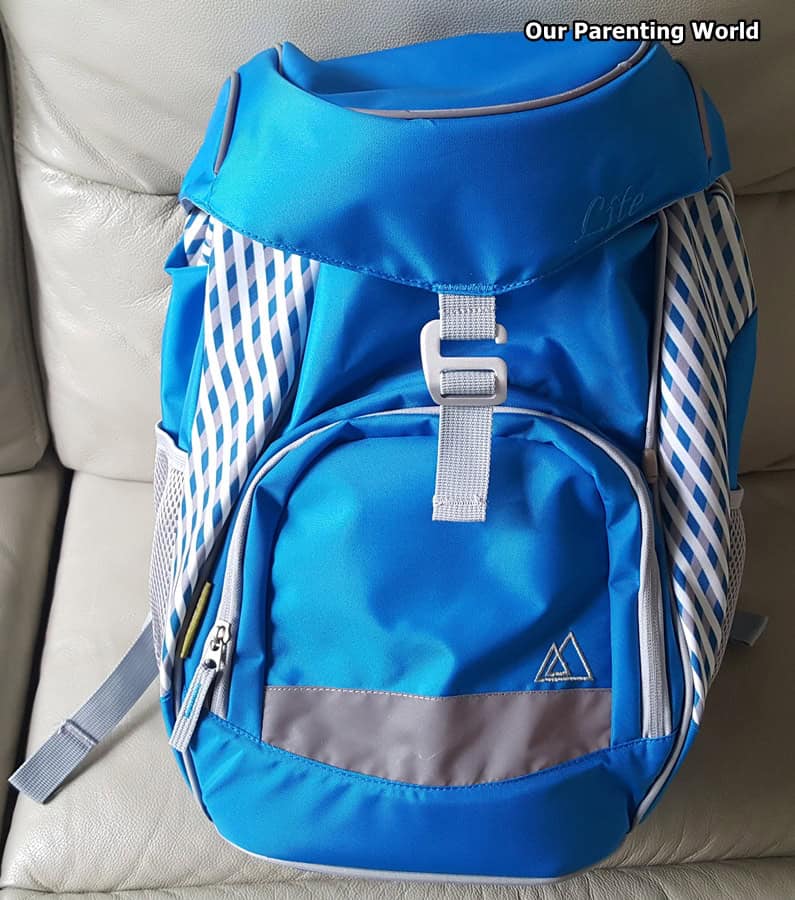 Boys will be delighted to carry this sporty blue bag, most boys' favourite colour is blue. What we like most about Bromin's bag is that it comes with well-padded, plush cushions for great back support. We don't have to worry that he will hurt his spine if he carries too many things. His back is supported and protected from strain.
The bag measures at 38cm high x 25cm wide x 21cm deep and total weight of the bag is a mere 665g.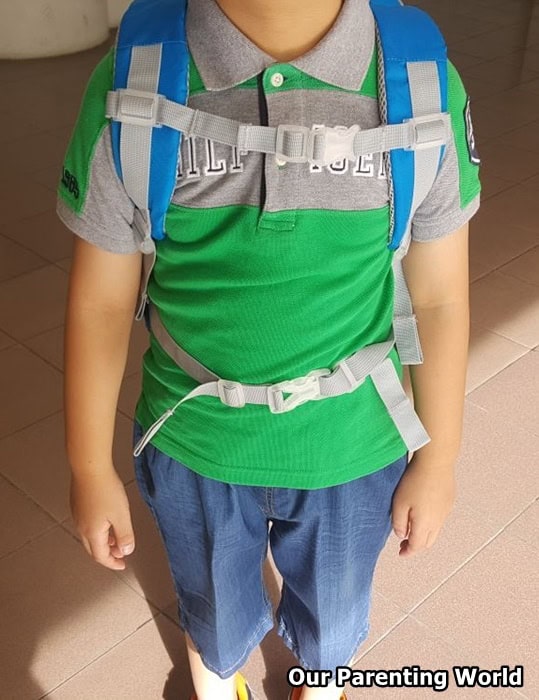 To help even out the weight of the bag, it comes with waist and chest straps. Carrying a school bag or heavy bag no longer need to be a burden and it can be a comfortable experience when you chose the right bag.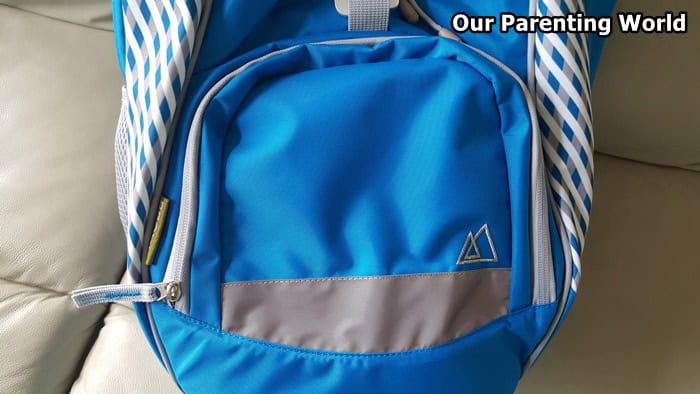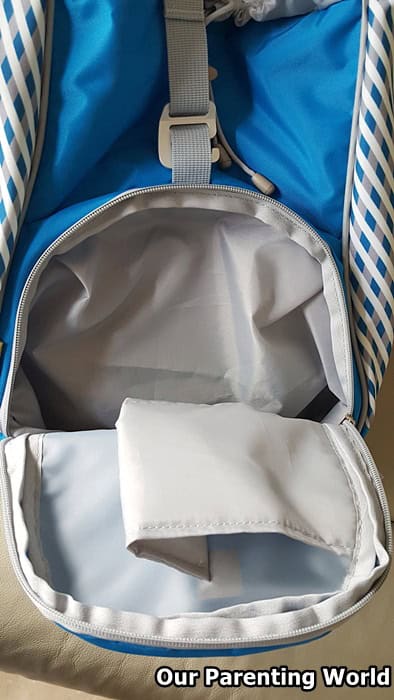 Fully zipped front pocket that is spacious enough to put your things that you would need to access quickly like Child Concession Card for your kid.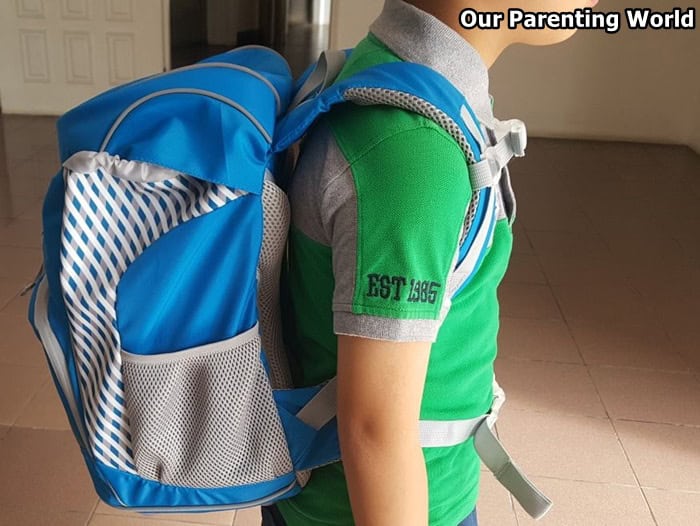 Two side pockets that are big enough to put your water bottle and or snacks.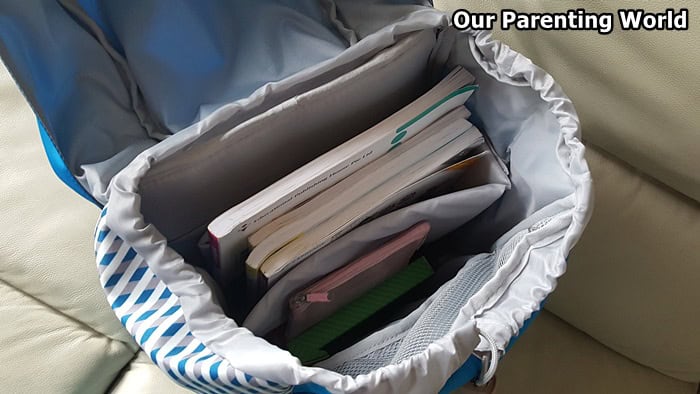 Inside the bag is roomy and segmented into 3 parts so that your child can organise his books and stationery properly and easy for him to retrieve his items with a drawstring opening. The inner compartment has the detachable option and you are able to adjust the compartment size when needed.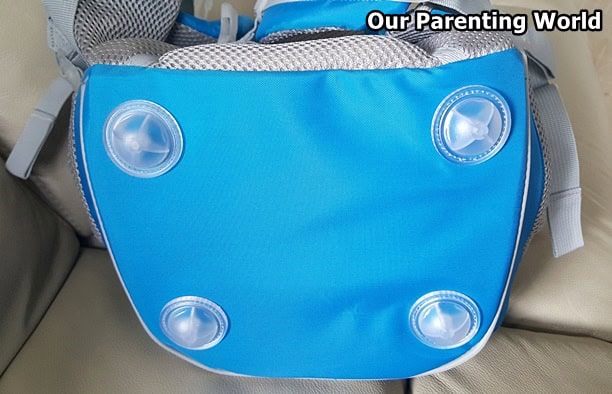 The bag is durable, water resistant and has 4 knobs at the bottom. 
Both Bromin Lite for boys and girls are the same except for the colours. For a limited time, the bag will be priced at $88 usual price is $108. All the bags come with lifetime warranty and weighing at 665g, it is probably the lightest backpack currently in Singapore and most likely the most comfortable with ergonomic support and comfort cushions and straps to provide the best support and comfort for your child!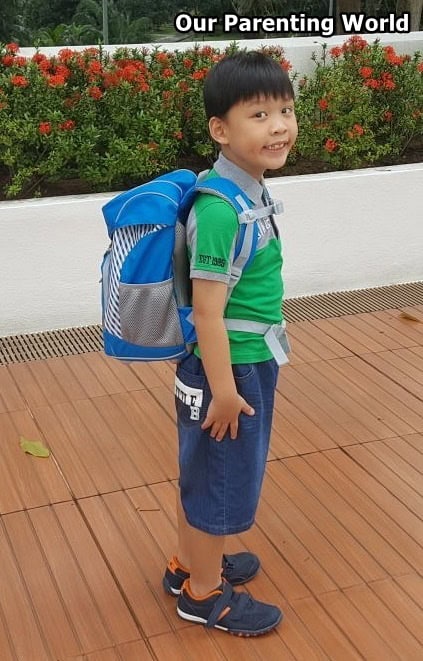 Our boy is definitely happy with his new bag, he likes the colour, its spacious and especially how light the bag is and easy for him to carry on his back. 
Pre-order the bags online now to enjoy S$20 off retail price, and delivery will be made before the new school year! Free local shipping on all purchases. To find out more and to purchase the bag, please visit its website at www.brominemporter.com/kids.