Burp Kitchen & Bar (Burp), a cafe that opened its doors in November 2015 has expanded to a  second, larger outlet at Bishan. This new outlet is a full-fledged restaurant in Bishan Park where customers can enjoy hearty modern cuisine within a rustic interior design and aesthetic ambience.
Diners can look forward to enjoy western grill, Asian-inspired comfort food in a cosy and comfortable environment with lush-green view and friendly service. Burp is a perfect place for family and friends to hangout for lunch, dinner, snacks, or after-work drinks. Food and drinks are priced reasonably to give the restaurant an affordable, welcoming and friendly appeal, as deemed by the vision of its 3 founders; Sarah Edralin Lim, Ronald Chye and Chris Cheng.
Some of their most popular dishes is the Tacos Pork Carnitas (Pork Carnitas Tacos) in which they serve warm and soft flour tortillas, packed with a generous heap of juicy, savoury, tender strips of slow-cooked pulled pork that has a bold barbeque flavour and a light tangy sweetness. The new outlet at Bishan Park has been renovated to be fully enclosed and air-conditioned. Burp plans to expand its menu particularly in its bar grubs that is perfect for sharing to continue what the brand has always aimed to do, that is, to make one full from a hearty meal and "Burp"!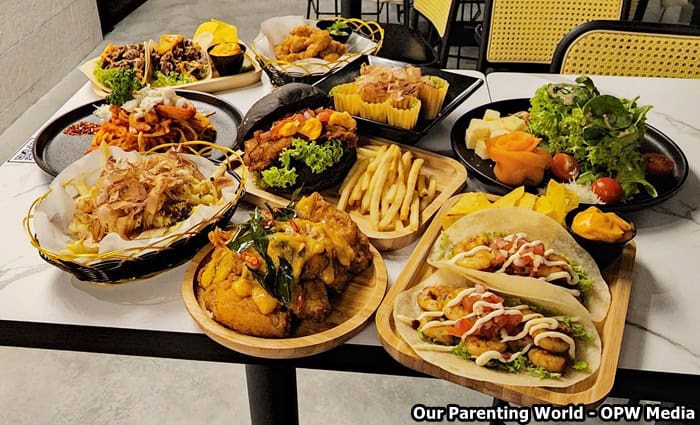 Come bring your family and friends to Burp Kitchen & Bar, your friendly neighbourhood joint, enjoy delicious comfort food cooked with soul, designed to satisfy your taste buds, fill up your bellies and drinks paired with great customer service in a pleasant and relaxing environment! 
Burp Kitchen & Bar (Bedok Reservoir)
740 Bedok Reservoir Road #01-3165 Singapore 470740
Tel: +65 8428 4722
Burp Kitchen & Bar (Bishan Park)
510 Ang Mo Kio Avenue 1 Singapore, Singapore 569983
Tel: +65 8511 4541
Opening hours: 11am to 12am Mondays to Fridays, 9am to 12am Saturdays, Sundays and Public
Holidays
Website: www.burpkitchen.wixsite.com/menu
Facebook: www.facebook.com/burpbishan/?ref=py_c
Instagram: www.instagram.com/burp.bishanprk
Official Hashtag: #BurpKitchen