In a recent survey of 200 students and working adults in Singapore conducted by Captain, it was discovered that close to 9 in 10 people have at least one snack a day! However, these snacks often lack nutritional value, as the survey revealed that instant noodles and biscuits reign supreme as the most frequently chosen snack options in Singapore. To address this concern, Captain has introduced its latest offering, Eazy-Go, which serves as an ideal solution for those seeking a quick and flavoursome bite. Whether you desire a delectable and wholesome meal ready in just three minutes or a scrumptious and highly customisable snack to accompany your latest Netflix binge, Eazy-Go is the ultimate choice suitable for any occasion.
Captain Eazy-Go presents a delightful variety of two familiar savoury flavours: Mixed Vegetables and Chicken Mushroom, evoking a nostalgic reminiscence of cherished childhood dishes. Brimming with natural dietary fibers to promote healthy digestion, a single serving of Eazy-Go fulfills a remarkable 13% of your daily fiber intake, alongside an impressive 57% of your recommended daily wholegrain consumption. The oats undergo meticulous milling to preserve their inherent nutritional value, ensuring a convenient and expeditious preparation process—simply add hot water, allow it to rest for a mere three minutes, and savour the goodness.
With a texture similar to that of porridge, consumers have the liberty to unleash their culinary imagination when it comes to customising their oat porridge with an assortment of beloved toppings. From delectably shredded chicken to eggs and crispy fried shallots, the opportunity to elevate one's meal is boundless. Accompanied by the enticing flavour profiles of Mixed Vegetables and Chicken Mushroom, Captain Eazy-Go is sure to reshape the general perception that oatmeal only comes in sweet flavours — or that oats are often tasteless and bland.
As the desire for quick, healthy and nutritious meal alternatives continues to increase, it becomes evident that savoury oatmeal is poised to revolutionise the culinary landscape in the forthcoming years. Whether relished as a fulfilling breakfast to invigorate the start of the day, a delectable lunch or dinner option, or even a satiating late-night supper snack, Captain Eazy-Go's savoury oat porridge emerges as the epitome of an accessible, wholesome, and nourishing choice.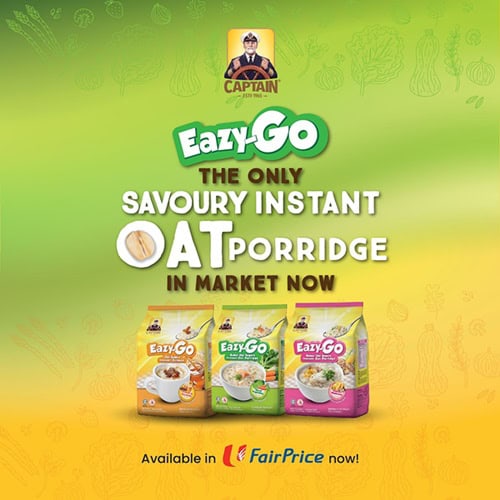 Captain Eazy-Go is now available at selected FairPrice outlets, and on the official Captain Shopee and Lazada storefronts. Pick them up today for a hearty, healthy dose of savoury oat porridge!