Can you imagine walking and or cycling without worrying about avoiding cars or buses in Raffles Place?
Our Parenting World team attended the Car-Free Sunday held recently at Civic District and Telok Ayer area. Car-Free Sunday is organised by Urban Redevelopment Authority (URA) once a month, the event is normally conducted on the last Sunday of the month except for the month of January 2017 where it was held on the second last Sunday of the month due to the Chinese New Year holidays that falls on the last Sunday of January. 
The aim of Car-Free Sunday is to promote people to be car-lite in our small city state, hopefully one day our city will have fewer cars. Participants are encouraged to walk, jog or cycle around the Central Business District and Civic District to experience the city in a different way.
Our Parenting World team is excited to be part of this green movement in Singapore. It is a refreshing and meaningful experience for all of us to be able to walk along the streets slowly and enjoy the beautiful architectures of various buildings along the way. Free from the usual hustle of the fast-paced city life in this busy part of the city, the Car-Free Sunday enable us to slow down our pace as we walked along the street to experience the sights, sounds and smells along our way. 
There is a regular feature of trishaw rides during the Car-Free Sunday where participants can register for a trishaw service in front of National Gallery. Priority will be given to trishaw passengers who are elderly or less abled.
Visitors can look out for the Central CDC Farmers' Market which is a platform to encourage healthy eating among the community, especially cosmopolitan young adults, the Farmers' Market brings local and organic produce such as locally-grown vegetables, herbs and organic honey to the community.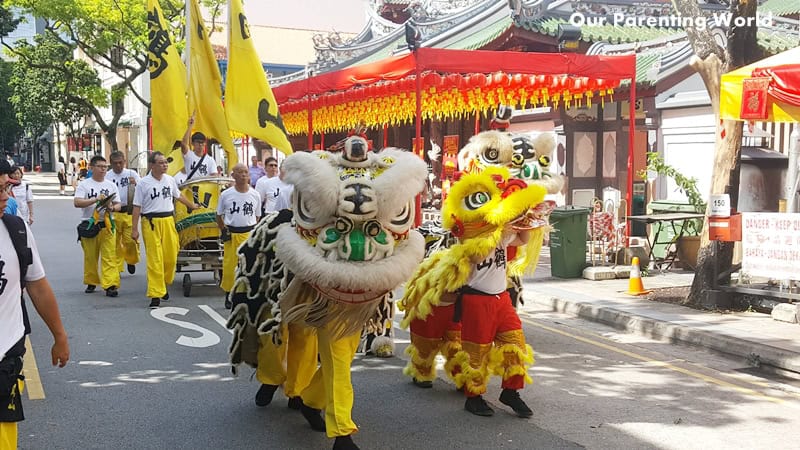 We managed to catch the Lion Dance Performance by Singapore Hok San Association, 新加坡鹤山会馆武术醒狮团 at Telok Ayer Street. This is the first lion dance troupe in Singapore. Visitors had the opportunity to don the lion head and, or learn how to drum to the traditional beats.
For more information on the Car-Free Sunday #CarFreeSundaySG please go to:
https://www.ura.gov.sg/ms/CarFreeZones/Events/Car-Free-Sunday/Programme