Our Parenting World team was invited by the nice folks at Wearnes Automotive Volvo to review their new XC60 T5 Drive-E SUV, as a follow-up to our previous review of the Volvo V40R. Please click HERE to read about our earlier review. 
The name XC60 T5 – Drive E sounds very long. Let us explain what it means. Volvo currently has 2 SUV (Sports Utility Vehicle) for sale, the small 5-seater which is called the XC60 and the larger 7-seater called XC90. The XC60 is the newer model, first arrived in 2008 compared to the older XC90 which is already more than 10 years in the market. There will be a new XC90 available next year.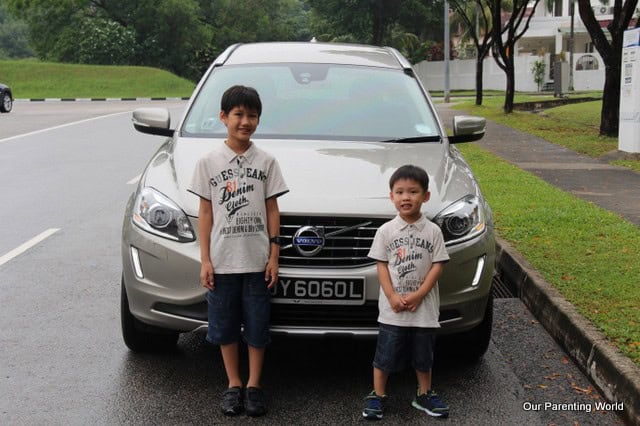 Look, this is our new ride for today!
This 5-seater XC60 looks more sporty and suitable for a typical Singaporean family if you do not need to bring your extended family out. T5 is Volvo's classification of the horsepower range. The earlier Volvo V40R we tested was T4 with a power output of 180bhp (the test car was tuned to 200bhp by their in-house tuner, Polestar). This 2 litre T5 engine has a power output of 245bhp, and although it is heavier than the V40R, it is actually faster, with 0-100 km reached in 7.2 second. The Drive-E engine is their latest fuel efficient engine. Mated to a new 8-speed auto gearbox compared to the earlier engine with 6 speeds gear, this Volvo in-house developed new Drive-E engine is faster and more fuel efficient compared to the older engine in the earlier XC60 which was sourced from Ford. This new engine is smooth and quiet even under hard acceleration. Although it is only a 4-cylinder car, it feels as powerful and as smooth as a 6 cylinder car but with better fuel efficiency.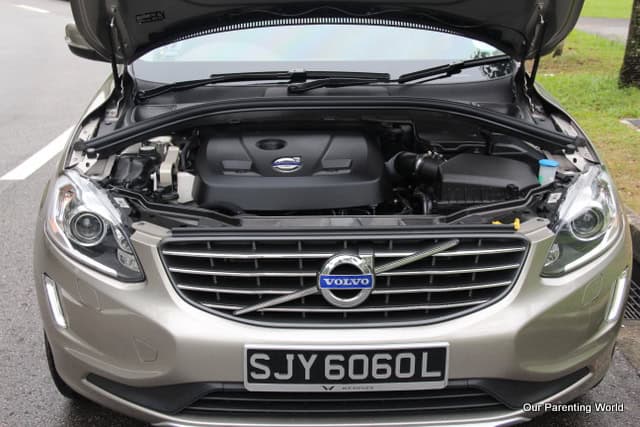 This new 2.0 litre Drive-E engine produces an amazing 245hp, 350Nm which can propel the car from 0 to 100km/h in 7.2 seconds
Fuel efficiency is amazing for a car of this size. With a mixture of city and expressway drive, we managed to clock about 8 to 9 litres per 100km, which is comparable to many smaller size sedans. It is also very clean, emitting only 157g/km of carbon dioxide, earning it a $5,000 Carbon Emissions-Based Vehicle Scheme (CEVS) rebate from Land Transport Authority. 
Gor Gor and Di Di were very excited to sit in this new XC60. After their experience with the V40R, they always look forward for Daddy to review the next Volvo and now their wishes have come true. Wow, the interior space is huge and the seats are very comfortable. They like the higher seating position because they can see a better view outside.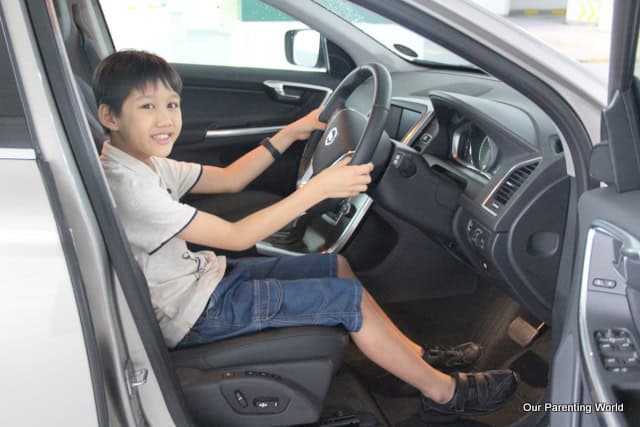 " I hope to get my driving license soon so that I can drive a Volvo Car" said Gor Gor
"Me too", said Di Di
Some people are concerned about driving SUV because it may not handle as well as a normal car and parking can be quite challenging due to its height. Not for this Volvo XC60. It drives as well as a normal car and due to its shorter overall length (it is similar in length to the smaller Volvo S60), manoeuvring around tight shopping malls carpark is a breeze. Getting in and out of the car is also fairly easy, despite it being taller than a conventional car, both Gor Gor and Di Di have no difficulties in boarding and alighting the car.
A very spacious car for the boys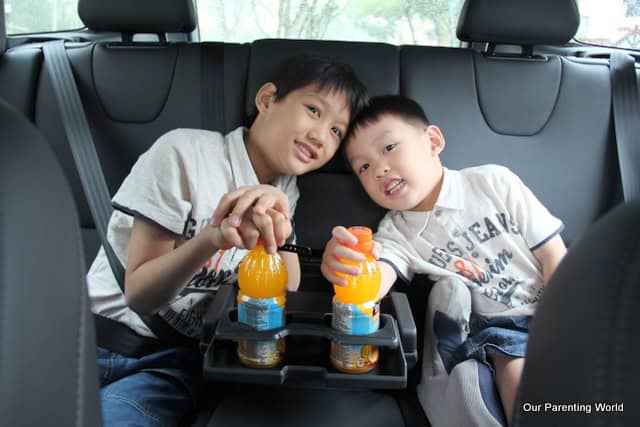 Nice place to put our fruit juices. The seats are so comfortable
Like all Volvos, this new XC60 comes with lots of safety features including their well-known "City Safety" feature. It can help to apply brakes automatically for speed below 50km/h if it senses the car in front brakes suddenly. This will help the driver in case the driver did not react on time to stop the collision. Other safety features include reminder if the driver and front passenger forget to wear their seat belts and multiple airbags (front passenger seat airbag can be deactivated if a child is seating in front). There is also a reverse camera with a TV screen activated when you are reversing the car to allow the driver to see if there is any obstruction at the back.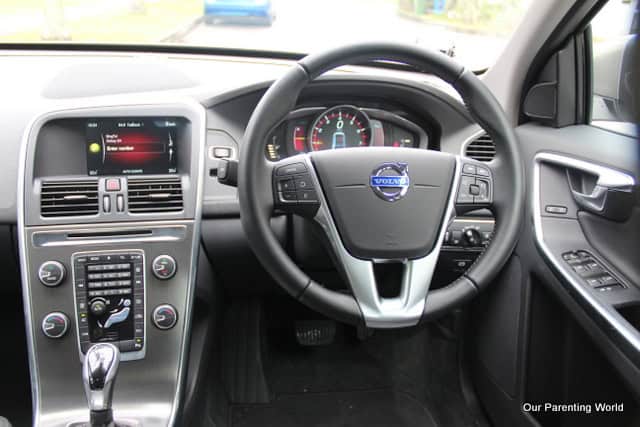 One of the 3 themes available for the dashboard. This is the sports theme with a digital speedometer.
Our Parenting World would like to thank the organisers of Wearnes Automotive and Volvo cars for inviting and giving us an opportunity to test drive this fabulous car!