The month of June can only mean one thing for kids in Singapore – school's out and fun is in! Cartoon Network and Singtel TV have great news for fans of We Bare Bears and The Powerpuff Girls! In addition to enjoying their favourite shows on Cartoon Network (Singtel TV Ch 226), catch the animation superstars on Pop & Watch – a brand new pop-up channel launching for free, exclusively on Singtel TV.
Pop & Watch will be available on Singtel TV CH 227, as well as the Singtel TV GO and Singtel CAST mobile apps from June 12-21, offering fan-favourite re-runs, never-before-seen episodes and short-form specials. Grizzly, Panda and Ice Bear of We Bare Bears will star on Pop & Watch from June 12-14, getting themselves into trouble as they deal with everyday life, love and friendship. From June 15-21, Blossom, Bubbles and Buttercup of The Powerpuff Girls will take over, keeping their City of Townsville safe from the evil Mojo Jojo.
Pop & Watch viewers can stand a chance to win some awesome We Bare Bears and The Powerpuff Girls goodie bags. Simply enjoy the channel and visit the Pop & Watch website (www.singtel.com/popandwatch) during June 12-17 to answer a few simple questions.
Singtel TV Family Pack subscribers can also redeem a Pop & Play package at Singtel Comcentre. Filled with exclusive stationery and craft materials (think We Bare Bears and The Powerpuff Girls bookmarks and pencil holders!), 300 limited-edition packages can be redeemed first come, first served. Singtel TV Family Pack customers can show their latest Singtel bill to be eligible for the redemption. A craft corner will also be on-site for instantaneous smiles.
Superfans hoping to meet The Powerpuff Girls in person can make their way to Singtel Comcentre on June 22 and 23 to get an Instagram-worthy selfie with the trio. The Powerpuff Girls will make appearances at 10.45am, 11.45am and 12.45pm to offer photo opportunities to all, first come, first served.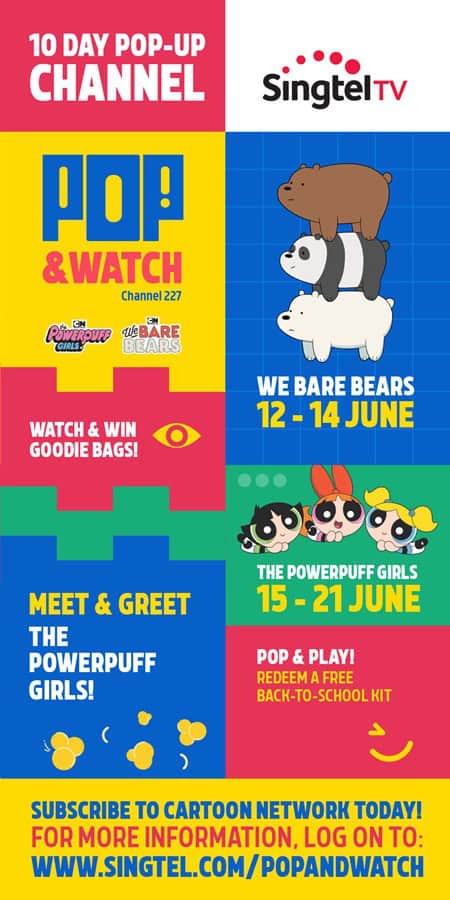 Pop & Watch is a free pop-up channel exclusively available on Singtel TV Channel 227 from 12-21 June 2019. For more information, visit www.singtel.com/popandwatch.
For more information about The Powerpuff Girls and We Bare Bears, visit the Cartoon Network Asia official Facebook page.
To subscribe to Cartoon Network on Singtel TV and CAST, call 1609 or visit any Singtel Shop.
Watch Videos here: 
1.       Pop Up and Watch The Powerpuff Girls and We Bare Bears this June Holidays with Singtel: https://vimeo.com/337925213
2.       Pop & Watch – Meet The Powerpuff Girls & Redeem Exclusive Gifts this June!: https://vimeo.com/337925897