When was the last time you visited Alive museum? 
For a limited time only, you can purchase tickets at 40% off the usual ticket prices! If you have or have not been to Alive museum, now is the time to visit Alive Museum and make your way to the world's best 4D illusion and non-conventional museum which has more than 80 trick art pieces. 
Alive Museum Singapore has refreshed its content and celebrates with two brand new zones! Here's where fantasies comes alive for everyone whether you are young, young at heart, or in love, expect to be welcomed by never-before seen vibrant, colourful zones of "Live.Laugh.Love" and "Young @ Heart" when you enter the world of illusionary picture-taking fun! 
At YOUNG@HEART ZONE: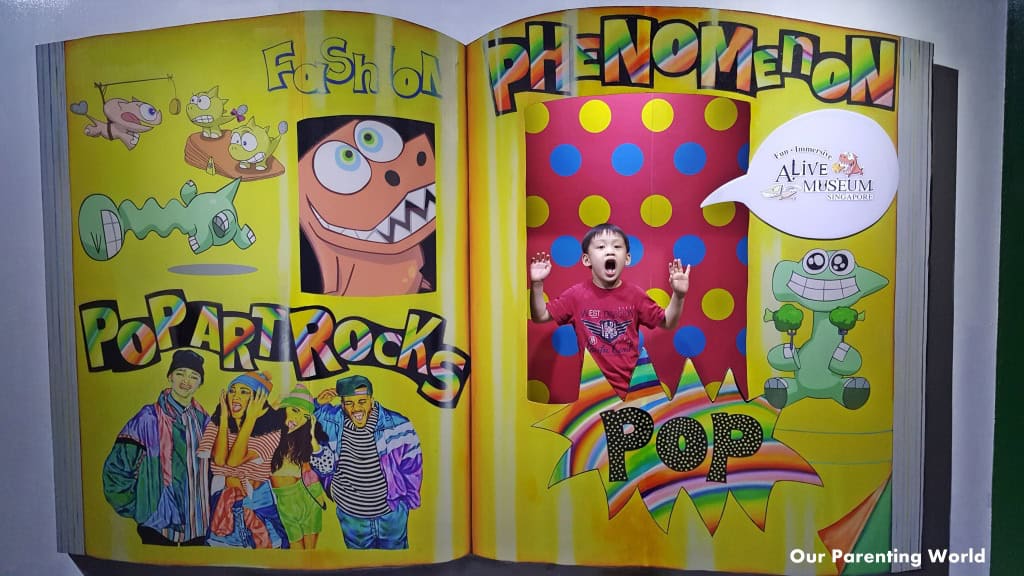 Pop Art Rocks Magazine – Be featured as a famous personality in a magazine!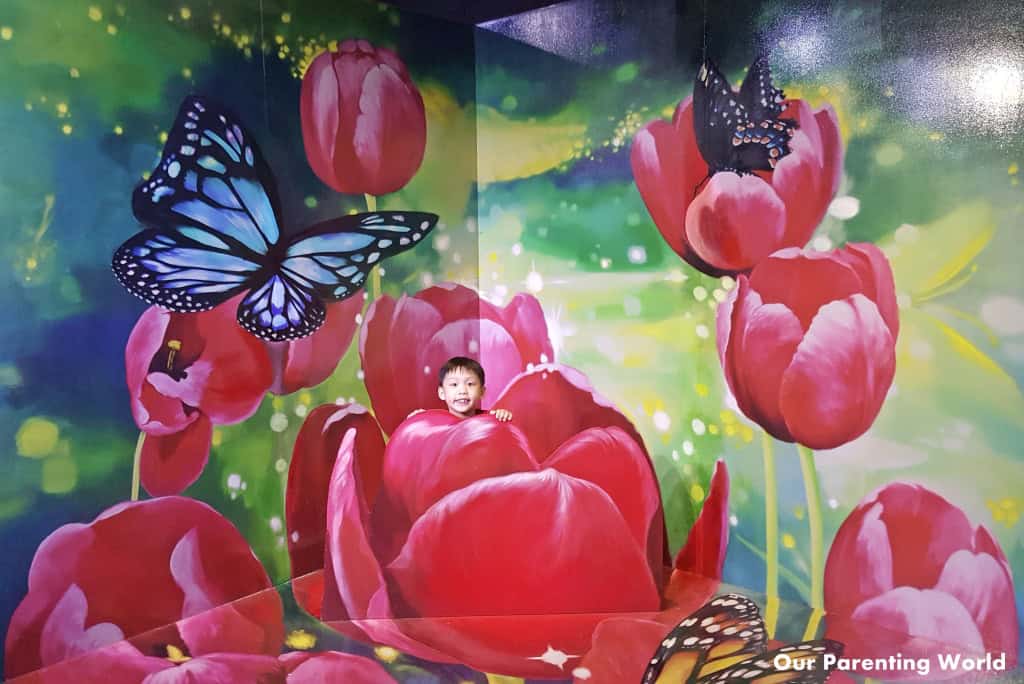 A

l

l

o

w

y

o

ur

k

i

ds

to

j

um

p

i

n

to

T

hu

m

be

lina's world of flowers!
At the Young@Heart Zone, this is the place where fantasies come alive for the whole family! Immerse in the vibrant and colourful art pieces as you enter into the world of illusionary, have fun taking memorable pictures!
At LIVE.LAUGH.LOVE ZONE: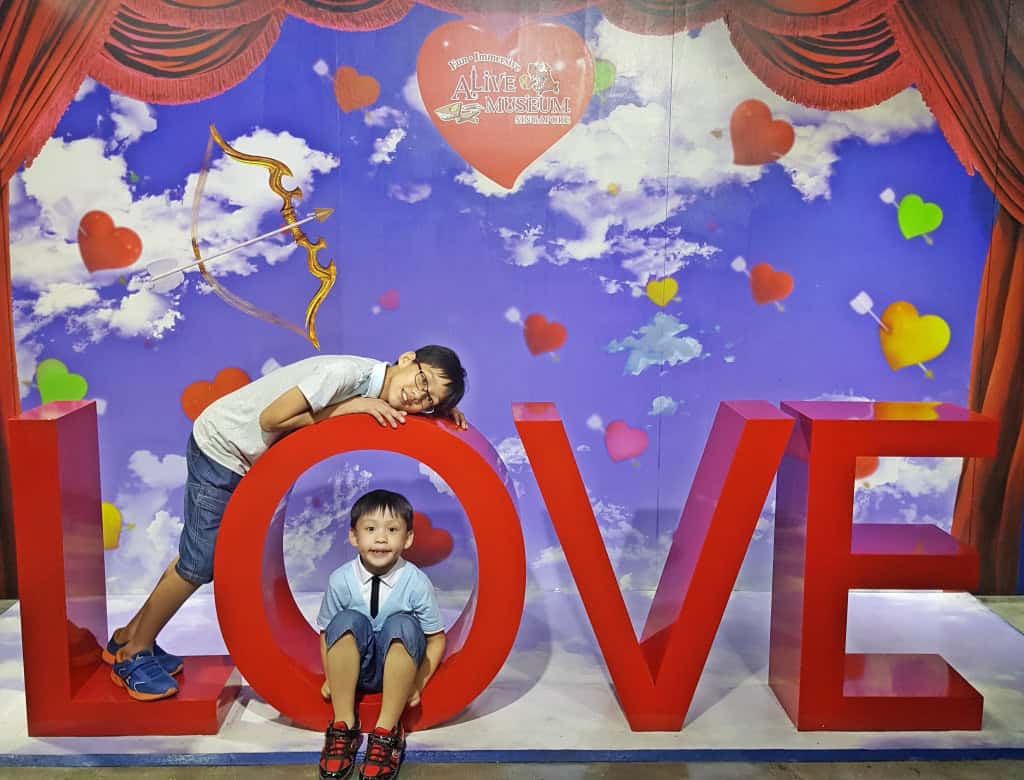 LOVE is all around!
Alive Museum celebrates with a brand new zone of love and friendship where you can have plenty of laughter and fun with your family and friends taking lots of memorable pictures together!
Some of the well-loved masterpieces at Alive Museum include: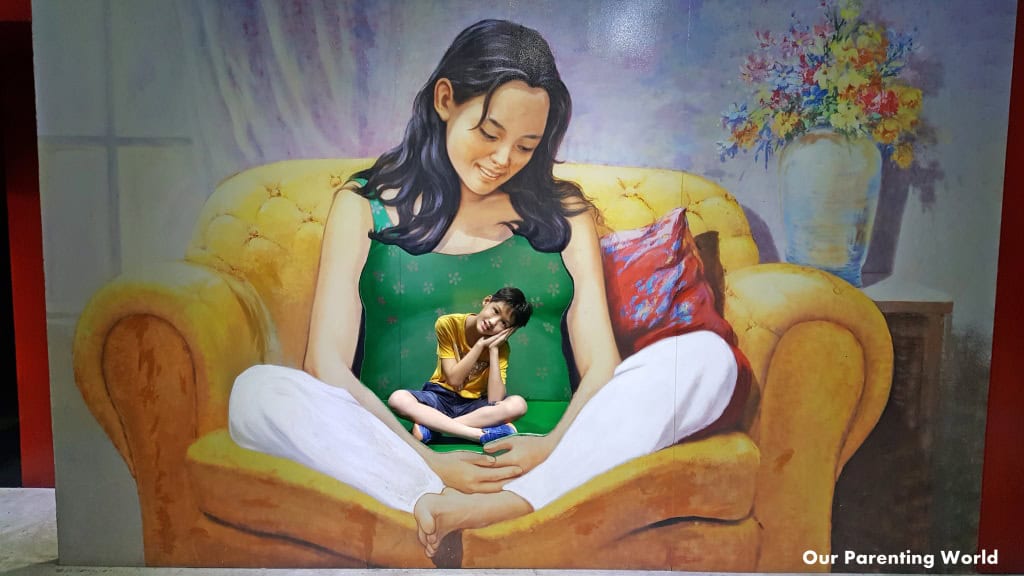 Mother's Arms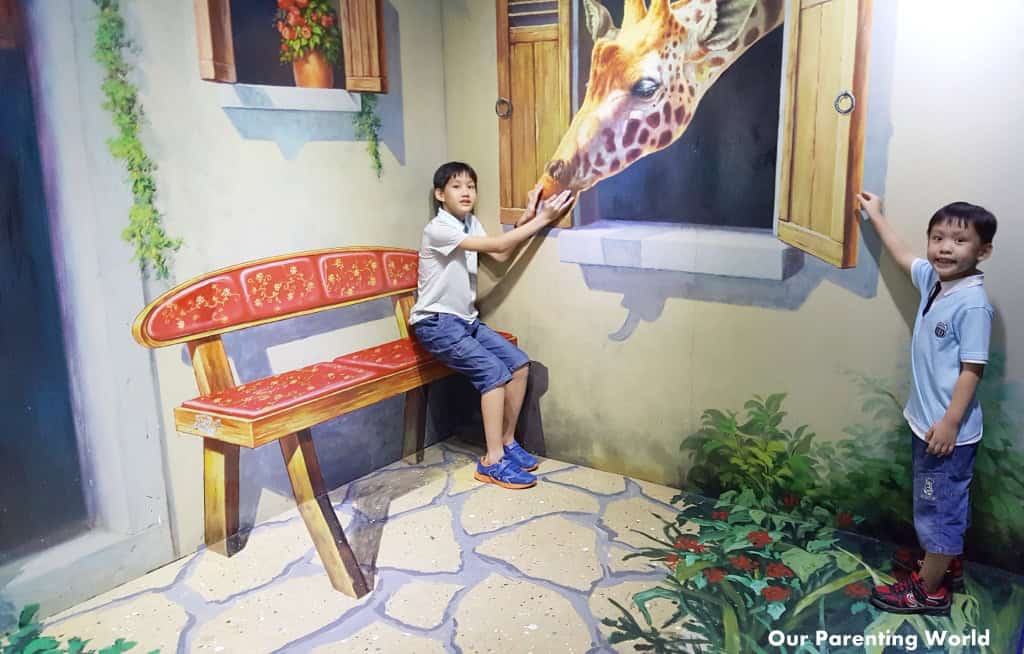 Giraffe's House
Worship!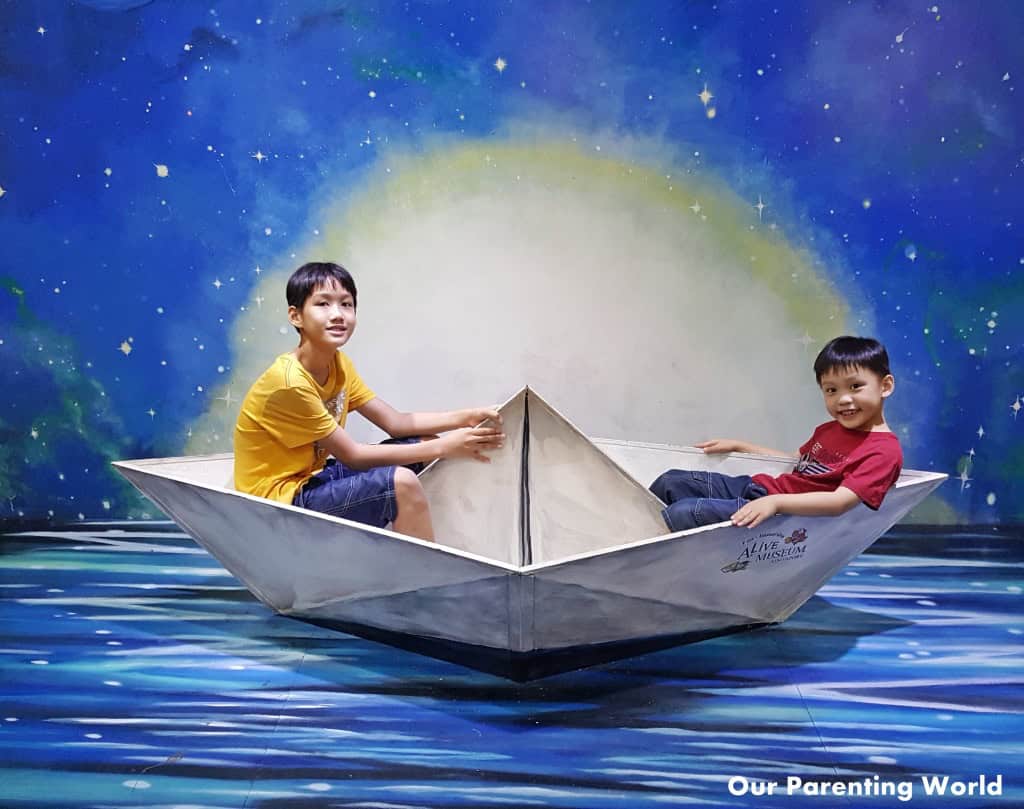 A paper BOAT
With masterpieces like 3D art, Digital art and Object art at different zone areas, expect these art pieces to trick your eyes and for some displays, you can touch and be part of them. Have lots of fun and bonding time with your family, friends and loved ones exploring, engaging, immersing and most importantly, take lots of creative pictures and build beautiful memories! 
Besides having a one-time 40% discount on tickets for both adults (13 yrs and above) and kids (3 – 12 yrs) for a limited time only promotion, in addition, if you are a student and or senior citizen (60 yrs & above), tickets can be purchased at just $10 (Please present ID at the point of entry)
To book your tickets online, please click HERE. 
Alive Museum Singapore
Suntec City Mall #03-372 (Between Towers 3 and 4)*
Ticket Prices: $25 (Adults), $20 (Children 3-12 yrs)
Operating Hours: Opens daily from 10am to 10pm (last admission at 9pm).
Please click HERE for more information.
Good News!
WE have ONE Family package of 4 tickets (2 adults and 2 kids worth $90) to giveaway for the whole family to visit Alive Museum, the World's Best 4D Museum and this is where you can immerse yourself in fantasy and become part of a masterpiece! 
There's no end to creativity! Alive Museum is the perfect place for bonding with your family and friends.
Here's how to enter the giveaway:  
1) Like Our Parenting World Facebook (<– Please click the link provided to go directly into Facebook)
2) Like and Share Our Parenting World Facebook Post on Catch Alive Museum Again and Tickets Giveaway! (<– Please click the link provided to go directly into Facebook Post)
3) Comment on this website post below "Where is the location of Alive Museum?"
Hint: Answers is at the sign marked * 🙂
Hurry, giveaway will close on 30 June 2016 at 23:59Hr. Winner will be announced through Website and Facebook. 
Please ensure that Step 1, 2 and 3 are completed in order to qualify for the giveaway. The entries will be verified by the Organisers. Winner please kindly confirm your prize within 48 hours of announcement of your winning on our Website and Facebook page or another winner will have to be chosen.
This giveaway is only for fans of Our Parenting World (OPW). The prizes are proudly sponsored by Alive Museum.
Thank you and Good Luck!
Giveaway closed and winner has been notified, please visit our Facebook Giveaway Post for winner's announcement.
Stay tuned to Alive Museum current promotion and catch Alive Museum at:
Website: http://alivemuseum.sg/
Facebook: https://www.facebook.com/alivemuseumsingapore
Instagram: https://www.instagram.com/AliveMuseumSG/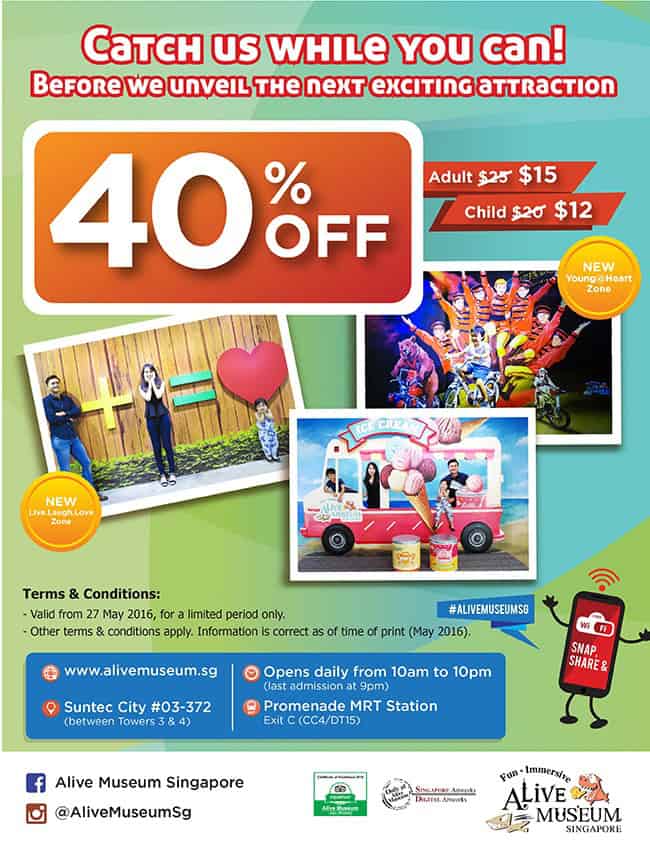 Terms and Conditions
Entry into the giveaway contest will be deemed as acceptance of these terms and conditions. The rules of the giveaway contest and how to enter are as follows:
1) The prize is as stated, subject to change and fulfillment by the sponsors. Winners are not allowed to change the prizes. The prize will be non-transferable, non-refundable and non-exchangeable for other products/dates/times. The sponsors reserve the right to amend the giveaway contest, substitute any prize or with another of equivalent value without giving notice.
2) All participants have the opportunity to win as long as you have completed and fulfilled all the steps/requirements specified on the giveaway contest. Please make sure your likes and shares are set to public for verification purposes. Incomplete entries and fake accounts will be disqualified at the discretion of the organisers.
3) Winners of past giveaways in the last one month will not qualify for this giveaway, please wait till after one month from the date that you have won to participate in the current giveaways. 
4) Giveaway contest is open to all Singapore residents with a valid Singapore mailing address
5) The organiser (ourparentingworld.com) is not responsible for inaccurate prize details supplied to any entrant by any third party connected with the giveaway contest and by the sponsors.
6) Winners will be notified by email /Facebook/Instagram after the contest has ended. If the winner cannot be contacted or do not claim the prize, we reserve the right to withdraw the prize from the winner and or pick a replacement winner. 
7) The organiser reserves the right to cancel the contest if circumstances arise outside of its control.
8) The sponsor's and the organiser's decision in respect of all matters to do with the giveaway contest will be final and no correspondence will be entered into.
9) Other terms & conditions apply.