Christmas is coming and it is time to do Christmas shopping! Raffles City Singapore, Singapore's premier fashion and lifestyle mall, celebrates a special Christmas this year with a dazzling Raffles City and Guerlain Christmas tree filling the air with festive joy in a refreshed mall that is seeing a slew of international brands opening their standalone flagship stores and debuting their first-ever store concepts.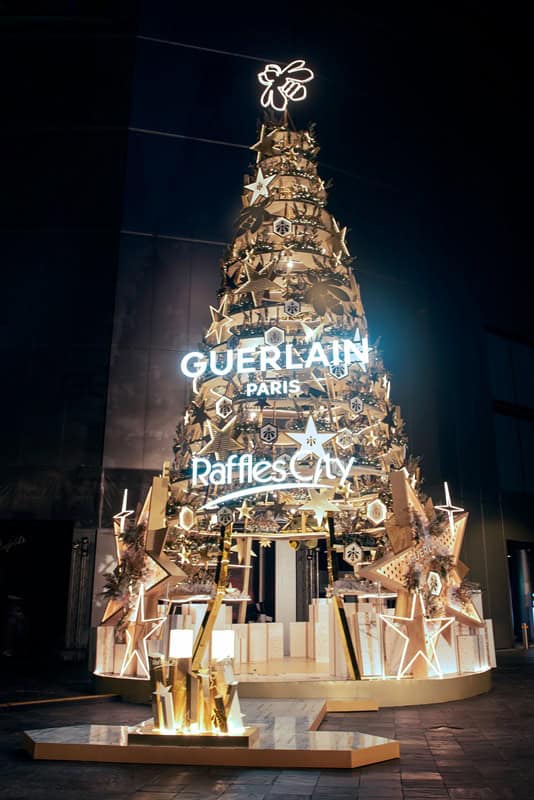 Fly to the Stars, lighting up on 10 November, is a one-of-a-kind festive collaboration between Raffles City and Guerlain, renowned French luxury beauty brand that has long influenced the trends of the beauty industry with its rich history, will illuminate with stars, glitz and holiday cheer galore. Taking centre stage at the mall's External Quartzite, the bespoke 15-metre tree is the beauty brand's first-ever Christmas tree installation in the world. 
More of an extraordinary tree-art installation, Fly to the Stars is a radical take on Christmas tradition, evoking movement, wonder and joy, while encouraging shoppers to step inside and be dazzled as they look up at what appears as ascending terraces dotted with festively decorated foliage and vegetation. Unique, grand and fantastical, the inside is a shimmering, immersive space encircled with concentric rings of LED lights, mesmerising and drawing one to fly to the stars with the bees.
Bold, highly decorative and celebratory, the tree is painstakingly decked with more than 300 artfully-crafted decorations of bees, galaxy of stars and honeycombs that hang like picture-perfect frames while adorned with Guerlain's iconic bee.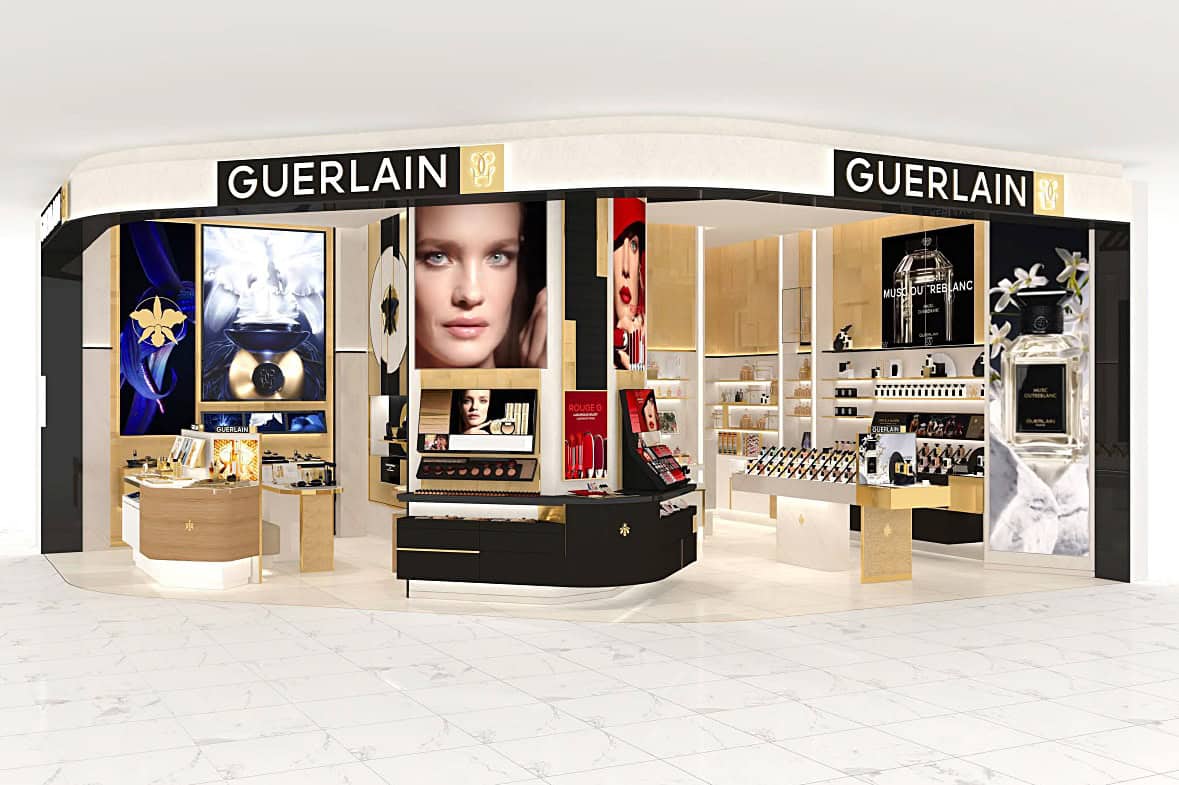 Guerlain will also be opening its first standalone boutique in Singapore at Raffles City, #01-40, on 10 November. The flagship boutique will feature the French maison's first facialist suite presence in Singapore offering an array of indulgent facial services. The brand's home collection will retail exclusively at the Guerlain Raffles City boutique where bestsellers such as the Eau de Cashmere home fragrance and the home collection will be available to shoppers for the first time in Singapore.
Spanning over 630 square feet, the Guerlain flagship will feature exclusive products including its iconic Bee Bottle in 125 ml that will be available in four selected fragrances for the first time in Singapore. Imagine, its 2022 Bee Bottle exceptional piece, which is limited to 3,960 enchanting pieces worldwide, will retail 15 pieces in Singapore at $1,070 exclusively at the Guerlain Raffles City boutique.
Mr Steve Ng, General Manager of Raffles City Singapore, said, "We are excited to welcome Guerlain and are delighted to be working together to bring the festive cheer to our shoppers with the majestic Fly To The Stars centrepiece that is sure to mesmerise. Adding to that, shoppers can look forward to a bigger and better festive shopping experience at Raffles City this year with unique, first-ever experiential concepts and exclusive merchandise ranges."
New Stores, Special Pop-ups & Events To Look Out For
As the next cluster of international luxury brands open their stores at Raffles City as part of the mall's rejuvenation, shoppers can expect a variety of beauty and fashion brands opening their first-ever standalone flagship boutiques with unprecedented store concepts and exclusive offerings. There are also exciting pop-ups and events that shoppers can look forward to.
CHLOE – First-ever Chloé Atelier des Fleurs boutique in Singapore
Chloé Fragrances' first-ever Chloé Atelier des Fleurs boutique in Singapore aims to deliver a stunning visual experience reflective of Chloé's storied history while showcasing exclusive collections as well as an elevated store experience. Painted in delicate hues of powder pink and creams, emulating a garden setting complete with an elegant French flower cart paired with a sprawl of floral arrangements, the boutique will offer the collection's 17 eponymous fragrances including two new scents, Violette and Santalum. Complimentary services such as gift wrapping, fragrance miniatures and personalised gifts will also be available in November.
CREED – First standalone flagship boutique in Singapore with new design, exclusive services and full Les Royales Premium range
Legendary English French hand-crafted premium perfume brand with over 250 years of royal service history, Creed's first standalone flagship boutique in Singapore and the first in Southeast Asia features a brand-new design and will include services such as product personalization and tailored fragrance profiling. Its Les Royales Premium Range, featuring six exquisite fragrances handcrafted with the noblest essences and rarest infusion techniques, is now exclusively available in Singapore at the Raffles City boutique.
DIPTYQUE – Home away from home, its flagship boutique in Singapore uniquely embodies the brand's Parisian spirit
The French fragrance brand's flagship boutique in Singapore is a visual and sensorial experience where the charms of Paris and the elements of local decoration blend harmoniously in the spirit of inventiveness and contrast. The new boutique juxtaposes a central fireplace and mouldings typical of French apartments with furniture designed by the Singapore-based Studio Kallang. On the shelves, the collection of scented candles brimming with floral, woody, spicy and herbaceous notes are displayed. Shoppers can also find the much-loved decorative items by Diptyque such as candle holders, pedestals and lanterns for enhancing candle flames, limited edition candlesticks, diffusers and paperweights.
GIVENCHY – First and only standalone flagship boutique in Singapore with exclusive products and services offering
Inspired by its heritage, French luxury perfume house, Givenchy Parfums expresses a free and modern vision of elegance, both sophisticated and radically daring in its fragrances, makeup and skincare products. Its first standalone boutique in Singapore will feature exclusive products and services including La Collection Particulière de Givenchy, a couture fragrance range, and Le Soin Noir, its premium skincare range, that shoppers can get their hands on for the first time in Singapore. Givenchy at Raffles City will offer complimentary skincare consultation and touch up services as well as engraving and personalisation services.
PENFOLDS – A futuristic, out-of-this-world pop-up wine experience coming to Singapore
Following its extraordinary success in Bangkok, Sydney and Los Angeles earlier this year, Venture Beyond by Penfolds, a thematic experience by Penfolds, a premium Australian wine producer, will be embarking on a journey to Singapore. Located on the first floor of Raffles City, the futuristic, out-of-this-world wine experience will run from 10 to 20 November, featuring a series of playful interactions and digital installations, with a selection of add-ons such as masterclasses and live DJ performances to enhance the visitors' experience.
CLUB21 AND BAO BAO – A multi-brand pop-up featuring the latest ready-to-wear styles and trendy accessories
Fashion enthusiasts will be delighted to step into the multi-brand pop-up by Club21 and BAO BAO ISSEY MIYAKE for a curated experience of the latest international brands and fashion staples. From casual streetwear to the latest contemporary must-haves, seasonal selects of PLAY Comme des Garçons, GANNI, Undercover, PS by Paul Smith, Blackscore and more will be available. Shoppers can also get their hands on BAO BAO ISSEY MIYAKE's iconic line of vibrant and intriguing bags and pouches.
Brand-new Raffles Prestige Experience
Raffles City is refreshing its premium by-invite only membership, Raffles Prestige, to engage members with unparalleled bespoke experiences and not-to-be-missed lifestyle rewards.
Members can enjoy new exclusive perks and privileges including priority purchase of impressive Christmas beauty sets and an enticing 'Rewards Catalogue' where members can use STAR$ to redeem shopping vouchers from their favourite brands.
Find out more here: https://www.capitaland.com/sg/malls/rafflescity/en/RafflesPrestige.html
Attractive Festive Promotions
To further immerse in the beauty and wonder of the most magical time of the year, Raffles City is offering the following festive shopping and dining promotions from 11 November to 25 December:
SHOP FOR THE STARS
11 November – 25 December 2022
Be one of the three top spenders to walk away with $1,000 eCapitaVoucher and 6 months Raffles
Prestige membership.
WONDERFUL SURPRISES
11 – 24 November 2022
– $20 eCapitaVoucher for first 1,000 to spend $300
– Additional Guerlain gift set (worth $160) for first 300 to spend $600
– Additional $100 eCapitaVoucher for first 300 to spend $2,000
– Raffles Prestige Exclusive: Additional $50 Brand eVoucher for first 100 to spend $2,000
JOYFUL YULETIDE REWARDS
25 November – 25 December 2022
– $20 eCapitaVoucher for first 2,000 to spend $300 in a single receipt
– Additional $300 eCapitaVoucher for first 50 to spend a cumulative of $5,000 within 25
November to 25 December 2022.
Terms and conditions apply. Find out more here:
https://www.capitaland.com/sg/malls/rafflescity/en/ChristmasAmongstTheStars.htm
Find Raffles City on:
Website:          www.rafflescity.com.sg
Facebook:       www.facebook.com/rafflescitysg
Instagram:       www.instagram.com/rafflescitysg
Hashtags:        #ChristmasAtRC, #RafflesCitySg