With a fast growing and highly engaged audience, TikTok has become the place to be for sharing, learning, and inspiring the next generation. The platform empowers users to share their knowledge creatively in a bite-sized format, using the hashtag #learningisfun, which supports all-things-educational for Singapore users.
Our editorial team speaks to Doreen Tan, Creator & Community Partnerships Manager, TikTok Singapore where she shares interesting facts about TikTok on how it has became an alternative platform for learning since the pandemic as well as how TikTok is changing the way we learn, from long-form prose to short-form videos, read on to find out more.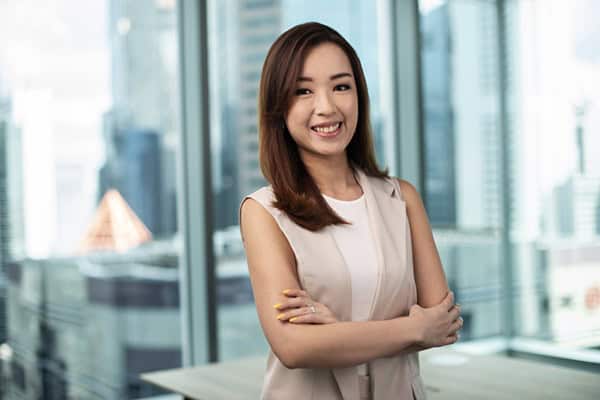 Exclusive Interview With Doreen Tan, Creator & Community Partnerships Manager, TikTok Singapore 
1. How the idea for education on TikTok came about – and how the platform became an alternative platform for learning since the pandemic?
Doreen Tan: As schools and learning centres temporarily shut during the lockdown, TikTok stepped up as an alternative platform for creative remote learning with bite-sized educational content that kept learning engaging, accessible, and fun.
On top of "study with me" sessions and revision tips shared by students, educators played increasingly prominent roles in these groups, and we also observed a surge in online studying communities.
Whilst TikTok first started as an alternative avenue for learning amid the pandemic, we have seen this trend grow significantly – with accessible hashtags such as #learningisfun garnering over 1 billion views to date and today, it houses a vibrant range of content – from lifestyle, dental tips and  photography hacks.
Additionally, with the pandemic underpinning the importance of finding safe, trustworthy, and reliable content about our health and wellness online – we also have seen this growing need translate into healthcare professionals coming onboard platforms like TikTok to debunk common health-related misconceptions.
2. How TikTok is changing the way we learn, from long-form prose to short-form videos
Doreen Tan: TikTok is changing the way we learn – from sharing long-form prose to immersive, vertical, short-form videos. Unlike long form text that we are typically accustomed to in schools, educational creators can easily break down information into 15-second videos on TikTok, making it easily digestible for learners.
With its user-friendly interface, and variety of special effects, video editing tools and library of sounds, TikTok also provides a direct way for creators and followers to connect. Hashtag challenges are a key feature on TikTok, enabling users and content creators to participate in any trending, learning-related topics – from life hacks, to study tips and how to make learning fun.
With users able to gain easy access to educational content directly from their smartphone, curious minds can just whip out their phone and perform a quick search on TikTok to learn something new and enrich their lives, even while they are on the go.
Nonetheless, we understand that some videos might require more time. As part of our mission to offer innovative tools to inspire creativity, we have now provided access for creators to upload longer videos to encourage experimentation of different content formats – from in-depth tutorials to detailed explainers.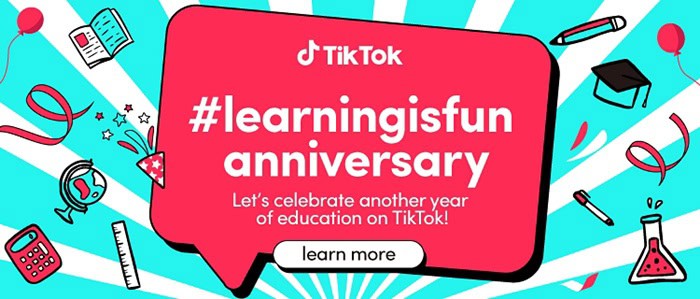 3. Successes from the past year of #learningisfun on TikTok
Doreen Tan: Recently, we commemorated the first anniversary of #learningisfun, which celebrated the diverse set of educational TikTok creators who have added to the wide variety of content on our platform – from professional development hacks, to science and english lessons, tutorials on architecture, cooking as well as health and wellness tips. Since the launch of #learniningisfun, we have seen an impressive growth in educational creators, particularly in the health and wellness, photography, life hacks, and science categories.
In terms of successes – across Southeast Asia , the demand for educational content online has never been higher, with 13.1 times YoY growth in video views, and our platform seeing a 38.4 times YoY growth in educational videos published, in addition to over 344 million videos views across the past year.*  In Singapore, educational content related hashtags like #learningisfun and #adulting have expanded rapidly, accumulating 1B and 4.2B views respectively.
Zooming into professional and personal development content on the platform, #careeradvice was launched back in April, where users could share their best career advice over both short-form videos and livestream sessions, garnered almost 400 video uploads and 1.8M views in just two weeks. Additionally, #BookTok continues to thrive on the platform with over 45B views globally – with this ongoing trend encouraging individuals to provide book recommendations, organise book clubs and more. We also launched #BookTok in Singapore last year, which gained close to 1,000 video submissions in just two weeks, with over 7.9M views.
4. What are the types of educational content gaining traction in the local community and interesting educational creator profiles who use innovative and highly creative ways to make subjects (that many might perceive as "boring") fun that you would like to share with us? 
Doreen Tan: With TikTok centered around short-form content, the platform follows an existing trend in online learning: "micro-learning", which refers to the idea of small units of learning which is already well established in online education. The possibilities for leveraging TikTok for learning are endless, and its easy-to-use tools can be applied to any subject to make it a fun and engaging learning process overall.
Particularly, types of educational content gaining traction in the local community include:
Career and education tips
As a career coach, Janus Chan helps her clients identify their blind spots and overcome their limiting beliefs to uncover their hidden potentials. This allows them to excel in their careers and achieve their career goals.
May is a full time math tutor with over 10 years of experience and has taught over 200 students with different learning abilities. With a passion for math, she is on a mission to help more students love and improve their math.
Coach Jason Ho is a coach who is obsessed with how to best "hack performance". His TikTok content ranges from life hacks, career advice to productivity hacks, and he even shares thought provoking videos on how to find the best version of yourself. His greatest desire is to see a world where everyone has come alive, doing what they love and do best. Jason is driven by his life mission to bring out the best in people.
Photography hacks
Yik Keat (YK) is one of the most popular photography creators in the region who quickly amassed over 1.7M followers to date. His videos showcase some of his proudest works and he has recently jumped on the educational bandwagon on TikTok to showcase tips and tricks to capturing his amazing shots as well.
Arian is a local photographer who had always wanted to venture into sharing his photo hacks, and found TikTok and its native short form video format to be his favourite way to do so.
Health and wellness advice
Technology 101
Ainul Md Razib is a full-time software developer who is passionate about sharing tech content. She repackages technical content into short yet easy-to-understand videos, inspiring users all around the world to pursue tech careers.
Louis started on TikTok with the objective of sharing his spreadsheets skills so that others can save time and finish their work faster. He has since amassed over 157K followers.
5. Any other TikTok initiatives to share?
Doreen Tan: User safety is our top priority and we empower users with the tools to control their app experience, such as enabling parents to set guardrails on their teen's TikTok presence with our Family Pairing features and more.
TikTok has introduced several features and tools that advance our commitment to promoting a safe and welcoming app environment for our community. These include:
Family Pairing enhances our suite of safety tools and complements our work to provide greater access to product features as users reach key milestones for digital literacy. It is part of our continued work toward providing parents better ability to guide their teen's online experience while allowing time to educate about online safety and digital citizenship.
Rolled out globally including Singapore since November 2020, the feature allows a parent to link their TikTok account to their teen's and manage their experience in these ways:
Screen Time Management: Manage how long your teen can spend on TikTok each day

Restricted Mode: Limit the appearance of content that may not be appropriate for all audiences

Direct Messages: Restrict who can send messages to the connected account, or turn off direct messaging completely.
From August 2021, we have introduced new restrictions on who can use our Direct Messaging feature. Only those aged 16 and over will be able to send and receive Direct Messages.
Screen Time Management Dashboard
Globally, we have also introduced a tool to let people control how much time they spend on TikTok in a single sitting by enabling regular screen time breaks. These prompts will remind people to take a break after a certain amount of uninterrupted screen time, which they can set as they choose.
Our new screen time dashboard will also give our community data about how much time they are spending on TikTok, with summaries of their daily time spent on the app, the number of times they opened the app, and a breakdown of daytime and night-time usage. Users can also opt for weekly notifications to review their dashboard.
Furthermore, we will be introducing weekly digital well-being prompts for younger members of our community. When someone aged between 13 and 17 has used the app for more than 100 minutes in a single day, we will remind them of our screen time limit tool the next time they open the app.
We recognise that for our teenage community members, some content may contain mature or complex themes that may reflect personal experiences or real-world events that are intended for older audiences.
As such, we are working to build a new system to organise content based on thematic maturity. Many people will be familiar with similar systems from their use in the film industry, television, or gaming and we are creating with these in mind while also knowing we need to develop an approach unique to TikTok. In the coming weeks, we'll begin to introduce worldwide, including Singapore, an early version to help prevent content with overtly mature themes from reaching younger audiences under the age of 18.
When we detect that a video contains mature or complex themes, for example, fictional scenes that may be too frightening or intense for younger audiences, a maturity level will be allocated to the video to help prevent those under 18 from viewing it across the TikTok experience. We have focused on further safeguarding the teen experience first and in the coming months we plan to add new functionality to provide detailed content filtering options for our entire community so they can enjoy more of what they love.
We are committed to giving parents insight into, and manage, how their teens use TikTok, and helping to facilitate important conversations within families about the responsible navigation of digital platforms. We believe these options promote a safer and more trustworthy experience for our users of all ages, but our progress in this area is also never finished. We look forward to working with all our stakeholders as we continuously seek to improve through new features and resources to help our community manage their digital experience.
In addition, introducing TikTok Effect House, this is a tool that is part of TikTok's comprehensive library of in-app features to support creators in producing engaging videos as follows: 
A powerful AR tool that makes it easy to create, publish, and share high-quality augmented effects for TikTok. Made with both beginner and advanced designers and developers in mind, this feature empowers creators to build interactive experiences for TikTok users around the world. Visit visit @tiktoksg via the TikTok app to find out more.