This Father's Day celebrates Cheerful Moments with savings on over 100 products at Cheers and treat your Dad to a snack bundle of items on promotions like the popular Carlsberg Smooth Draught, King's Potong Ice Cream, DOTS Kit Kat Donuts and more available at all Cheers and FairPrice Xpress stores island-wide!
Now more than ever, we all need good vibes! In a bid to create positivity during these uncertain times, Cheers is rolling out a new campaign. Imagine finding a surprise Cheer Up Card, placed at random by Cheers' friendly cashiers into your shopping bag. What is more, from 25 May 2021, over the next 10 weeks, Cheers will be offering savings on over 100 products. With more than 160 outlets, Cheers will be spreading joy to everyone and to every corner of Singapore!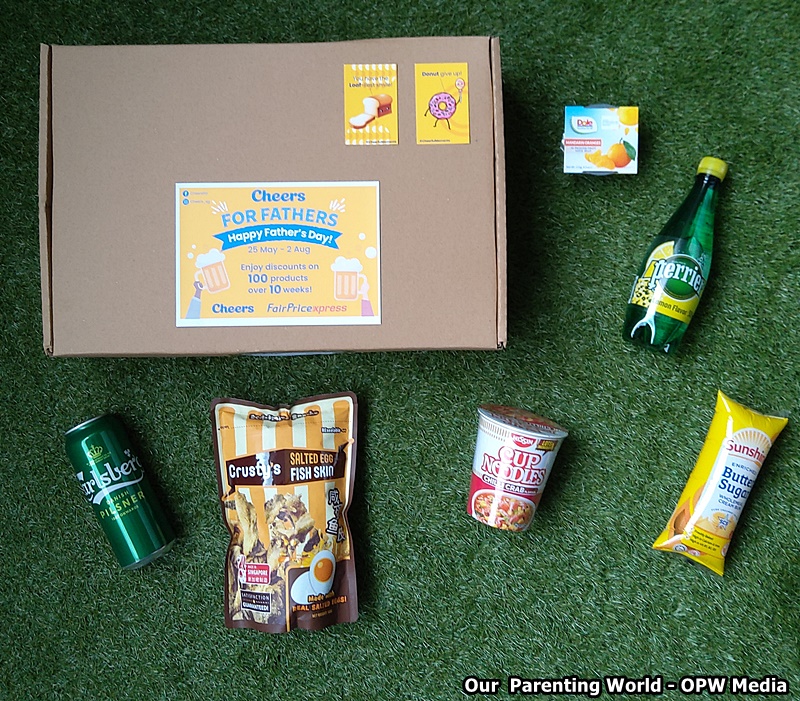 With Father's Day fast approaching, surprise Dad or Hubby and convey your unconditional love for him with a Father's Day gift he will love. Gift Dad with a personalised snack basket from Cheers, perfect for the current work-from-home situation where he can unwind with tasty munchies and sweet treats after work! Grab these snacks conveniently available from any Cheers outlet located near you, prepare a tasty and thoughtful surprise and make this Father's Day a memorable one! What's more, prepare a quick and easy 5-minute meal for Dad with the recipe for the Classic French Toast with ingredients you can easily find at Cheers. Dad will be pleased to try your creation!
Classic French Toast
Ingredients
● 3 slices of bread – to cut into triangles, if you prefer
● 2 Eggs
● 1 cup Milk
● 1 teaspoon of Vanilla extract and/or ground cinnamon (optional)
● Butter – melted on the griddle for cooking
● Maple syrup/Honey (optional)
● Any fruits (we prefer Strawberries, Blueberries and Raspberries) or Potato Chips (for indulgence)
Instructions
1. Whisk together eggs, milk, vanilla extract and/or cinnamon in a flat-bottomed pie plate or baking dish. Place bread slices, one or two at a time, into the egg mixture and flip to make sure both sides of bread are well-coated.
2. Melt butter in a large skillet or on a griddle. Place bread slices in a pan and cook on medium heat until golden brown on each side, about 2-3 minutes.
3. Serve immediately or keep warm in the oven until ready to serve, but no longer than about 30 minutes.
Cheer Me Up Cards and Cheers' Exclusive Mobile Wallpapers
Cheers is set to deliver smiles to you by placing Cheer Up cards into random shopping bags, aimed at encouraging you to appreciate your smile and to make any difficult day just a little bit better.
Cheers' Exclusive Mobile Wallpapers are also available for download on https://cheers.com.sg/cheerful-moments/. Spread the cheer and download these adorable Cheers' Exclusive Mobile Wallpapers to cheer up your day! 
Cheers for Every Moment

With more than 160 Cheers and FairPrice Xpress outlets across Singapore, including at all Esso petrol stations in Singapore, you can always find goodies to make a moment cheerful. Drop by to quickly pick them up at a store near you, or order them from the Cheers store on food delivery platforms such as Grab or FoodPanda, and relish them in the safety of your home!

Cheers for Breakfast On The Go – Rushing for your next Zoom appointment or HBL lesson? Get energised with a quick bite. Pick from a variety of breakfast items, starting from just S$1.00.

Cheers for Treats After Studying – Reward yourself or your kids with a sweet treat after putting in a hard day's work. Get up to 46% off your favourite snacks!

Cheers for Munchies on Movie Night – Cosy up with your partner for that well-deserved blockbuster or binge-watching. With discounts of up to 40%, now is the time to stock up on munchies or drinks.
Over 100 Products on Promotion 
Get more bang for your buck when you buy your Dad's favourite beverages, snacks, ready-to-eat products and necessities at Cheers! From 25 May to 2 August 2021, Cheers will be offering promotions for over 100 products over the ten weeks.
Available at all Cheers and FairPrice Xpress stores island-wide!