Chinese New Year is the most important festive celebrations for the Chinese where families and loved ones spend quality time and enjoy delicious food together. During the festive season, most places will be crowded and restaurants will be packed with diners. It will be good to enjoy Chinese New Year feasting at the comfort of our own place without the hustle and bustle of travelling to the dining places.
This year, we welcome the Year of the Dog with our family and relatives with a delightful array of Chinese New Year goodies takeaway from the award-winning InterContinental Singapore's Cantonese restaurant, Man Fu Yuan.
Man Fu Yuan Prosperity Yusheng with special 'fu' design. Photo Credited to InterContinental Singapore
About Man Fu Yuan, it is an established restaurant well-known for serving signature Chinese cuisine and delicately hand-crafted dim sum. We have dined at the restaurant before and we can be assured of the quality of the food offered by Man Fu Yuan.
Thanks to Man Fu Yuan, we had the opportunity to try out its Prosperity Yusheng with Hokkaido Scallops and Salmon. The whole Yusheng platter is very refreshing and tasty filled with various vegetables, crispy crackers, sauces, condiments and best of all, its fresh salmon and plumb, juicy Hokkaido Scallops all delicately balanced to bring out its full flavour. This is a yummy Yusheng that we all enjoyed tossing together for good fortune!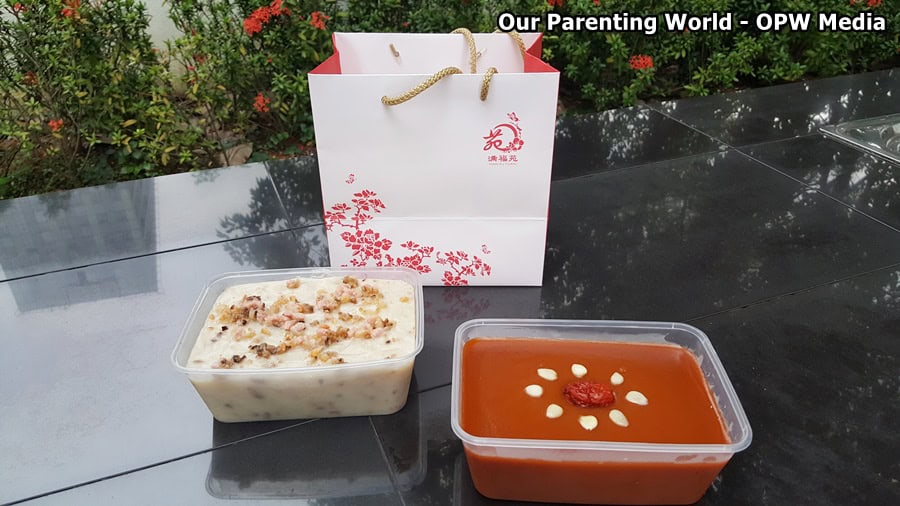 Radish Cake is a tradition dish that many Chinese will enjoy, you can choose to steam or fried it after slicing the cake into bite-size pieces. The cake is very moist, tasty and full of flavours especially from the sausages, dried shrimps, mushrooms. Nian Gao is always our favourite cake, it is chewy, sticky, not too sweet and makes us crave for more! 
Radish Cake and Nian Gao are a must-have for your Chinese New Year feasting, Chinese eat them for good luck! Nian Gao has the symbolic meaning of prosperity and rising fortunes for the coming year!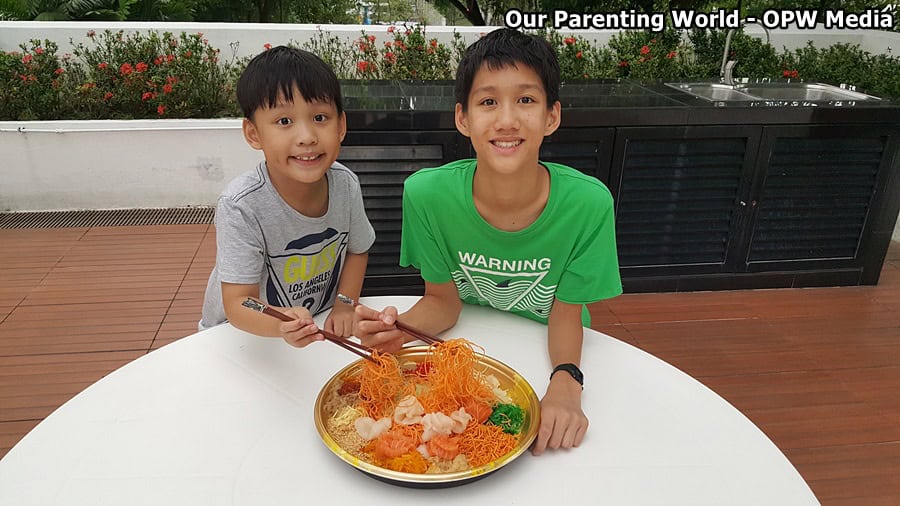 Enjoy tossing to good luck and prosperity in the Year of the Dog with the delicious and sumptuous Man Fu Yuan's Prosperity Yusheng! Here we would like to wish all our readers a very Happy, Healthy and Prosperous Lunar New Year! Gong Xi Fa Cai! 
Additional Information:
InterContinental Singapore's Cantonese restaurant, Man Fu Yuan, will be heralding the Year of the Dog with a curated collection of festive culinary masterpieces for gatherings with loved ones, and a delectable showcase of Chinese New Year Goodies perfect as gifts of well wishes or for lavish feasts at home until 2 March 2018. This upcoming Chinese New Year, Executive Chef Eric Neo showcases five handcrafted festive menus at Man Fu Yuan. Available from 18 January to 2 March 2018, the menus include auspicious highlights and are priced from $128 per guest. 
Highlights of the five five- to eight-course prix-fixe menus include the Treasures Yu Sheng with Abalone, Hokkaido Scallops and Salmon (三星报喜), Man Fu Yuan Abundance Treasure Pot with 18 prized delicacies featuring Braised Sea Cucumber with Minced Prawns and Pork; Signature Chinese Tea-smoked Duck with Dang Gui; Braised Bird's Nest Soup with Deer Antlers; Whole Suckling Pig; and Nian Gao Pastry.
Chinese New Year Goodies
InterContinental Singapore also presents a delightful array of Chinese New Year goodies for takeaway that are ideal as gifts or for celebrations at home. From 5 January to 2 March 2018, guests may select from a showcase of highlights such as the Man Fu Yuan Abundance Treasure Pot, and the Triple Happiness feast comprising three of Man Fu Yuan's signature dishes for a perfect celebration at home for up to 10 guests.
Convey your well wishes with the Prosperity Gift Hamper filled with delicacies like Superior Bird's Nest; Abalone; Riondo Sesto Senso Prosecco; house-made Pineapple Tarts; Almond Cookies; and Nian Gao.
Chinese New Year Goodies are available from 5 January to 2 March 2018. Guests can enjoy 15% early bird savings when they place their orders between 5 and 31 January 2018, and enjoy an additional 5% privilege when they order online at InterContinentalShoppe.sg. Three working days are required for processing of orders, and the festive Goodies may be collected from the Man Fu Yuan Shoppe located at the entrance of InterContinental Singapore from Bugis Junction from 21 January to 14 February 2018, and at Man Fu Yuan restaurant on Level 2 of the hotel from 15 February to 2 March 2018.
Man Fu Yuan
Operating Hours:
Lunch:
11.45am to 3.00pm (Mondays to Fridays)
11.30am to 3.15pm (Saturdays, Sundays and Public Holidays)
Dinner: 
6.30pm to 10.30pm (Daily) 
For enquiries or to place an order, please email [email protected], or call at Tel: (65) 6825 1131. 
To find out more and to order the Chinese New Year goodies, please visit: https://singapore.intercontinental.com/offers/joyous-celebrations-man-fu-yuan