Our Parenting World team was invited to experience KidZania recently. Following our earlier posts and on KidZania's official launch, we are excited to visit KidZania this December and especially to celebrate KidZania's first Christmas in Singapore since its official opening on April 12, 2016.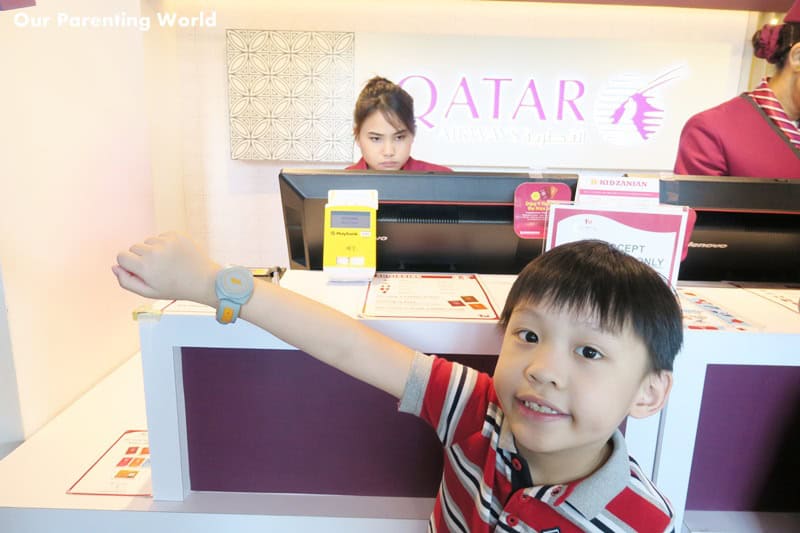 To enter into KidZania, you would have to check-in at the counter which resembles that of an airport ticketing counters. You will receive check in items like a debit card with 30 KidZos loaded, 20 KidZos cash and wear a watch tag. This watch tag is for security purposes which will be linked to the parent's tag. The child is not able to leave KidZania without a matching adult tag to go with.
There more than 60 jobs at KidZania. You can take on a variety of jobs to earn a salary in the form of KidZo, the official currency of KidZania and there are also some activities where you would need to spend KidZo for example, on food. The more you earn, you get to accumulate your earnings at the end of the day and proceed to the shop and spend your KidZo.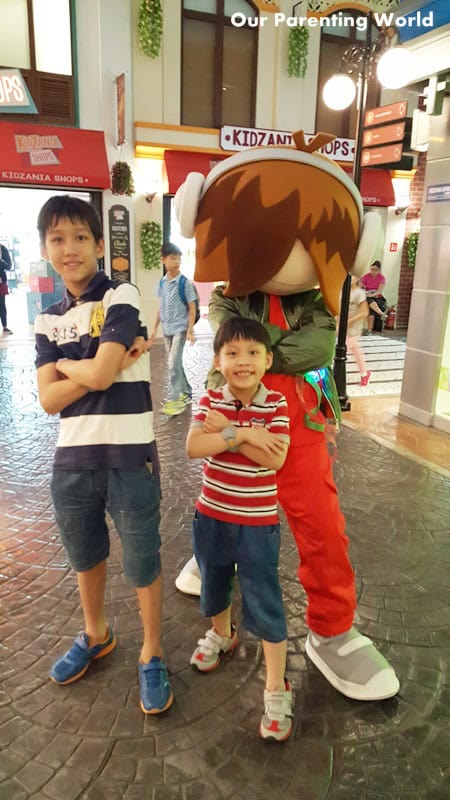 Before we begin our activities, KAI! (KidZania term for Hello) to the loveable KidZania's mascots, Urbano and Beebop.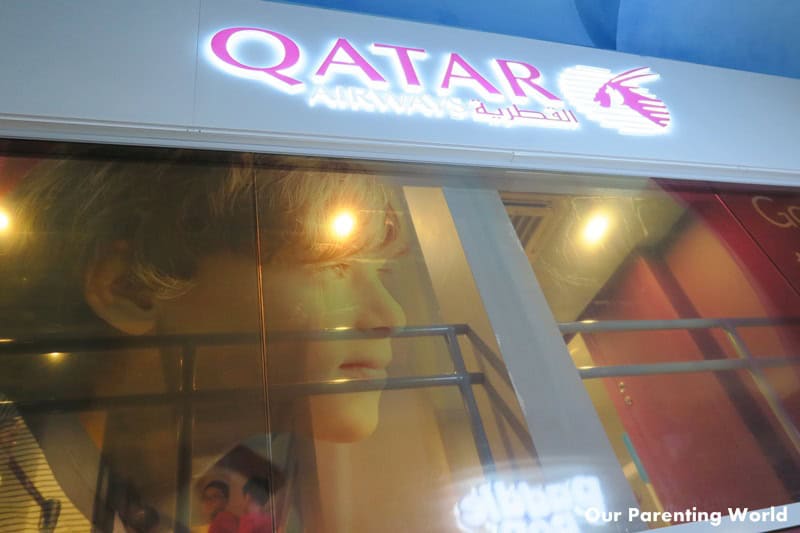 The boys dived straight to Aviation Academy to work as a First Officer. 
This is a rare opportunity for children to be inside a cockpit, to learn how to fly through flight simulation and role-play as a First Officer – Pilot or Cabin Crew.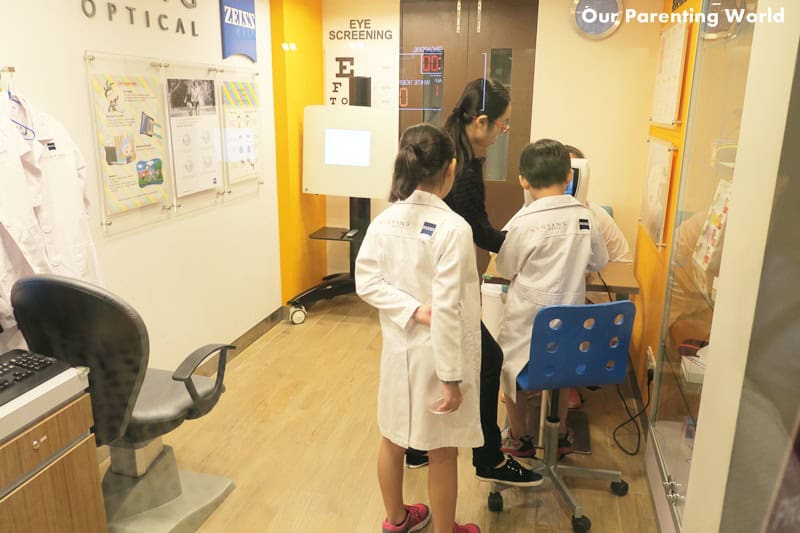 Work as a Optometry Consultant or role play as a Customer at the Optical Shop. Help the customers to conduct eyes tests, find out more about eye conditions like short-sightedness and astigmatism. You can conduct eye test for the customer and help your customer to choose the right frame size for spectacle. A valid eye test at the optical shop is required to go for the driving school and to drive at the streets.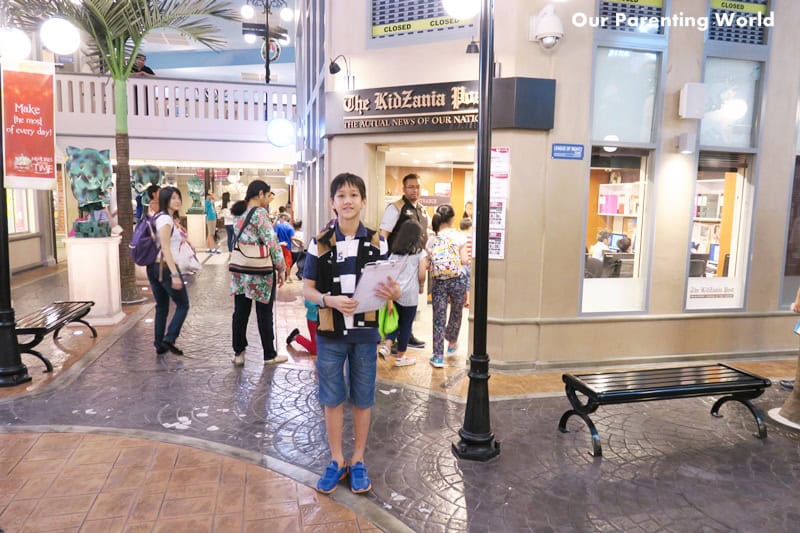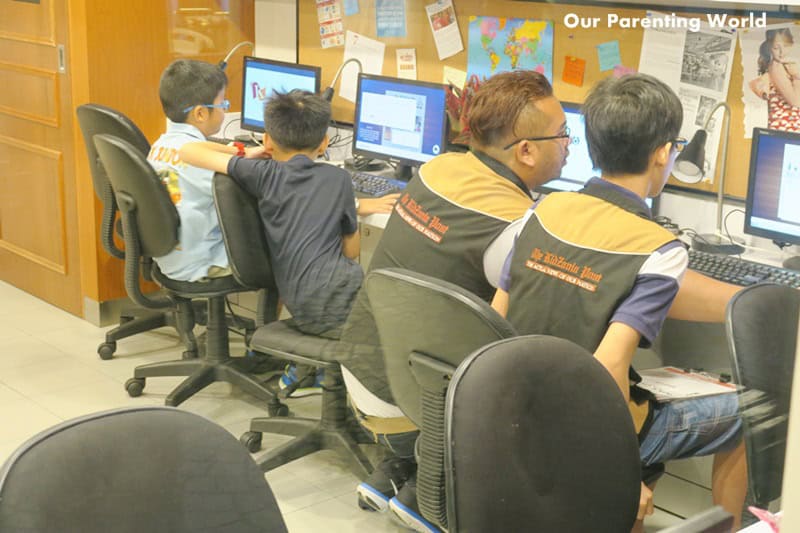 Work as a Journalist or Newspaper Delivery Crew at The KidZania Post. As a journalist, you would go and conduct interview, be back at the office to write about the important events happening at KidZania City!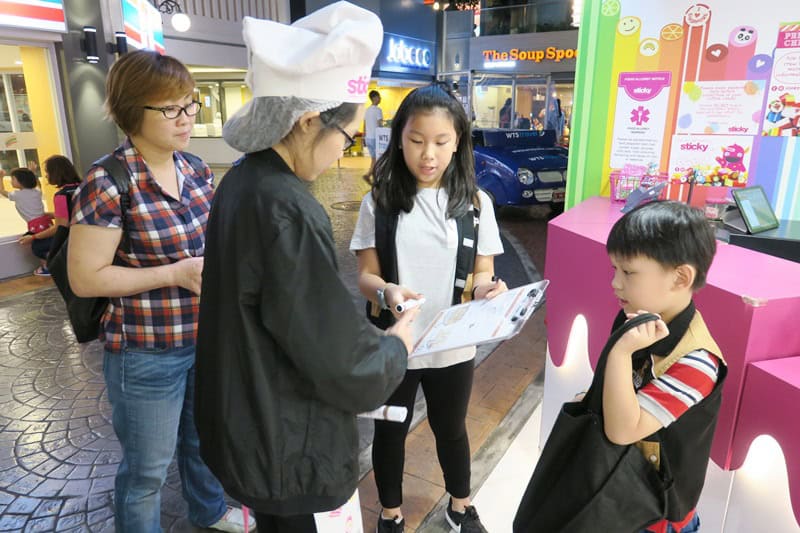 As a Newspaper Delivery Crew, your job is to deliver newspapers to the CitiZens of KidZania.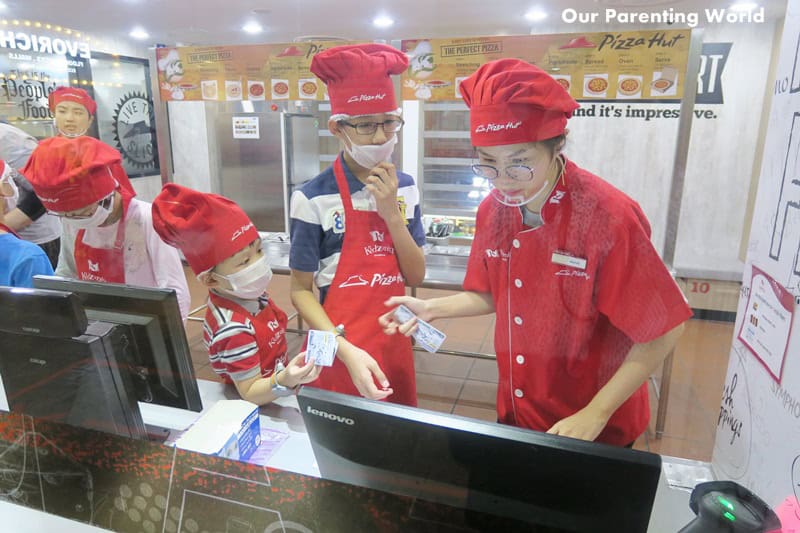 Its time for lunch and after working hard in the morning, the boys chose to eat at Pizza Hut. They have to pay 10 KidZo to learn to be a Pizza Chef.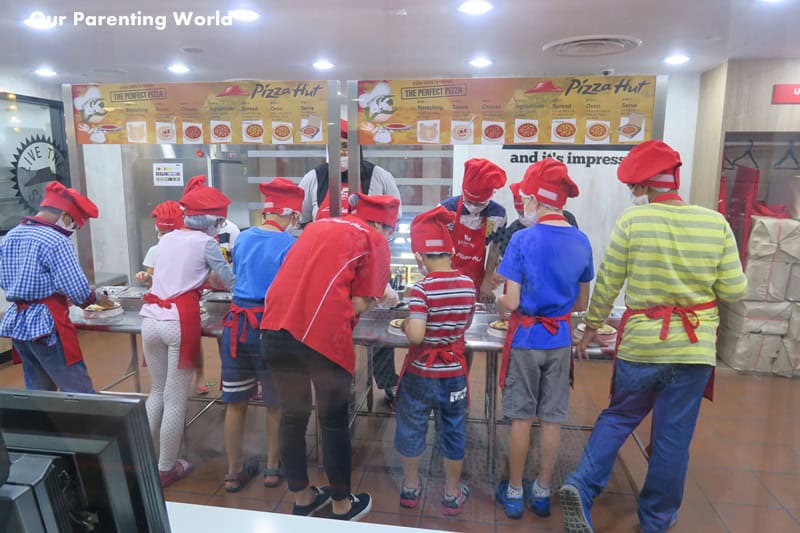 Kids has the opportunity to learn how to make a delicious pizza and getting hands-on putting ingredients on their pizzas.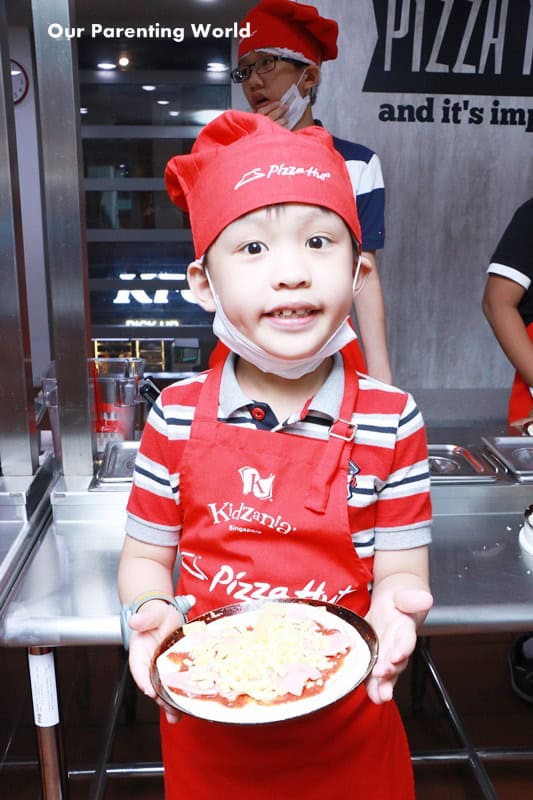 I can't wait to eat my pizza!
Hmm … yummy, my pizza smells so GOOD!!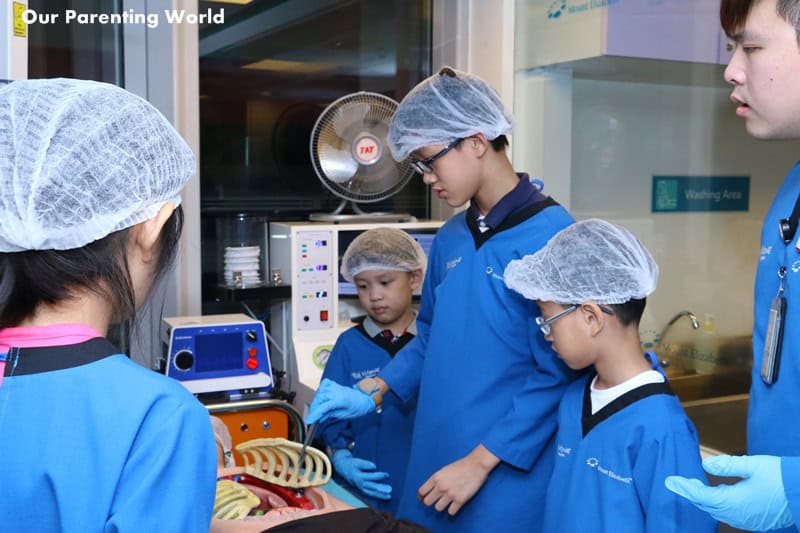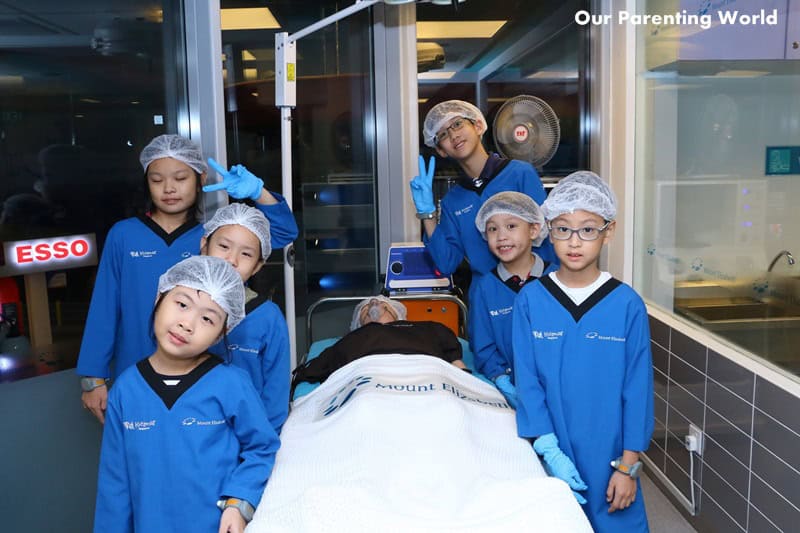 After a fulfilling lunch, it is time to start work!
This time, we worked as a surgeon to help save people's life, we learn about the various body organs and how to operate at the Mount Elizabeth Hospital Operating Theatre.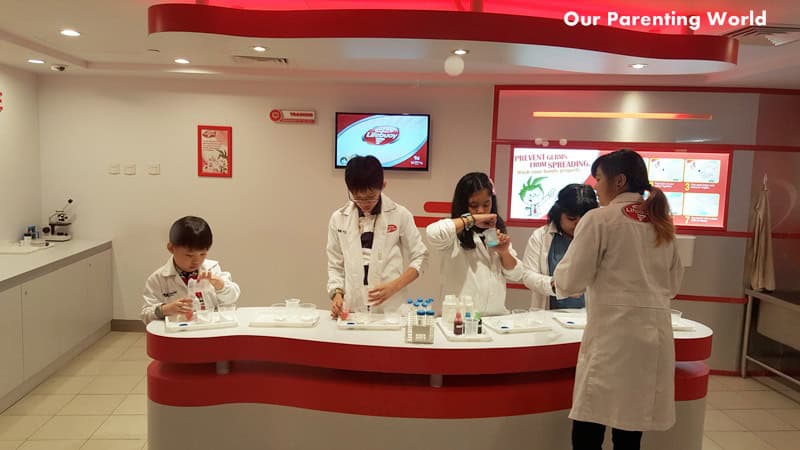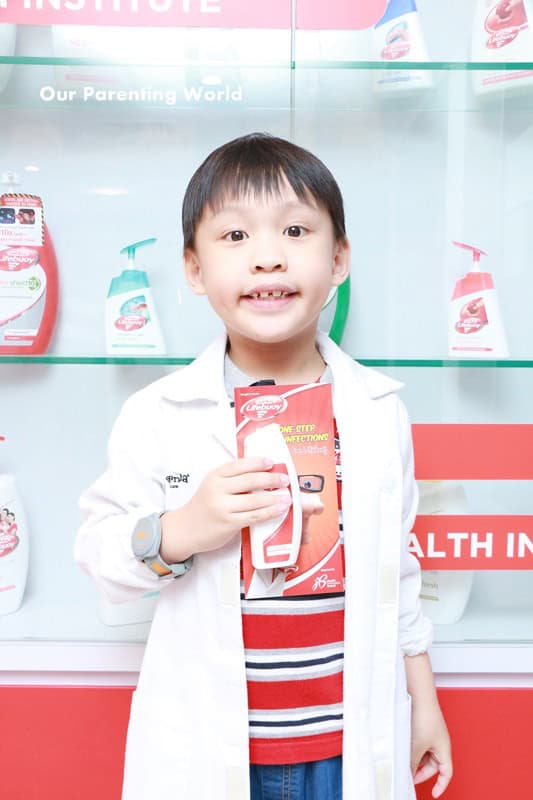 Be a Health Researcher at Health Institute where you will understand more about personal hygiene, the importance of keeping yourself clean and protect yourself from germs.
Kids get to create a liquid soap mixture too. All participants will be given a small bottle of liquid soap after you have completed your task.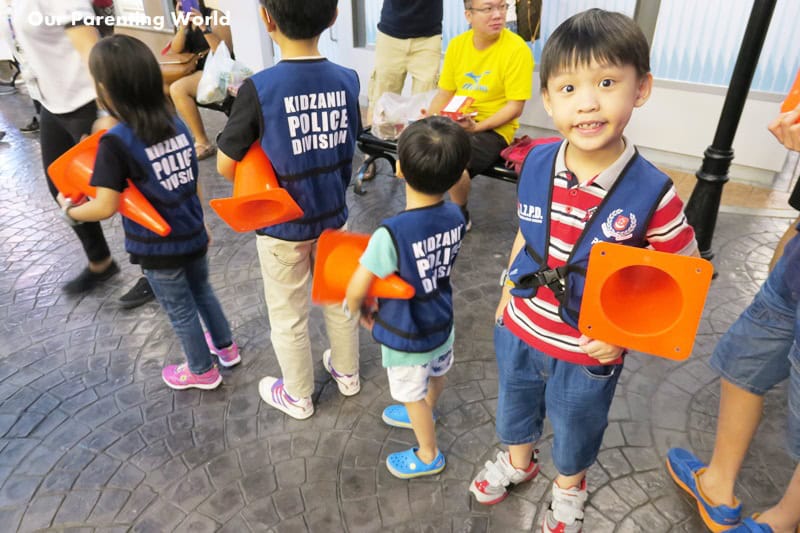 I am now working as a Police Officer. I will patrol around the city and make sure that the city is safe.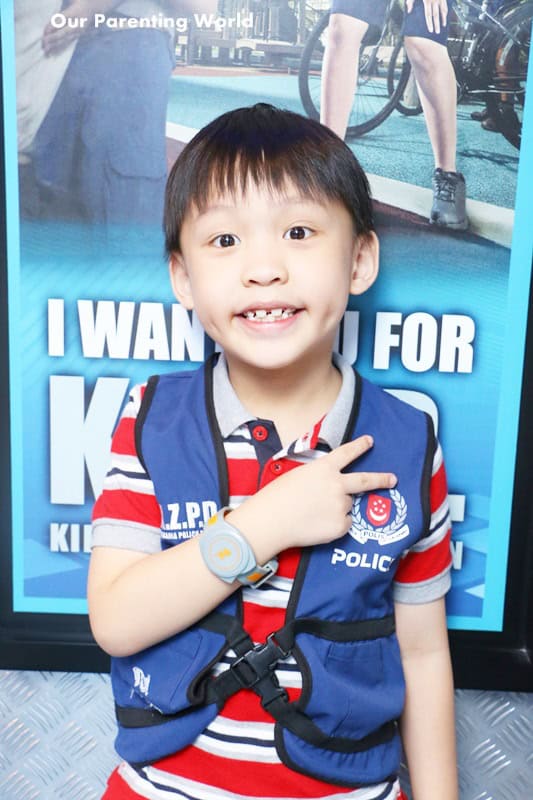 "I pledge to be a good police officer, protecting the citizen of KidZania!"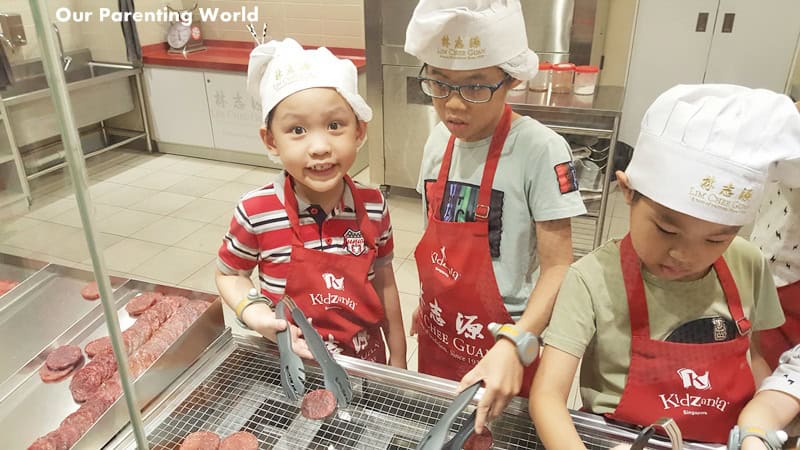 "I am working at the Traditional BBQ Meat Store, learning how to cook BBQ Meat the traditional way of using charcoal."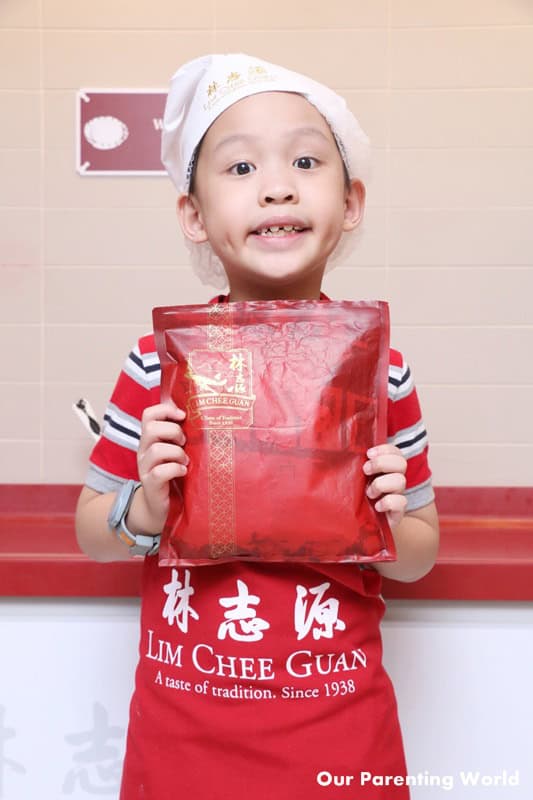 "Come try my BBQ Meat!"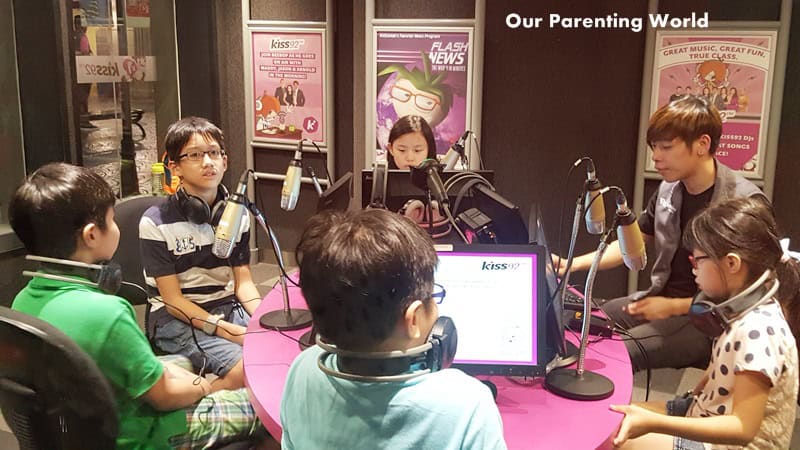 Be a radio presenter or a technical assistant at Radio Station. As a radio presenter, you get to experience for yourself live radio broadcast and learn how to run and produce your own radio program.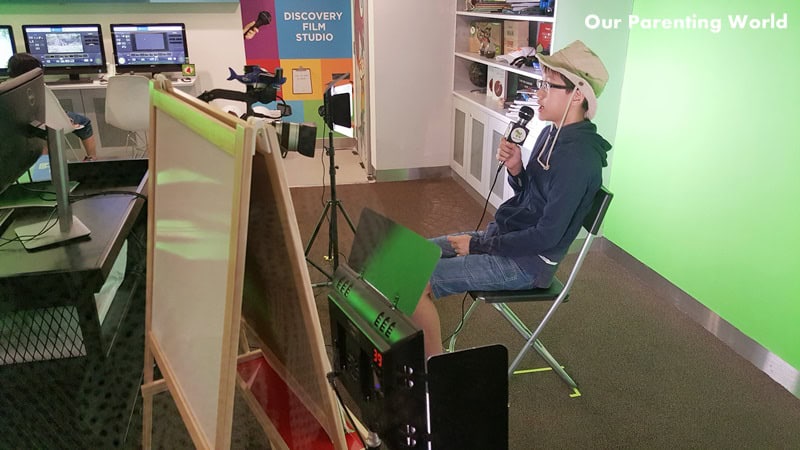 Be a host or a video editor working in a Film Studio. Learn to host your own documentary and you have the opportunity to learn how to edit and produced your own documentary. Best part is that you get to bring home your completed work.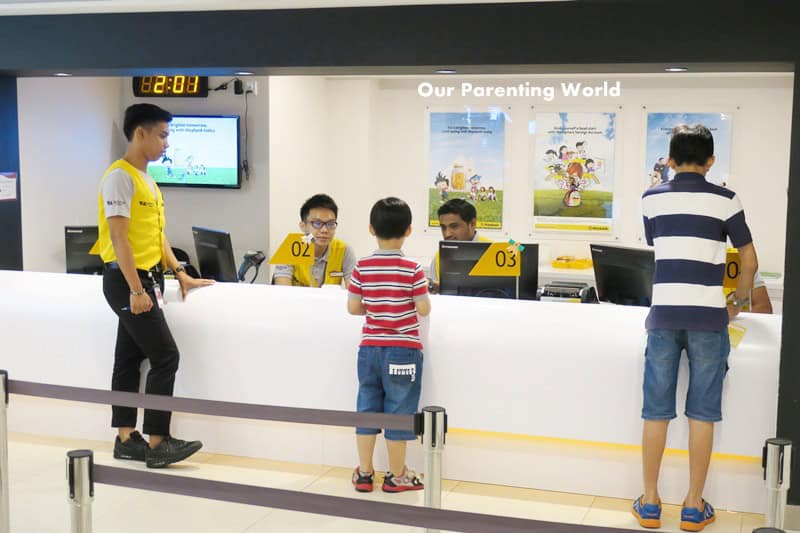 KidZania is the only place that children can perform their own banking. Over here, they can perform their banking transactions, activate their debit card, bank in their KidZos and perform transaction at the ATM machines.
Children and parents, this is KidZania Singapore 1st Christmas celebration!
Our Parenting World team brings you the highlights that you can bring home memorable moments of your time at KidZania and participate in its Christmas activities ranging from a Christmas City Parade, carolling to creating your own Christmas Snow Globes this December when you visit KidZania.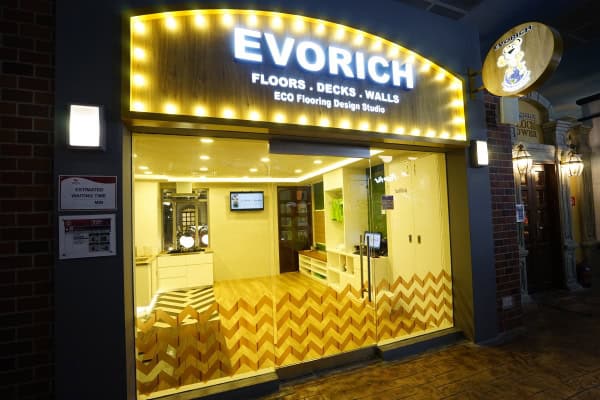 Photo Credit: KidZania Singapore
Kids can also look forward to a brand new role-play activity with Evorich, KidZania Singapore's newest Industry Partner, this December. Evorich is a home-grown flooring company that provides children the opportunity to be a Eco-Flooring Design Consultant.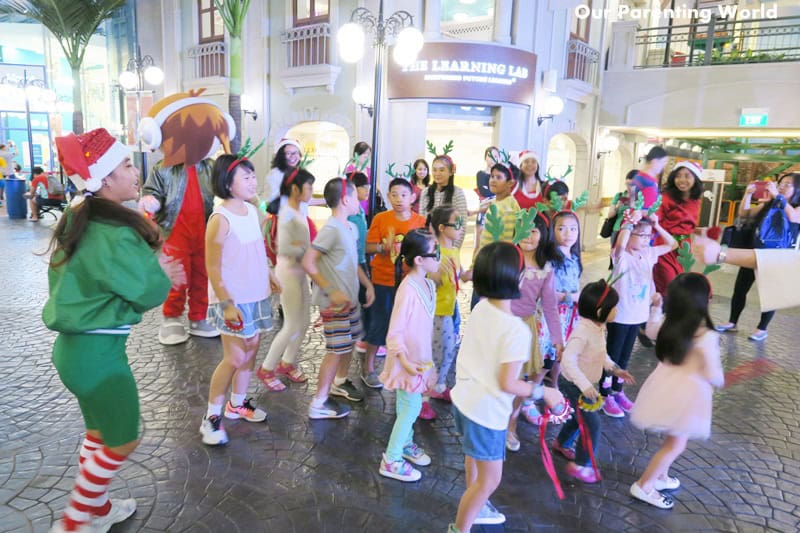 KidZania Singapore "Memories through Time" activities will run from 1 to 31 December 2016. KidZania Singapore hopes to encourage all to come and celebrate Christmas by remembering and reflecting on your best KidZania moments this year. We have so much fun whenever we visit KidZania and we can revisit and build our happy moments at this fun-filled kid-sized city. 
Kids and parents can join in a Christmas City Parade dressed in Christmas wear, or join in yuletide joy with the Carollers.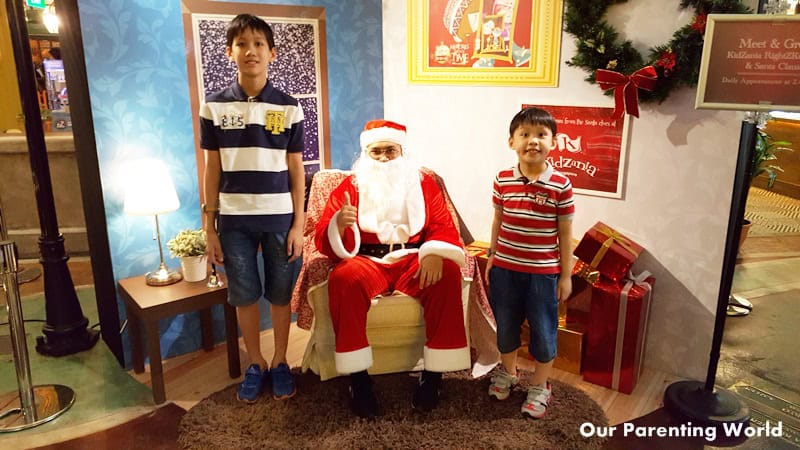 Meet and Greet KidZania's RightZKeepers and Santa Claus at the Main Square at 11:40am and 2:55pm daily.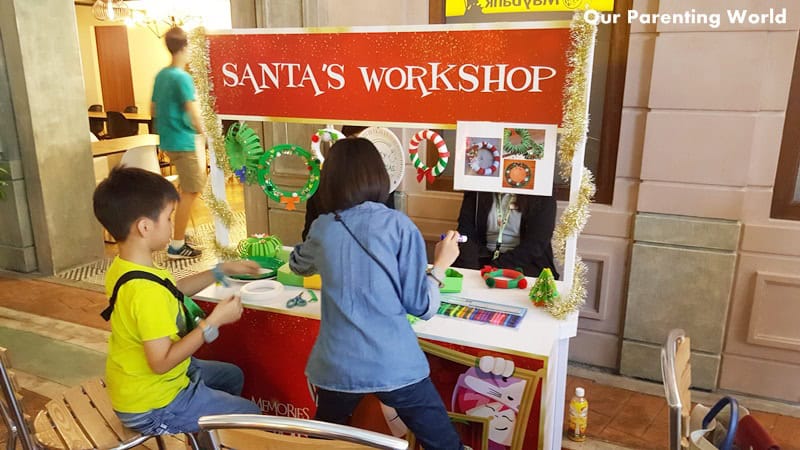 You can create your own Christmas Crafts and Snow Globes at the Christmas Workshop.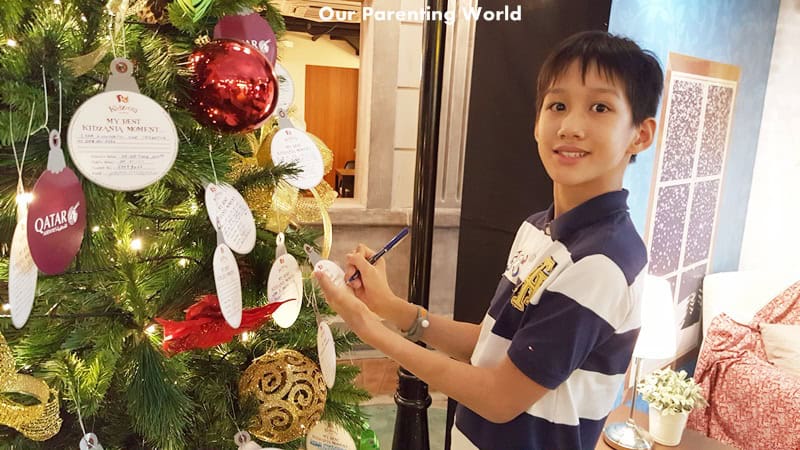 Kids have the opportunity to win a pair of return air tickets to London by Qatar Airways and exclusive KidZania Singapore prizes by sharing their Best KidZania Moment at the Christmas Tree in KidZania Singapore.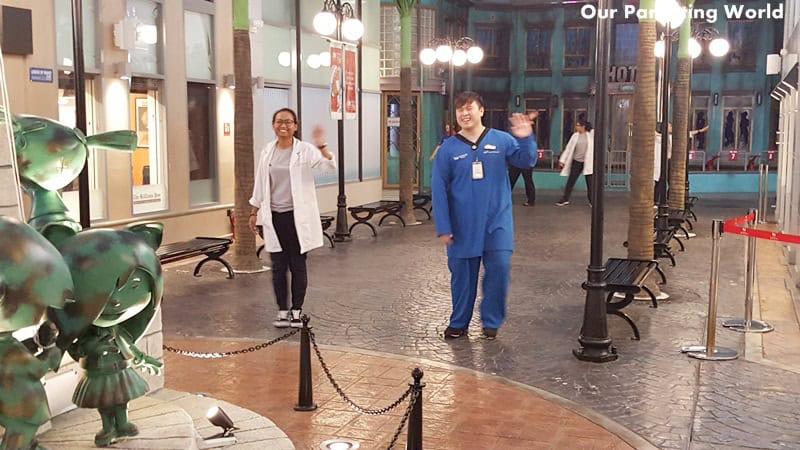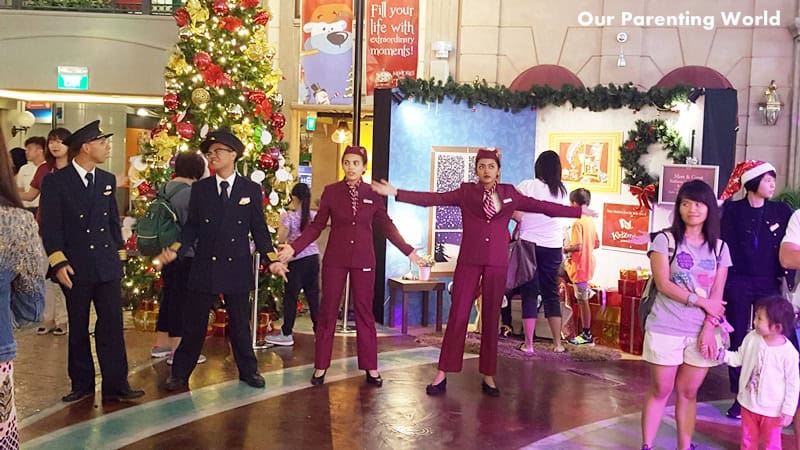 Its closing time, all the friendly and smiley KidZania staff will sing and dance to bid farewell to their visitors. It is time to go back but all of us will bring home our happy memories of our visit at KidZania!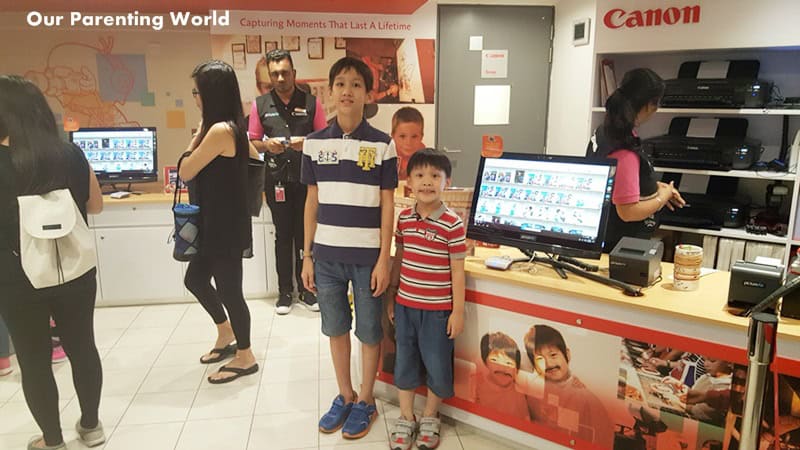 Before you go back, check out the Canon photo booth for the photos that have been taken by KidZania's photographers. The information are stored in your tag, view your photos and there are attractive packages available should you be keen to purchase the photos.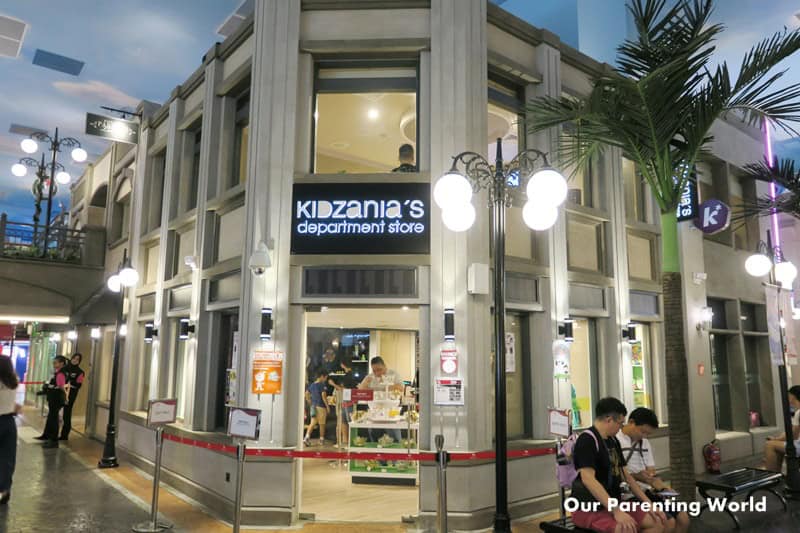 We simply love the concept at KidZania, it allows children 4 years old and above to experience the adult type of working life in a city which is run by children. Children can work at the various outlets and take up various jobs (normally each job will last around 20 to 25 minutes) and get paid in KidZania's currency, KidZo. Children are able to use the KidZo that they earned to shop at KidZania's Department Store, the store just for kids only! That's so exciting for the kids to be able to do shopping for themselves. 
We went with an open mind as we are curious how could kids learn to work in the adult's world? Within half an hour of walking in the city, we are thoroughly impressed with the concept. It is so amazing that the city felt like the world we live in.
Many of the outlets are very similar to the real outlets in Singapore, as these outlets are formed in partnerships with them. For example, there is a 7-11, Maybank, The Learning Lab, Kiss92 radio station, a Pizza Hut outlet etc. The kids who participated in these outlets are given hands-on training to operate them.
The most popular job is the pilot. This is achieved in partnership with Qatar Airways where an actual 737 plane is set up in KidZania and the children can learn to be a pilot. The other popular jobs are doctors in the hospital done in partnership with Mount Elizabeth Hospital and firemen done in partnership with Singapore Civil Defence Force (SCDF).
How much time do you need if you plan to visit KidZania and experience all the jobs? We think you would likely take at least a week to try out all the jobs. Thus many children we know have been to KidZania again and again because they wanted to try out different jobs. There are more than 60 different types of jobs to experience at KidZania. Most visitors will check in at 10am when it opens and continue to stay up to 5pm when it closes.
Here are 5 reasons why Our Parenting World believes KidZania is the place to bring your child to visit:
It is very safe for children. Each child is tagged electronically to his parents/guardians during registration and the child needs to be accompanied by his parents/guardians when leaving the place. This is a safety precaution taken by KidZania which is reassuring to parents
Children learn to work as a team because for each activity, there will be around 6 to 8 children group together as a team
Children learn to appreciate the importance of working for money and using the money to buy what they want at the end of the day.
Adults can leave their children to participate in their activities while they have a drink or wait in the comfortable Parents' Lounge
If your child has not decided what he wants to be when he grows up, this is a place for them to experience the various professions. Most kids only know of jobs like doctors, pilots and police officers, in KidZania they can experience more, like being a chef, a banker, a radio DJ, a TV journalist, a fireman, a dentist etc.
From an educator's point of view, we felt that KidZania is certainly a very educational platform to teach our children the different jobs available in our real world, to let them work in a team and also learn the value of money. We look forward to visit KidZania again to try out other jobs in our future visits.
KidZania is really an awesome place for kids!
Wishing everyone Merry Christmas and a Happy New Year!
Visit KidZania celebrate Christmas by remembering and reflecting on your best KidZania moments this year. Titled "Memories through Time", the activities will run from 1 to 31 December 2016. 
For more information on KidZania Singapore and to book tickets online, please check out www.kidzania.com.sg and facebook.com/KidZaniaSingapore