Happy Father's Day to all the Wonderful Dads!
Celebrate Father's Day by bringing your Dad to a sumptuous and delicious meal at Peach Blossoms at Marina Mandarin Singapore. Dad will certainly be delighted to feast at this renowned restaurant helmed by Chef Francis Chong who proudly carries on the restaurant's tradition of serving authentic Cantonese cuisine.
Highlights of some of the delectable dishes that Our Parenting World team has tried at Peach Blossoms:
Peach Blossoms Trio Combination Platter
This is a delicious, pop in the mouth sensation consisting of Chilled Japanese Cucumber Rolls filled with Jellyfish (L), Deep-fried Prawn coated with Mayo and Mixed Nuts (M) and Deep-fried Scallop and Banana wrapped with Mashed Taro (R). The presentation of the platter is on par with some of the top fine dining Western restaurants.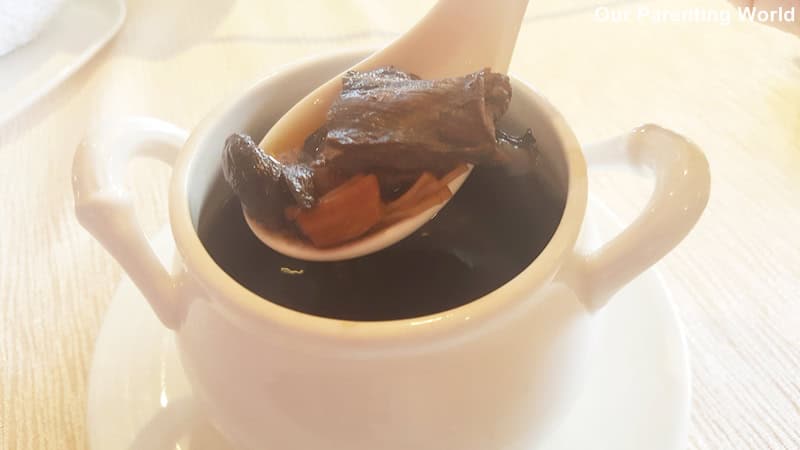 Double-boiled Sea Whelk Soup with Syconium Fruit, Black Chicken and Black Garlic
This is a healthy, nourishing and flavourful soup that we enjoyed it so much that we finished every drop of it!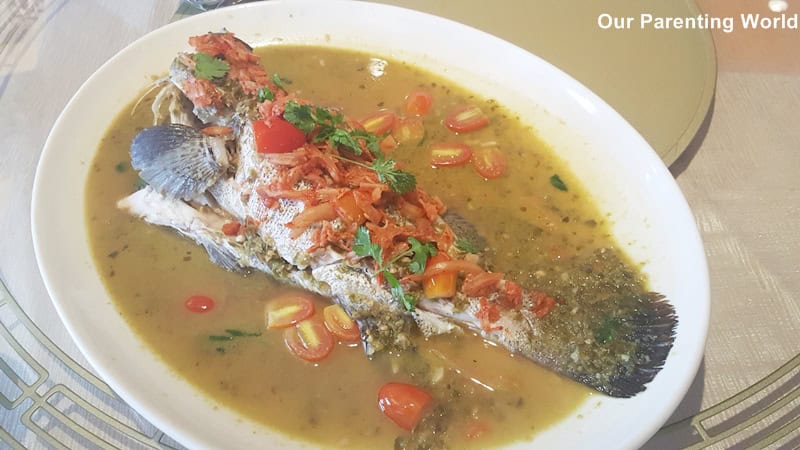 Steamed Sea Grouper with Green Pepper in Superior Light Soya Sauce
The fish is very fresh, the meat is firm and succulent. This dish can be spicy and if you like to eat spicy food, you will enjoy this delicious steamed sea grouper. 
Wagyu Beef Specials at Peach Blossoms
If you love to eat beef especially Wagyu Beef, you have to visit Peach Blossoms in the month of July. Peach Blossoms with feature Wagyu Beef Specials which include the following: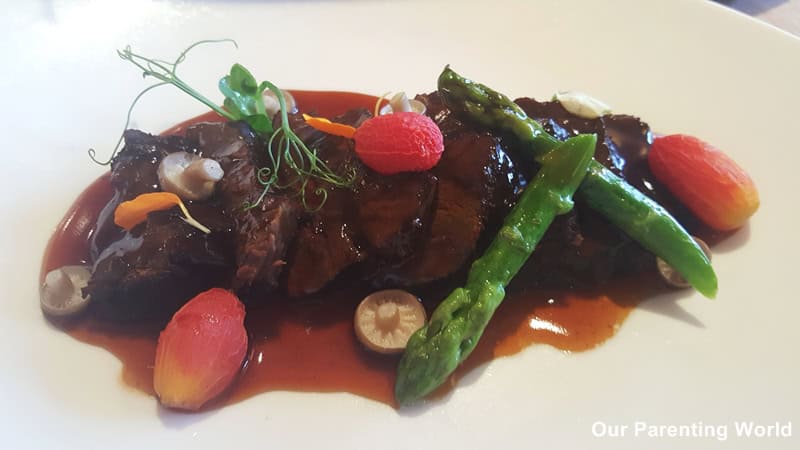 Braised Wagyu Beef Cheek with Chinese Spices at $36 per order 
This braised Wagyu beef cheek is so soft and every bite of it is so flavourful, so tender that will melt in your mouth.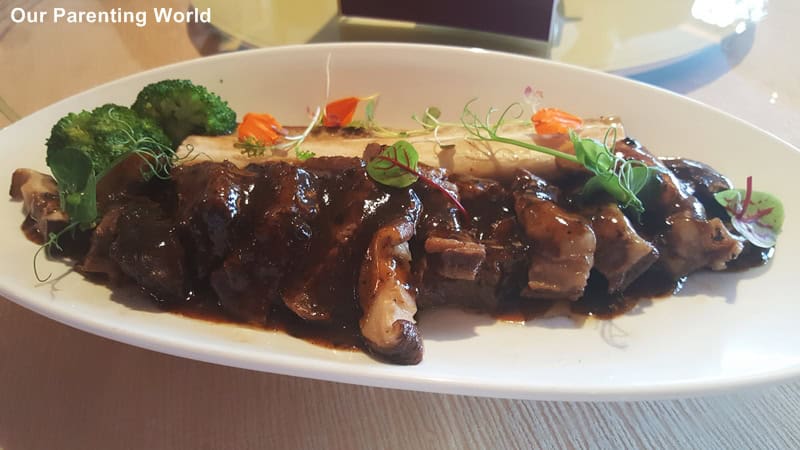 Braised Wagyu Beef Ribs with Black Truffle and Black Pepper at $36 per person
The beef ribs is well marinated and finger-licking good with aromatic, earthy fragrance from Black Truffle. It has been cooked to perfection with the meat that liberally falls off the ribs. 
Stewed Wagyu's Oxtail in Red Wine Sauce at $28 per person
The oxtails are so savoury and tender that melts in your mouth, the red wine sauce further enhanced this tasty dish!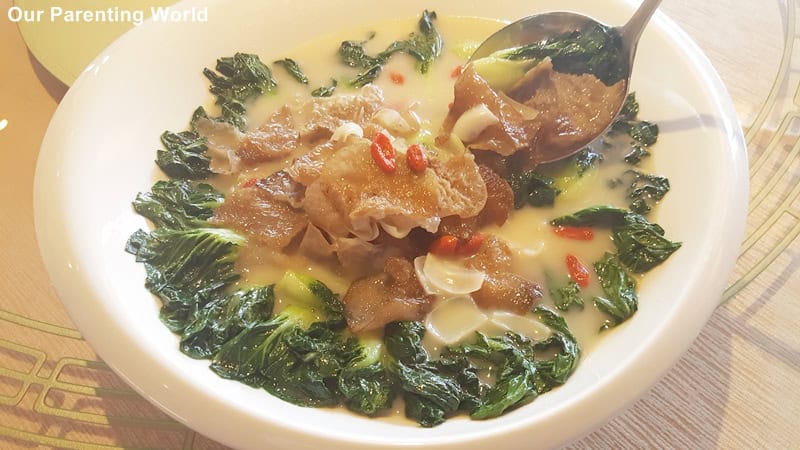 Poached White Baby Cabbage with Brown Fungus in Superior Broth
This is a healthy and nourishing dish filled with fresh vegetables, fungus and in a very rich broth, it is so good that we savour every last drop!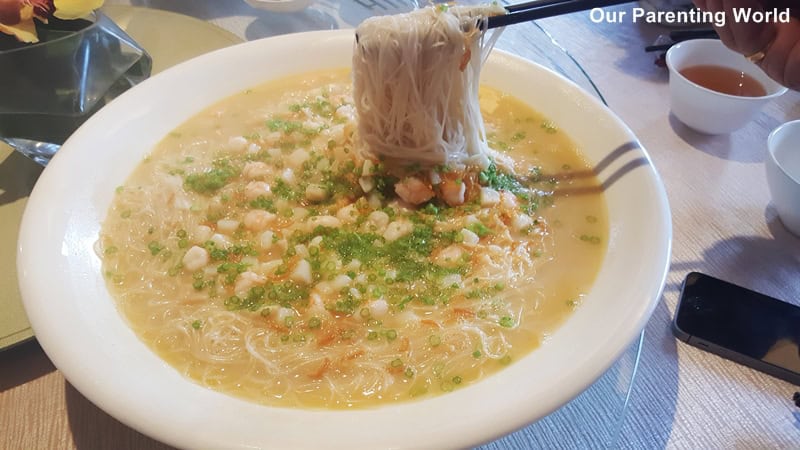 Braised Fine Rice Vermicelli with Dried Scallop and Assorted Seafood
The noodle dish is very silky and slurping good! Packed with intense flavour from the seafood and chicken soup that has been brewed for hours.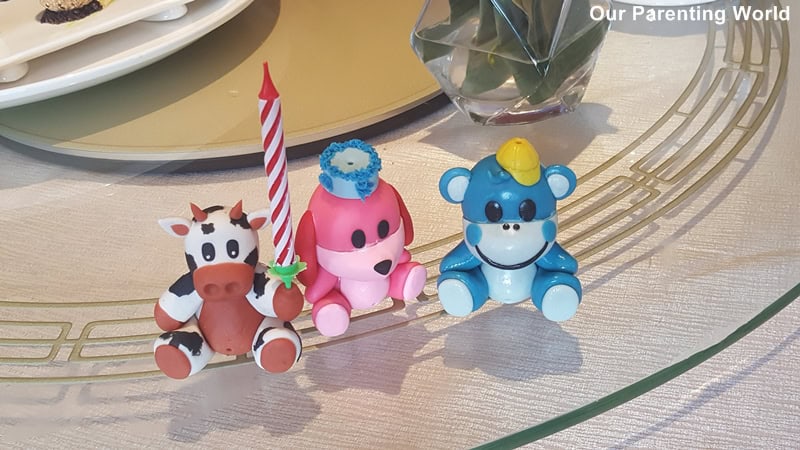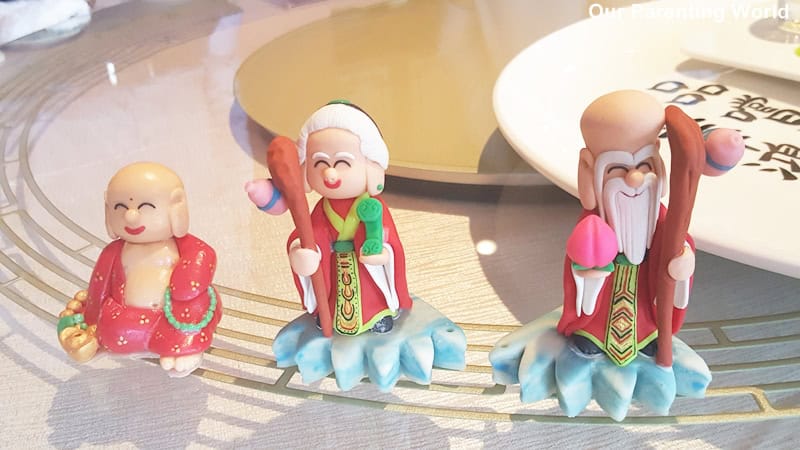 We are pleasantly surprised when desserts is served, they are so beautifully plated! Peach Blossoms served delicious, high quality food and its services are impeccable with friendly and attentive staff. If you have special request like having calligraphy written on your dish to convey best wishes, you can let the dedicated staff like Alden Goh, the restaurant Manager at Peach Blossoms know in advance when you make your reservation as they strive to make your dining experiences a pleasant and memorable one! 
The above beautiful calligraphy written on the dish and exquisite figurines are made by Peach Blossoms's talented Manager, Terry Lim to give a special touch to your celebration at the restaurant. 
For desserts, we have the Longevity Birthday Buns paired with Deep-fried Glutinous Rice Ball filled with Custard and Salted Egg Yolk. The longevity bun is traditionally made in the shape and color of a peach (寿桃). It is an old chinese tradition that symbolises happiness and long life.
The well-meaning and extraordinary desserts certainly is a good way to end the sumptuous meal especially in celebration of Father's Day. May all the wonderful fathers have long and happy life after the meal!
Show your appreciation to your Dad, celebrate Father's Day and bring him to Peach Blossoms for an unforgettable, happy dining experiences!
Additional Information:
Feast For Dad At Peach Blossoms
From now till 18 June 2017, treat your Dad to an indulgent set meal served alongside Longevity Buns at Peach Blossoms. Every $100 spent entitles you to a chance at the lucky draw, with a Mumm Jeroboam Champagne worth $888 up for grabs!
For 9 to 25 June, choose from 3 set menus offering highlights such as Baked Live Prawn with Japanese Rice Wine, 'Dong Po' Pork Ribs in Honey Sauce, Braised Fish Lip in Homemade Sauce and Crispy Taro Duck. 
Peach Blossoms 
Marina Mandarin Singapore 
Level 5, 6 Raffles Boulevard Marina Square, Singapore 039594
Operating Hours:
Mondays to Fridays
Lunch: 12.00pm – 3.00pm
Weekend Lunch (Saturday, Sunday & Public Holidays)
11.00am – 3.00pm
Daily
Dinner: 6.30pm – 10.30pm
Reservations: (65) 6845 1118
Email: [email protected]
For Enquiries and reservations, visit www.marinamandarin.com.sg/dining.