"Trick or Treat!", Halloween is coming! 
Are you looking for a place to celebrate Halloween? On 30th October, Quayside Isle @ Sentosa Cove will be transformed into a family-friendly Halloween night. Diners at participating restaurants will be delighted to know that they will enjoy Halloween candy treats on the house when they dine in from 10am to 9pm. 
Quayside Isle @ Sentosa Cove offers diners with a wide range of gastronomic cuisines ranging from European to Mediterranean to Asian fare that will cater to any preferences. Our Parenting World team had the opportunity to try out some of the fine restaurants at Quayside Isle @ Sentosa Cove. Join us as we tried out some of these dining places: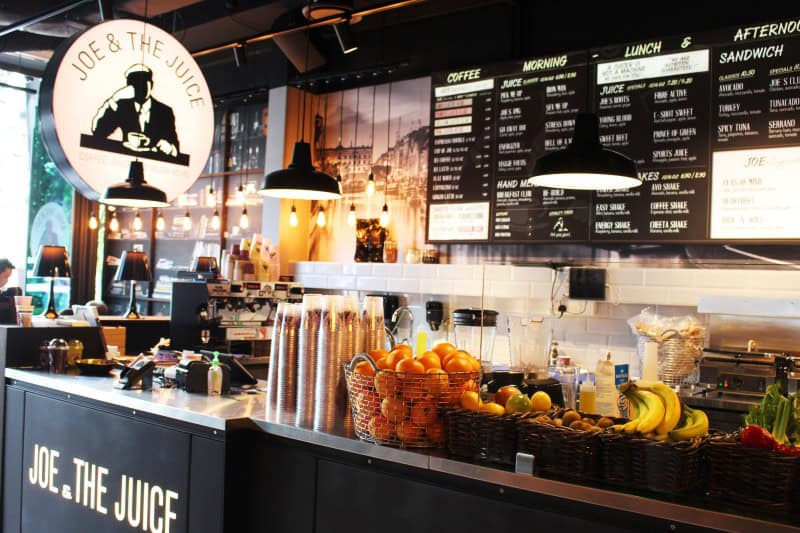 Image Credit: Joe & the Juice
Joe & the Juice
Joe & the Juice is a Danish lifestyle brand that focused on serving fresh, healthy and full of goodness juices and it also offers delicious Danish sandwiches. It has quickly become a cult favorite in 70 cities across the globe.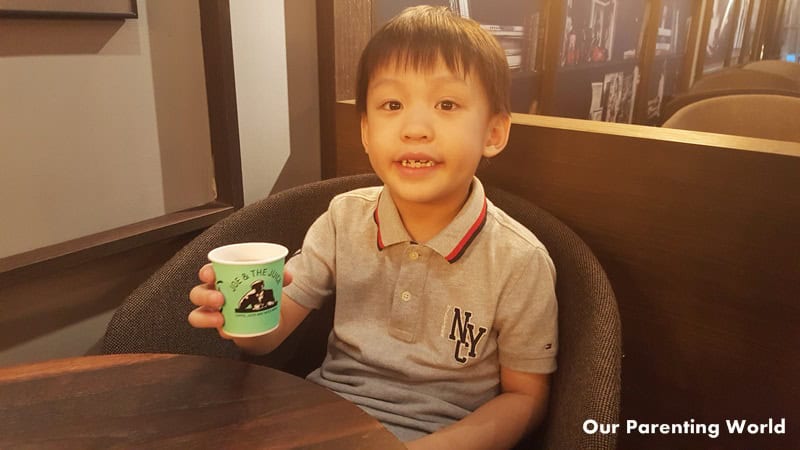 We tried 2 juices, first juice is "Pick Me Up" which consists of Apple, Raspberry and Banana. This combination of fresh fruits make this drink tasty and refreshing. It will be a good pick me up drink in the morning and anytime when you feel like having it! Second juice is "Young Blood" which consists of Celery, Lemon and Apple. Some may not like the taste of Celery but for this combination, it actually taste good with very little of the celery smell. Celery has a lot of health benefits and it is good for your digestive system. Drink this for its natural goodness that is good for your body.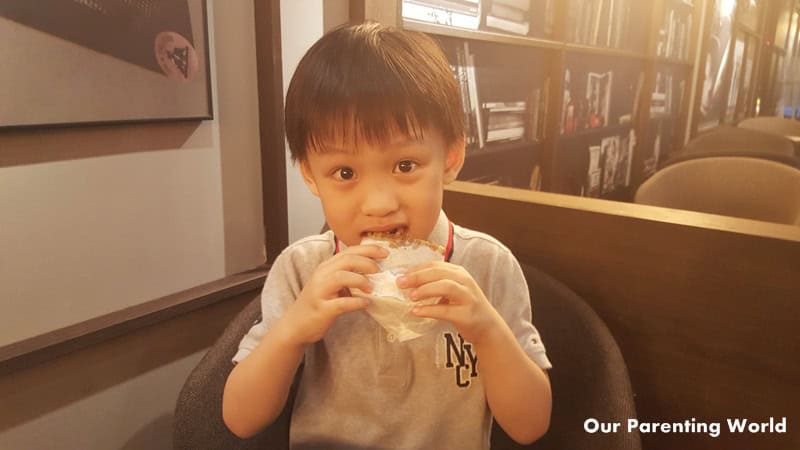 I really love the yummy drinks and sandwich at Joe & the Juice!
Turkey Sandwich (Turkey, Mozzarella, Tomato) is quite unique using thin, crispy grilled bread imported from Denmark, combined with turkey meat and garnishing making this an irresistible treat! 
Joe & The Juice 
#01-09 Quayside Isle @ Sentosa Cove,
Tel: 6262 1468
https://www.facebook.com/joeandthejuicesg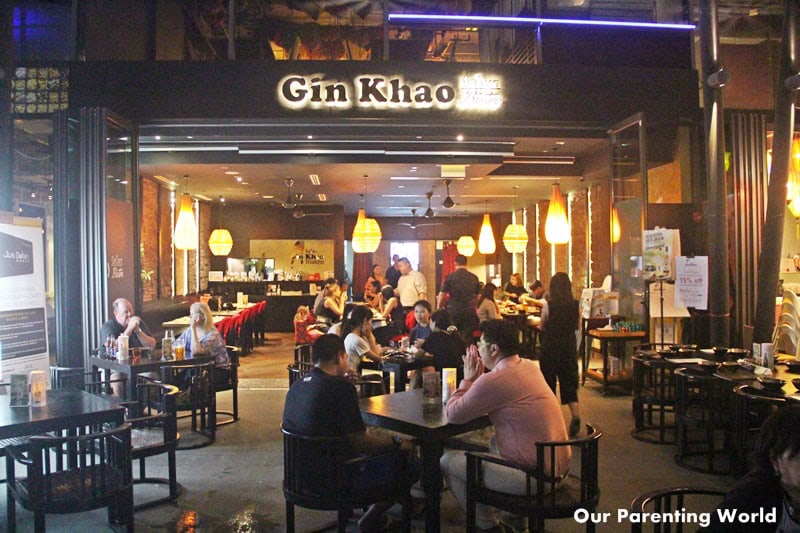 Gin Khao Bistro
At Gin Khao Bistro, it serves an excellent variety of exquisite and Modern Thai cuisine that will please the palate of diners. Come Halloween celebration on the 30th October, Gin Khao Bistro at Quayside Isle @ Sentosa Cove will be offering a special set menu at $78++ per person which consists of the following: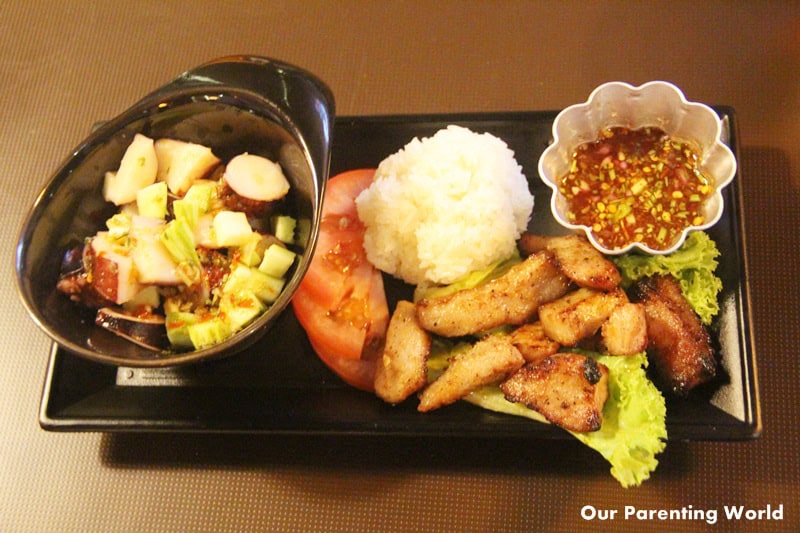 1. Pla Muek Yang Nahm JImm (Scorched fresh squid served with Thai green chilli dip)
2. Kor Moo Yang (Flame grilled tender pork neck served with sticky rice and Thai dip)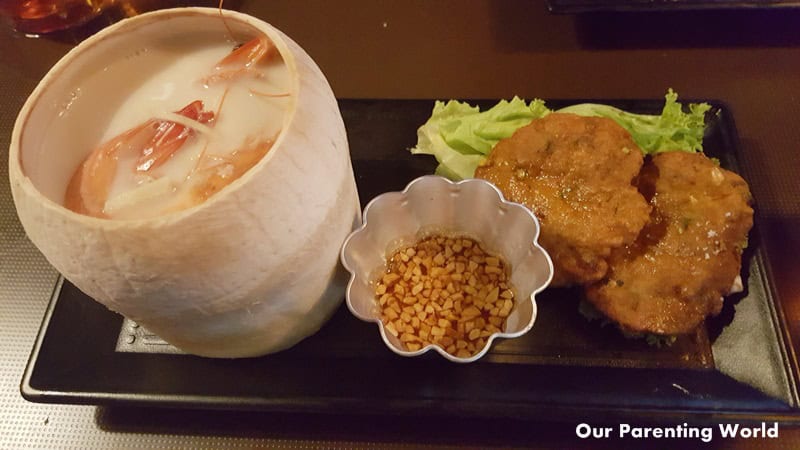 3. Tom Kha Koong (Succulent fresh prawn braised in chicken and coconut broth served in coconut husk) 
4. Truffle Mun Pla (Pan seared truffle infused Thai fish cake)
5. Kanom Pheuak (Yam paste with coconut sauce)
Customers can order one of the following two specially selected wines to complement their set meal at an additional $20++:
1) Palo Alto Sauvignon Blanc (white)
2) Palo Alto Reserva II (red)
This set is value for money! It is a sumptuous, delicious set that consists of meat, seafood, Thai food delights like pan seared truffle infused Thai fish cake and desserts that will surely satisfy your craving for yummy Thai food!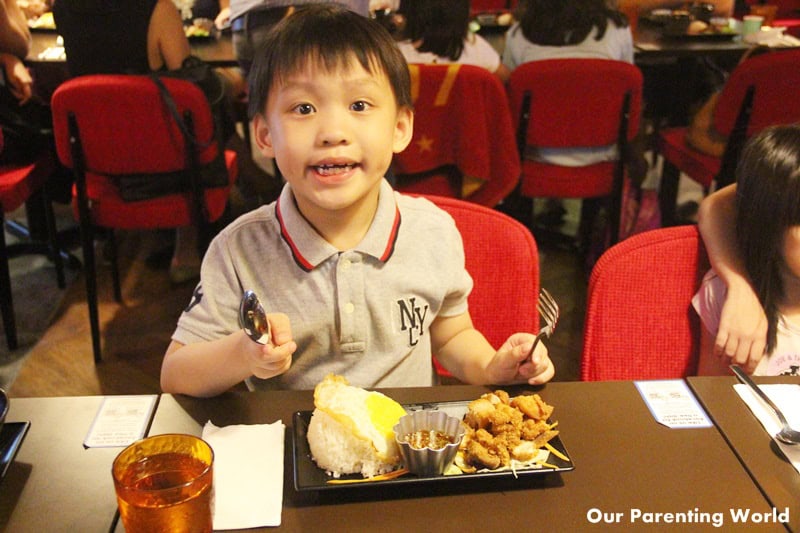 Kid's menu is also being served at Gin Khao Bistro. Our kid enjoyed his set so much that he finished up all his food. At Gin Khao Bistro, you can enjoy great food and warm hospitality at affordable prices that will make your dining experiences a pleasant one!
Please visit www.ginkhao.com.sg/promotion for more details.
Gin Khao Bistro
#01-12 Quayside Isle @ Sentosa Cove,
Tel: 6570 2208
Museo
Museo has an innovative range of casual fine-dining concept dishes with heavy emphasize on food presentation including the taste and quality of its food. Museo adapted the never-heard-before concept of serving fine-dining food in delicate glass jars. It is a cosy place with lovely ambience.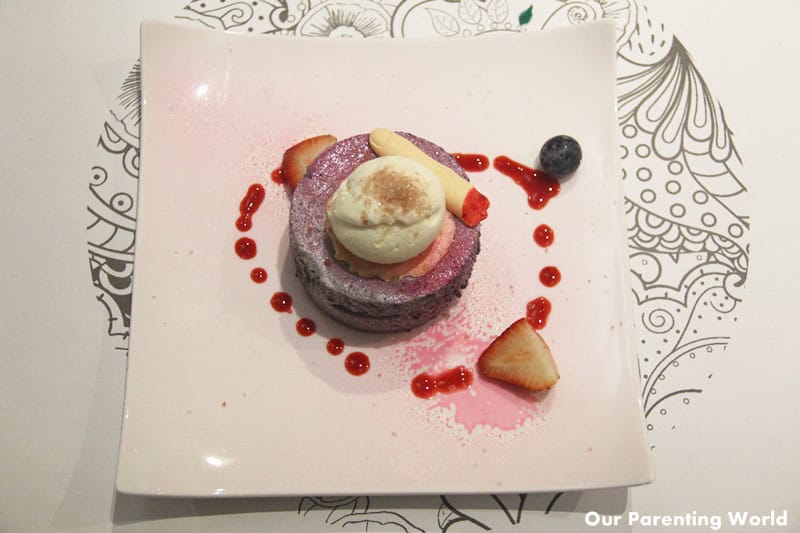 At Museo, we tried out its Halloween special. This is 'Medusa's Supper' which consisted of blueberry meringue with vanilla ice cream, raspberry coulis and popping candy. When the dish was served, all of us were drawn to the "broken finger", this dish definitely hit the spot, it is so appropriate for Halloween theme. It is a sweet treat, very soft and creamy and taste delicious!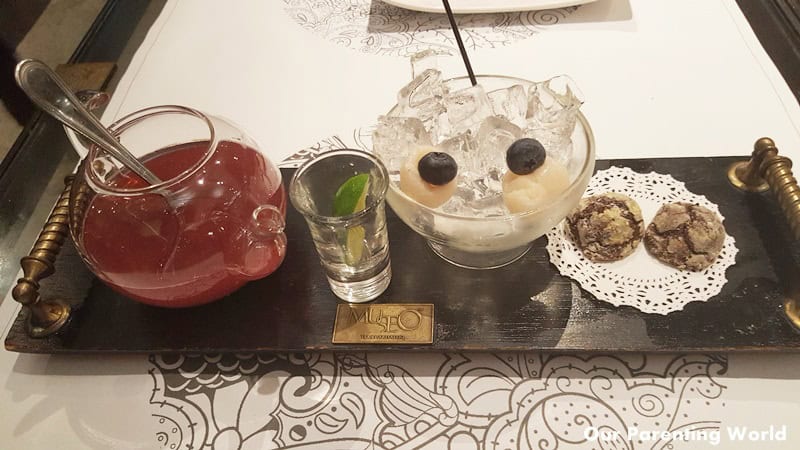 Next up is 'Vampire's Libation', this is a hibiscus tea beautifully served on a tray with lime juice, a glass of ice topped with lychees, blueberries and served with biscuits at the side. Hibiscus tea is good for health with many benefits, it helps in digestive system, relief from high blood pressure and high cholesterol, increase immune system and so on. The hibiscus tea is very refreshing and not too sweet.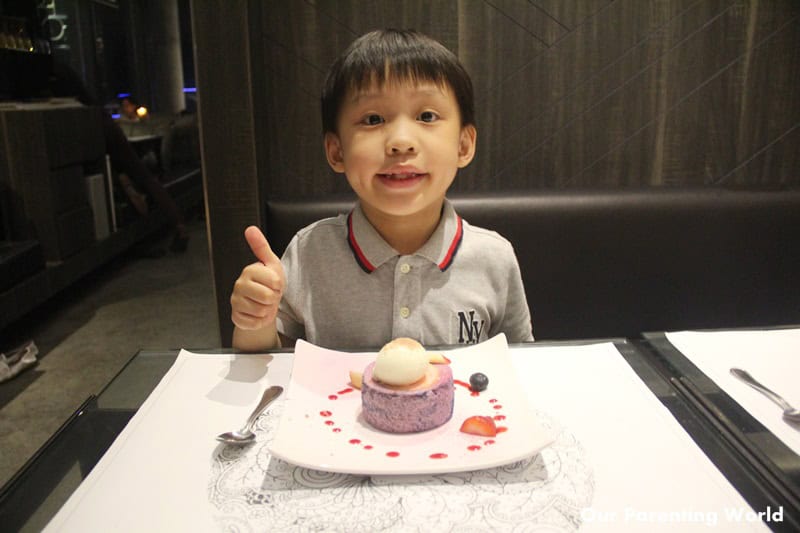 Visit and celebrate Halloween at Museo From 1st to 31st October, diners can indulge in Museo's Sinister Pairing of 'Vampire's Libation' and 'Medusa's Supper' for just $25!
Museo 
#01-22 Quayside Isle @ Sentosa Cove,
Tel: 6734 8066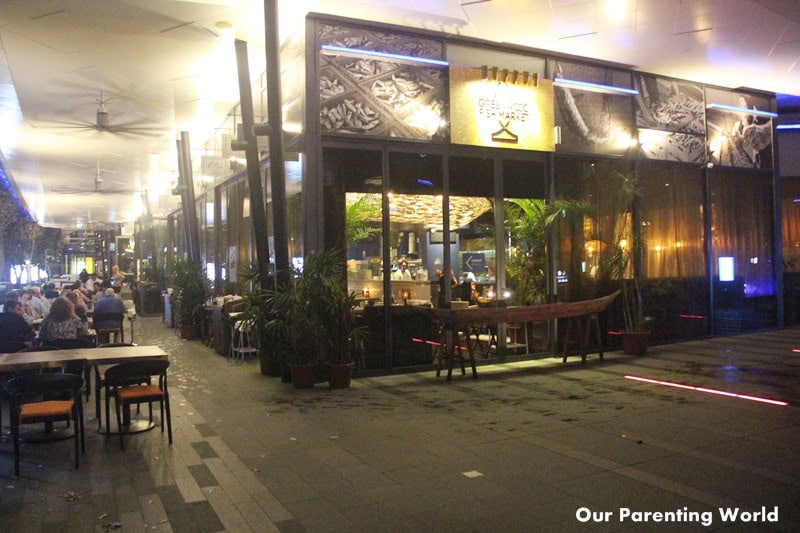 Greenwood Fish Market
Greenwood Fish Market for more than 13 years has brought the freshest catch imported from all over the world to seafood lovers. Greenwood Fish Market at Quayside Isle @ Sentosa Cove offers both indoor and outdoor dining. Dine indoor for the spacious, cosy and comfortable environment. If you prefer to enjoy the nature breeze and embark in the Halloween ambience on the 30th October and view its scenery, you should go for outdoor dining.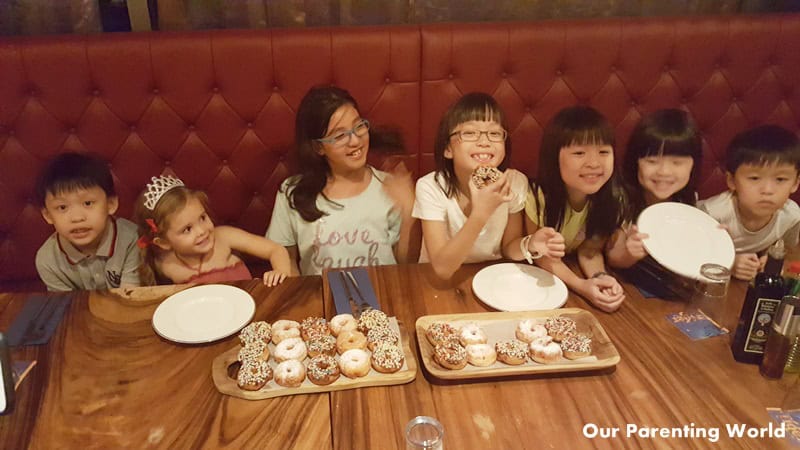 The happy kids enjoying their donuts treats at Greenwood Fish Market during the media food tasting.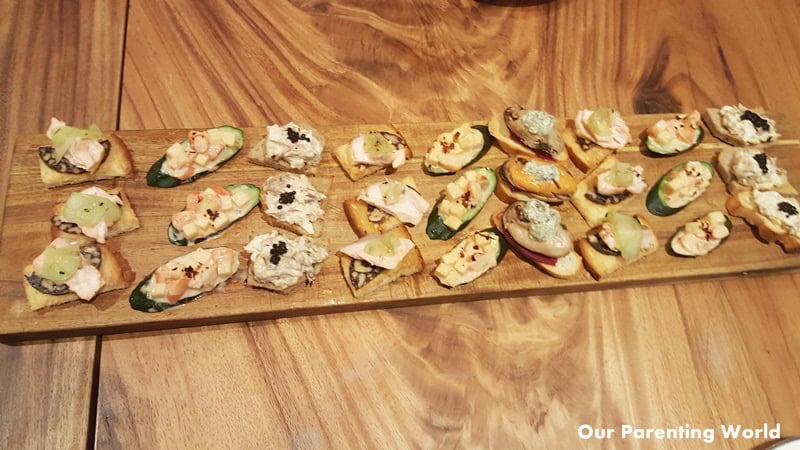 Greenwood Fish Market offers a wide range of fish, seafood that are brought in fresh and prepared to order, this is the place to visit if you enjoy seafood. We tried out a variety of delicious seafood on tapas.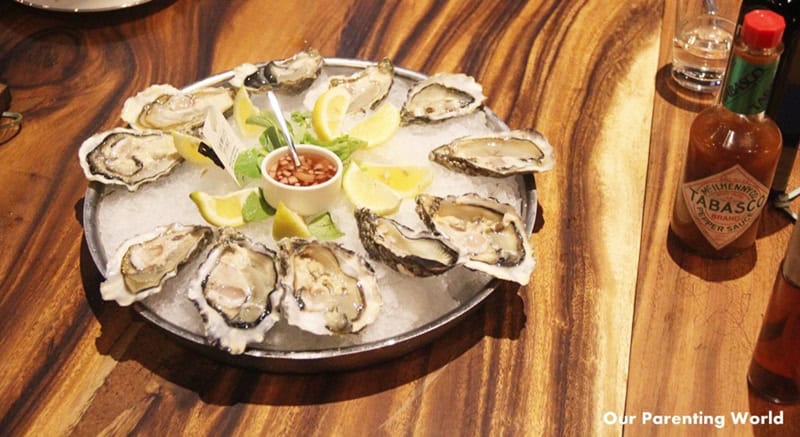 Greenwood Fish Market is well known for its fresh and succulent oysters. It is a must try when you visit the restaurant. 
Greenwood Fish Market
#01-04/05 Quayside Isle @ Sentosa Cove,
Tel: 6262 0450
Come and celebrate Halloween as you feast with your loved ones at Quayside Isle @ Sentosa Cove on 30th October! In addition, other participating restaurants that celebrate Halloween at Quayside Isle @ Sentosa Cove include the following:
For The Dauntless
Kick back and relax at &MADE Burger Bistro L'Entrecôte Express while your kids have a 'fang-tastic' time exploring the haunted house! Tuck into the 'Jack-o'-Lantern' platter for only $42++, while your kids slurp up the 'Spooky Spaghetti with Eyeballs' special for $12++.
For The Candy Lover
Simply dine in and yell 'Trick or Treat' to receive candy goodies with no minimum purchase required. Participating restaurants includes: &MADE Burger Bistro L'Entrecôte Express, Big Fat Mama, Gin Khao Bistro, Greenwood Fish Market, Joe & the Juice, Museo, Mykonos On The Bay, Sabio by the Sea, Tapar Bar & Grill, SolePomodoro Trattoria Pizzeria and Two Chefs Bar. 
For Those with A Dragon's Appetite
Treat yourself to a 'Frozen Margarita with Eyeballs' and 'Frozen Vampire's Blood' paired with Two Chefs Bar's Halloween pizza along with other 'fright-bites'! Alternatively if you are craving for Asian fare, try Gin Khao Bistro's special 5-course Thai set menu featuring their scorched fresh squid and flame grilled tender pork neck. Complete your night by indulging in sinful delights and mouthful of surprises when you tuck into Museo's 'Medusa's Supper' filled with popping candy.
For more information and check out the participating restaurants, please visit www.quaysideisle.com. 
Getting to Quayside Isle @ Sentosa Cove
By Car
Quayside Isle @ Sentosa Cove is easily accessible by car, with parking lots available all day, including lots for families, hybrid/electric cars and the handicapped. A flat gantry admission charge is applicable to each car entering Sentosa, varying with each time period. The flat charge covers all passengers aboard the vehicle. Passengers may alight at the Fountain Plaza drop-off point that faces The Residences at W Singapore – Sentosa Cove.
Free Weekday Lunch Time Parking is available for vehicles entering and exiting the carpark from 12pm to 2:30pm on Mondays to Fridays, excluding Public Holidays. Charges will apply for vehicles that do not enter and exit within the stipulated time captured by the automated system. Other terms and conditions may apply.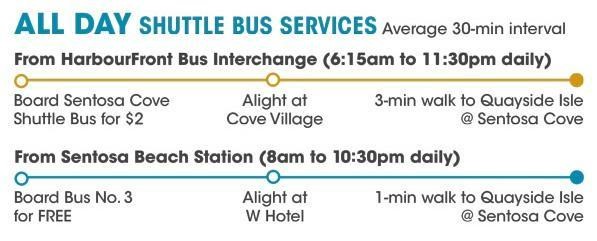 By Shuttle Bus
Board the white Sentosa Cove shuttle bus at HarbourFront Bus Interchange and alight directly at Sentosa Cove Village drop-off point, a 3-min walk from Quayside Isle @ Sentosa Cove. The shuttle service is open to the public at $2 per ride, available daily from 6.15am to 11.30pm at 30-minute intervals during peak hours.
Alternatively, make your way into Sentosa, board the complimentary orange Sentosa Bus 3 at Beach Station and alight at W Singapore – Sentosa Cove hotel, less than 1-minute walk from Quayside Isle @ Sentosa Cove. The shuttle service within Sentosa is free, available daily from 8am to 10.30pm at 30-minute intervals.
For the full shuttle bus schedules, please go to www.quaysideisle.com.
To make frequent visits to Quayside Isle @ Sentosa Cove even more affordable, simply apply for Sentosa's Islander Pass and enjoy a year's unlimited island admission and privileges. It costs just $25 for Individual and $50 for Family memberships.
For more information on Sentosa's Islander Pass, please go to https://www.sentosa.com.sg/islander/individual-family 
Many thanks to the lovely organisers of Quayside Isle @ Sentosa Cove for arranging the media tour. It is really nice meeting all the lovely families and it has been a wonderful dining experiences for all of us!