Coming this August as we celebrate National Day and Racial Harmony, Ding Yi Music Company will be presenting an intimate, cross-cultural music showcase featuring its Ding Yi musicians collaborating with Vietnamese bamboo ensemble Suc Song Moi (The New Vitality) led by talented conductor Dong Quang Vinh. This is also the bamboo ensemble's premiere performance in Singapore, performing series of inter-cultural folk pieces using bamboo handmade instruments with Ding Yi.
The concert will be held on 11 August (Sunday), 7.30pm at the Esplanade Recital Studio.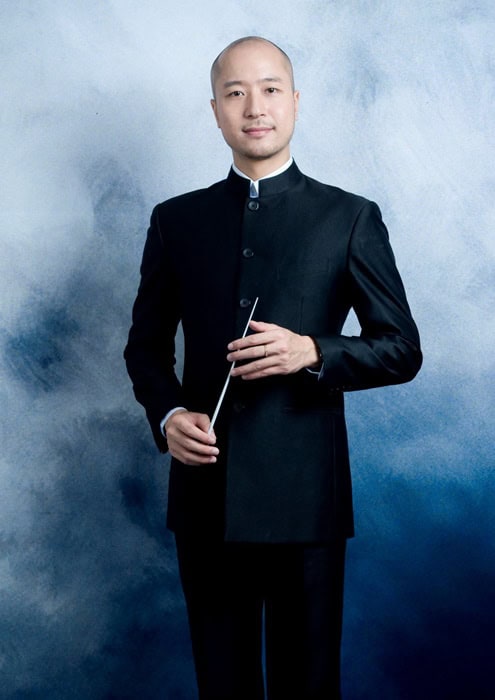 Exclusive Interview with Vietnamese Conductor, Dong Quang Vinh
Our Parenting World – OPW Media team is pleased to be able to interview Dong Quang Vinh to find out more. About Dong Quang Vinh, he is the founder of the Bamboo Ensemble Suc Song Moi (The New Vitality). Their ambition is to bring traditional and academic music closer to the young generation through their unique and original music style and performance. Dong Quang Vinh's father, Dong Van Minh made all the ensemble's instruments from bamboo. Besides conducting, Dong Quang Vinh is also well adept on performing solo with different types of traditional Vietnamese instruments. On January 2018, Vinh was selected by the US government as the only representative from the ASEAN among 18 countries from all around the world to attend the project "promote social change through the arts".
1. As a man of multiple talents, from being the conductor to various instrumental soloist, what inspire you to start the Bamboo Ensemble Suc Song Moi?
I am really fortunate and my life has always been full of music. I came from a family of musicians and pick up my first instrument, the bamboo flute at the age of eight. I learnt from my parents, my father Dong Van Minh, currently the number one Bamboo Instrument Maker in the country and my mother, is a music educator who was teaching at Vietnam National Academy of Music (VNAOM). Their friends and colleagues always visit our home to practice and rehearse bamboo instruments. At nine, I enrolled to VNAOM and was exposed to a wider variety of traditional Vietnamese instruments.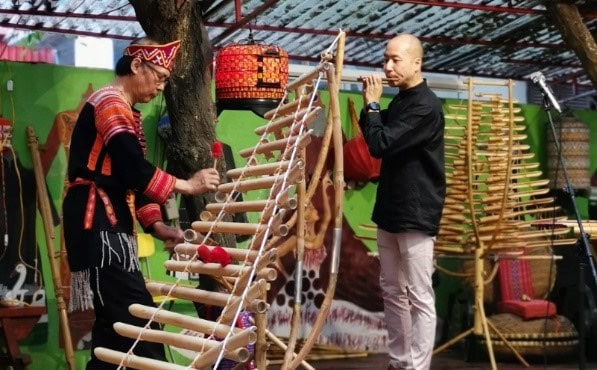 Dong Quang Vinh (at the right) performing with his father
Both my parents, who are reputable Vietnamese musicians are retired now, my father is in his 70s and my mother unfortunately has been sick for a few years hence unable to play music. I am inspired by them to carry on the family music tradition, this musical heirloom from my parents is too precious to let it just disappear. Therefore, after I graduated from Shanghai Conservatory of Music in 2013 (majoring in conductor for Chinese traditional orchestra and Symphony orchestra), I decided to build a new bamboo ensemble – Suc Song Moi Bamboo Ensemble, to preserve and develop VIETNAMESE bamboo music.
You can consider our ensemble, Suc Song Moi (which means "The New Vitality" in Vietnamese) as a second generation ensemble from the first family bamboo ensemble, Tre Viet Performing Arts Group (website) that my father founded in 1993 with four other family members, including myself.
It was, however, not an easy feat as there are almost no one in Vietnam writes for ensemble music, let alone the traditional bamboo music, which basically has no material transcripts nor scores. Even for my father who made all the bamboo instruments in the ensemble, taught music orally during his time. Therefore, I took on the liberty, composed and arranged the bamboo music myself for the ensemble, with the help of my wife Claire Shuang Shuang Mo who was also a member of Suc Song Moi.
2. Can you explain to us, what is the unique characteristics of the various bamboo instruments that will be feature in this upcoming concert with Ding Yi?
All the bamboo instruments that will be featured in the concert are all made by my father, Dong Van Minh.
They include the bamboo percussions T'rungs (竹排琴) and Ching'rams (竹板琴), Sao Truc (the bamboo flutes or 竹笛), Dan Tranh (Vietnamese Zither or 越南古筝), Dan Bau (monochord or 独弦琴) and the K'ni (Vietnamese mouthed violin 口弦胡琴).
The bamboo percussions – T'rungs and Ching'rams
These are what you can call bamboo xylophones or marimbas, the pitch ranges are similar to that of soprano, alto, tenor or bass, and their sound can be crispy, bright, powerful and also be soft, gentle and deep. The appearance of these ethnic instruments looks like bamboo houses or boats, as originate from the minority tribes from the Central Highlands and mountainous areas in Vietnam.
Sao Truc
Unlike the Chinese instrument dizi, Sao truc or bamboo flutes are thinner and do not use a special membrane (笛膜) to generate the sound of distinctive timbre. Sao truc has ten fingering holes and can provide chromatic pitches. There will be a "birds lively conversation" in one of the song during the concert between Sao truc and dizi. We will also be bring a one-hole bamboo flute, it doesn't play with fingers, the pitch and sound changes with the mouth and hand of the musician.
Dan Tranh
The only non-bamboo Vietnamese instrument belong to the Kinh ethnic community in Vietnam. Compare to the Chinese instrument guzheng, Dan Tranh is relatively smaller and thinner with 21 metallic strings. Its sound is also softer. The techniques of this instrument are dominantly displayed and controlled by the the movements of the musician's left hand (such as vibrating, pressing, slapping, bouncing etc).
Dan Bau
Also from the Kinh ethnic community, Dan Bau is a one-stringed fiddle-like instrument that resonates the feminine sound. Often used to sing the cradle songs from mothers and grandmothers, love songs from female lovers or magnanimous history and mythologies.
K'ni
A unique fiddle-like instrument that uses the musician's mouth as a resonator, to control the richness of sound and acoustic, therefore the sound from this instrument closely resembles the human voice.
3. How does bamboo associate with your Vietnamese culture and music?
Bamboo is a simple yet significant symbol of the Vietnamese culture and tradition. Although the plant is rather common, but for the us, the solid and tall bamboos represent resilience, indomitability as well as bravery. Music is the reflection of life, which to us Vietnamese, bamboo is the perfect symbol representing our culture.
It is also deeply incorporated into our Vietnamese lifestyle. In the villages, we live in bamboo houses, eat with bamboo chopsticks and fish with bamboo rods. We also used bamboo made hats, slippers, raincoats and even crutches for the elderlies. Even as protection, bamboo trees are cut and sharpen to use as traps and weapons in the villages.
Vietnam folklore:
There was a little boy who was thought to be godsend to a couple that was not blessed with any children. The boy grew up quicker and bigger than his peers but couldn't speak at all. Until when he was three years old, the village underwent an invasion, the boy pulled up a cluster of bamboos and started to speak for the first time, asking his parents and villagers to use the bamboos to make him an iron horse.
After finished the meal prepared by his parents, the boy turned into a tall big young man, rode the iron horse and lead the villagers to defend against the invaders. Intimidated by the sudden retaliation, the invaders retreated. Afterwards, the boy taught the national army the various uses for bamboos and led them to many victories against the country invaders, bring peace back to the country.
Many of our instruments are also made of bamboo. If you visit the rural countryside in Vietnam, it's easy for you to see the statues of little boys sitting on the back of buffaloes playing bamboo flutes.
Bamboo is something natural. A message we would like to bring to audience is –  love the bamboo, love the nature, love the culture and protect the environment.
Bamboos are not only in Vietnam. I believe that in Singapore and many Asia countries there are bamboos as well and for sure we share something in common in the culture of bamboo. Therefore, I'm sure the Singaporean audiences will find some familiarity this time in our performance.
Any arts or music masterpieces are made of something simple and natural; this is what we, the Suc Song Moi Bamboo Ensemble has always been trying to build.
4. Have you ever collaborated with Chinese music before? What do you think will be the challenges for this music collaboration?
I studied at the Shanghai Conservatory of Music for nine years and was in conducting major in Chinese orchestra and symphony orchestra. When I first started, I faced a lot of challenges as I am not from China, I had to spend a lot of time and energy to study Chinese traditional music, the Chinese opera and also the various Chinese instrumentations. Therefore, I must work ten times harder as a conductor as well as an instrumental soloist with various orchestras and musicians in Shanghai, or other cities in China. Looking back, I am very thankful for all these hardships to be where I am today. 
Needless to say, there are definitely challenges for this music collaboration, such as the music scores, the instrumentation characteristics and importantly, time.
In Vietnam, we do not use the simplified music scores or 简谱. I shared earlier that music in Vietnam were taught orally since my father's generation, it is not properly recorded as in China and Singapore. Therefore, my musicians and I need to work extra hard to notate the music together that we are going to perform with the Singaporean musicians.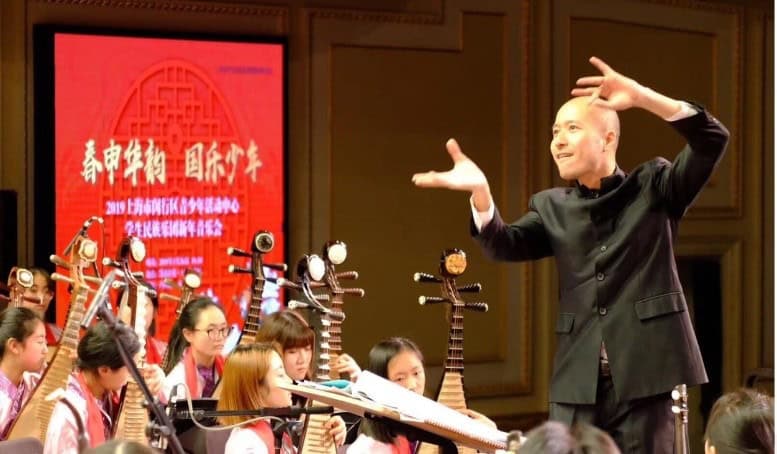 Secondly, Chinese and Vietnamese music instruments have very distinct music characteristics. It will be a challenge to produce harmony between them, comparing if I were to compose or arrange for a group of western instruments. I'm lucky to have studied Chinese and Western music in China for nine years, therefore I am well familiar with the various Chinese instrumentations, the western music harmony and orchestration. Which would help me to portray the visual imagery I want through the music collaboration.
Lastly, we do not have ample time for the Vietnamese musicians and the musicians from Singapore to practice together before the concert. Therefore, the music scores have to be clearly written as detailed as possible to ensure the best music quality and save time.
All of the work above needs time, energy and very importantly, love.
5. On a side note, have you come to Singapore before? What is your impression of Singapore? (9 Aug will be our Singapore National Day)
We are very excited, as this is actually the first time my ensemble and I visit Singapore. It's an honour to be invited on the occasion of the Singapore National Day, in fact, next month will also be Vietnam National Day!
I love multiculturalism which Singapore is a great example of this term. In Vietnam, you can see the Vietnamese, French and even Chinese culture. Shanghai is also a multicultural society, but Singapore is even more than that. Singapore is not big but condensed, it is a combination of traditions and modernity.
I am thankful for this opportunity to bring the traditional Vietnamese bamboo music to the Singaporean audiences, and most importantly, playing music together with Ding Yi Music Company. This trip is also an exchange, where I feel I could also learn a lot from.
6. Finally, what is your motivation that drive you to be where you are now? Do you have any advice to someone who aspires to be successful in the arts and music industry?
I love music. Music is my passion and motivation. I believe music is the common language that brings people of different background together. This same-same-but-different thing helps connect people from different continents, countries, regions and background closer.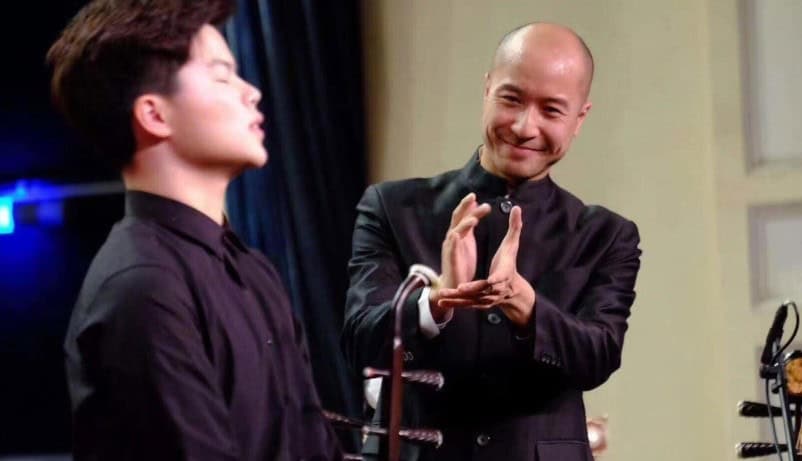 As one who was born to a family of musicians, especially the traditional bamboo music, my mission is to preserve, develop and promote this fading artform, this precious gem to more people. That is my main motivation.
Here are six pointers of advice I can give, to someone who aspires to be successful in this arts and music industry:
Love your music. Love the instrument you play (even voice), love always comes first.
Practice practice practice. To get better in performing, skill and technique are the number one importance.

Understand your instrument. That means the history of the instrument or even the music you want to present to your audience. Sometimes you will need to speak about your music to them, make it closer and easy to understand.

Think more from your audience's perspective, play what they need to hear. The more you love them, the more they'll love you. In turn, your audienceship or followers will grow.
Be flexible. Sometimes try to play your music in a variety of styles or even try playing a different music/ genre on your instruments. This will help you to get more influential. If you are a traditional musician, you'd best know more about the Western music theory, harmony as well as the orchestration. Their theory has been used well over hundreds of years, which you will definitely gain more from it.
Last but not least. Utilise the current technology to promote your music. In this modernised society, audiences have lots of selection on the internet. Quality music is not enough, you need to keep up and adapt with the trend to stay relevant.
Thank you Dong Quang Vinh for taking our interview!
Music is a universal language! Musical Frontiers challenges the very notion of this belief, bridging two distinct genres of music entities, from different background, together on the same stage.
The third edition of Musical Frontiers presents a cross-cultural showcase featuring the award-winning Vietnamese Bamboo Ensemble, Suc Son Moi (The New Vitality) with Ding Yi Music Company. Led by young conductor Dong Quang Vinh, Suc Song Moi is the only bamboo ensemble in Vietnam known for their unique presentation and music compositions.
There will be a post-show talk after the concert in English and Mandarin.
Hurry, grab your tickets to watch Musical Frontiers and celebrate National Day with Ding Yi Music Company!
Date and time: Sunday, 11 August 2019 at 
7.30pm
Standard : S$28
(This is a Free seating event)
To purchase the tickets, please visit Sistic at https://www.sistic.com.sg/events/cmusical0819
Good News! Giveaway Alert!
In addition, thanks to Ding Yi Music Company, we are giving away two pairs of tickets to 2 lucky readers. Each winner will receive a pair of tickets for you and your partner to enjoy Musical Frontiers on Sunday, 11 August 2019 at 7.30pm at Esplanade Recital Studio.
Don't miss this opportunity to enjoy great music!
Here's how to win the giveaway:
1) LIKE and FOLLOW Our Parenting World Facebook Page and Ding Yi Music Company Facebook Page
2) FOLLOW our Instagram at @opwmedia and @dingyimusic
3) LIKE, SHARE and TAG 5 family and friends or more to share this Facebook Giveaway Post. 
*Please set your profile to PUBLIC so that we are able to verify your entry.
*Please also indicate your Instagram handle at the Facebook Comment Post and check that all the steps are entered correctly to be eligible for the giveaway.
Hurry, giveaway will close on 4th August at 23:59Hr. Winners will be announced on 5th August, please check this place for winners' announcement. 
Thank you and Good Luck! 
Giveaway is closed, winners have been announced and notified, for winners' announcement, please visit this LINK.