As the year comes to a close and to welcome a brand-new year, celebrate this joyous occasion at  Faber Peak Singapore's Highest Hilltop Destination, 100m above sea level where you will be treated to a sumptuous spread of food and enjoy the spectacular display of fireworks! Look forward to catch three firework shows that are visible from Faber Peak, besides their own show, the fireworks from Sentosa Island events will also be visible from the vantage point the peak affords. 
One Faber Group will be featuring exclusive one-night only New Year's Eve (NYE) celebration menus across three venues – Arbora, Dusk Restaurant & Bar and Cable Car Sky Dining. Each venue caters to a slightly different dining crowd. Arbora is family friendly,  Dusk Restaurant and Bar will become NYE party central, and couples can enjoy a romantic evening with Cable Car Sky Dining. 
Seafood lovers especially if you love Lobster, you will be pleased to know that all three menus feature "tank-to-table" live Maine lobsters as the central ingredient, serving up three different Maine courses prepared with live lobsters straight from an on-site tank.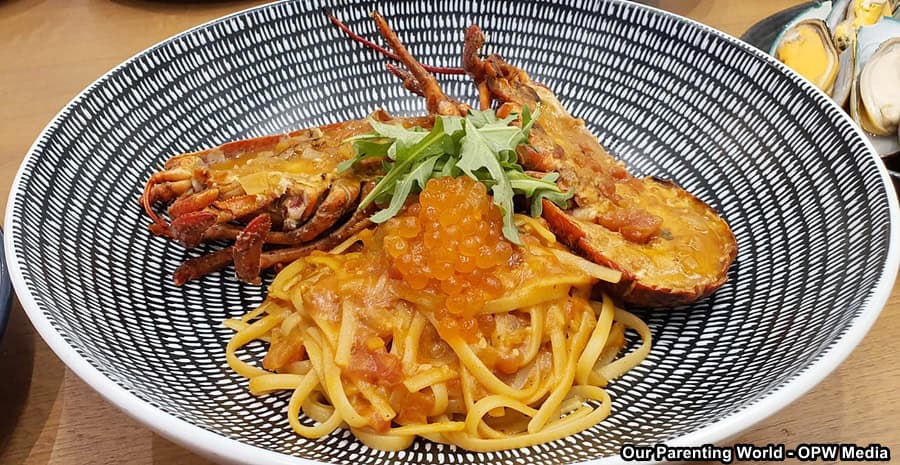 Char-Grilled Live Maine Lobster at Arbora
Diners can indulge in fresh lobster meat, savour its natural sweetness and at the same time enjoy the scenic panoramic night-time views of Harbourfront and Sentosa Island.
Arbora's brings unique countdown experience atop the lush greenery of Mount Faber Park for the whole family. Its NYE semi-buffet-style menu at $98++ per adult and $48++ per child offers adults diners a choice between two mains consisting of Char-Grilled Live Maine Lobster with Lobster Bisque Braised Pasta and Ikura or Black Angus Grain-fed Rib Eye with a Shiraz Glaze and Himalayan Pink Salt. We tried out the Char-Grilled Live Maine Lobster, it is such a pleasure tucking into the fresh, sweet lobster meat which has a detectable char flavor accompanied by the flavourful, creamy pasta topped with big, juicy fish roes.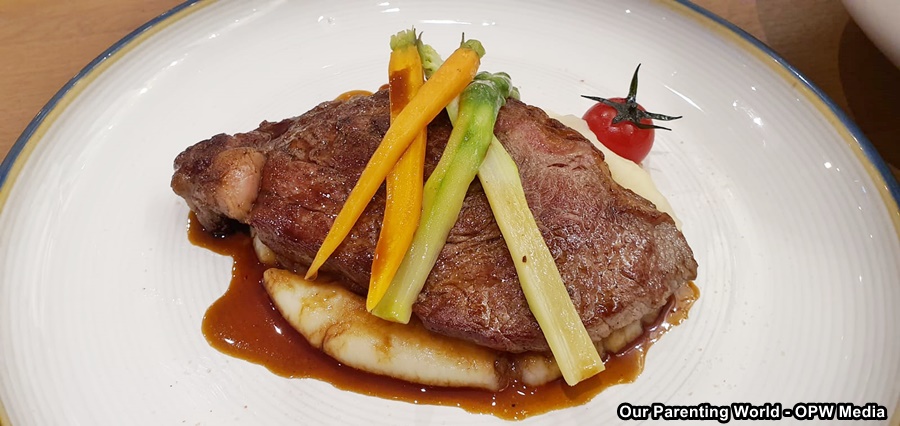 Black Angus Grain-fed Rib Eye with a Shiraz Glaze and Himalayan Pink Salt at Arbora
The steak is well-seasoned, the meat is so tender, juicy on the inside and browned to perfection and flavourful on the outside. Each bite gives off a tasty burst of irresistible beefy juices!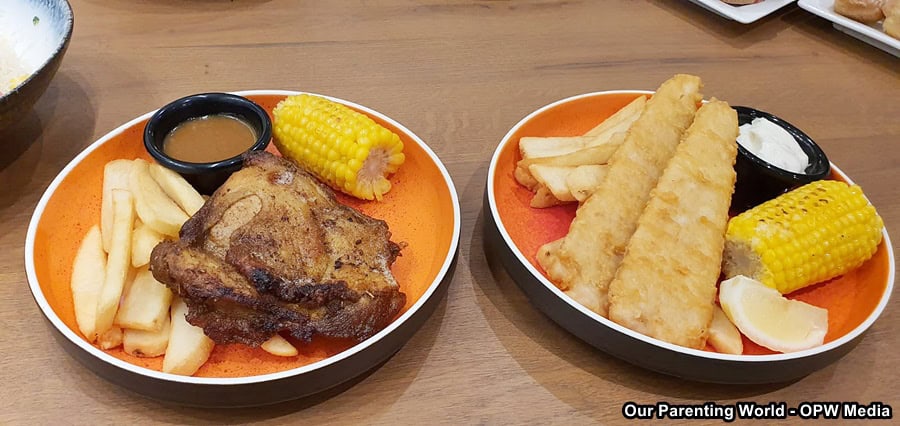 For Kids Mains, they get to choose between a Roasted Poulet or Tempura Cod Fillet both served with a side of sweet corn. Parents can enjoy their meals while the kids are kept occupied at Arbora's new "kid's play area", complete with games and activities for children, such as a colouring station, games station with kid-friendly card and board games, as well as a safe outdoor area for kids to play hopscotch.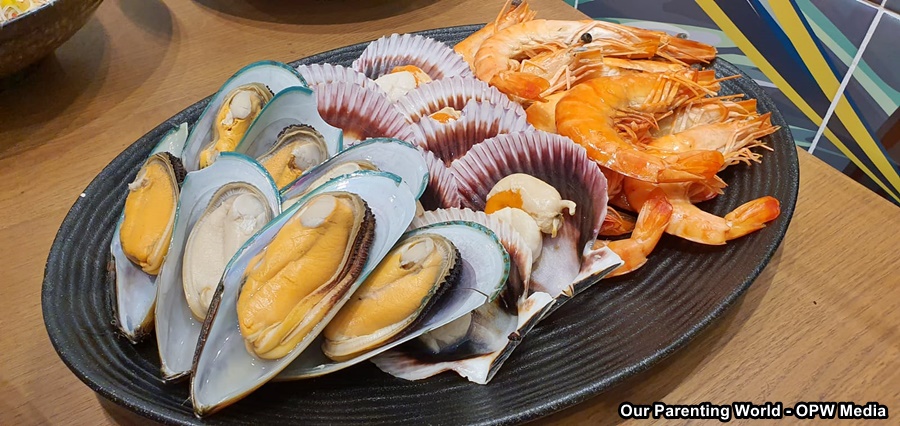 What's more, besides the main courses, the NYE free-flow buffet line offers a variety of cold seafood including Cooked Half-shell Scallop, Steamed Prawns, Blue Swimmer Crab and Blue-lipped Mussels along with a bevy of tantalising appetisers and a special dessert bar for an elevated end-of-meal experience. What a treat!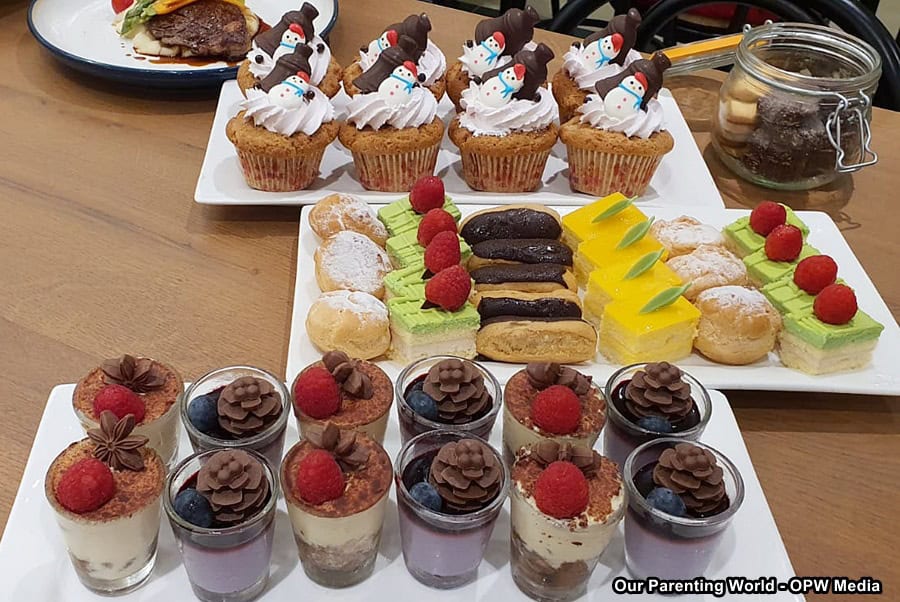 A tempting spread of delicious dessert. In addition to the sumptuous meal experiences, diners will be entertained through the night with the lively music, smooth vocal harmony and unmistakable chemistry of ShiLi & Adi, one of Singapore's top vocal duos. No stranger to the big stage, the pair has previously performed for Singapore Presidents S.R. Nathan and Dr. Tony Tan, the Sultan of Malaysia and PM Lee Hsien Loong.  
Operating Hours on 31st December 2019:
Lunch – 11am to 3pm
Dinner & New Year's Eve Celebration – 6pm to 2am
*Kids meal applicable to children 12 years old & below. 
To find out more and for booking, please go to this LINK.
Dusk Restaurant & Bar
The perfect vantage point for panoramic views of Harbourfront and Sentosa Island, Dusk Restaurant & Bar is offering a premium four-course NYE dinner menu accompanied by expertly curated wine pairings ($135++/pax with wine pairing, $120++/pax without wine pairing) for a more sophisticated year-end dining experience.
Operating Hours on 31st December:
Dinner & New's Year Eve Celebration – 6pm to 2am 
To find out more and for booking, please go to this LINK.  
Cable Car Sky dining
Couples looking for a more intimate and romantic night away from the crowd can spend the evening in their very own private cable car cabin and enjoy a delectable four-course meal up in the skies with Cable Car Sky Dining.
The Stardust Cabin (at $328++/couple) will be available for dinner from 6pm to 10.30pm, after which the Countdown Celebration Cabin ($498++/cabin for up to six pax) will be opened from 10.30pm till 12 midnight, where smaller parties of up to six get to experience One Faber Group's countdown fireworks amidst the splendour of Singapore's cityscape. 
Month of December (1st – 30th December)
Escape the ordinary with a gourmet meal and delight in the 4-Course Festive Set Menu, created exclusively for the year-end festivities.
Boarding from 6 – 7pm 
To find out more and for booking, please go to this LINK. 
Additional Information: 
December Festive Menu available from 1 to 30 December 2019 for two of the F&B concepts – Dusk Restaurant & Bar and Cable Car Sky Dining – Stardust Cabin will also be introducing month-long festive menus. Dusk Restaurant will be offering a four-course festive menu ($68++/pax), featuring a variety of flavours from the sea.  
NYE Promotions for dinner starts at 6pm and the party kicks off at 9pm, lasting all through the night. The party at Arbora and Dusk Restaurant & Bar comes with a cover charge of $39++ per guest after 9pm, along with two complimentary drinks.
On 31 December 2019, the Singapore Cable Car Mount Faber Line will also be extending its operating hours till 1am on New Year's Day (last boarding at 12.30am), so guests can party on with a peace of mind.
Hurry, book for your table now while it is still available, to register, please go to  www.onefabergroup.com/nye for advance booking  or call +65 6377 9688. Bookings made before 30 November 2019 entitles guests to a complimentary glass of wine, and Faber Licence members will enjoy a complimentary bottle of wine for bookings made before 8 December 2019.
To find out more, please visit www.onefabergroup.com