Celebrate this Parents' Day with a delectable feast from Dian Xiao Er, and show your appreciation to your parents in a truly delicious way! The renowned Chinese restaurant is introducing an exclusive set menu that includes four brand-new dishes. Want to commemorate the occasion at the comfort of your own home? There are also ready-to-eat dishes available for you to easily delight your parents with a scrumptious meal.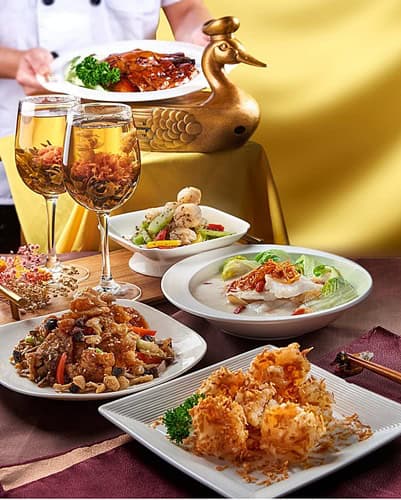 The Sauteed Scallops and Celtuce with Black Truffle is the first of the new dishes on offer, featuring succulent and plump scallops that are elevated by the zesty black truffle sauce. The celtuce also adds a pleasurable crispiness to the dish. Following that, indulge in the Crispy Pork Slices with Assorted Mushrooms, which are seasoned with a special sauce and then fried to a crispy golden-brown perfection. Every mouthful is irresistible! The pork is combined with delightful bits of shimeji that contribute an earthy flavor to the dish. Experience the playful contrast between the crunch of the pork and the chewiness of the mushrooms. Sliced chili adds a subtle spiciness in the background, and the dish is topped off with sesame seeds for a nutty finish.
Savor the extraordinary blend of island-inspired tastes with the Tropical Coconut Deshelled Prawns. The combination of coconut and prawns may seem unexpected, but it produces a heavenly flavor! The plump and juicy prawns are infused with the sweet essence of coconut and a zesty hint of lime.
Lastly, there's the wholesome and delectable Steamed Ling Fish and Baby Chinese Cabbage in Sweet Milky Broth. The fish is firm and fresh, and is steamed to perfection before being immersed in a sweet and delicate milky broth. The broth is crafted from beancurd using the head chef's secret recipe, which takes several hours to prepare, resulting in a rich and flavorful broth.
Other dishes in the set menu will include their Signature Herbal Roast Duck (Angelica/ Ten Wonders / Wild Ginseng), their popular dishes: Signature Wheatgrass Tofu with Seafood, Baby Kai Lan with Salted Fish & Lime, and Fish Maw Thick Soup with Seafood. Available from 24 April to 18 June, the set menu is priced from $99 onwards.
Wash the food down with the Korean Peach Surprise Blooming Flower Tea $3.80 (UP: $4.60), which acts as a great palate cleanser. Fragrant and refreshing, the tea carries a sweet undertone. The flower, when steeped in the tea, will slowly bloom — it makes for a visual spectacle!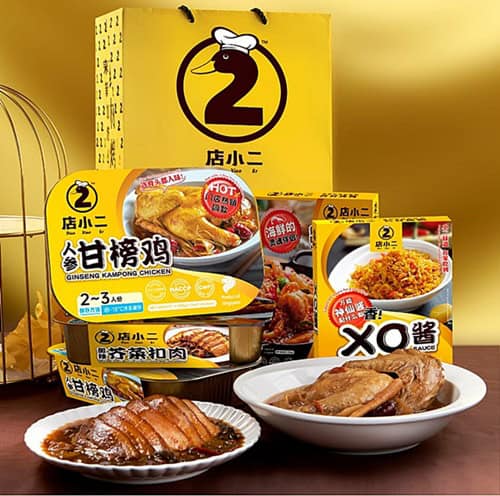 Ready-to-eat bundles for home enjoyment
Show your filial piety by preparing a meal for your parents! Dian Xiao Er will be launching two ready-to-eat dishes: Braised Pork Belly with Spicy Sour Mustard Greens and Ginseng Kampong Chicken. With a perfect fat-meat ratio, the pork belly boasts a melt-in-your-mouth texture. The nourishing kampong chicken is equally tender, and each sip of the soup is incredibly tasty thanks to the use of premium herbs. Get more bang for your buck with the bundles — get any 2 choices at $25 (UP: $33.80, 26% off) or 3 choices at $34 (UP: $50.70, 33% off). 
A must-eat in Singapore, Dian Xiao Er's herbal roast ducks!
To keep up with the times, Dian Xiao Er is currently undergoing a brand revamp. Its old logo, which used to depict a waiter, will be changed to reflect a toque-wearing duck. This is because Dian Xian Er's signature dishes are the Roast Duck with Angelica Herbs and Roast Duck with Ten Wonder Herbs Duck, and this change will allow customers both local and foreign to associate the restaurant with its best-selling menu mainstays. The logo will also boast a vibrant yellow, signifying happy times.
Citibank Exclusive Collaboration
From 24 April to 18 June 23, Citibank cardholders will get to enjoy $10 off every Parents' Day set menu. While stocks last; limited redemption available.
Find out more about Dian Xiao Er as follows: 
Instagram: @dianxiaoersg
Facebook: @dxesg – https://www.facebook.com/dxesg/
Website: https://www.dianxiaoer.com.sg/