Our Parenting World (OPW) team is delighted to bring to you some of the popular National Day dining offers in Singapore. Peach Blossoms at Marina Mandarin has always been one of our favourite Chinese restaurants and this year they will be launching a delightful National Day Set Lunch to celebrate Singapore's coming birthday!
This special offer is only available from 1 to 9 August 2017. The patriotic 5-course set lunch menu is priced at $52++ per person, in celebration of our nation's 52nd birthday.
The lunch starts with a delectable four dim sum items combination:
Deep-fried Scallop and Banana wrapped with Mashed Taro 
Steamed Scallop Dumpling with XO Chilli Sauce
Steamed Homemade 'Siew Mai' with Baby Abalone

Deep-fried Fresh Prawn Spring Roll with Mango
When the dim sum combination is served, it is so visually appealing that opens up our appetite. Each of these items is so delicately made and delicious. There is even a baby abalone which comes together with the Siew Mai.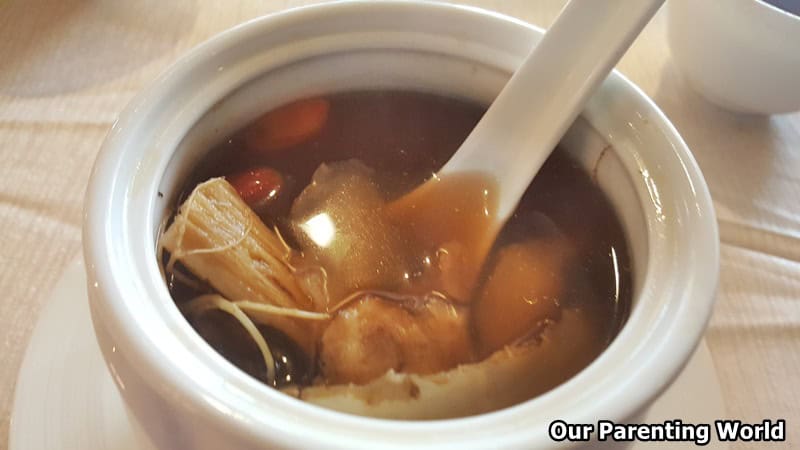 After the dim sum, this is followed by the Double-boiled Fresh Ginseng with Black Chicken soup. The soup is so nourishing, comforting and full of flavour!  It is highly nutritious and has medicinal value that is good for health.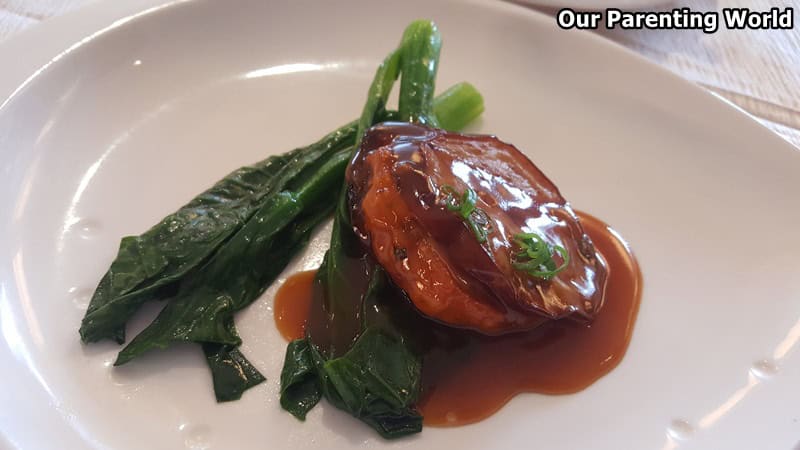 After the soup is served, we move on to the pan-fried eggplant stuffed with minced pork and shrimp paste in homemade abalone sauce accompanied with Hong Kong Kai Lan. The pan-fried eggplant with stuffing reminds us of the luxurious version of Yong Tau Foo, and it definitely tastes even better than the best Yong Tau Foo in the market.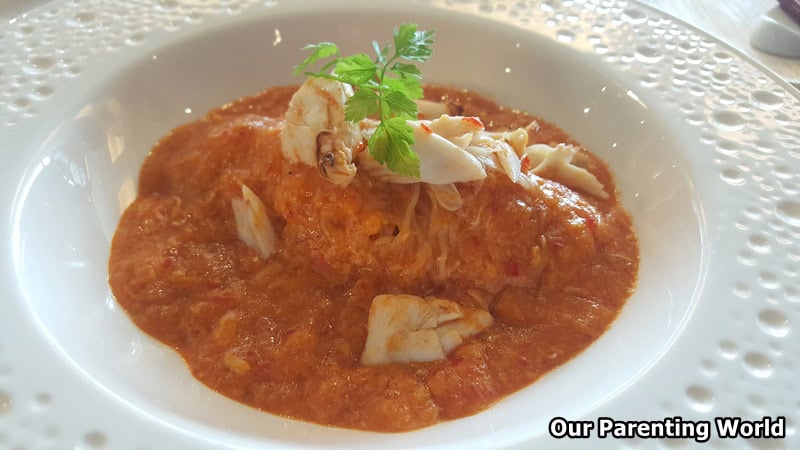 Our favourite is the Singapore Chilli Crab Meat served with Yuzu Noodles. Chilli crab is considered as a national dish by many and thus it is very appropriate to be served in conjunction with National Day celebration. For fans of chilli crabs, this is a great dish to sample as it is spicy enough and the noodle is served with savory sauce that you would want to slurp up every strand of the yummy noodles. You don't have to dirty your fingers eating the chilli crab as the crab meat has been taken out from the crab and served in this dish. It is so convenient to eat and enjoy your favourite chilli crab meat in this way.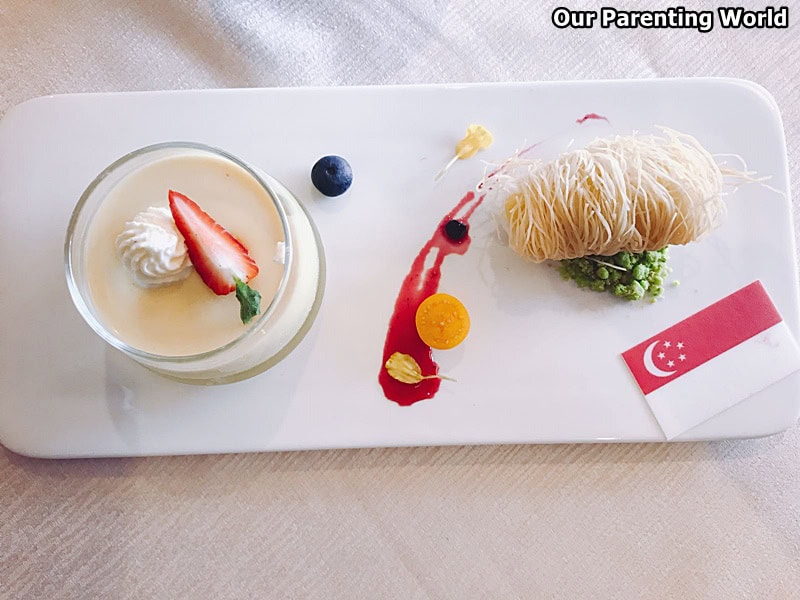 We end the sumptuous meal with not one, but two different versions of Durian desserts, Chilled "Musang King" Durian Pudding and "Musang King" Durian Roll coated with Filo String. The beautifully presented dessert plate even comes with our Singapore flag! 
Visit Peach Blossoms with your family and or friends to celebrate Singapore's 52nd birthday and indulge in delectable, well-loved local dishes prepared in fine Cantonese way. Hurry, this value for money National Day Set Lunch menu promotion is only from 1 to 9 August 2017! 
Peach Blossoms 
Marina Mandarin Singapore 
Level 5, 6 Raffles Boulevard Marina Square, Singapore 039594
Timings:
Lunch
Mondays to Fridays: 12.00pm to 3.00pm
Saturdays, Sundays and Public Holidays: 11.00am to 3.00pm
Dinner
Daily: 6.30pm to 10.30pm
Reservations: (65) 6845 1118
Email: [email protected]
For Enquiries and reservations, visit www.marinamandarin.com.sg/dining.