As we approach year end and celebrate the festive season, diners can look forward to enjoy exclusive festive menus by One Faber Group starting 1 November 2020 to 3 January 2021 at Arbora Hilltop Garden & Bistro and Dusk Restaurant & Bar. 
Arbora Hilltop Garden & Dining 
Surrounded by lush greenery of Faber Peak with panoramic views from 100m above sea level, Arbora Hilltop Garden & Dining offers a limited-time seasonal menu with a curated wine pairing while children can feast on a dedicated kids menu prepared specially for them.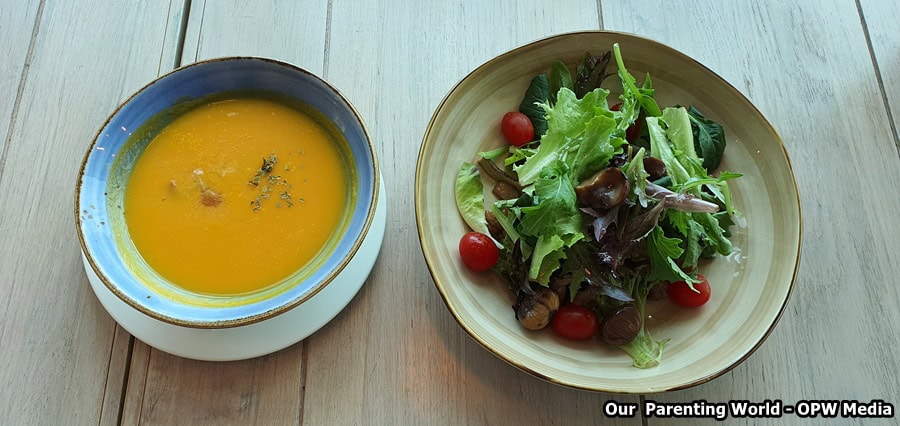 Soup – Velouté of Carrot (L) and Appetiser – Festive Mushroom & Chestnut Salad (R)
Arbora presents a lighter 4-Course Festive Menu ($68++) with a renewed focus on wellness and nature for those who want to indulge in holiday fare without the usual sinfulness. First up, the delightful appetiser is Festive Mushroom & Chestnut Salad consisting of warm forest mushrooms and crusted chestnuts tossed with mesclun leaves in a Grand Marnier dressing.
Next, enjoy a comforting and warm bowl of Velouté of Carrot. The soup consists of rich and silky puree of carrot, the soup has a light texture without the heaviness. The delicious soup is topped with smoked duck and crunchy pistachios.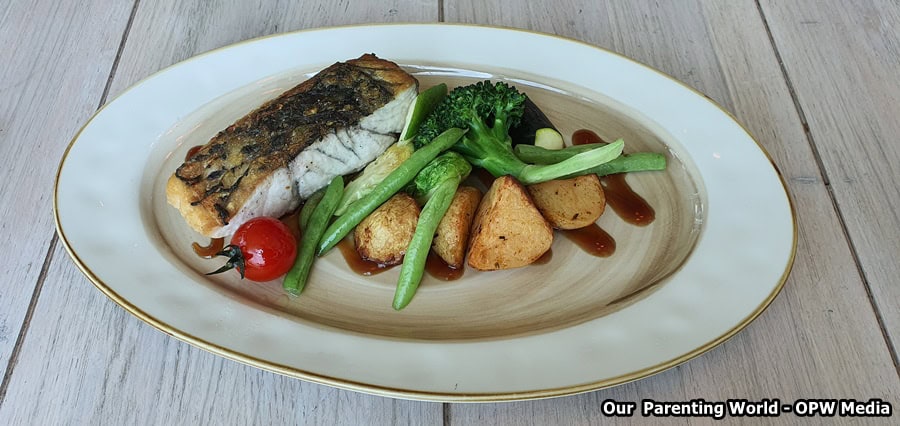 Main – Pan-fried Barramundi Fillet
For the main dishes, diners can choose from two options, either Oven Baked Half Pullet, a baked chicken served with black pepper sauce and sides of mashed potato and Arbora Salad, or Pan-fried Barramundi Fillet with a Kabayaki glaze, a soy-based sweet and salty sauce that perfectly complements the fish. The Barramundi is so fresh, the meat is very tender and tasty with crispy skin.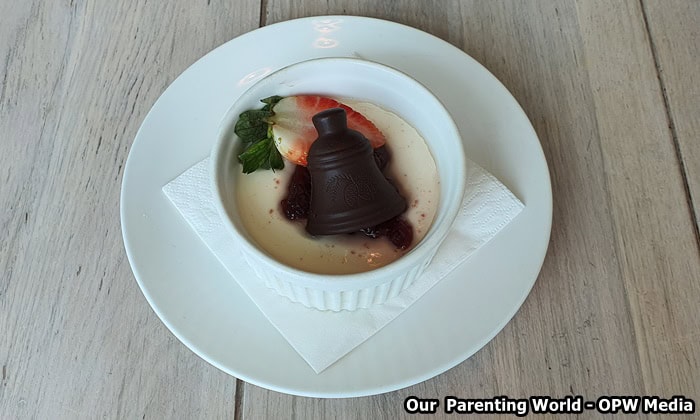 Dessert – Panna Cotta & Cranberry Compote
Last dish is the amazing dessert with classic flavours of Panna Cotta & Cranberry Compote. Its so creamy and yummy!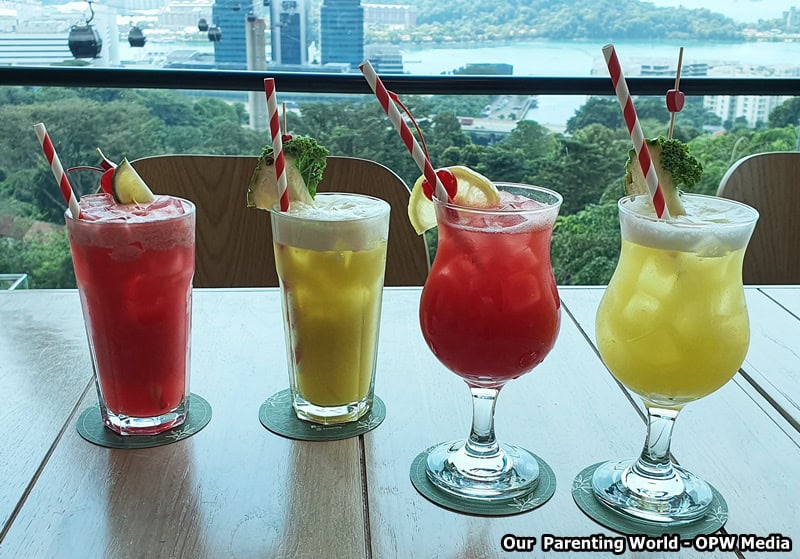 As for beverages, you can select from a variety of drinks like Marrenon Chardonnay Les Grains 2018 (White wine), Marrenon Merlot Les Grains 2018 (Red wine), Cocktails like Botanic Pineapple Boost, Botanic Watermelon Boost and Juices like Anti-Oxidant, Tropi-Kale, Sun-kissed Quenchers.
At an additional $15++ per person, guests can also opt for a wine pairing to accompany their mains. On offer are French wines – a mellow, sweet Marrenon Merlot Les Grains 2018 or a citrusy, acidic Marrenon Chardonnay Les Grains 2018.  
Children can look forward to their own festive fun-sized menu as follows: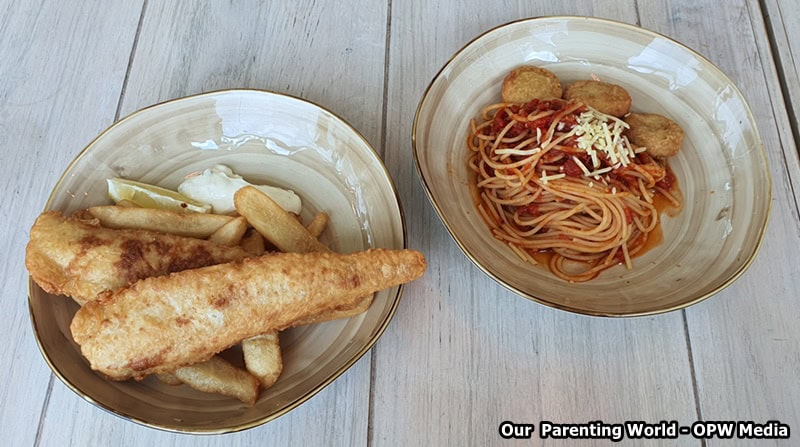 Fish & Chip, French Fries, Garden Salad & Tartare Sauce (L) and Spaghetti Napoli, In Tomato Sauce & Chicken Nuggets (R)
Chose from two types of soup ( Butternut Pumpkin or Sauteed Shrimps and Mixed Cheese), two types of main course  (Spaghetti Napoli, In Tomato Sauce & Chicken Nuggets or Fish & Chip, French Fries, Garden Salad & Tartare Sauce).  For dessert, kids can get to select a single Scoop of Ben & Jerry's Ice Cream based on the flavours available. 
Dusk Restaurant & Bar 
Couples can enjoy a romantic evening over a 4-course Festive Menu ($98++) and cocktails amidst the sunset at Dusk Restaurant & Bar. 
Start off the meal with the Shaved Brussels Sprouts Salad, a refreshing re-imagination of a traditional Christmas side dish – fresh brussels sprouts, mesclun leaves, fuji apple, walnut and cranberry topped with shaved parmigiano and a dressing of honey Greek yogurt. Follow it with a luxurious Christmas Celeriac & Hazelnut soup. Wintery white truffle and celeriac root are topped with hazelnut for texture and a nutty, savoury flavour.
Guests can choose from main courses of Festive Baby Lamb Shank or Prawn Capellini. Braised low and slow in port wine for over five hours to neutralise any gaminess and to let the wine fully infuse the meat, the fork-tender Festive Baby Lamb Shank is served with dark prunes to highlight its natural sweetness, and a side of bell peppers and seasonal greens. A perennial favourite at Dusk, the Prawn Capellini is a great seafood option for those who prefer lighter meat. Angel hair pasta is tossed in aromatic lobster infused oil, and served with large, juicy tiger prawns.
Dessert is a Hazelnut Praline Creamers with Equatoriale Mousse & Passionfruit Coulis, and diners can enjoy with their choice of tea or coffee. Guests that are feeling a little extra cheery will also have the option of the same wine pairing offered at Arbora for an additional $15++ per person.
In addition, ready to close off 2020? On 31 December 2020, Dusk Restaurant & Bar and Arbora Hilltop Garden & Bistro will be offering one-night-only exclusive New Year's Eve Menus. Join in to ring in a better and brighter year ahead, from the top of Faber Peak. One Faber Group has even more in store, including a Holly Jolly Xmas Roast for those who want to celebrate Christmas in the comfort of home. 
Dining Reservations 
Guests who are looking to ring in the New Year with One Faber Group are encouraged to make reservations in advance via https://www.onefabergroup.com/farewell2020 or call +65 6377 9688. On 31 December 2020, the Singapore Cable Car – Mount Faber Line will also be extending its operating hours till 1.30am on New Year's Day (last boarding at 1.00am), so guests can party on even after midnight.
For more information on One Faber Group, please visit the following:
Website: www.onefabergroup.com 
Facebook: https://www.facebook.com/onefabergroup/
Instagram: https://www.instagram.com/onefabergroup/
Dining with a peace of mind
To allow guests to dine with peace of mind, One Faber Group has implemented a series of enhanced hygiene and safety protocols across their premises, which are all SG Clean certified. These include the provision of hand sanitisers at various touchpoints, the use of QR code-activated digital menus, disposable mask bags for guests to store their masks in while dining, and masks, gloves and face shields/hair nets for service staff and kitchen crew.
For a full list of safety measures implemented across One Faber Group's attractions, F&B outlets and retail offerings, please visit www.onefabergroup.com/covid19. 
SingapoRediscovers new heights on Faber Peak
In addition, take your city escape to new heights with a day of exploration and rediscovery with One Faber Group's attractive offerings. Make the most of your $100 SingapoRediscovers Voucher by snagging bundle deals at more than 50% off across a range of attractions.
Families can start the day off by hopping on the Singapore Cable Car and journeying into Sentosa. Explore the island in air-conditioned comfort on the Sentosa Island Bus Tour, the only guided tour of Sentosa Island. Then, hop back on the cable car and take to the skies as you journey up to Faber Peak. Soak in the panoramic views of Harbourfront and Sentosa as you soar above the lush greenery of Mount Faber. Stop at Arbora Hilltop Garden & Bistro to pen a wish on a wishing bell, or ring Poland's Bells of Happiness to bring blessings of everlasting joy. Then, re-fuel with a light snack or a full meal at Arbora or Good Old Days on Sentosa island – there are choices aplenty to satisfy every appetite!
For a limited time, couples can also book a romantic Italian escape with "Fly Me To Italy", a four-course Italian menu served aboard the iconic Singapore Cable Car. Enjoy dishes inspired by different regions of Italy in your own private cabin.
For a full list of SingapoRediscovers deals, please visit https://www.onefabergroup.com/srv.
Guests may redeem their voucher via the "SINGAPOREDISCOVERS VOUCHER BOOK NOW" link on the page, hosted by One Faber Group's preferred booking partner – GlobalTix. Alternatively, they may also make their bookings via any of the other pre-approved official platforms for the SingapoRediscovers Voucher redemption such as Klook, Trip.com, or Changi Recommends.
Come visit One Faber Group and have an enjoyable festive celebration with your family and friends!