It is often challenging for mothers as they progress through the journey of parenthood, understanding and handling their baby's needs. It is important to take good care of baby's skin as a happy baby will feel good in his/her skin resulting in positive impact for both parents' and children's lives. To help and support parents, Aveeno® presents the Daily Moisture range to cleanse and nourish dry, sensitive skin for a baby so comforted they can happily celebrate and experience the world.
Aveeno® Baby's Daily Moisture range of products consists of Aveeno® Daily Moisture Lotion which contains Colloidal Oatmeal and Aveeno® Baby Wash & Shampoo made with natural Oat Extract, to be used together as part of a daily bath regime. Gently formulated with oats, the celebrated ingredient preferred by dermatologists provides vitamins, minerals, and antioxidants to maintain a baby's delicate skin moisture barrier.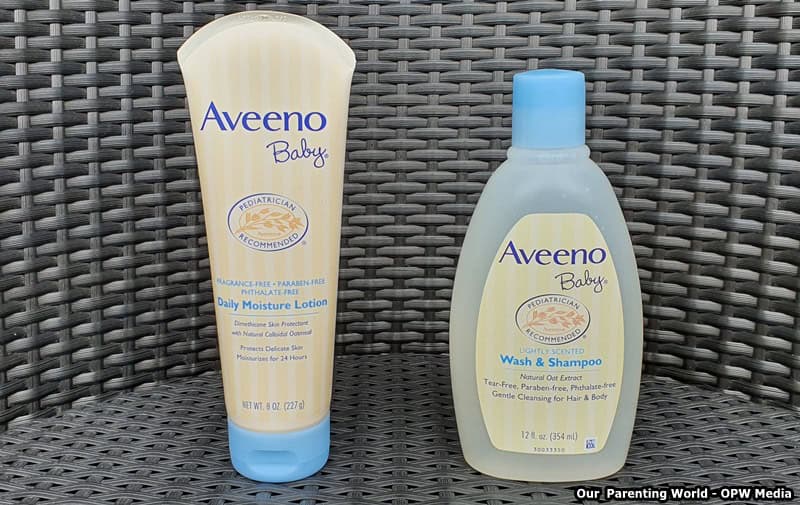 Aveeno® Baby Daily Moisture Lotion (L) and Aveeno® Baby Wash & Shampoo (R)
Aveeno® Baby Daily Moisture Lotion at recommended selling price of $16.90 for a 227g tube 
It contains natural Colloidal Oatmeal blended with rich emollients helps to nourish, protect and soothe your baby's delicate, dry skin 24 hours a day. Its hypoallergenic, fragrance-free, dye-free, paraben-free, phthalate-free and comes with non-greasy formula that quickly absorbs into skin upon application. It is gentle enough to apply on baby's sensitive skin everyday. The lotion absorbs very fast once it is applied, our baby's skin feels so soft and smooth. The feel is great and it is amazing how fast the lotion works. 
Aveeno® Baby Wash & Shampoo at recommended selling price of $16.90 for a 354ml bottle
The gentle formula wash is all you need to clean your baby. Suitable for all babies and with sensitive skins for everyday use. This baby wash contains natural Oat Extract, known for its soothing and nourishing properties that is hypoallergenic, tear-free and soap-free. During application, it gives a rich lather, our baby feels and smells so good from the light, fresh fragrance after the wash.
The Aveeno® Baby Daily Moisture Range is now available at leading online and offline retailers. 
Thank you Aveeno® for sending the lovely Aveeno® Baby Daily Moisture Range Oat Sensory Play set to us!