Celebrate this season of love and thanksgiving with Cedele, introducing its latest Christmas catalogue featuring a range of traditional festive treats from its all-time favourite classic cakes to its new limited-edition creations, signature cookies to premium meat and cheese platters, made healthier for you to bring the honest to goodness tastes home. Keeping true to its roots of real whole food ingredients and its continued attention to customers with dietary preferences, each item is crafted with care and intention to be positively delicious for you physically, mentally and emotionally.
Scarlet Earl Grey Log Cake
Here's the highlights of the exciting new items that you can enjoy at Cedele as follows:
For sweets, the Scarlet Earl Grey Log Cake ($68, serves 8) is a luxurious earl greyinfused 70% dark chocolate truffle log rolled with a light red velvet cake, finished with earl grey mascarpone cream. The redness comes from using beetroot which is high in fibre. To attain the authentic taste, good earl grey tea leaves are used to enhance the flavour and bergamot (herb that gives the flavour of earl grey) is added. It balances the earthy flavour of beetroot. Tea enthusiasts will absolutely love the aromas from this cake!
The Belgium Chocolate Terrine ($58, serves 10) is an elegant chocolate dessert made with the finest 70% couverture chocolate, finished with fresh raspberries and a touch of gold leaves. The gluten intolerant can rejoice as it's gluten-free!
The limited-edition Dark Chocolate Tiramisu Trifle ($88, serves 12) will set coffee and alcohol fans abuzz with luscious chocolate cake steeped in rum and coffee, layered with light vanilla mascarpone cream, topped with chocolate shavings and fresh berries. It's not a trifle choice to put down!
High in fibre and anti-oxidants, the Beetroot & Hibiscus Orange Pie ($55, serves 8) is a feel-good pie with light beetroot custard, scented with orange and hibiscus, encased in a chocolate crust, topped with meringue and seasonal berries. The custard is made from a whole orange and cooked with beetroot and hibiscus tea. It will surely lighten (pun intended) up the Christmas table!
The Blackforest Minced Pie (6 pieces for $22, 12 pieces for $40) is a take on a classic Christmas staple but vegetarian without the traditional use of beef fat. It is a delightful mix of apples and morello cherries with kirsch for a boost, baked in a buttery chocolate almond pastry crust. It makes an ideal afternoon delight with tea!
Chocolate and cookie lovers will be excited to hear the limited-edition Premium Chocolate Collection ($33, 2 boxes for $60) comes packaged in a festive red tin with four flavours of Chocolate Peanut Butter Thumbprint, Double Chocolate Cookie, Chocolate Marble and Spiced Chocolate Pistachio. It makes a perfect gift for true chocoholics.
For savoury, the Herb Roasted Striploin ($138, serves 8 to 10 pax) is a New Zealand grass-fed striploin slowroasted with rosemary, thyme and oregano herbs, and comes with delicious mustard beef au jus. Just the way meats should be made to soak in all the flavours!
The Rustic Herbed Ham & Cheese Platter ($130) is smoked with a medley of rosemary, basil, thyme, oregano and marjoram. The rustic ham is accompanied by Camembert, Parmigiano-Reggiano and homemade lingonberry orange chutney. A fitting combination for meat and cheese aficionados!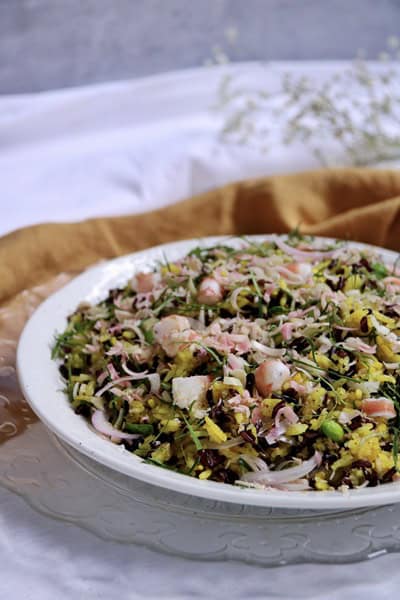 Prawn Jasberry & Turmeric Rice
The Prawn Jasberry & Turmeric Rice ($58, serves 8 to 10 pax) features organic Jasberry black rice, a 100% whole grain superfood high in antioxidants, and turmeric basmati rice mixed with toasted coconut, lemongrass and ginger torch flower. It is generously topped with prawns and finished with a calamansi lime dressing. A hearty and healthy gluten-free salad not to be missed!
The new Crab & Prawn Quiche ($65, serves 8 pax) is a pastry with a creamy filling of crab and prawns baked in a crisp crumbly pastry base. It tastes like a rich seafood chowder within a pastry crust!
Ms Yeap Cheng Guat, Founder of Cedele shared that "This Christmas, the lights burn bright at Cedele. We have prepared a diverse range of food for the season, from classic sweet treats to new savoury creations, each made with love and kindness to share and to enjoy. Let us reunite with our families and friends and give thanks to the blessings of nourishing food and positive company to fill our mind, body and soul."
Enjoy Christmas Sharing with Cedele with these promotions as follows:
10% off Dining Menu & Log Cakes (UOB Card Holders) from 1 to 26 December
Cedele Members get Double Rebates on Christmas Goodies & Dining Menu
Cedele Members get a $50 e-voucher with a minimum $500 nett spending on Christmas goodies until 26 Dec 2019.
Terms and conditions apply. Not applicable for Christmas Party Bundles and Hamper.
To find out more about Cedele and its Christmas offerings, please visit its website at http://www.cedelegroup.com/