Mid-Autumn Festival is coming!
Come down to Chinatown from 23 September to 19 October where the streets will be lit up with over 1,000 beautiful, handcrafted lanterns along Eu Tong Sen Street, New Bridge Road and South Bridge Road.
This year, Chinatown Mid-Autumn Festival (牛车水庆中秋), themed "Celebrations of our Traditions 《传统新意庆中秋,同心共乐贺团圆》" will bring back the traditional cellophane lanterns that serves as the inspiration for this year's Street Light-Up.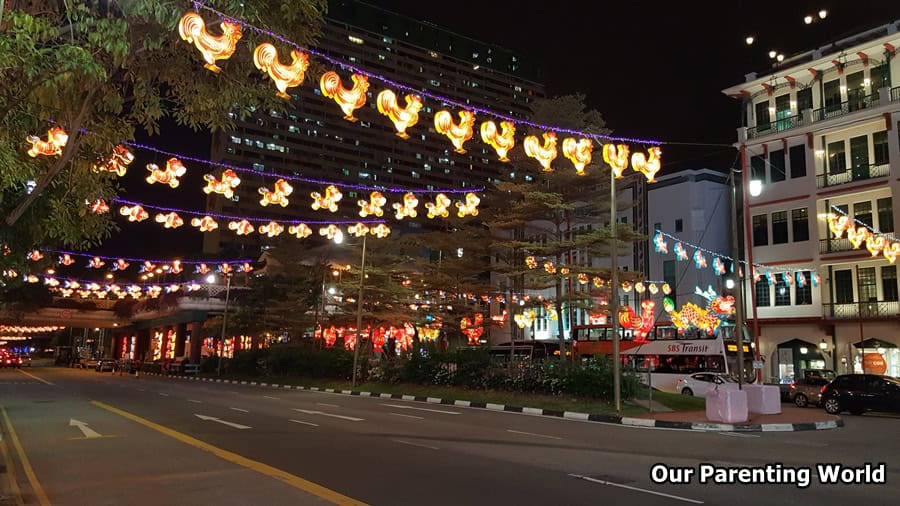 This annual festival which draws many locals and overseas visitors to Chinatown can also look forward to new event which emphasizes on family togetherness. The lantern display is inspired by the traditional cellophane paper lanterns popular in Singapore in the 60s to 80s is designed in collaboration with students from the Nanyang Academy of Fine Arts (NAFA). 
These beautifully-made lanterns are made by expert craftsmen from China and a nostalgic reminder of the colourful cellophane paper lanterns that were made in the past.
The lanterns are traditionally made by wrapping cellophane paper tightly over a wire frame or bamboo strips into various animal shapes such as rabbits, dragons, roosters and fishes.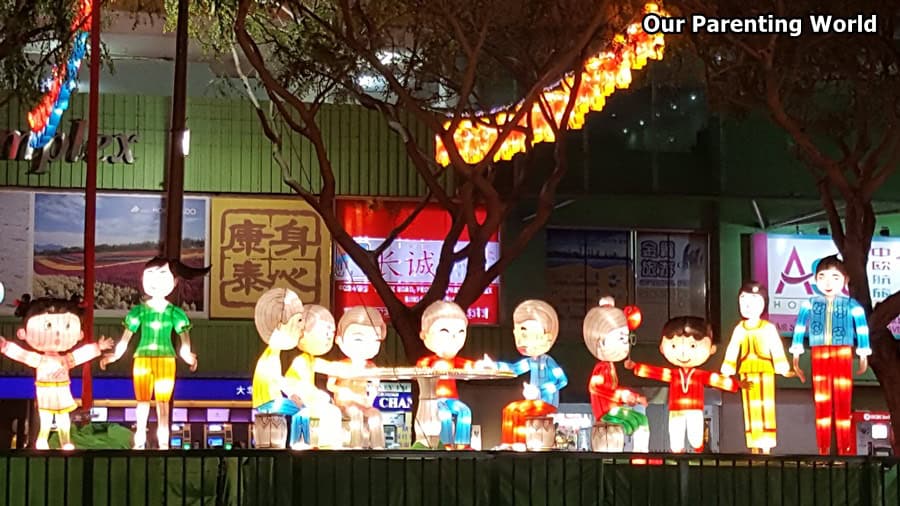 This year, the theme of family togetherness, you will be able to see lantern displays sets of families placed between Eu Tong Sen Street and New Bridge Road.
In addition to the Street Light-Up, visitors can view the creative artworks which showcase nearly 400 children and students who took part in the annual Lantern Painting Competition (灯笼彩绘比赛) and a special group of lanterns drawn by students and painted by the elderly during the event displayed along Pagoda Street until 19 October 2017. 
Dr Lily Neo (梁莉莉医生), Adviser to Jalan Besar GRC GRO (KRETA AYER – KIM SENG) (惹兰勿刹集选区基层组织顾问(牛车水–金声)) shared that "The Chinatown Festivals play an integral role in preserving and passing on our Chinese traditions and customs. For this year's Mid-Autumn Festival, we hope to evoke fond memories for Singaporeans by recreating Singapore's traditional lanterns popular in the 60s to 80s, and give overseas visitors a wonderful glimpse of our traditional lanterns commonly seen in the past during the Mid-Autumn Festival. The Festival is also a time of family togetherness. To enrich our line-up of family-oriented activities, we will be organising the inaugural Mid-Autumn Family Fest @ Chinatown to give families a fun and meaningful way to celebrate the festival together and to pass down their customs and traditions".
NEW EVENT HIGHLIGHT:
Family togetherness celebrated at inaugural Mid-Autumn Family Fest @ Chinatown
A new event this year is the Mid-Autumn Family Fest @ Chinatown (中秋"家"节 @ 牛车水) on 24 September 2017, where families and friends can take part in a morning of traditional activities associated with the festival. Held at the Kreta Ayer Community Club, there will be various hands-on activities, such as mooncake-making, tea appreciation, calligraphy writing and lantern painting.
For details on the various activities and its timing, please go to http://chinatownfestivals.sg/
Immerse in festive activities till 19 October 
Starting from 20 September, local and overseas visitors can look forward to finding a wide array of festive must-haves and treats from mooncakes and tea to preserved fruits and decorative ornaments at the annual Festive Street Bazaar (中秋街头市集).
For the arts-inclined, the Nightly Stage Shows (中秋综艺晚会) at Kreta Ayer Square will fill the evening air with song and dance performances by local and overseas troupes and entertainers that will amplify the celebratory mood during the festival.
The Chinatown Mid-Autumn Festival 2017 will draw to a close with the Mass Lantern Walk (中秋大型游灯会) on 1 October, where up to 5,000 people are expected to come together to mark the Mid-Autumn Festival under a moonlit night, topped with entertaining performances by local clan associations, overseas performing groups and dragon dance troupes. 

In addition, this coming Saturday on the 23 September 2017, there will be an Official Light-Up and Opening Ceremony (开幕典礼与亮灯仪式) graced by Guest-of-Honour, Mdm Halimah Yacob, President of the Republic of Singapore. This is organised by the Kreta Ayer-Kim Seng Citizens' Consultative Committee (KA-KS CCC) and supported by the Singapore Tourism Board.
This year's opening ceremony will take the audience back to 1960s Singapore, and feature a lively showcase of gravity-defying acrobatic stunts and multicultural performances that represent Chinatown's colourful ethnic mix.
Mark down your calendar and come down to Chinatown to celebrate Mid-Autumn Festival where you can spend a meaningful and fun time with your family and friends! 
For more information and the activities at Chinatown Mid-Autumn Festival, please visit:
Website: www.chinatownfestivals.sg
Facebook: https://www.facebook.com/chinatown.festivals  
Mid-Autumn Family Fest @ Chinatown 中秋"家"节 @ 牛车水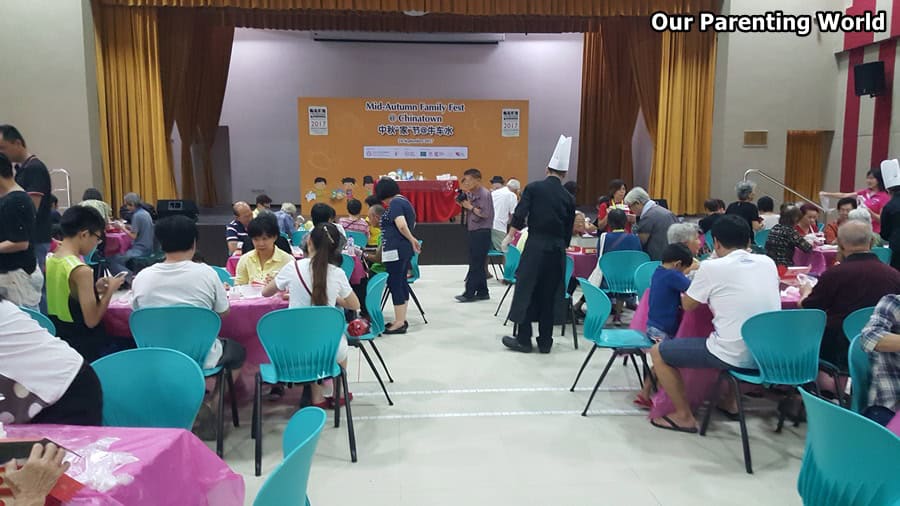 Mid-Autumn Family Fest @ Chinatown 中秋"家"节 @ 牛车水 is held on 24 September 2017, Sunday from 9.30am to 12.30pm at Kreta Ayer Community Club, Level 2 Multi-Purpose Hall.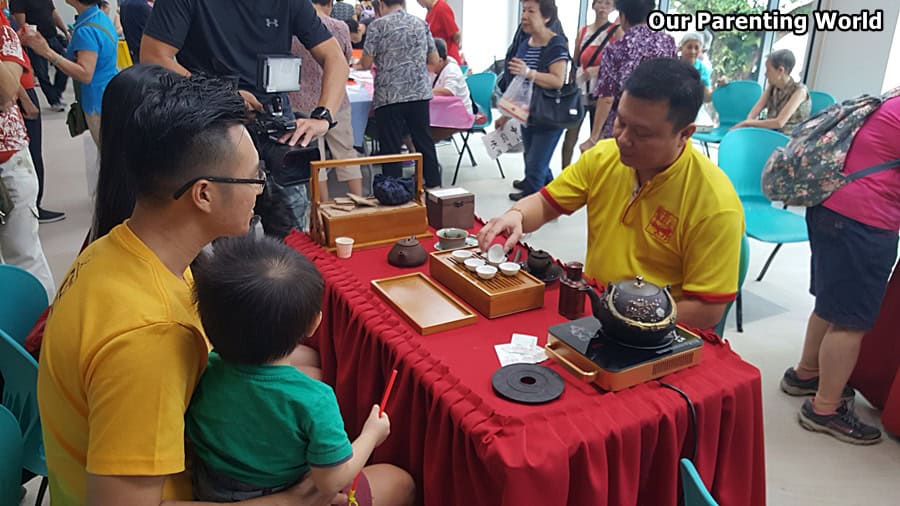 Tea art appreciation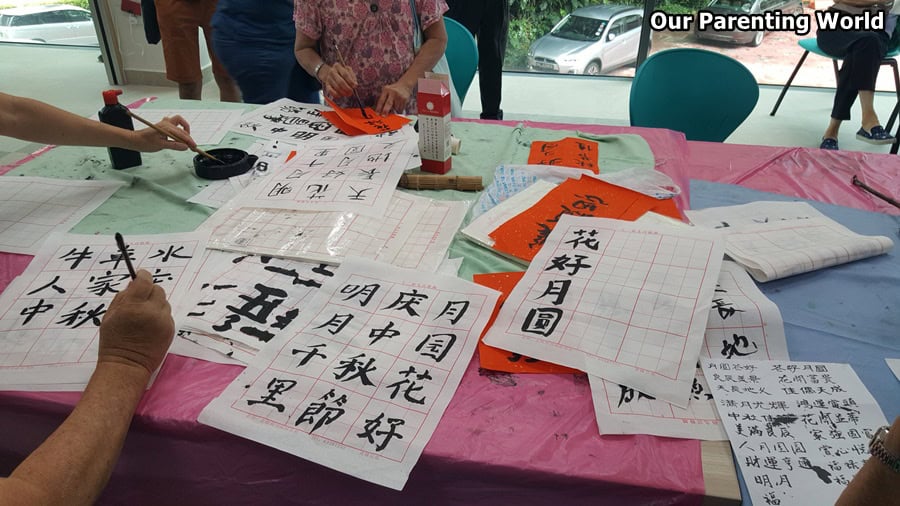 Calligraphy writing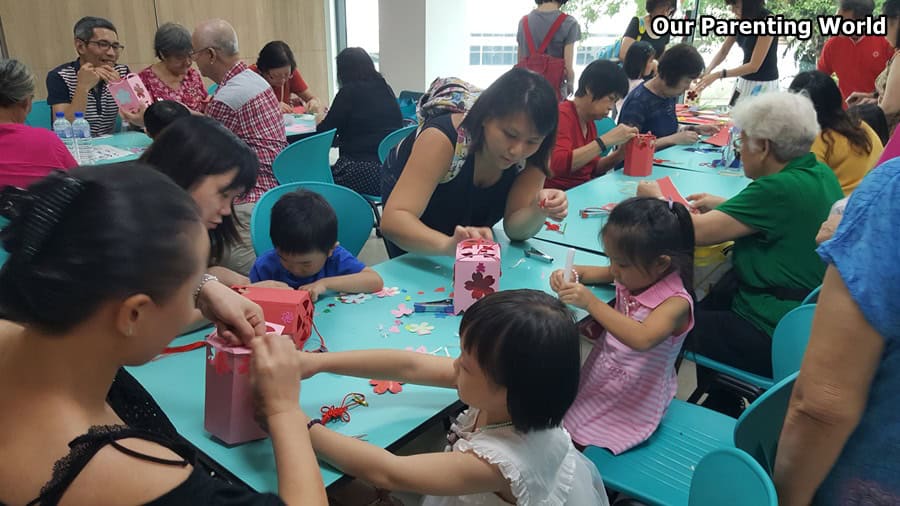 Lantern painting
Families with children having fun making lanterns. This is one of the most popular activities.
The Mid-Autumn Family Fest @ Chinatown is a new highlight this year, this will be a melting pot of traditional festive activities such as mooncake-making, calligraphy writing, tea art appreciation, and lantern painting! It promises to be fun-filled day of bonding and discovery of the meaning and stories behind these traditional activities. Suitable for all ages, participants can look forward to getting hands-on as they try their hand at the fine art of calligraphy, learning how to savour different types of tea and even bring home luscious treats of their own creation at the snowskin mooncake-makingworkshops.
For a participation fee of $5 per person, participants will be able to take part in the mooncake-making, calligraphy writing and lantern painting activities as well as receive a goodie bag containing a mooncake mould, ingredients for mooncake-making, and lucky draw coupon. Slots for the mooncake-making workshops are on a first-come, first-served basis.
To find out more about all the activities at Chinatown Mid-Autumn Festival from now till 19 October, please visit:
Website: www.chinatownfestivals.sg
Facebook: https://www.facebook.com/chinatown.festivals