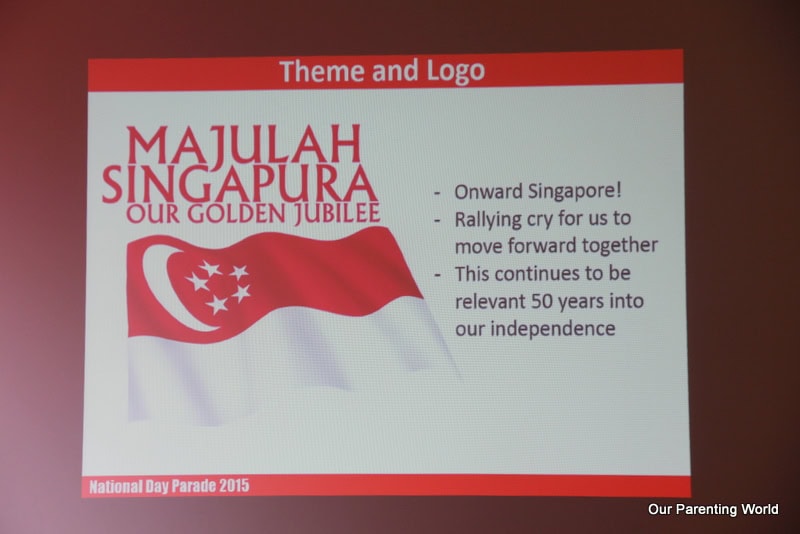 This year holds a special meaning as it is Singapore's 50th Anniversary! The whole nation will join together and look forward to the coming National Day in celebration of our Golden Jubilee National Day Parade 2015.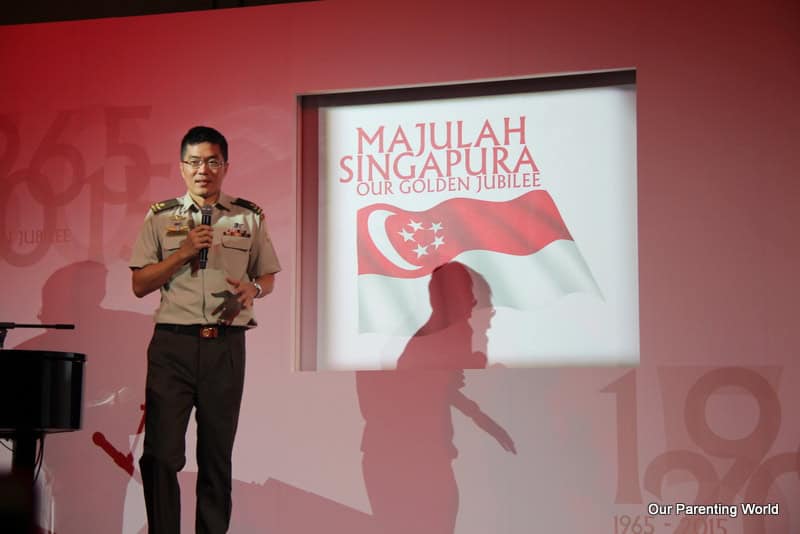 Brigadier-General Melvyn Ong Su Kiat, Chairman of National Day Parade 2015 Executive Committee mentioned that this year, National Day Parade 2015 (NDP 2015) promises to be an epic and emotive spectacle of an unprecedented scale. The theme "Majulah Singapura" which in Malay means "Onward Singapore", will serve as a timely reminder of the struggles faced in the early years, how we overcome, to reflect and celebrate on our collective achievements over the last 50 years and together as one Singapore, aspire Singaporeans to progress together to scale greater heights towards the future. 
As we countdown to our nationwide celebrations in August 9 2015, Our Parenting World team highlights 8 things to look out for in this year's 50th Anniversary of National Day Parade. 
National Day Parade Highlight 1: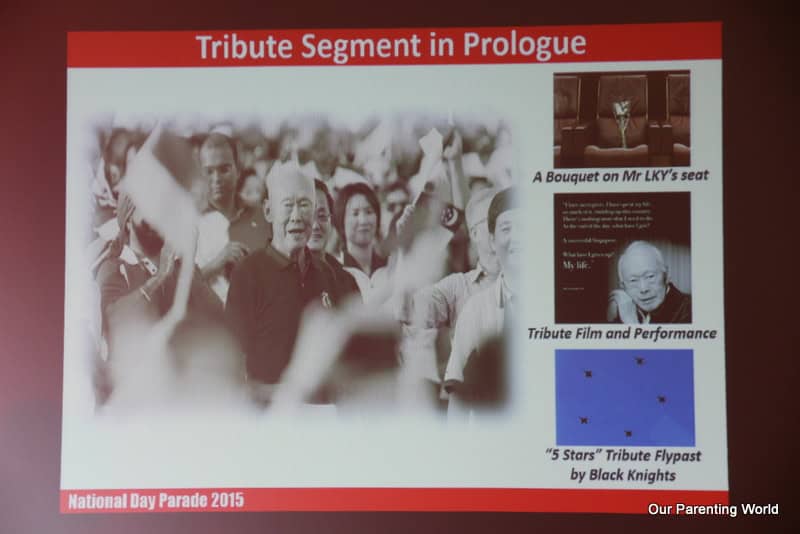 A tribute segment has been set up at the beginning to remember our Founding Father, Mr Lee Kuan Yew at this year, National Day Parade. A bouquet of flowers will be placed on Mr Lee's empty seat as a mark of remembrance that he would be among us as we watch the show at Padang. Mr Lee has attended every National Day Parade since the first one was held in 1966.
In addition, there will be a tribute film and performance to celebrate Mr Lee's life and achievement and "5 Stars" tribute flypast by the Republic of Singapore Air Force's Black Knights. The Black Knights will line up the sky as "5 Stars" to symbolise Mr Lee Kuan Yew's ideals as he watched over the nation he founded. The "5 Stars" represents his ideals for Democracy, Peace, Progress, Justice and Equality for our nation.
National Day Parade Highlight 2: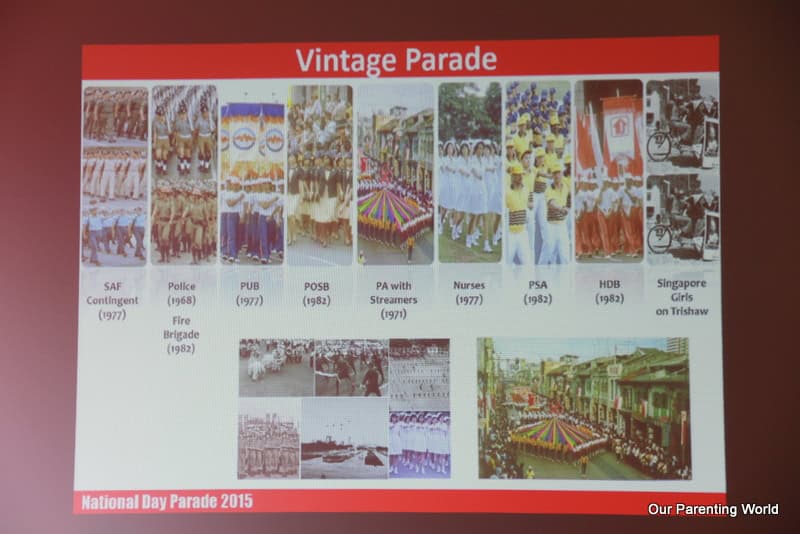 There will be 9 contingents in the Vintage Parade, made up of participants from 10 organisations (Singapore Armed Forces, Singapore Police Force, Singapore Civil Defence Force, Public Utilities Board, POSB, SingHealth, People's Association, PSA Corporation Ltd, Singapore Airlines and Housing Development Board). There are about 50 participants per contingent.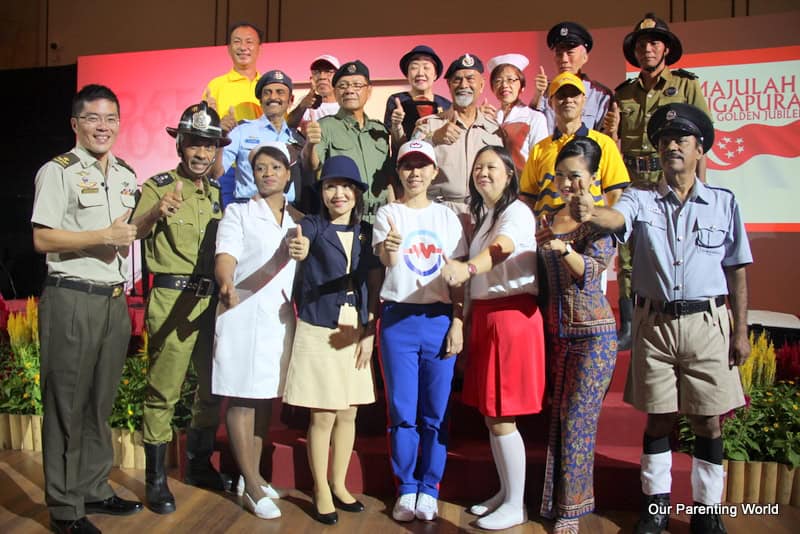 Can you recognise some of the uniforms? It sure brings us back to memory lane of the old uniforms featuring those worn by Singapore Police Force in shorts, nurses with white vintage caps, now-defunct Fire Brigade's helmets, Singapore Armed Forces' old Temasek green uniforms, those working in government organisations like POSB, Singapore Airlines, Public Utilities Board, SingHealth and others of the 1960s. 
National Day Parade Highlight 3: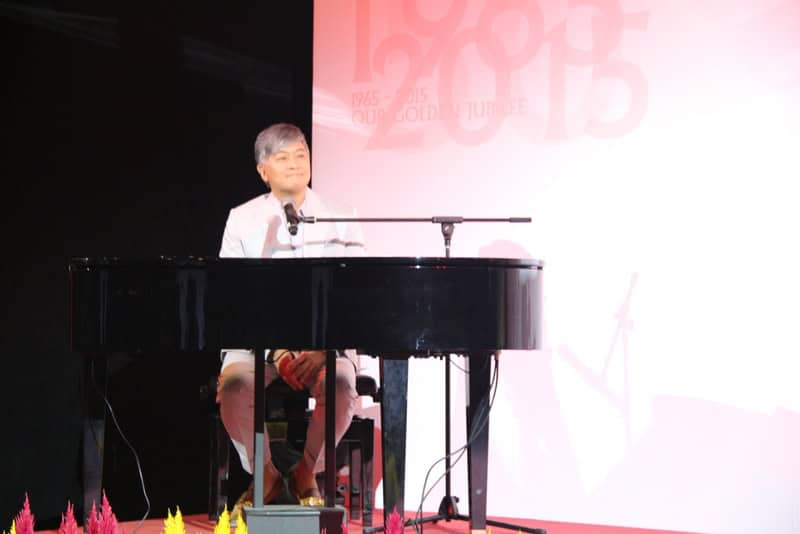 The theme song for National Day Parade 2015 – "Our Singapore" is composed by our very own Singapore's much loved singer-songwriter Dick Lee who has composed "Home" which is a hugely popular song performed by Kit Chan. "Home" is  so well-received by many Singaporeans that it has become a classic! 
Dick Lee will sing the song together with pop singer JJ Lin at the National Day Parade. Here is a 'live' recording of Dick Lee's performance of NDP 2015's theme song "Our Singapore" with lyrics. You can memorise the song in time for National Day Parade and very soon, you will be hearing this song all over the streets of Singapore.  
National Day Parade Highlight 4: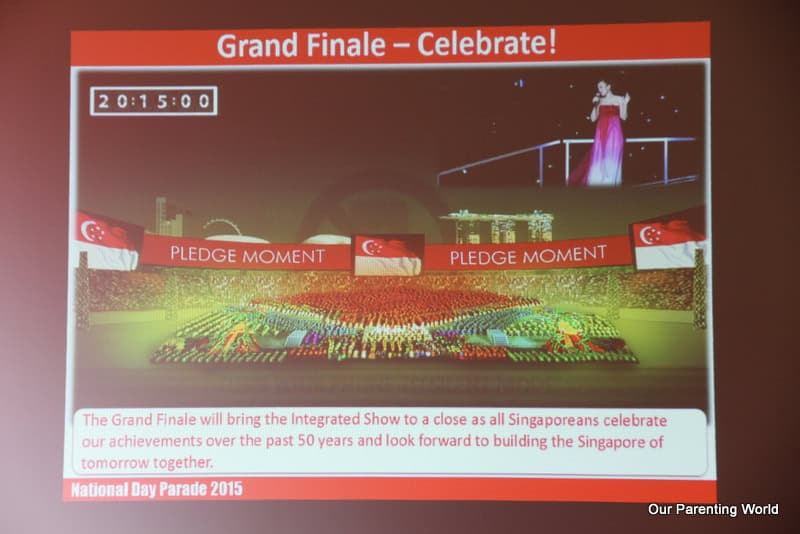 This year National Day Parade returns to the historic site of Padang where the first National Day Parade was held in 1966. The whole of Singapore will join together to celebrate The Grand Finale and enjoy the Integrated Show to commemorate our nation's achievement over the past 50 years and as we look forward to building a brighter and better Singapore tomorrow as one Singapore, one nation. 
National Day Parade Highlight 5: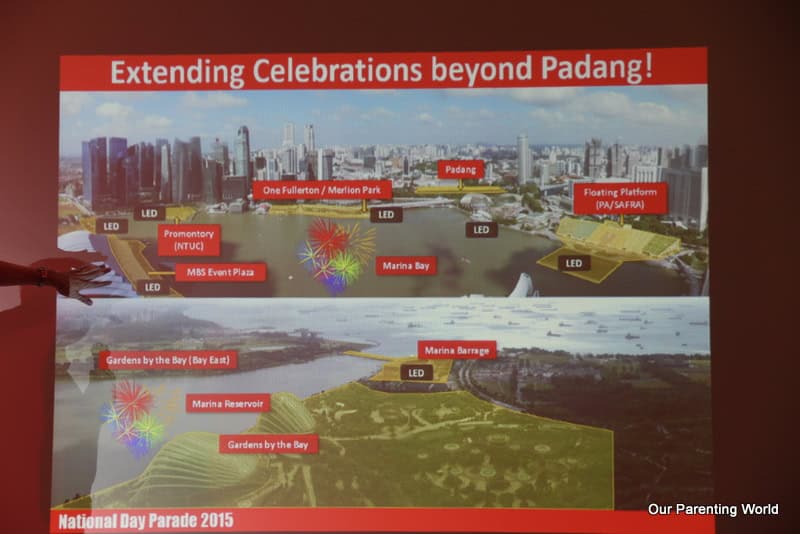 This year National Day celebrations will extend beyond Padang where the main show will be held to allow more Singaporeans to be part of it. The celebrations will be extended to various locations across the Marina Bay area which includes the Marina Bay Sands Event Plaza, The Promontory, Merlion Park, Marina Barrage and Gardens by the Bay, where 'LIVE' streaming of the Parade will be broadcast on LED screens. Spectators at these celebration sites will also witness the Presidential 21-Gun Salute, as well as the aerial display and mobile column. In all, more than 200,000 Singaporeans will be able to participate and celebrate together. 
National Day Parade Highlight 6: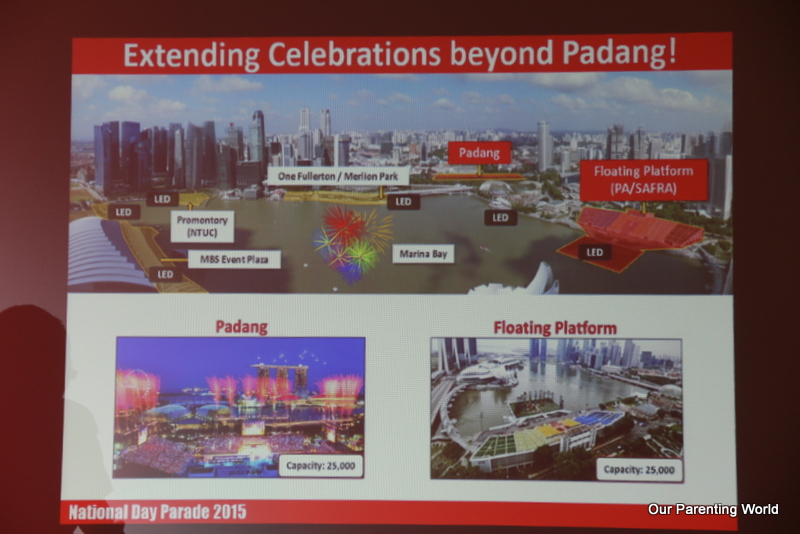 Singaporeans and Permanent Residents can now apply for tickets to the National Day Parade preview on 1 August and the actual day on the 9 August from now till May 17. Those eligible can ballot up to six tickets for either the preview or the actual day. Applicants can also choose either to celebrate at Padang, The Float or either location. Successful applicants will be notified from 1 to 5 June 2015.
Please click HERE to apply for the tickets.
National Day Parade 2015 will have two ticketed sites at the Padang and The Float @ Marina Bay so that more people can take part in the celebration. 
National Day Parade Highlight 7: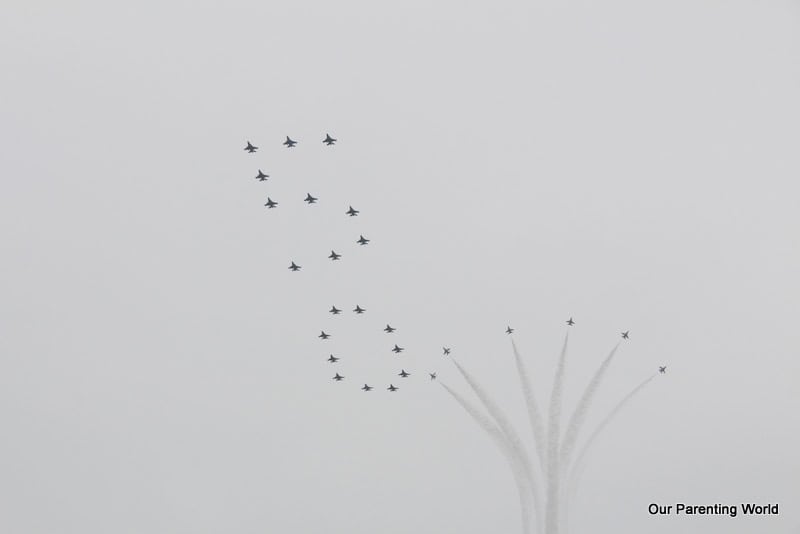 National Day Parade 2015 is definitely a celebration that is not to be missed! Besides the Vintage Parade and look out for the Aerial Display, with the Republic of Singapore Air Force's (RSAF) salute to the nation, comprising the Black Knights performing a bomb-burst and RSAF assets in a "50" formation flypast and other formations. Please click HERE to read about the spectacular Aerial Display. 
National Day Parade Highlight 8: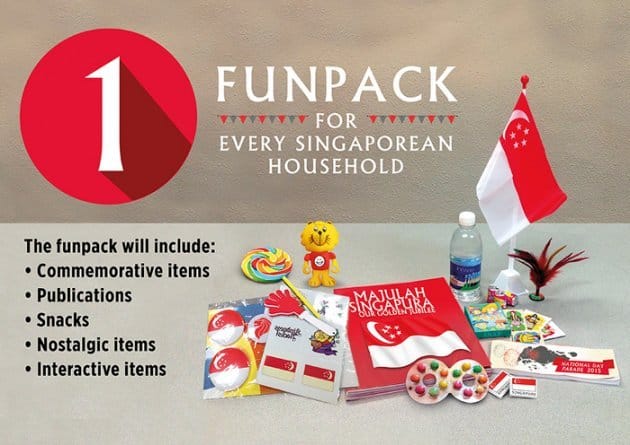 Photo Credit: MINDEF (Singapore National Day Parade 2015 Fun Pack)
To make this year National Day even more special, the highly sought-after fun packs will be given to every Singaporeans, Permanent residents households about 1.2 million in all! Every year, Singaporeans rush to get their hands on these goody packs and now every household will be able to get one.
Please stay tuned as Our Parenting World team will bring you more coverage of the coming Golden Jubilee National Day Parade 2015. "Majulah Singapura!"