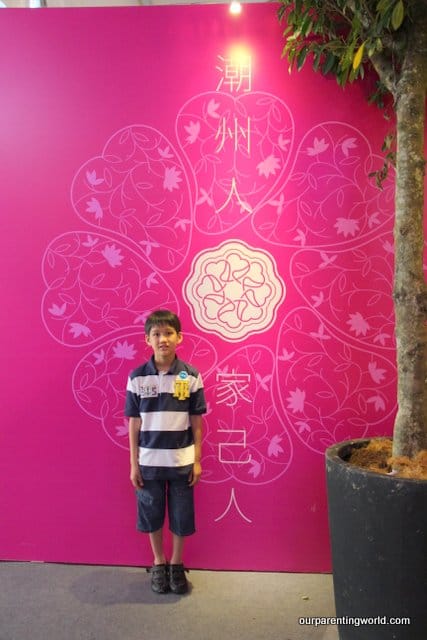 Update: Due to popular demand, Singapore Teochew Festival will be extended by one more day to 6 October 2014, 11am to 10pm!
********
We are delighted to be invited to visit and celebrate the Teochew Festival which is the first in Singapore. The Teochew Festival is organised in conjunction with the Teochew Poit Ip Huay Kuan's grand 85th anniversary celebrations in Singapore. 
Teochews are very close to our hearts as many of our family clan are Teochews. We see the virtues of Teochews in our lovely grandmother who is a retired school Principal. She continues to inspire us with her hardworking manner, warm personality, capabilities and the love and kindness she has shown to us and the people around her.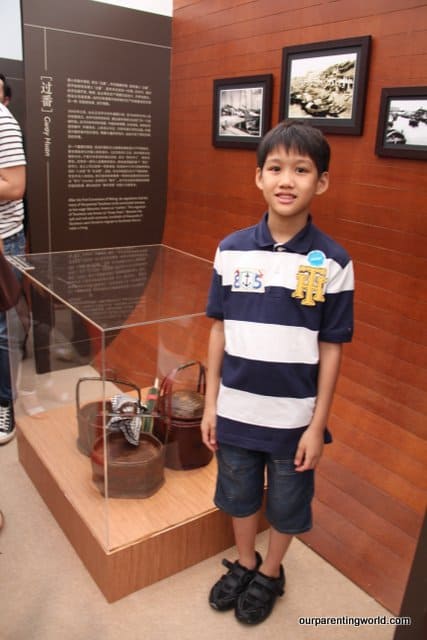 "Do you know there are more than 500,000 Teochews in Singapore?"
The Teochew Festival is a good opportunity for us to understand more about the Teochew culture and especially for young children like Gor Gor. This is the first time  the Huay Kuan has organised a festival showcasing Teochew culture on such a large scale. The Huay Kuan hopes to give the public a vivid representation of Teochews through enlightening glimpses into their daily lives, and to a larger extent also highlight an important aspect of Singaporean Chinese culture.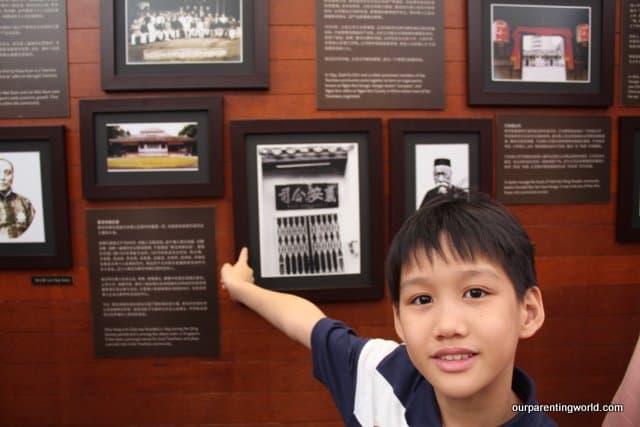 "At the Festival, I learn about the historical origins of Teochews, how they came to Singapore and their achievements."
The Teochews are well-known for their beautiful arts and crafts. You will be able to see these at the festival: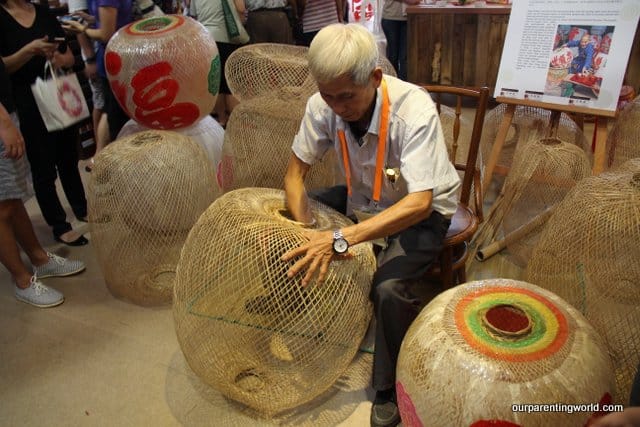 Lantern-making and it is interesting to see how the lanterns are weaved together. 
We are amazed by the fine and exquisite embroidery.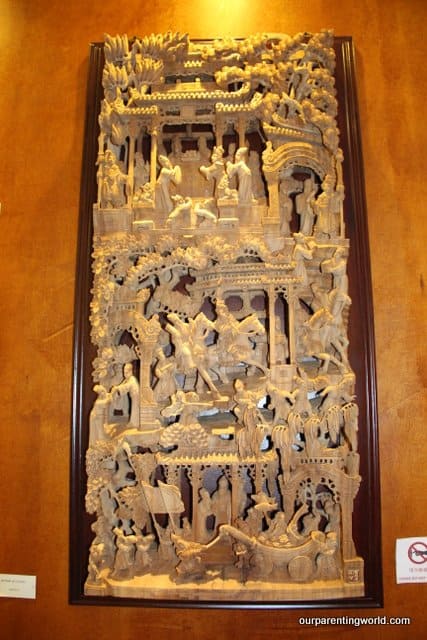 Beautiful and elaborate wood crafts.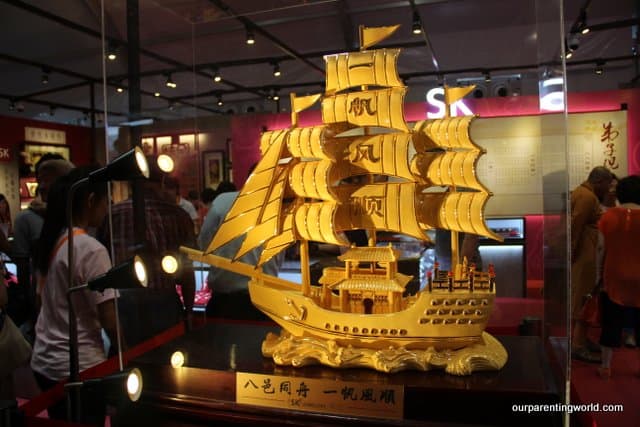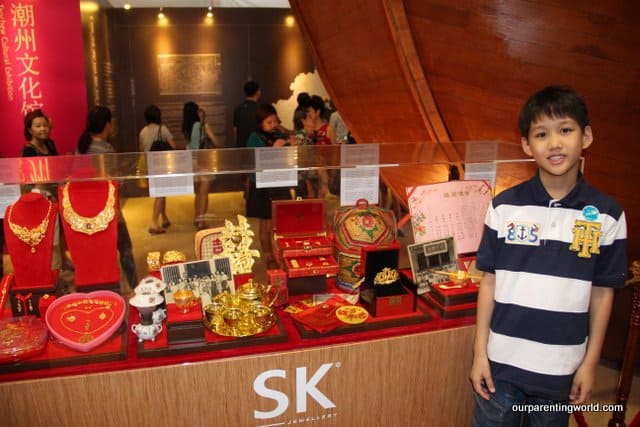 Visitors will be dazzled with the beautiful and fine gold craft jewelleries and decorative items.
The friendly staff at the booth told us to take a picture of this gold piece as this is made specially to celebrate Singapore's 50th birthday in 2015 by SK Jewellery.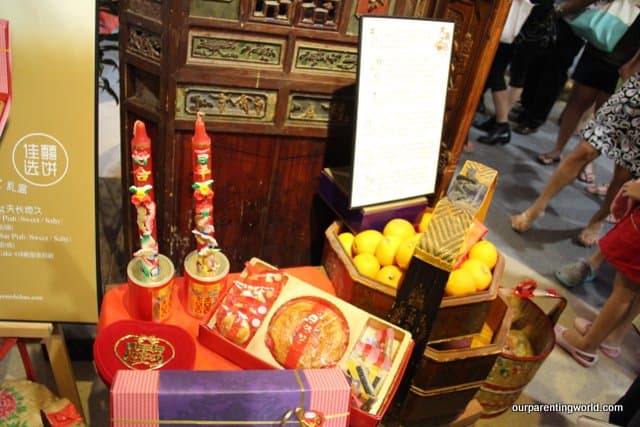 We learn how the Teochews conduct their customary wedding ceremony, the items needed and the procedures to perform during the ceremony.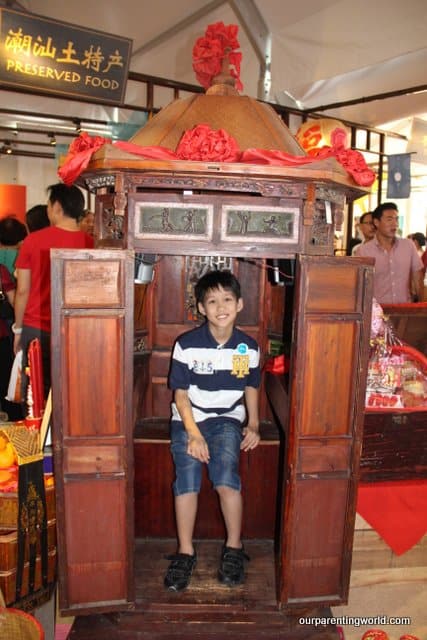 "Here comes the bride in the wedding sedan!" Hee hee  …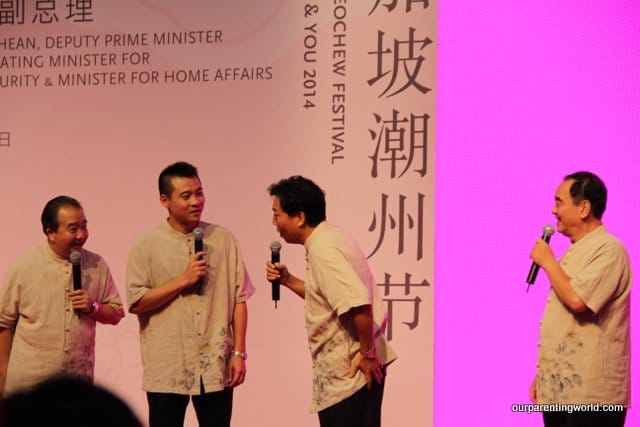 A wide variety of performances such as Teochew Opera, cross-talks etc to entertain the visitors.
The Teochews are famous for its many delicious food and ingredients. Visitors can visit the various booths like Fish Maw, Tea, Pastries and others to bring back home these goodies.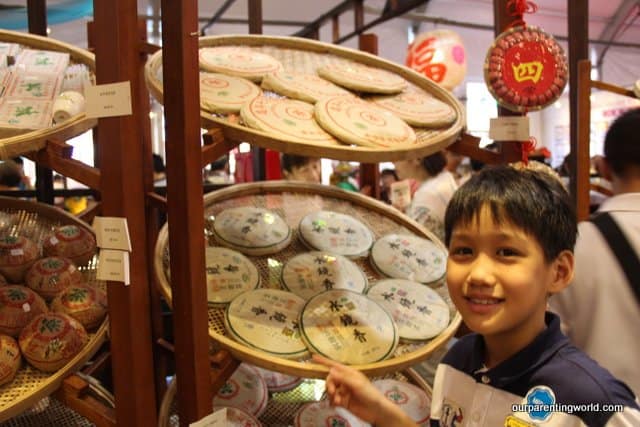 We like to drink Chinese Tea. We spend some time at this booth learning about the different types of teas, its origins and benefits. You can also sample some of the Chinese tea here.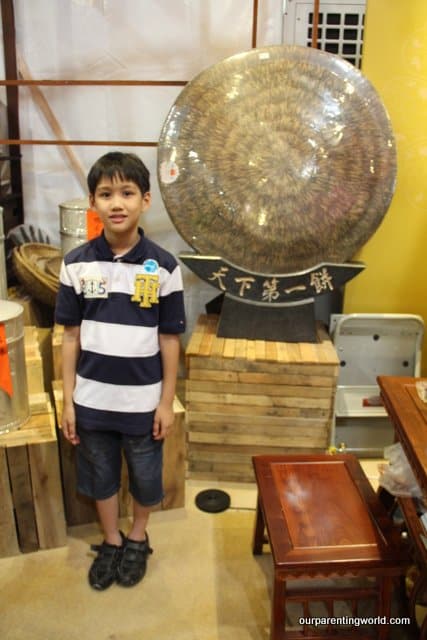 "This is the biggest Chinese tea round cake, I have ever seen!"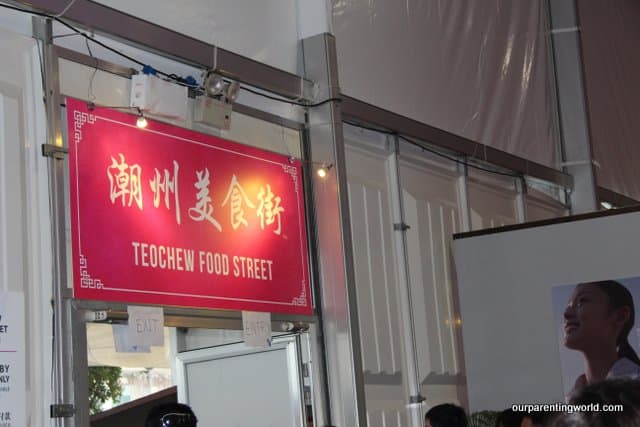 The Teochew Food Street is definitely one of the most popular part of the Festival, long queue can be seen forming to get into the food street.

Let us introduce you to some of the delicacies that we have tried: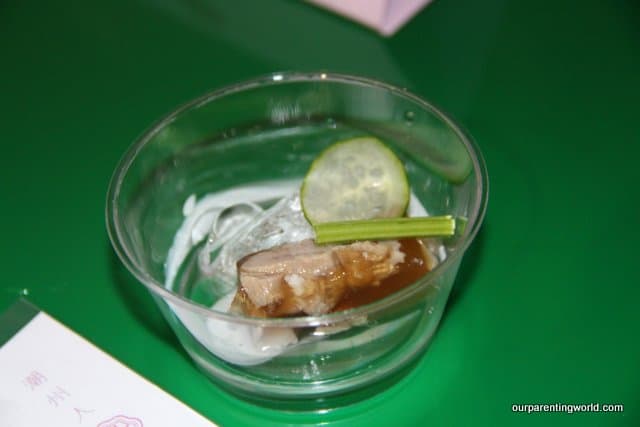 Pig's trotter terrine by Chin Lee Restaurant, 深利菜馆.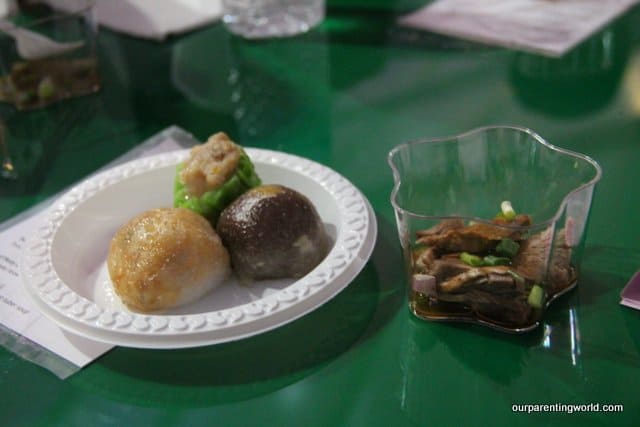 Dumplings with different fillings by Ping Ping Ju, 平平居 and Braised duck by Jian Ye Restaurant, 建业酒家.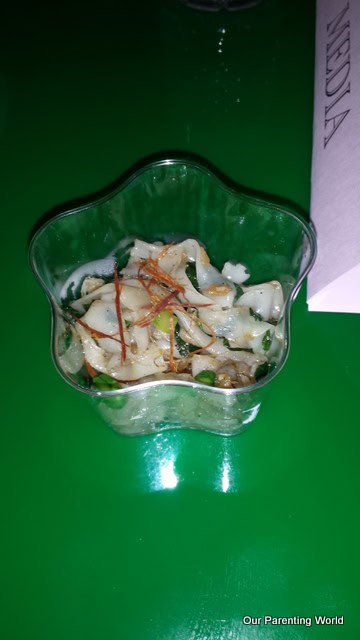 Fried kway teow with preserved radish by Chui Huay Lim Teochew Cuisine, 醉花林品潮轩.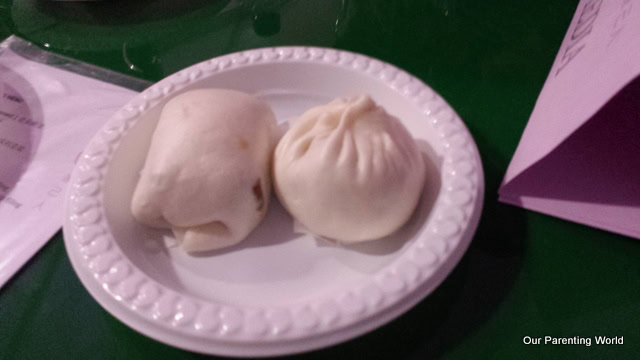 Kong Bak Pau and Teochew Pau by Swatow Seafood Restaurant, 汕头海鲜酒楼.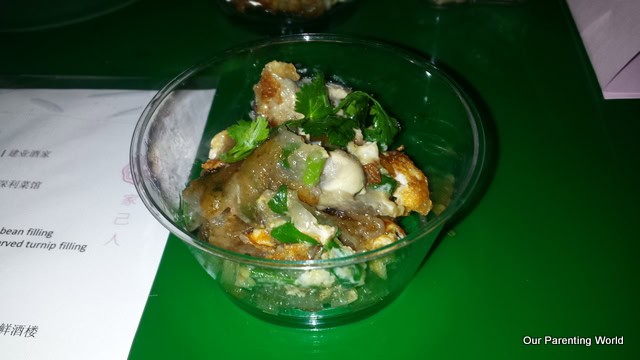 Orh luak by Ah Biao, 阿彪蚝烙.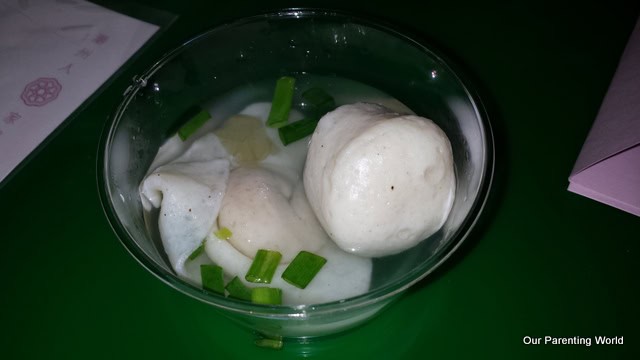 Fishball and Fish dumpling by Li Xin Fishball Noodles, 立兴潮州鱼圆面.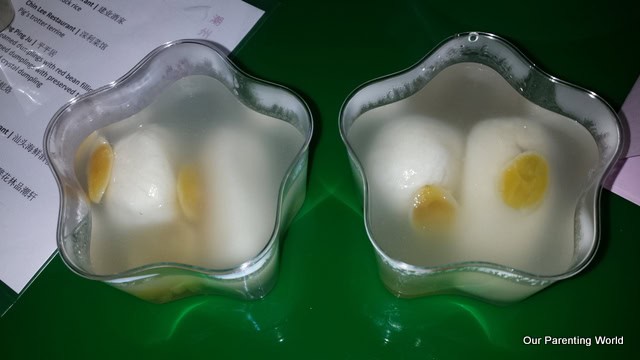 Gingko nuts with root tuber soup by Mi Qi , 米琪甜品.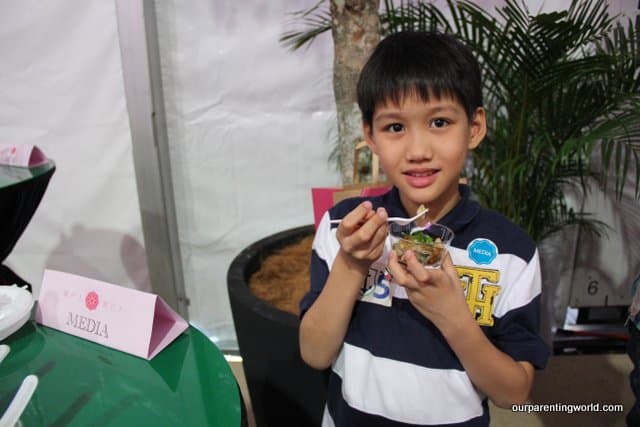 "Yummy, I like Teochew food. They are so delicious!" 
The tagline for this festival broadly translates as 'We are One Teochew Family' and the logo is an artistic rendition of a distinctive Teochew snack – the 'png kueh' or rice cake. Eight 'png kueh' are strategically interlinked in a circle to symbolise harmony, community, union and family ties.
Don't miss the opportunity to experience Teochew culture and indulge in delectable Teochew delicacies at the Teochew Festival from 25 September till 6 October 2014 at Ngee Ann City Civic Plaza. This event is organized in conjunction with the Teochew Poit Ip Huay Kuan's grand 85th anniversary celebrations in Singapore.
Additional Information:
Venue:
Ngee Ann City Civic Plaza 
391 Orchard Road Singapore 238873
Transports:
Nearby Station: Orchard MRT
Bus Lines: 7, 14, 16, 65, 111, 123, 175, 502
Admission price:  $5.00 per person including GST.