Image starting from left, UFM 100.3- DJ Kemin, Ah Mah CEO- Serene Ang and Li NanXing
Ah Mah Homemade Cake is proud to present its latest limited-edition flavour- Multi Grain Sesame cake! Its new offering was unveiled by Singapore's celebrity Li NanXing together with DJ Kemin from UFM 100.3 at The Butcher's Kitchen recently.
Fans of Li NanXing's fan club also joined in the celebration together with media to witness and taste Ah Mah's new Multi Grain Sesame cake that is packed full of a variety of nutritious grains including walnuts, barley, black and white sesame seeds, almond flakes, and pumpkin seeds.
All Ah Mah Homemade Cakes are made with the freshest ingredients with no preservatives or artificial flavouring and the new cake will be available at all outlets for a limited time only from 17th September till 29 October 2018.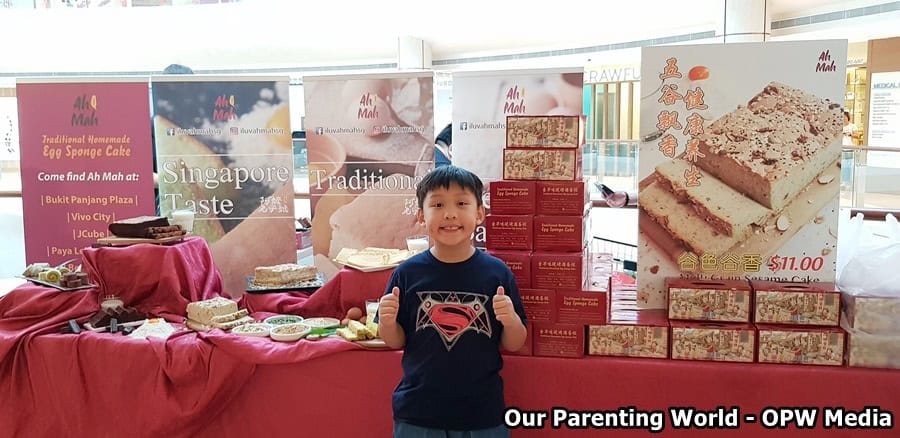 Fans will be delighted to know that the special Multi Grain Sesame Cake at $11 will come with its own specialty box specially designed by local artist Lee Kow Fong, featuring a drawing of old Singapore streets, bringing back nostalgic memories whilst eating the traditional castella cake.
About the author, Lee Kow Feng aka Ah Guo, is a local picture book author and a columnist. Lee Kow Fong's drawings has been featured in popular children's books, like the BuBu series, Secret Garden of Happiness and Fei Fei's Starry Sky. Lee has been a commissioned artist for several local Chinese and English language picture books, having a received an MA in Children's Book Illustration from Cambridge School of Art in 2011.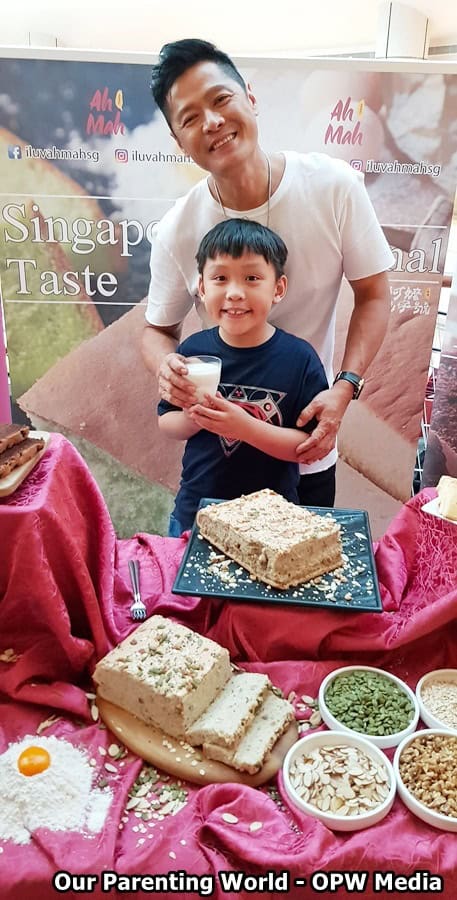 We simply love the new limited edition flavour that comes with lots of health benefits ingredients like the black sesame seeds. The black sesame seeds has a lot of health-promoting and anti-aging benefits like promoting healthier skin and bones, providing better heart health by reducing blood pressure, helping to fight cancer, burn fat and many more.
The cake is also filled with a variety of nutritious grains like walnuts, barley, black and white sesame seeds, almond flakes, and pumpkin seeds that gives off a nice aromatic nutty flavour each time you take a bite into this soft, fluffy and delicious cake. This is a highly nutritious, healthy and flavourful cake that all will enjoy!
Come and check out the new Ah Mah Homemade Cake's Multi Grain Sesame Cake at $11 that will be available for a limited time only at all outlets from 17 September to 29 October 2018!
To find out more about Ah Mah Homemade Cake as follows: 
Contact Number: +65 6325 4508 / +65 8133 8508
Opening Hours: 10am to 10pm daily
Facebook: @iloveahmahsg
Instagram: @iluvahmahsg
Hashtags: #iluvahmahsg