Cetaphil®️, the No.1 Dermatological Skincare Brand in Singapore proudly announces the launch of a new-to-market Optimal Hydration collection dedicated to sensitive skin consumers who desire intense hydration for their skin. Comprising three products – a facial serum, an eye serum and a daily cream – these products can be applied during the final steps of your skincare routine.
The collection is on sale from mid-August 2022 on official Cetaphil®️ e-stores and made available at all retail partners progressively.
The Cetaphil®️ Optimal Hydration products are absorbed instantly into the skin and pack a punch by boosting the skin water content by 50% and delivering lasting 48-hour hydration to your skin. The result? An improvement in the overall quality of skin that feels refreshed and looks radiant.
The Hydrosensitiv™️ Complex is formulated with several key skin-hydrating ingredients such as Hyaluronic Acid, Niacinamide (Vitamin B3), Panthenol (Vitamin B5) and Vitamin E. Blue Daisy is a natural skin soothing botanical ideal for calming sensitive skin.
The ambassador for Optimal Hydration is Korean model-actress Lee Se-Young – best known for her roles in K-drama The Red Sleeve (Dec 2021) and horror film Hotel Lake (Apr 2020) – will be starring in the highly anticipated K-drama "Love According to the Law". With her natural beauty and dewy skin, 30-year-old Lee makes an ideal ambassador to appeal to female consumers who are close to her age.
"The new Optimal Hydration collection demonstrates Cetaphil's effort to expand the repertoire of Cetaphil®️ offerings and to address the evolving facial needs of sensitive skincare consumers. Facial serums mark a first for Cetaphil®️ Singapore and we are confident it will appeal to both Cetaphil fans and new consumers who want comfortable, lasting hydration for their skin," enthused Ms Agnes Tan, Country Manager of Galderma Singapore.
Globally, dry skin is the number 2 concern for consumers, while at least 61% of consumers with sensitive skin had used extra hydration on top of regular moisturisers.
"Skin will greatly benefit from regular hydration to keep it supple and healthy, and to provide a barrier against afflictions arising from dry, parched skin. For those with sensitive skin who desire more hydration, they will benefit from using products that contain a blend of key ingredients, such as Hyaluronic Acid, which is a crucial moisture-attracting humectant for skin; Niacinamide (Vitamin B3), which helps boost the natural defence of our skin against damage from the environment; Panthenol (Vitamin B5), which helps the skin build up a barrier against irritation and water loss; and antioxidant Vitamin E, which supports the prevention of skin inflammation due to UV," explained Dr Liew Hui Min, Dermatologist, SOG – HM Liew Skin & Laser Clinic.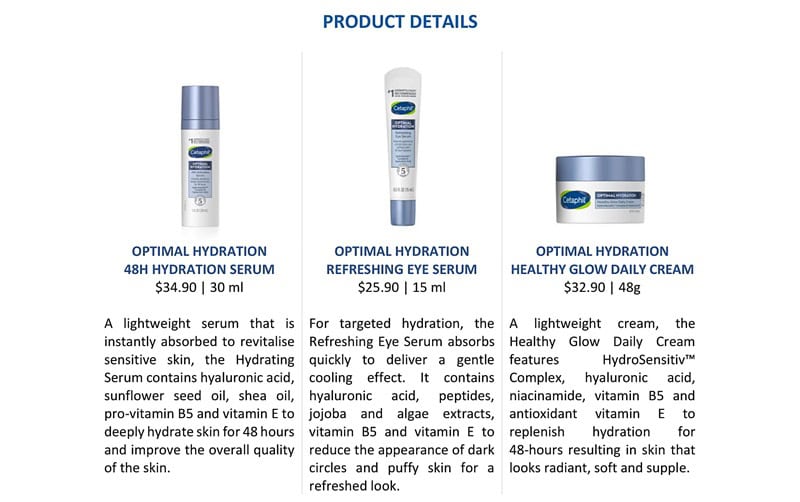 AVAILABILITY
Retail partners: Watsons, Guardian Health & Beauty and Unity
Cetaphil®️ official e-stores: Shopee and Lazada
Find Cetaphil® Singapore online as follows: 
Website : www.Cetaphil.com.sg
YouTube: www.youtube.com/user/shareCetaphil
Facebook: www.facebook.com/CetaphilSG
Instagram: www.instagram.com/Cetaphilsg
Hashtags: #CetaphilSG #HydrosensitivComplex