Cetaphil®, the No.1 Dermatological Skincare Brand in Singapore, proudly launches their new Soothing Foam Wash designed to give you clean, luminous, healthy-looking skin. Formulated with a dermatologically-backed blend of 3 soothing ingredients – Allantoin, Glycerin and Triple Ceramides – the new product provides rich hydration so that it does not over-dry skin, making it a desirable cleaner for users with sensitive, easily irritable skin.
The Cetaphil® Soothing Foam Wash enters the market in a favourable position where over 50% of sensitive skin users think that they need a specific cleansing product for their sensitive skin*. This group of users desire a facial wash that foams, provides gentle cleansing, is easy to rinse off and is fragrance-free.
*According to lresearch 2020
"The launch of the new Soothing Foam Wash against the backdrop of our 75th anniversary attests to our commitment to empowering people with sensitive skin, by using science to understand and manage the unique needs of sensitive skin. This new product expands our repertoire of effective solutions by now catering to consumers with sensitive skin who prefer a gentle cleanser in foam format," beamed Ms Agnes Tan, Country Manager of Galderma Singapore.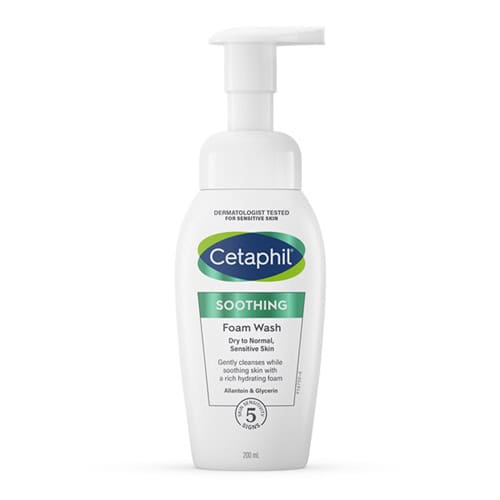 The Cetaphil® Soothing Foam Wash Review
We find that the new Cetaphil® Soothing Foam Wash is easy to apply and gentle on our skin. It is effective in removing make up, dirt, impurities and excess oil, it does not dry up our skin. The foam wash rinses easily and after washing, our face feel very smooth and clean. 
Product Information
Type: Foam, lather

Description:

Specially formulated mild cleanser that hydrates and soothes sensitive skin

Its fine-foaming cleansing formulation is lightweight and offers a gentle yet deep cleansing efficacy to remove oil, dirt and pore-clogging microparticles.

Use regularly to improve the skin's natural moisture barrier and promoting overall skin health

Key ingredients: Allantoin, Glycerin and Triple Ceramides

Price: 200ml for $29.90
Available at:
Retail partners: Watsons, Guardian Health & Beauty and Unity
Promotion: 
20% off introductory offer in retail pharmacies.
Find Cetaphil® Singapore online