Happy 75th Anniversary to Cetaphil®!
Cetaphil® reaffirms its commitment on its 75th Anniversary to improving inclusivity within dermatology and empowering people with sensitive skin. This year, the No. 1 Dermatological Skincare Brand in Singapore will be focusing on the future of 'Sensitive Skincare' through new initiatives and campaigns both globally and locally as well. Their goal is to help shape the conversation and impart knowledge of sensitive skin to be made accessible to anyone and everyone.
As part of consumer outreach, Cetaphil® will be deploying a customised Roving Activation between 19 and 23 October 2022 to MapleTree Business City, One Raffles Place and finally, Bugis Junction. There will be a host of fun, interactive and educational activities that are free for members of the public to engage in.
Ms Agnes Tan, Country Manager of Galderma Singapore announced that "For 75 years, Cetaphil® remain steadfast in using science to understand and manage the various unique needs of sensitive skin. As we celebrate our diamond anniversary this year, we are imbued with a renewed clarity of our mission moving forward, which is to push the boundaries of innovation and research for the benefit of our consumers' skin health. We will prioritise initiatives that contribute towards transforming the way sensitive skin is portrayed, understood, and managed".
CETAPHIL® ROVING ACTIVATION
To mark its 75th anniversary, Cetaphil® is customising a roving activation for the first time in Singapore that will serve as a "skin kiosk" for the public to interact with. This novel approach serves to raise brand awareness by offering information on its illustrious history, product details and a host of fun activities to participate in.
It will help to reacquaint the brand with loyal consumers, as well as cultivate new customers who may be experiencing various skin problems, such as skin sensitivity, dry skin, eczema and acne-prone skin.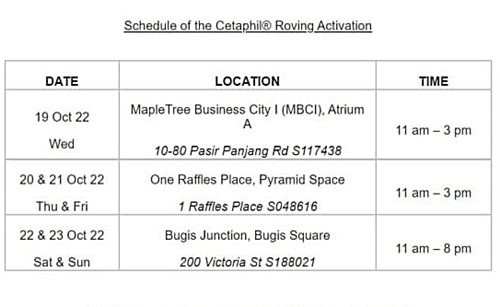 Activities to check out at the Cetaphil® Roving Activation!
History Wall

Product Education

Skin Hydration Test

Hand Massage

Ice Cream Giveaway

75th Anniversary Gifts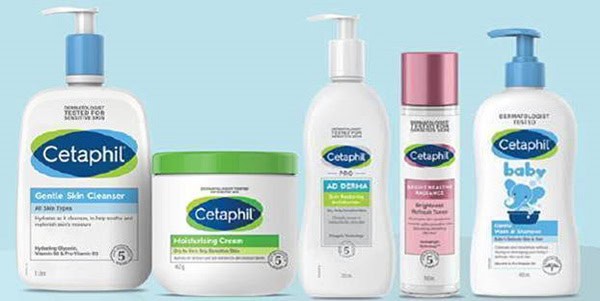 CELEBRATING WITH CETAPHIL® BEST-SELLERS
To celebrate 75 years of research and innovation, Cetaphil® is proud to showcase their all-time best sellers that have benefited countless users with various skin conditions over the years.
CETAPHIL® GENTLE SKIN CLEANSER
125ml – $ 8.65 | 250ml – $16.95 | 500ml – $23.95 | 1L – $40.90
The new & improved Cetaphil® Gentle Skin Cleanser, with its proprietary dermatologist‑backed blend of hydrating and skin-strengthening ingredients, such as Niacinamide, Panthenol and Glycerin, aims to defend against the 5 Signs of Skin Sensitivity and is clinically proven to provide skin hydration after cleansing to protect against dryness. The product is free of parabens and sulphates.

CETAPHIL® MOISTURISING CREAM
100g – $21.95 | 453g – $40.95
The new & improved Cetaphil® Moisturising Cream is clinically proven to provide immediate and intense hydration for 48 hours. With its proprietary dermatologist-backed blend of hydrating and skin-strengthening ingredients – Niacinamide, Panthenol and Glycerin – the cream is clinically proven to nourish skin in just 1 day and completely restore the skin barrier after 1 week. The product is free of parabens and sulphates.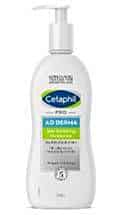 CETAPHIL® PRO AD DERMA SKIN RESTORING MOISTURIZER
295ml – $49.90
The Cetaphil® PRO AD Derma Skin Restoring Moisturizer is enriched with Filaggrin and Ceramide Technology™ to help to break up the eczema itch-scratch cycle by restoring the skin barrier, retaining moisture and relieving itch. The product has been clinically tested and is fragrance-free and paraben-free.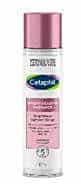 CETAPHIL® BRIGHT HEALTHY RADIANCE TONER
150ml – $21.90
The Cetaphil® Bright Healthy Radiance Brightness Refresh Toner brightens and illuminates skin complexion for softer, smoother skin. It instantly revitalises skin, preparing your skin to receive the benefits of moisturising creams to follow.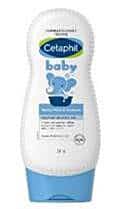 CETAPHIL® GENTLE WASH & SHAMPOO
230ml – $13.50 | 400ml – $22.95
This gentle, tear-free formula leaves the baby's skin and hair soft and smooth with a light, fresh fragrance. Enriched with Glycerin and Panthenol which helps nourish the baby's delicate skin.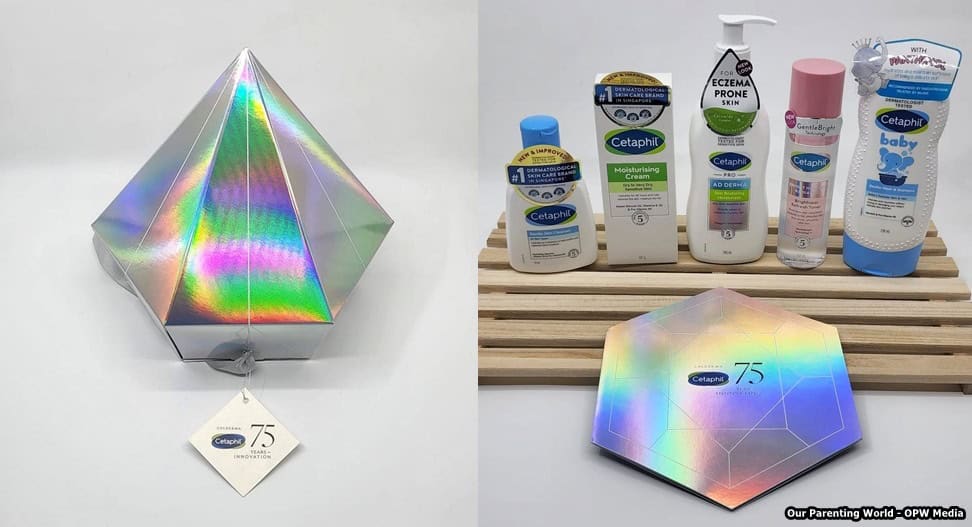 Happy 75th Anniversary to Cetaphil®! On its diamond anniversary, Cetaphil® celebrates its momentous milestone by showcasing five of its all-time best sellers packaged in a larger-than-life "diamond" box.
Thank you Cetaphil® for sending to us this beautiful commemorative kit! Come, join us and celebrate Cetaphil® 75th Anniversary!
Find Cetaphil® Singapore online as follows: 
All images credit to Cetaphil®