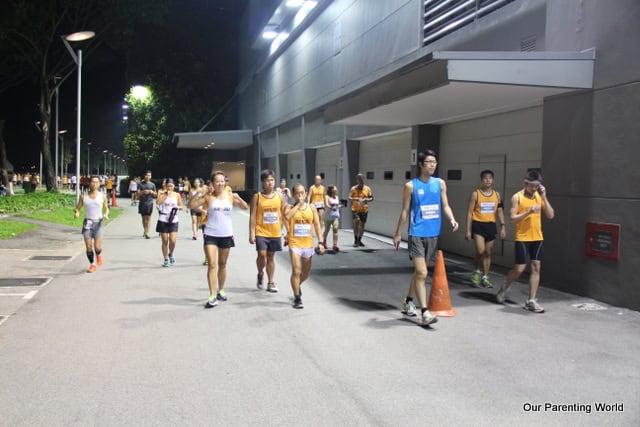 When Our Parenting World team first attended the NTUC Income RUN 350, Organised by Young NTUC at the launch at Raffles Green in November 2014. We have been eagerly waiting for the actual run on 5 April 2015. As Our Parenting World is the influencer of NTUC Income RUN 350, Organised by Young NTUC, we have been attending the training clinics and at the same time preparing ourselves for this day to come. It is finally here and at 5am, we made our way to F1 Pit Building, Marina Promenade to take part in the sixth edition of the NTUC Income RUN 350, Organised by Young NTUC. This annual sporting event aims to encourage a sustainable future where carbon dioxide levels are maintained at 350 parts per million, which is the optimum level for climate safety. 
NTUC Income RUN 350, Organised by Young NTUC is Singapore's largest eco race, the run has adopted several green measures to ensure that all participants practice environmentally-friendly measures during the race. It has adopted the "Bring-Your-Own-Bottle" initiative that encourages all runners to bring their own bottles for refills at the hydration stations to reduce the usage of paper cups. Bicycle racks were made available at the race village to support the runners to cycle down or carpool as well. Dedicated waste bins showing a clear separation of banana peels, cans and plastic bottles were placed around the race village to advocate keeping the site litter-free.
In line with SG50, the nation's green initiatives were celebrated through a wall mural that was erected in the race village highlighting Singapore's eco milestones since 1960. Participants had the chance to see the journey of how Singapore became a clean and green city, as it served as a reminder on how we each have a part to play.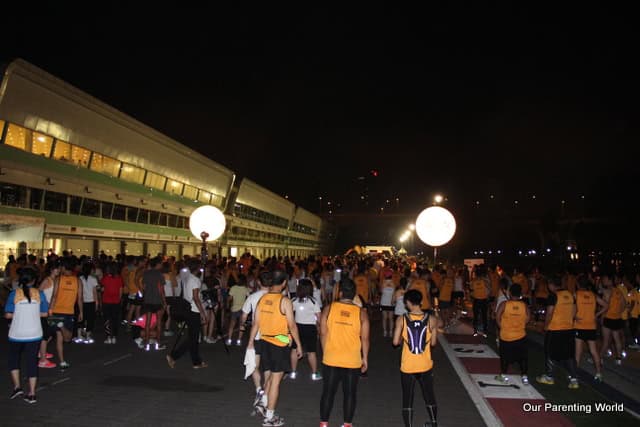 12,000 people participated in the race, to raise the importance and pledge themselves to build a greener future. Even though it is early in the morning, the runners are wide awake and enthusiastically making their way to the starting point.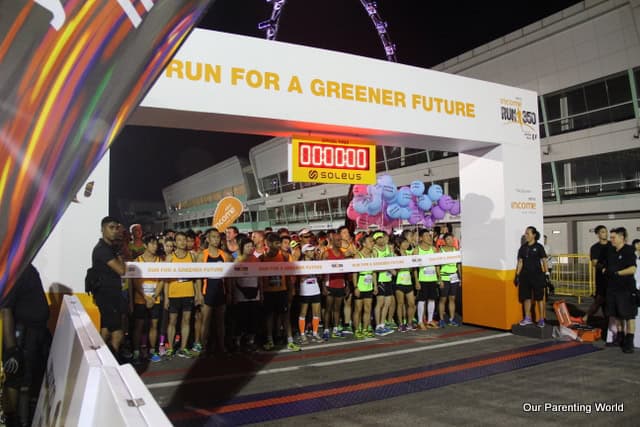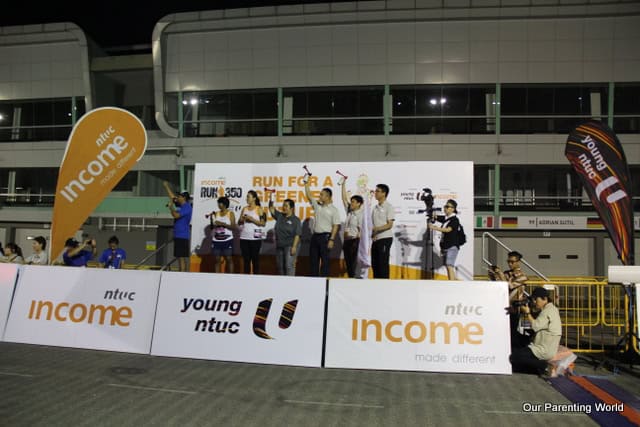 Gracing the event was NTUC Deputy Secretary-General Mr Chan Chun Sing, accompanied by Mr Ken Ng, Chief Executive of NTUC Income. Mr Marcus Chew, Senior Vice President and Head, Strategic Marketing and Communications of NTUC Income along with Mr Seah Keng Tia, Chairperson of Young NTUC Committee and Mr Steve Tan, Executive Secretary of Young NTUC did the honours of flagging off the 21.1km category.
Participants will be running through a scenic route as they ran through the Kallang waterfront and past iconic landmarks, such as the Singapore Sports Hub, while the 21.1km runners will have the opportunity to run along Nicoll Highway, rounding up the race by running by the Gardens by the Bay before crossing the finish line at the F1 Pit Building.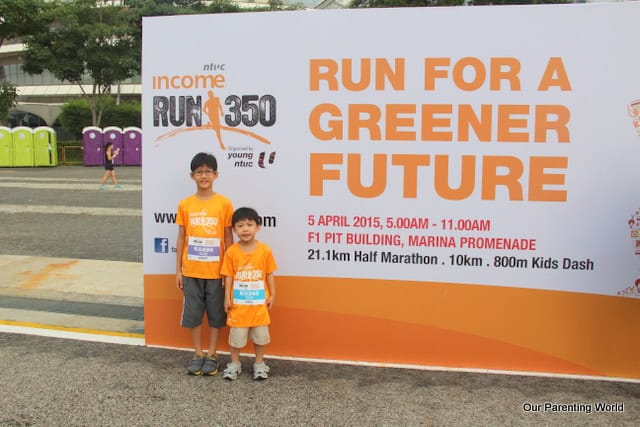 NTUC Income RUN 350, Organised by Young NTUC includes a 800m Kids Dash segment. 
Kids Dash segment will start at 9am and the kids are all ready to start dashing …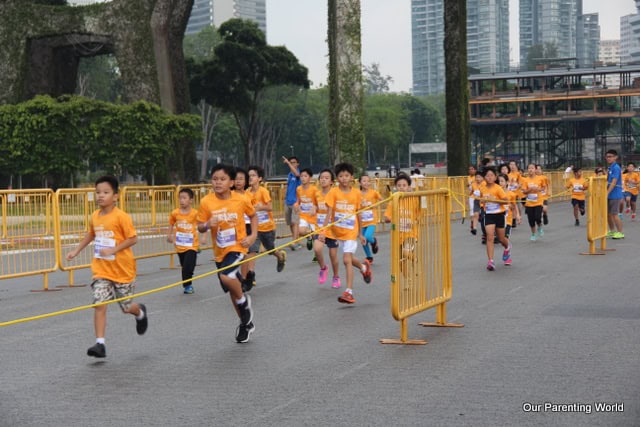 Kids of 9 to 12 years old started first for Kids Dash, the children were running with all their might.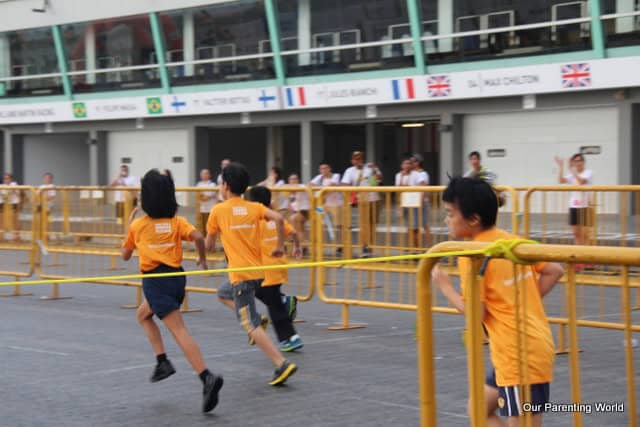 Did you see Gor Gor? He is the one with yellow rimmed sports shoes.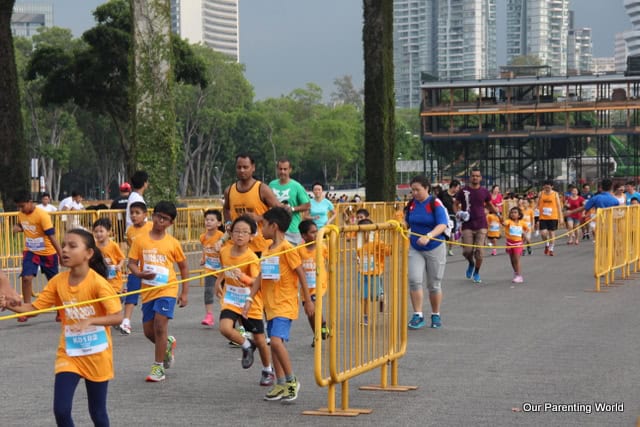 Next followed by the younger kids of 4 to 8 years old where parents accompanied their children to participate in this run.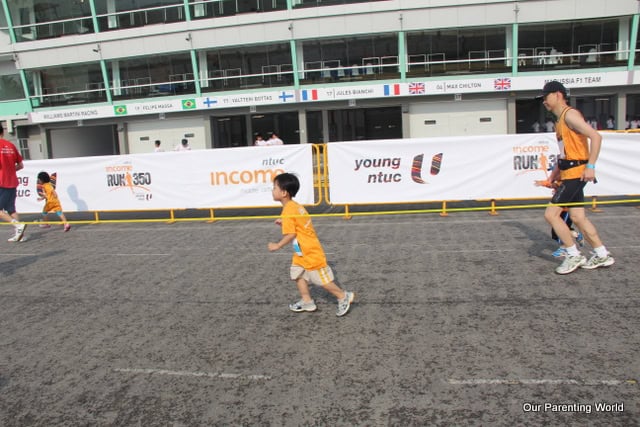 Here comes Di Di dashing across …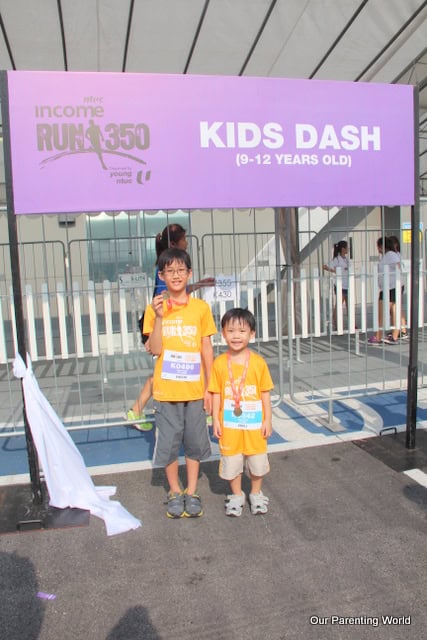 After the children had completed their run, they are rewarded with a metal for their accomplishment!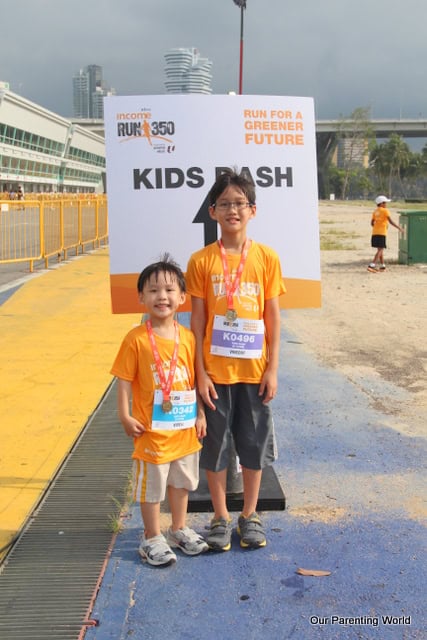 It is a fun and meaningful race for both adults and children, ask the kids, they really enjoyed it. Look out for next year NTUC Income RUN 350, Organised by Young NTUC, it is a race that is suitable for the whole family to participate and at the same time, parents can teach their young ones about the importance of saving the environment and working together towards building a greener future!
Please click HERE to find out more about NTUC Income RUN 350, Organised by Young NTUC.
Here are the lists of winners, congratulations to all the winners! 
21.1 KM WOMEN OPEN
| | | | |
| --- | --- | --- | --- |
| Position | Name | Bib Number | Timing |
| 1st | Margaret Njuguna | 9407 | 1:19:47 |
| 2nd | Viola Jepchirchir Kimeli | 10486 | 1:20:21 |
| 3rd | Asabellah Kigen | 9455 | 1:21:27 |
21.1 KM MEN OPEN
| | | | |
| --- | --- | --- | --- |
| Position | Name | Bib Number | Timing |
| 1st | Geoffrey Birgen | 7448 | 1:07:01 |
| 2nd | Dennis Isika | 8224 | 1:15:07 |
| 3rd | Nimesh Gurung | 8361 | 1:17:11 |
21.1 KM MEN LOCAL
| | | | |
| --- | --- | --- | --- |
| Position | Name | Bib Number | Timing |
| Champion | Rio Elijah Chua | 6970 | 1:25:03 |
10 KM WOMEN OPEN
| | | | |
| --- | --- | --- | --- |
| Position | Name | Bib Number | Timing |
| 1st (Local Champion) | Suzanne Walsham | 3620 | 38:01 |
| 2nd | Valentine Jepkemoi Serem | 4770 | 39:37 |
| 3rd | Vanja Cnops | 3194 | 40:58 |
10 KM MEN OPEN
| | | | |
| --- | --- | --- | --- |
| Position | Name | Bib Number | Timing |
| 1st | Samson Kiplagat | 2911 | 32:59 |
| 2nd (Local Champion) | Stuart Haynes | 2900 | 34:54 |
| 3rd | Jee Keng Chew | 10038 | 36:03 |