Pilot Pen is making waves in sustainability efforts as the Pilot Super Grip G Ocean Pen is making its eco mark in Singapore this October! The eco-friendly ball pen, a part of its Pilot BeGreen Series, is manufactured with recycled materials and tonnes of ocean plastics waste collected from the sea around Japan.
Every year, over 300 million tons of plastic are produced globally, with at least 8 million tons of plastic being released into the sea. This constitutes to about 80% of marine debris in our ocean. One of the biggest sources of ocean plastic pollution comes from litter, such as PET bottles and packaging containers, abandoned on land and blown or washed into the sea. Plastic is light, moisture-resistant and mostly non-biodegradable, and therefore will survive for hundreds of years in the environment. Without action, plastic in the ocean is predicted to outweigh fish by 2050.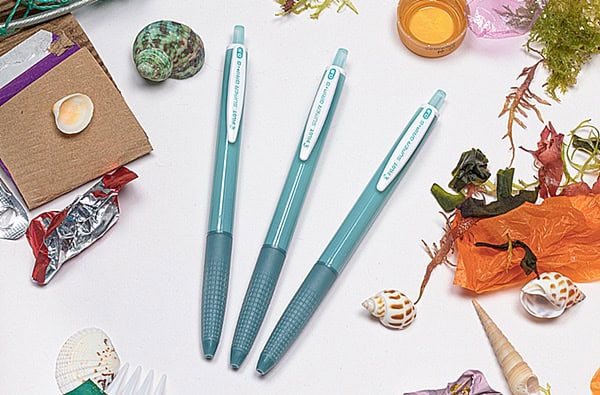 Pilot Pen aims to garner greater awareness about marine pollution and encourage consumers to join them in making their mark towards a sustainable environment. The Pilot Super Grip G Ocean Pen was created with this vision in mind.
Made from recycled materials along with materials recuperated from oceans, beaches, rivers, lakes and the banks of those waterways, the Pilot Super Grip G Ocean Pen contains 2% of ocean plastic content (excluding its refill) with a rate of 74.1% of recycled materials used in its production.
The pen comes in a turquoise translucent casing, representing the calming shades of the ocean. Fitted with 'Grid Grip', a unique grid-textured rubber grip at the bottom for secure writing and maximum comfort, the pen also boasts a sleek silhouette that holds a slim tip of 0.5mm, refillable in blue-coloured oil-based ink. Its ergonomic design and smooth ink flow alleviate writing strain, making it an efficient and great choice of pen for students (especially during examinations), educators and other professionals.
"Sustainability has always been key for Pilot Pen and we are constantly looking for ways to innovate and set new standards in the creation of eco-friendly writing instruments. When the alarming problem of the increasing number of plastics in our oceans came to our attention, we knew we wanted to do our part to change this. With the introduction of the Pilot Super Grip G Ocean Pen, we hope to reduce ocean plastic waste and hopefully inspire consumers to join us in the fight against plastic pollution," said Benjamin Teh, General Manager of Pilot Pen Singapore.
In 2000, the brand introduced the Pilot BeGreen Series, its first range of eco-friendly products made from recycled materials. Featuring a comprehensive stationery collection ranging from gel-ink pens, mechanical pencils, whiteboard markers to refill cartridges, consumers were offered an eco-friendly purchase option, encouraging them to play a part towards protecting the environment. Following the legacy of the Pilot BeGreen Series, the brand delves deeper into its continuous efforts for saving the environment, striving to maintain the everlasting beauty of the ocean, free from marine debris. By providing a diverse range of eco-friendly writing materials, Pilot is inspiring individuals to make a positive environmental impact by making the 'write' choice and opting for pens that are created from recycled materials.
The Pilot Super Grip G Ocean Pen is the next step in Pilot Pen's journey to create and produce eco-designed pens, to reduce the impact of its products on the planet and contribute to the fight against plastic pollution.
The Pilot Super Grip G Ocean Pen (due to the use of plastic from the sea, barrel colours may differ with each production batch due to ocean plastics collected) retails at S$1.60 each and is now available at all major bookstores.
For more information, please visit http://www.pilotpen.com.sg.
.