This National Day, Chef-in-Box by JR Group, pioneer of ready-to-eat meals in Singapore celebrates the nation's birthday by launching its inaugural Heritage Series (传承美食). The dishes in the series are specially chosen from the two winning entries of JR Group's first-ever Mother's Day Cooking Competition in May 2018. To find out more, please read our feature on the event at http://ourparentingworld.com/chef-in-box-first-ever-cooking-competition-held-on-mothers-day/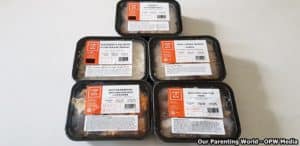 National Day Bundle consisting of the 2 Heritage Series bentos, Seafood Hor Fun, Mutton Rendang and Nasi Lemak bentos.
The Heritage Series honours local heritage dishes that follow home recipes, paying tribute to the aromas and flavours that trigger cherished memories of the familiar comforts at home.
At the Mother's Day Cooking Competition, the champion dish which won over the judges was the Shepherd's Pie with Ayam Masak Merah (spicy tomato chicken) 香辣红番茄鸡牧羊人派 by Elaine Teng 陈英连.
Elaine's rendition of Shepherd's Pie with Ayam Masak Merah is a healthy spicy chicken version, that is commonly found in Malay eateries. The meat is cooked in a tomato-based gravy, then topped with delectable mashed potato swirls.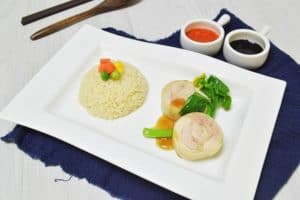 The second winning dish is by 80-year-old grandmother of six, Madam Nancy Quek 郭丽儂 named Mum's Chicken Roll 妈妈爱心鸡肉卷. The dish was inspired by her late mother's love for chicken dishes. Madam Nancy Quek specially created this recipe to remember her beloved mother who was a very good good and loved making her signature dishes such as Curry Chicken, Stew Black Soy Sauce Chicken and more. The judges and public were inspired and touched by Madam Nancy Quek's heartfelt story of preserving her mother's recipe heritage.
These local home-style favourites pay homage to the local culinary traditions and taste preferences in Singapore, as well as the power of food to bring families and communities together. For a foodie nation, there truly is no better way to celebrate the nation's birthday than with local food.
Chef-in-Box Heritage Dishes will be launched at all Chef-in-Box VendCafés, vending machines and online at www.chefinbox.com.sg from 27 July 2018 onwards for a period of one month. In conjunction with Singapore's 53rd year of independence, the dishes will be selling at a promotional price of $5.30.
Share the National Day Bundle with a group of family and friends, consisting of the 2 Heritage Series bentos, Seafood Hor Fun, Mutton Rendang and Nasi Lemak bentos at only $19.65 (U.P. $27)! This National Day, gather together to commemorate the nation's achievements thus far with a sumptuous and heart-warming meal consisting of local favourites.
Here's where you can find Chef-in-Box VendCafés outlets as follows: 
CHEF-IN-BOX VENDCAFÉ ANCHORVALE
Address: #01-K1, 320C Anchorvale Drive, Singapore 543320
CHEF-IN-BOX VENDCAFÉ ANG MO KIO
Address: #01-01, Ang Mo Kio MRT, 2450 Ang Mo Kio Ave 8, Singapore 569811 (near taxi stand along Ang Mo Kio Avenue 8)
CHEF-IN-BOX VENDCAFÉ LAKESIDE
Address: #01-06, Lakeside MRT, 201 Boon Lay Way, Singapore 649845
CHEF-IN-BOX VENDCAFÉ PASIR RIS
Address: #01-K1, 766 Pasir Ris St 71, Singapore 510766
CHEF-IN-BOX VENDCAFÉ RIVERVALE
Address: 136 Rivervale Street, Singapore 540136
CHEF-IN-BOX JCUBE LEVEL 3
Address: Play at JCube 2 Jurong East Central 1 S609731
CHEF-IN-BOX GENTING HOTEL JURONG
Address: Genting Hotel Jurong, 2 Townhall Link (Lobby Area) 608516
CHEF-IN-BOX WHITE SANDS
Address: 1 Pasir Ris Central Street 3, 518457
CHEF-IN-BOX SUNTEC CONVENTION CENTRE
Address: Level 3, Suntec Convention Centre, 1 Raffles Boulevard, Suntec City, 039593
CHEF-IN-BOX KEAT HONG COMMUNITY CLUB
Address: 2 Choa Chu Kang Loop, Singapore 689687
Opening Hours: All VendCafés operate 24/7 (except Ang Mo Kio and Lakeside MRT outlets)
For more information, please visit the following: 
Website: www.chefinbox.com.sg
Facebook: www.facebook.com/chefinboxsg
Instagram: @chefinboxsg