March school holidays is here!
Bring your kids and head down to the annual Children's Festival at Gardens by the Bay and step into the imaginative world of Dinosaurs!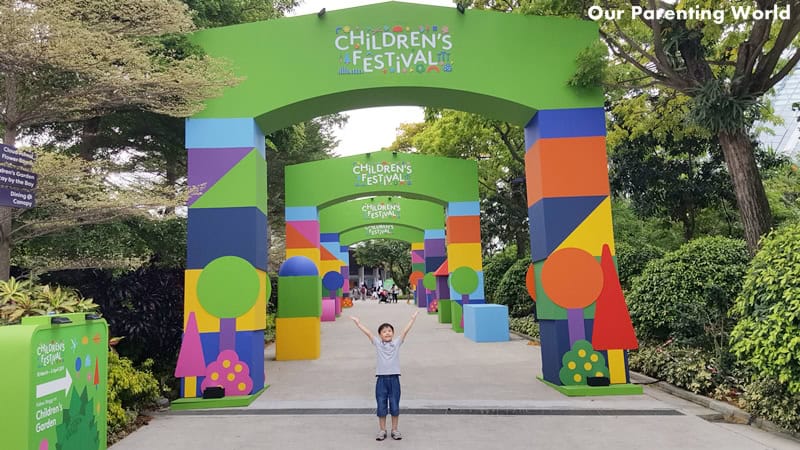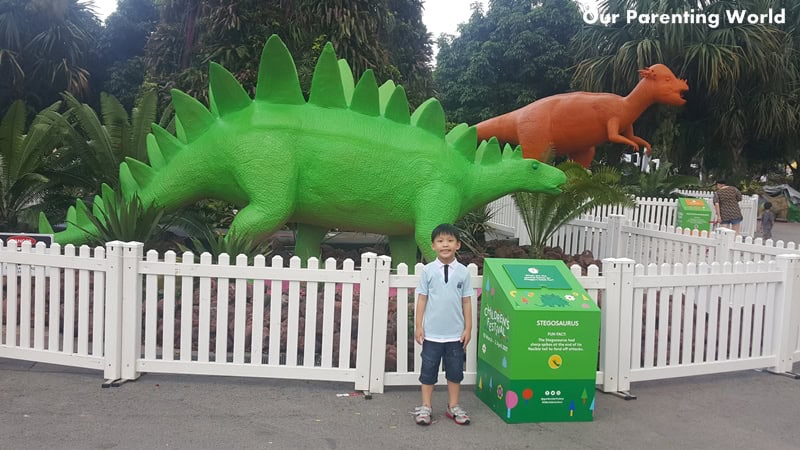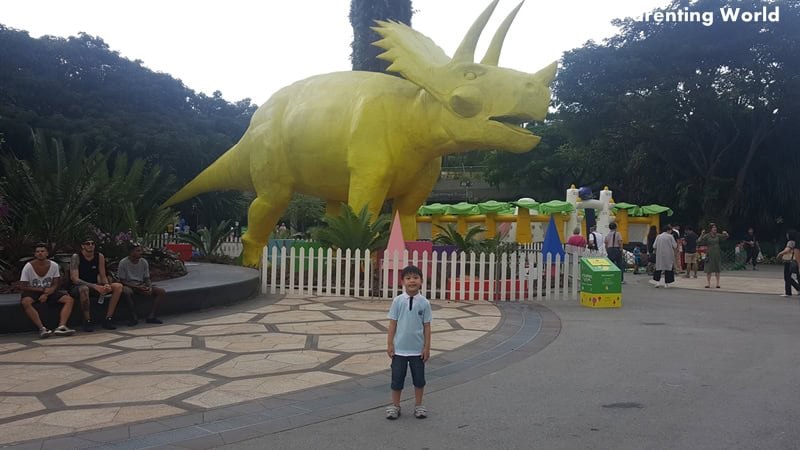 The Dye-Nosaur Gardens is located at Supertree Grove, World of Plants & Children's Garden. Visitors will be brought into an imaginative habitat of dinosaurs and prehistoric plants filled with multi-coloured and life-size dinosaurs!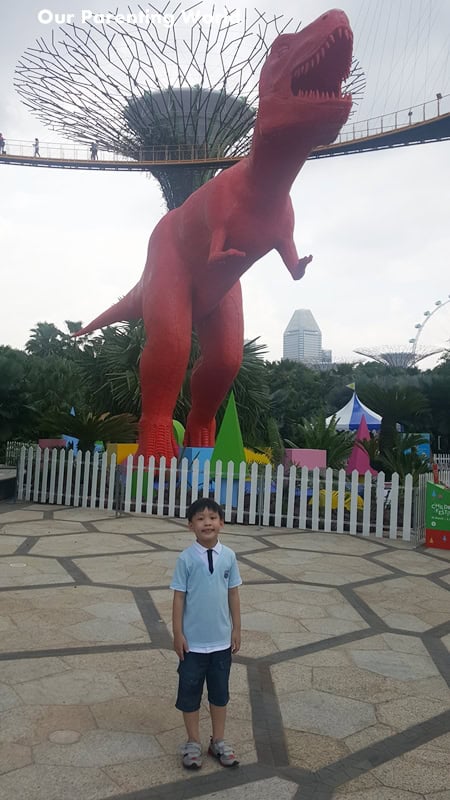 ROAR!!!
Have a roaring good time, coming up close with these huge and colourful dinosaurs and take lots of pictures with them.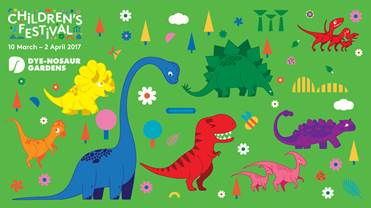 Let Brachy the blue Brachiosaurus and his friends pander to the imagination of your child and the inner child in you, through the exploration of nature, colours and prehistoric animals at Children's Festival at Gardens by the Bay.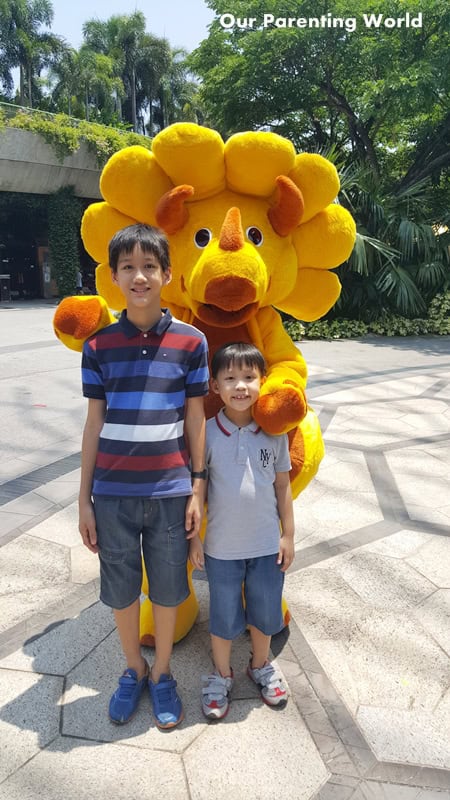 Useful Information on The Dye-Nosaur Gardens
Catch the multi-coloured, life-size dinosaurs roar to life before your very eyes!
Date: 10 March – 2 April 2017
Time: 10.00am – 9.00pm
Location: Supertree Grove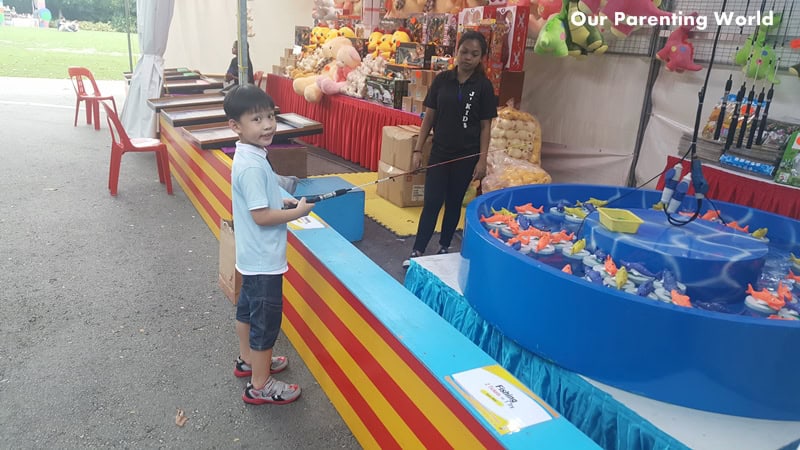 There are so much to do and see at Children's Festival, look forward to catch exciting performances, participate in the various creative crafts, workshops and fun-filled carnival rides and games that the whole family and everyone can enjoy! For more details on the various activities happening at Children's Festival, please click HERE.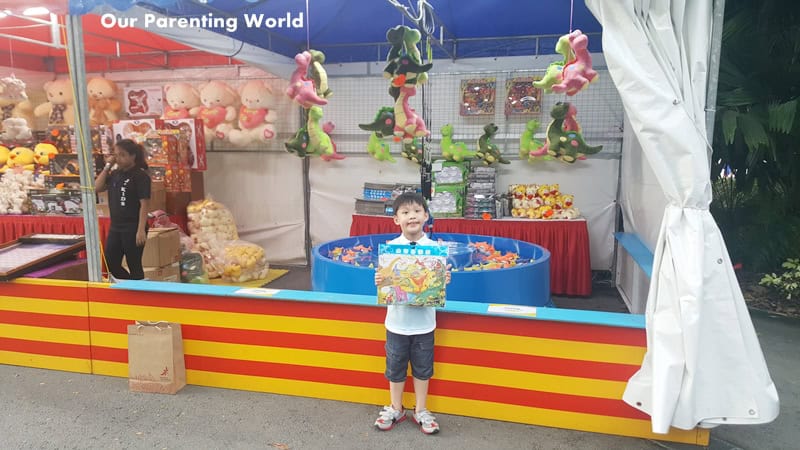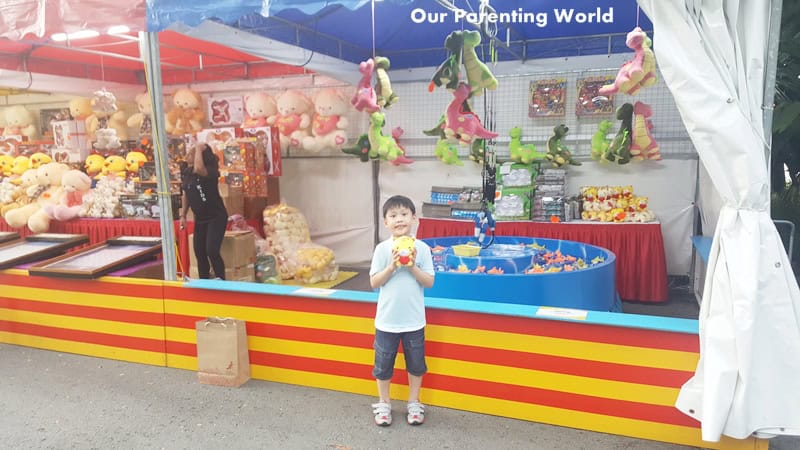 Kids have a roaring good time at the fun-filled carnival rides and games! They have lots of fun and get to bring back prizes from the games stalls.
*Hint: The Fishing game is a sure-win game hee hee … 
Useful Information on Games Galore 
Have fun at the free waterplay areas with additional activities like the Fishing Pond, Shoot the Dinosaur Game, and Feed the Dinosaur Game.
Date: 10 March – 2 April 2017
Time: 10.00am – 6.00pm
Location: Children's Garden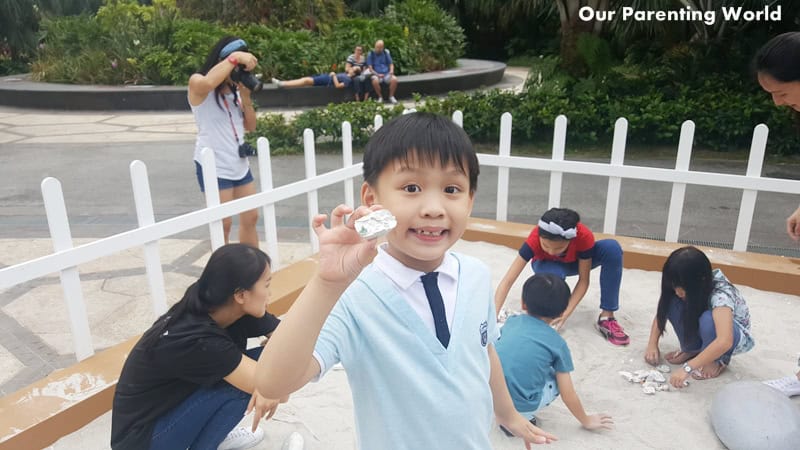 Kids will have the opportunity to participate in excavation and dig up the dinosaurs fossil like what a Palaeontologist does.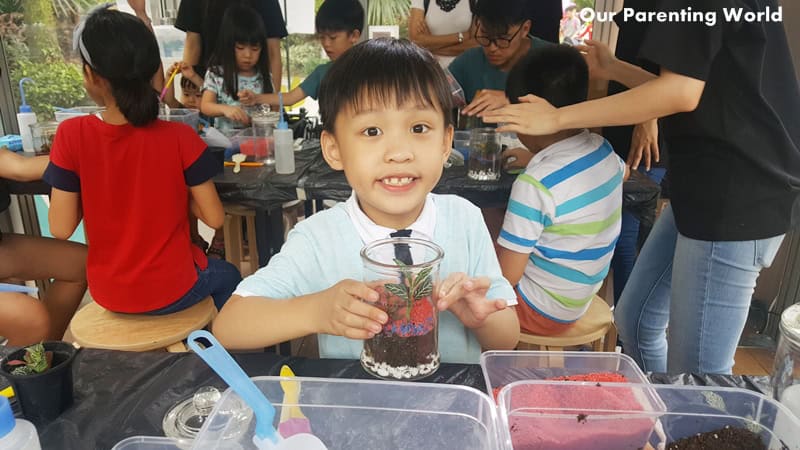 This is an interesting workshop where you can get hands-on to create your own Dinosaur Terrarium. Be prepared to spend fun moments filling up your terrarium with different coloured sands, plants, pebbles and choose your favourite dinosaur figurine to place it inside the terrarium.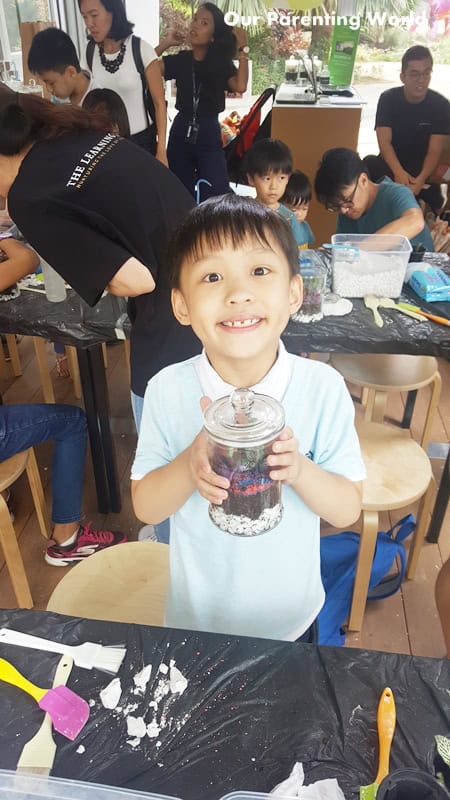 I love my Dinosaur Terrarium!
Useful Information on Dinosaur Terrarium & Excavation workshop
Create your own little prehistoric world to take home with you! This workshop* is brought to you by The Learning Lab.
Date: 10 – 17 March 2017 and every Saturday & Sunday from 18 March – 2 April 2017
Time:
2:00pm – 3:00pm
4:00pm – 5:00pm
6:00pm – 7:00pm
8:00pm – 9:00pm
Location: Supertree Grove
*Fees: $20/ head for workshop & materials
Registration is only available on-site.
Limited to 20 participants per session.
Visit Toby's The Dessert Asylum for a wide range of delicious and heavenly desserts!
While you are at Gardens by the Bay, do visit the beautiful Blossom Bliss blooming at Flower Dome.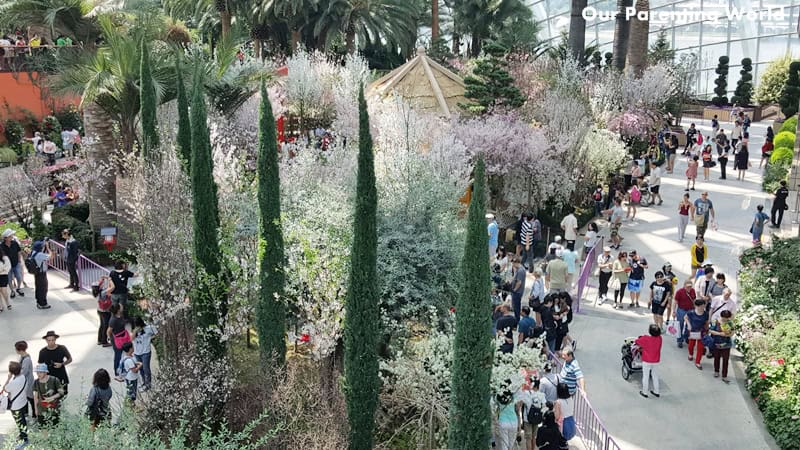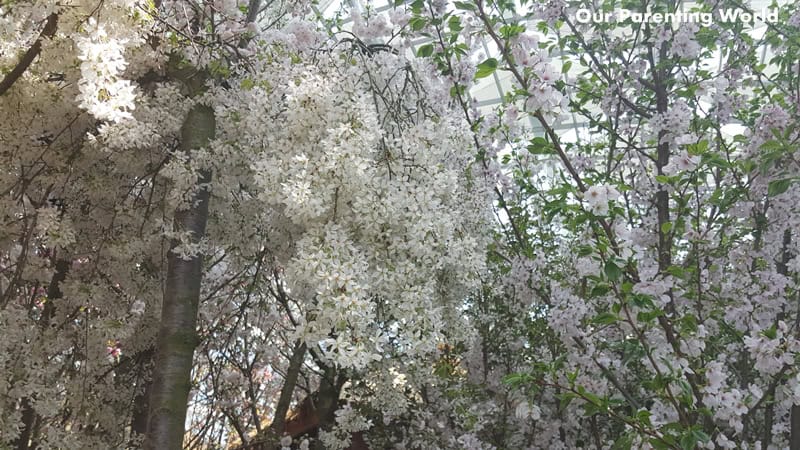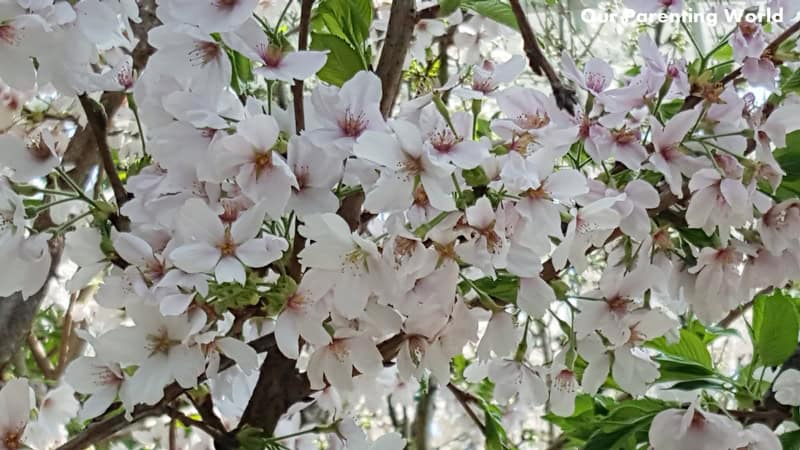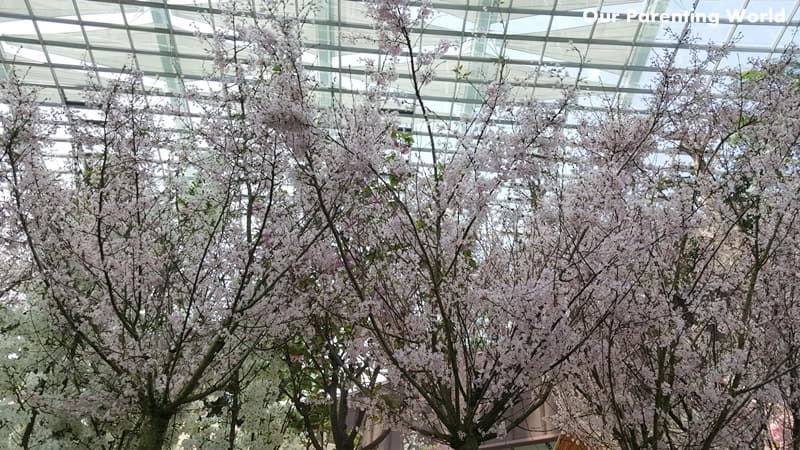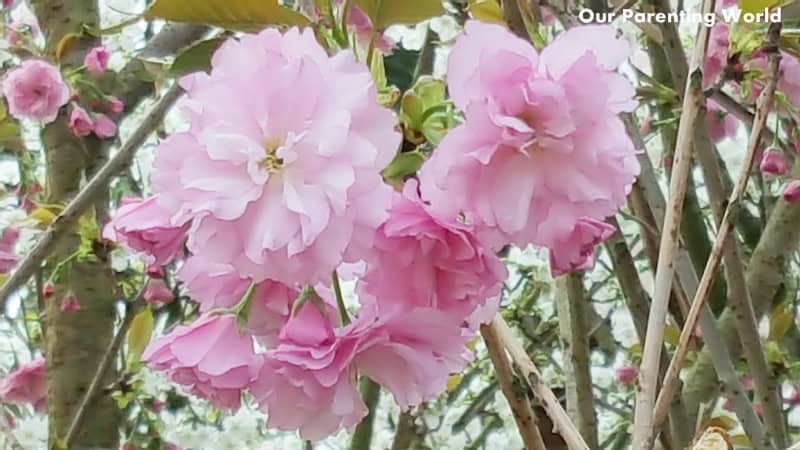 You don't have to travel overseas to admire the beauty of Cherry Blossoms, you can see them right here in Singapore! The whole Flower Dome is beautifully decorated with new varieties that will be on display for the first time and including various charming varieties such as the Prunus Accolade, a quiet beauty with its simple, pale pink flowers; or the unusual weeping form of Prunus subhirtella Pendula trees returning from last year floral display. 
The gorgeous and pretty blossoms will be showcased in a Japanese-inspired landscape. Be prepared to take lots of beautiful pictures at this charming Flower Dome. 
Visit "Blossom Bliss" (粉色之恋) floral display at Flower Dome, admire the beauty of the beautiful blossoms and catch them come into full bloom from now till 24 March 2017. 
Visitors may pre-book your tickets online and are encouraged to check Gardens by the Bay's Facebook for updates on the state of flowering before you visit. Gardens will also be giving weekend updates (Friday – Sunday) on Twitter.
Useful Information on Blossom Bliss 
Date: Friday, 3 March 2017 – Friday, 24 March 2017
Time: 9.00am – 9.00pm 
Location: Flower Dome
Admission charge to Flower Dome applies.
For more information, please click HERE  
Here are the tips for a blooming good time provided by Gardens by the Bay as follows:
1. Visit on weekday mornings. Enjoy prime sakura views without the crowd for greater enjoyment.
2. Don't wait too long to visit, as sakura are transient and blooms only last for about one to two weeks.
3. Beat the queue and pre-book your tickets online
4. Keep warm. Flower Dome's temperature is cooler than usual for the best blooms, so be sure to dress accordingly.