Welcome the Year of the Dog at Chinatown Chinese New Year Celebrations 2018!
Come 2018, have a pawsitively pawsome Chinese New Year (CNY) at Chinatown! Held annually in Singapore's Chinese cultural and heritage precinct where people from all walks of life gather to soak in the warm and fuzzy atmosphere, take part in the many festive activities specially planned for everyone! The celebrations will take place from 27 January to 16 March 2018. Our Parenting World (OPW) team will be bringing you more of the Chinese New Year celebrations at Chinatown, look out for it! 
Themed "Blossoms of Happiness & Prosperity, 四季花开牛车水,灵犬接福迎旺年", the key highlights for the Chinatown CNY Celebrations 2018 include:
Official Light-Up and Opening Ceremony 牛车水农历新年庆祝活动开幕典礼与亮灯仪式
27 Jan 2018 6.00pm – 10.00pm
New Bridge Road and Eu Tong Sen Street
The Official Light-Up and Opening Ceremony marks the start of the annual CNY celebrations. On this night, visitors will have the oppawtunity to witness thousands of handmade lanterns designed in theme with the Year of the Dog light up in a spectacular display of lights. There will also be exciting live performances put up by local and overseas performers, culminating in a roaring display of firecrackers and fireworks that must not be missed!
Street Light-Up 牛车水农历新年亮灯
27 Jan – 16 Mar 2018
7.00pm – 6.00am (16 & 17 Feb)
7.00pm – 2.00am (Fri & Sat)
7.00pm – 12.00mn (Sun – Thu)
Eu Tong Sen Street, New Bridge Road, South Bridge Road and Garden Bridge.
One of the most anticipated highlights of the annual Chinatown CNY Celebrations, next year's Street Light-Up will draw inspiration from Man's best friend and the four seasons of spring, summer, autumn and winter. The stunning display, comprising thousands of handcrafted lanterns, is designed in collaboration with students from the Singapore University of Technology and Design (SUTD).
Festive Street Bazaar 年货市场
26 Jan – 15 Feb 2018
6.00pm – 10.30pm (Daily)
6.00pm – 1.00am (CNY Eve)
Pagoda Street, Smith Street, Sago Street, Temple Street and Trengganu Street
The Festive Street Bazaar is the one-stop place for local visitors stocking up and preparing for the most important Chinese festival on the calendar. For overseas tourists, the Festive Street Bazaar is a lively market of sounds, tastes and colours with stalls selling the widest range of Chinese New Year-themed delicacies, traditional goodies, decorative items, and more, including costumes for your furry friends in theme with next year's Year of the Dog!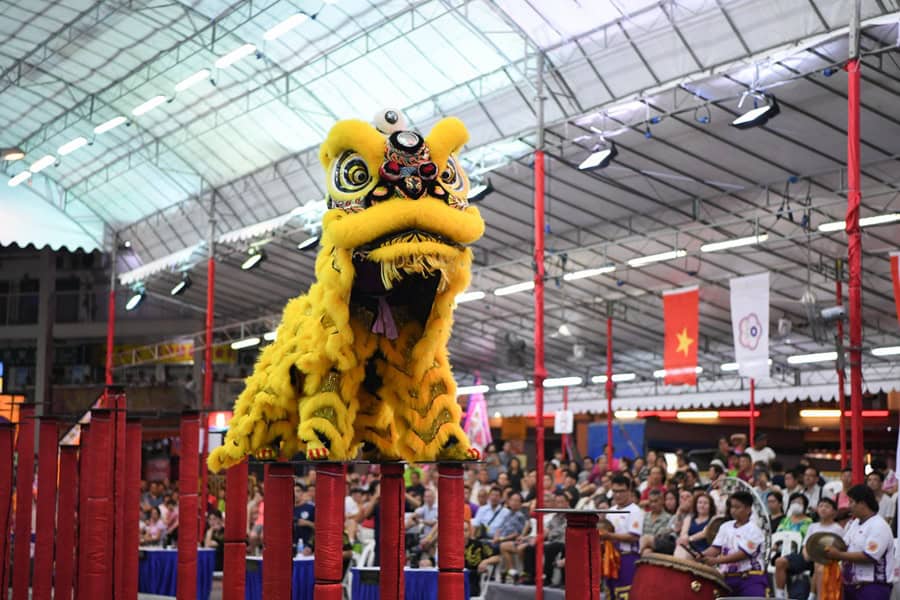 Images credited to Kreta Ayer-Kim Seng Citizens' Consultative Committee
11th International Lion Dance Competition 第十一届牛车水新春国际狮王争霸邀请赛
2 & 3 Feb 2018
6.30pm – 10.30pm Carpark at Banda Street (off Sago Lane)
Get ready for heart-stopping moments as top international troupes pit their skills on the meihuazhuang and compete for the champion title of 'King of the Lions'!
To purchase tickets, please visit either of the following:
Kreta Ayer Community Club 28A Kreta Ayer Road S(088995), or;
Chinatown Visitor Centre @ Kreta Ayer Square 2 Banda Street (behind the Buddha Tooth Relic Temple and Museum)
For enquiries or ticket purchase, please call (65) 6222 3597

Mass Reunion Dinner (Not open to public)
千人团圆宴
4 Feb 2018 7.00pm – 10.00pm
Carpark at Banda Street (off Sago Lane)
An annual community initiative organised by the Kreta Ayer-Kim Seng Citizens' Consultative Committee, the Mass Reunion Dinner brings together over 1,000 residents from underprivileged families and needy elderly residing in the Kreta Ayer-Kim Seng Constituency. They will enjoy a cheery welcome to the Year of the Dog as they to eat and enjoy the festivities as one big family.
Nightly Stage Shows 新春晚会
27 Jan – 15 Feb 2018 8.00pm – 10.30pm
Kreta Ayer Square The festive mood is particularly infectious here; immerse yourself in entertaining nightly performances of festive songs, cultural music and lively dance performances each night at Kreta Ayer Square! No CNY celebration is complete without some music and dance!
Chinatown Chinese New Year Countdown Party 牛车水农历新年除夕夜派对
15 Feb 2018 9.30pm – 12.30am
New Bridge Road and Eu Tong Sen Street Join us for a rousing night of live performances and interactive games hosted by Mediacorp artistes! The heart of Chinatown will also come alive in an illuminating display of fireworks and firecrackers as we usher in the Year of the Dog!
Chingay 2018 @ Heartlands 牛车水2018 妆艺夜间嘉年华
25 Feb 2018 6.00pm – 10.00pm
New Bridge Road and Eu Tong Sen Street The Chingay Parade, the largest street performance and float parade in Asia, will make an appearance in Chinatown, ending the 2018 Chinese New Year celebrations on a high note. Join us for a colourful night that also includes special performances by local and overseas performers.
Chinatown Wishing Tree 牛车水许愿树
23 Jan – 15 Feb 2018 11.00am – 9.00pm
Chinatown Point Spread some festive cheer to the less fortunate and the elderly while making New Year wishes for you and your family at the Chinatown Wishing Tree. Each "Make a Wish" card costs $2 each and all proceeds will be donated to the Kreta Ayer Seniors' Activity Centre.
Chinatown Walking Trail 牛车水农历新年文化之旅
28 Jan; 3, 4, 10, 11 Feb 2018 3.30pm – 5.00pm
Information Booth at Kreta Ayer Square (Meeting Point) On this guided tour along the culturally-rich streets of Kreta Ayer Road, Sago Street, Pagoda Street and New Bridge Road, experience the vibrancy of the Chinese enclave and learn about its colourful past while taking in the many sights and sounds of the CNY celebrations.
Complimentary for both locals and overseas tourists, the Chinatown Walking Trail is conducted in English and Mandarin and limited to 10 participants per session. Preregistration is required at www.chinatownfestivals.sg, and slots are allocated on a firstcome-first-serve basis.
Ushering "Paws-perity" @ Chinatown 旺事如意@牛车水
3 Feb 2018 9.00am – 12pm Kreta Ayer Square
Calling for all paw-rents to usher in the Year of the Dog with your fur kids in Chinatown! Spend a memorable morning with your beloved furry friends at a special dog-themed carnival where cute and edible treats will be sold especially for your best furriends to enjoy this Lunar New Year. Or show off your pet dressed in their best Lunar New Year outfit in the "Dog Costume Competition" that will be held alongside the carnival! Come dressed to impress, as cash vouchers and trophies will be awarded to the top three most festive/creative looks. Owners and their canine pets are also welcomed to soak in the festive atmosphere in Chinatown with the series of festivities planned, from the festive street stalls to stage performances.
To register for the Dog Costume Competition, please visit: http://bit.ly/2Ak7Evn
For more information, please visit:
Website: www.chinatownfestivals.sg