This year, to welcome the Year of the Pig, Kreta Ayer – Kim Seng Citizens' Consultative Committee has come up with a line-up of crowd-pleasing activities for families and their loved ones to enjoy under a brilliant contemporary light-up, where tradition meets high-tech design and many other exciting activities at Chinatown.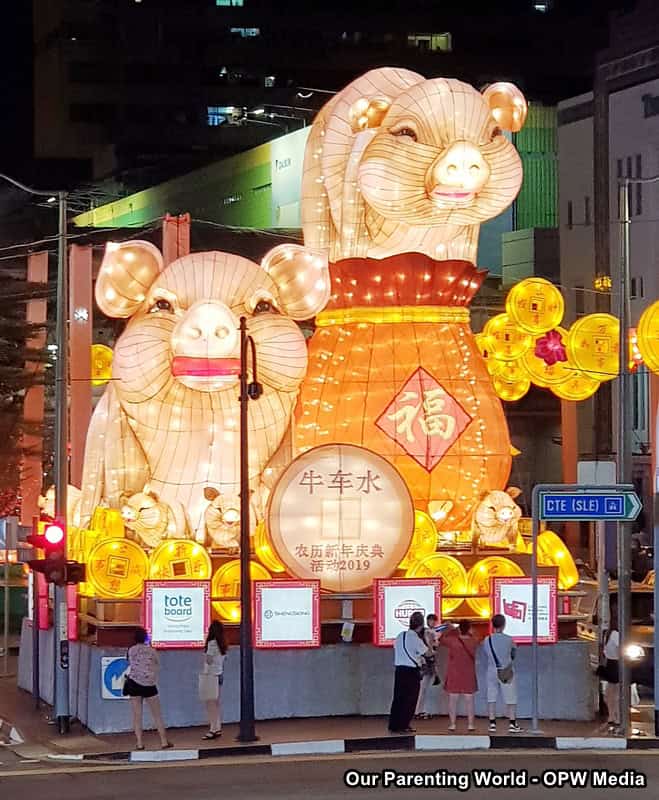 The theme for this year is "Celebration of Abundance and Prosperity" (新春大吉福满城 欣欣向荣庆丰年). Visitors can look forward to auspicious and prosperous pig lanterns adorning the main streets of Chinatown, the light-up along South Bridge Road will see rows of 1,790 red and yellow lanterns forming two giant "春" (Spring) and three auspicious swimming Carps, a beautiful sight from an aerial view.
There are programmes specially curated for families of three generations to attend which are one of the key highlights this year – the Traditional Cantonese Opera Performances at the newly-revamped Kreta Ayer People's Theatre and a fun and delicious Pineapple Tart Making Workshop encourage families to come together and celebrate these time-honoured traditions. 
The main centrepiece will greet visitors at the cross junction of Eu Tong Sen Street and Upper Cross Street which is a towering 12 metre-tall sculpture of a family of pigs standing atop a bulging purse overflowing with gold coins.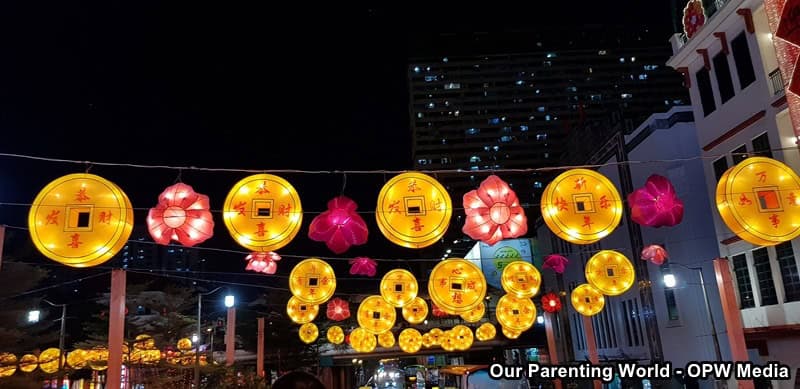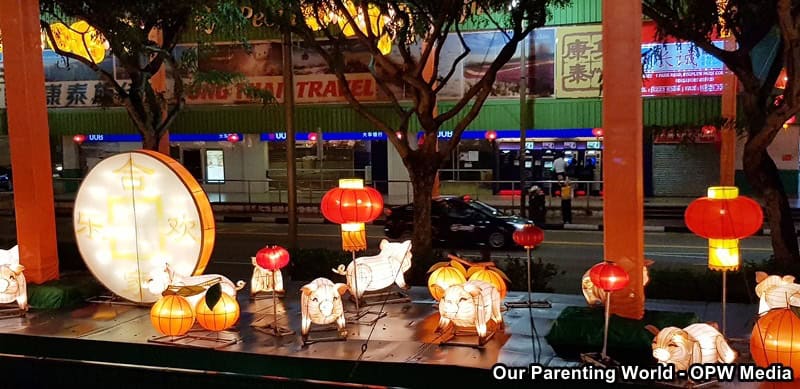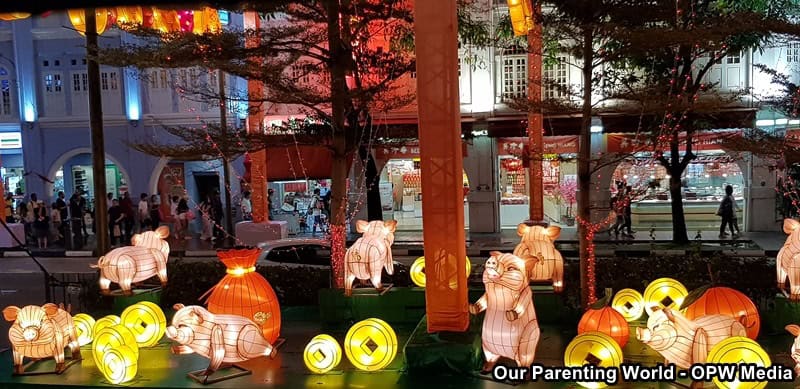 The Chinatown Chinese New Year Celebrations 2019, organised by the Kreta Ayer Kim Seng Citizens' Consultative Committee (KA-KS CCC) and supported by the Singapore Tourism Board, will kick off on 20 January 2019 with the Official Light-Up and Opening Ceremony (开幕典礼与亮灯仪式). Minister of Trade & Industry Mr. Chan Chun Sing will grace the occasion as the Guest-of-Honour, where he will launch the Chinese New Year celebrations at Chinatown. Visitors can also expect highly entertaining performances by leading local and overseas troupes. The Street Light-Up will be from 20 January to 6 March. 
For those who like to shop, Festive Street Bazaar goes high-tech with partnerships with two local online platforms, Shopee and Native, in line with Singapore's move towards a Smart Nation in 2020. Their booths will provide locals and tourists with avenues for shopping and booking tours online at the bazaar, successfully using technology to promote the rich traditions of Chinese New Year in Singapore. This will also be the first time that high-spirited Lion Dance performances will take the stage at the Nightly Stage Shows, with six performances happening over three weekends. And it won't just be lanterns that shine bright during the celebrations – stars from Mediacorp will usher in the new year at the rousing Chinatown Chinese New Year Countdown Party which will culminate in a spectacular display of fireworks and explosive firecrackers.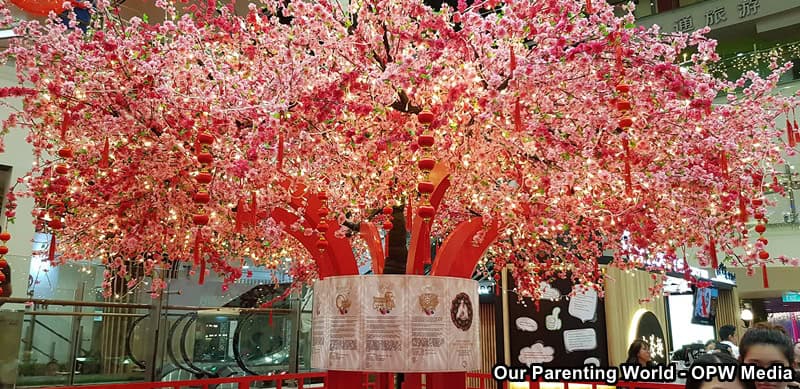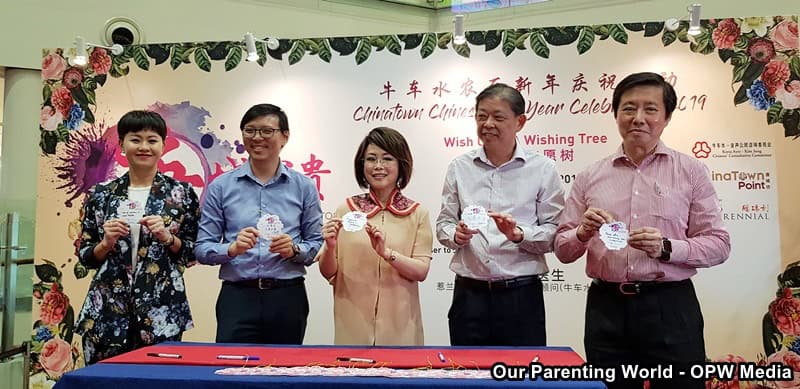 Right at Chinatown Point, there is a Chinatown Wishing Tree for visitors to hang wishing cards on the lucky banyan tree at S$2/- per wishing card, where all proceeds collected will benefit Kreta Ayer Seniors' Activity Centre for the underprivileged elderly residing in Chinatown. 
Dr Lily Neo (梁莉莉医生), Adviser to Jalan Besar GRC GRO (Kreta Ayer – Kim Seng)  (惹兰勿刹集选区基层 组织顾问(牛车水-金声) shared that "Chinese New Year celebrations  in Chinatown is one of the landmark events in the Singapore calendar each year. The Street Light-Up and the many popular street stalls and attractions bring plenty of festive cheer for families and the community at large to convene and celebrate the new year together. We hope this year's line-up of events will attract an even larger crowd to Chinatown and help promote the spirit of happiness and harmony in our rich tradition."
Ms Serene Tan, Director, Arts and Cultural Precincts, Singapore Tourism Board, said, "The Chinatown Chinese New Year Celebrations showcase the rich multicultural heritage of Singapore, and bring the community together to partake in the festivities. Through the Street Light-Up and programmes, we hope locals and overseas visitors will be able to better appreciate Chinatown's heritage and beauty."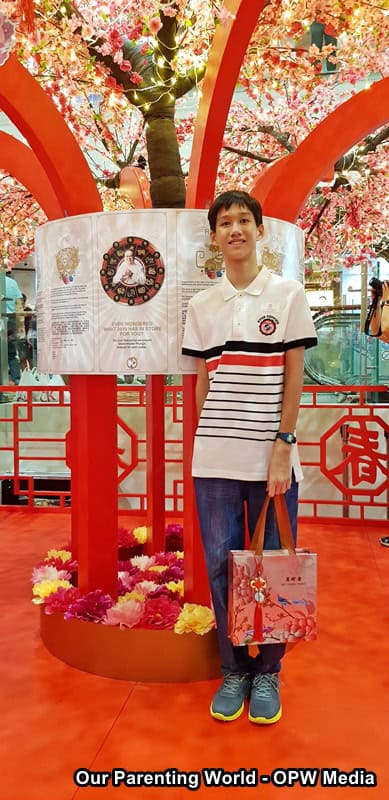 In addition to the above, some other key highlights of this year's festival include:
• 12th International Lion Dance Competition, a sold-out event every year
• Chinatown Walking Trail, a free expedition that covers Kreta Ayer Road, Sago Street, Pagoda Street and New Bridge Road, led by experienced ambassadors who can share interesting anecdotes with the visitors about the culture and heritage of Chinatown
• Chingay 2019 @ Heartlands, the largest street performance and float parade in Asia, will make an appearance to mark the end of the Chinese New Year Celebrations.
For more information on these activities, please visit its website http://www.chinatownfestivals.sg/programmes/ or members of the public can call Kreta Ayer CC at +65 6222 3597 or email [email protected]