Media Invite and Food Review:  Chinese New Year Takeaway Festive Goodies from Xin Cuisine Chinese Restaurant

This coming Chinese New Year as we welcome the Year of the Rooster, celebrate this joyous festive season at the comfort of your own home by ordering festive goodies from premier restaurant like Xin Cuisine Chinese Restaurant from Holiday Inn Singapore Atrium located at Outram Road, Level 4. 
Xin Cuisine Chinese Restaurant is a well-known restaurant where you can enjoy a comprehensive menu of authentic Cantonese dishes all prepared by a team of award-winning chefs.
Our Parenting World team is delighted to try out the Chinese New Year festive goodies from Xin Cuisine's takeaway menu.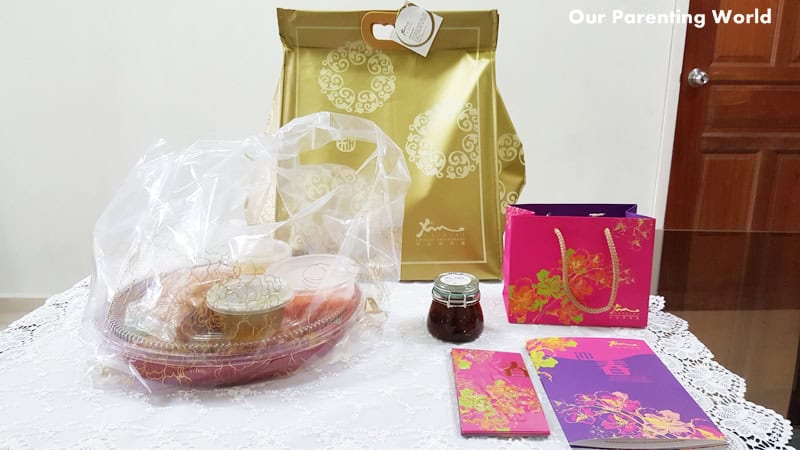 The festive takeaway goodies include a Xin Cuisine's Salmon Yusheng, Pen Cai, and a bottle of XO sauce all nicely packed up and delivered right to our doorstep. XO sauce is originated from Hong Kong which is a spicy seafood sauce that you can use it for cooking for the extra oomph!
Being able to order the takeaway festive goodies is so convenient, save time and hassle of having to prepare the Chinese New Year meals and no need to travel to the restaurant. We can all enjoy the fine cuisine from Xin Cuisine Chinese Restaurant and celebrate Chinese New Year at the comfort of our own home!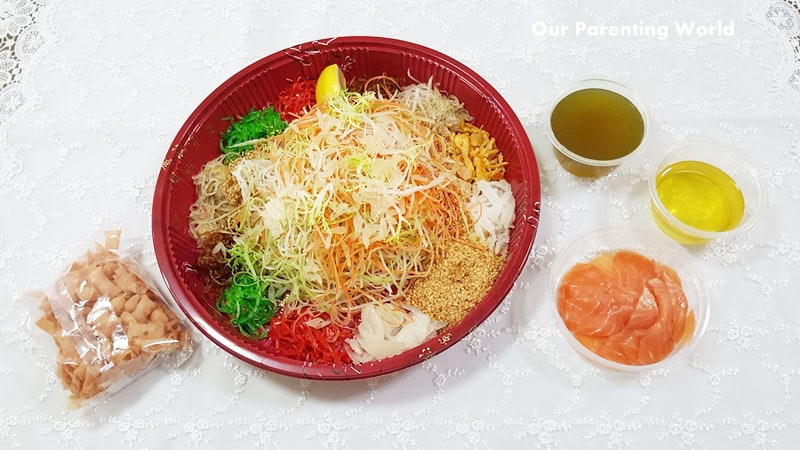 Xin's Gold Leaf Salmon Yusheng
Having Yusheng during Chinese New Year is becoming increasingly popular and one of the must-have dishes for the auspicious meaning of good luck and abundance in the coming year. 
This Salmon Yusheng is a delicious and healthy combination consisting of shredded vegetables, carrots, radish, pomelo bits, crispy crackers, a variety of sauces and condiments, fresh salmon pieces and more! Salmon represents fish which means abundance and having more in Chinese. 
"Lo hei" Toss your way to prosperity and abundance this lunar new year with Xin's Gold Leaf Salmon Yusheng!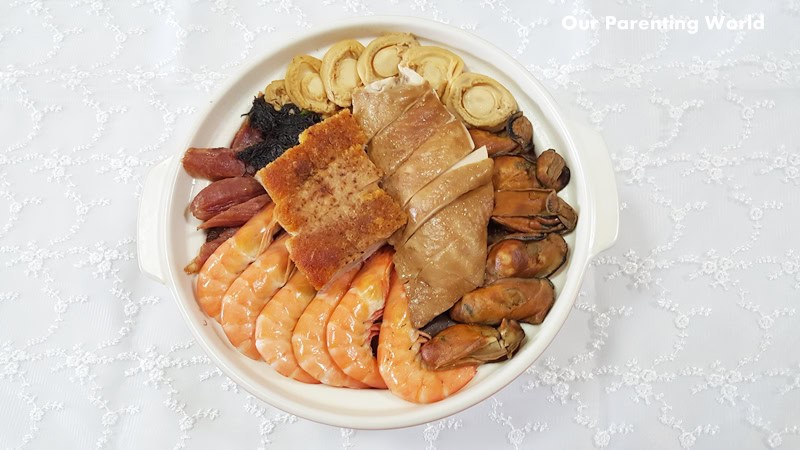 Xin's Prosperity Pen Cai 
Pen Cai also known as treasure pot is filled with lavish Chinese New Year delicacies and it is a traditional Chinese New Year dish that is shared and enjoyed by family members and friends during the festive period.  
Xin Cuisine's range of Pen Cais is a treasure trove of premium ingredients. Xin's Prosperity Pen Cai that we had consisted of top grade ingredients like abalone, sea cucumber, fish maw, dried oysters, scallops, fat choy, prawns, roast pork and many more!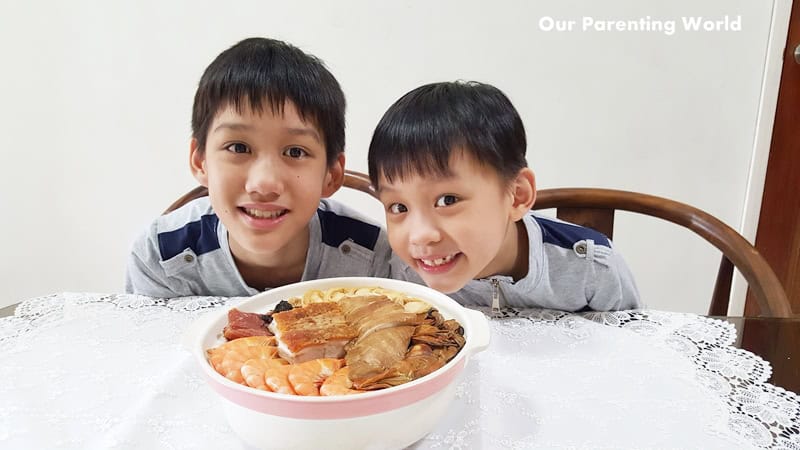 This Pen Cai is full of exquisite top grade ingredients! Pen Cai is always one of our favourite items for Chinese New Year! We enjoy going through the layers of ingredients to discover what's underneath each layer in the huge pot of delicacy. 
Thanks to Xin Cuisine for the delightful Chinese New Year Takeaway Festive Goodies! It is good to enjoy a grand Chinese New Year feast at the comfort of our own home. 
Xin Cuisine Chinese Restaurant 
Holiday Inn Atrium Level 4
317 Outram Road
Singapore 169075
Tel: +65 67317173
Nearest MRT: Tiong Bahru (EW Line)
Opening Hours:
Daily: 12pm – 230pm, 630pm – 1030pm 
Website: http://singaporeatrium.holidayinn.com/festive
Additional Information:
Xin Cuisine Festive Takeaways
Toss to prosperity with the new Abalone and Salmon Yusheng with Shredded Yam, Sweet Potato, and Dragon Fruit Dressing ($98 small / $138 large), featuring a homemade, naturally fermented dragon fruit sauce that's refreshingly lighter on the palate.
Not to be missed are Xin Cuisine's range of Pen Cais, a treasure trove of premium ingredients delicately prepared to perfection. For a majestic feast, opt for Xin's Imperial Pen Cai, available for takeaway and dine-in at $999. For seafood lovers, opt for the Prosperity Pen Cai brimming with lobster, abalone, and fresh scallop ($408 big / $308 small).
On the list of takeaways, the Prosperity Family Bundle ($638) is specially created for those who would like to enjoy a reunion dinner within the comforts of their home. Must-haves on the list are Xin's Gold Leaf Salmon Yusheng ($83 big / $68 small) and the artisanal Yam and Pumpkin Cake ($58). New on the menu this year are the lavish Xin's Bird's Nest Nian Gao with Chocolate ($88), as well as the crispy Sesame Balls ($48) – a sure hit for both adults and kids alike!
Please click HERE to find out more and order online.