Photo Credit: Music Hall 
School holidays are here and did you know that a Princess has arrived in Singapore this December? Are you excited?
Starting from 10 December 2015, Cinderella, A Fairly True Story will make its Asian premiere at Resorts World Sentosa (RWS). From the internationally acclaimed creators of Peter Pan, The Never Ending Story, and its successful run, both Music Hall from Belgium and RWS have once again collaborated to stage Cinderella, A Fairly True Story at Resorts World Theatre.
Be mesmerized with the musical told through a mix of original uplifting music and popular hits, dynamic dance choreography and dazzling magic, this production is set to captivate the entire family this year-end festive season!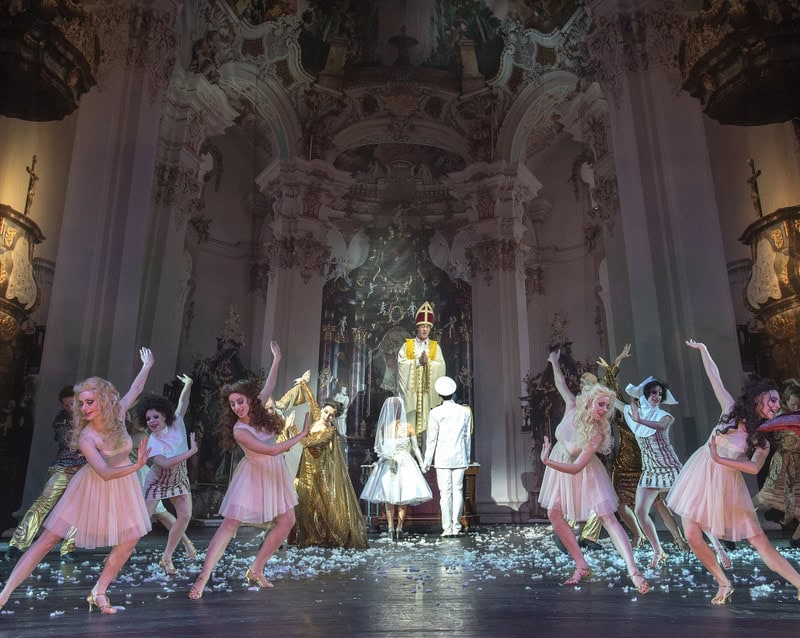 Photo Credit: Music Hall
There are always something to be learnt from musicals and fairy tales. We all love good musicals and fairy tales because they are entertaining, relaxing and a whole bunch of fun, and at the same time they are designed to provide us with plenty of life stories that we can learn. 
You rarely get a second chance, but when you do, make the most out of it!
What makes musicals and fairy tales amazing is the fact that they teach you plenty of things, one of which is that you can't always get a second chance in life. Only in rare occasions you can find such a chance, so it's a good idea to make the most out of it the best way you can, because it won't appear all the time. 
Never base yourself on first impressions, it won't really tell you how a person really is or feels. It's important to have a second or third glance in order to make the right impression, as this is what matters the most. 
Beauty and the Beast is a good example for this, as the beast did get a second chance at finding true love and never base a person by his looks. Beast became a handsome prince at the end of the story. Both Beauty and the Beast live happily ever after. 
Nothing is perfect
Even though many fairy tales tend to be about perfection, at the end of the day they always show that imperfections make us who we actually are, and that's exactly why we have to focus on doing what we love, as that matters a lot more than reaching towards perfection. 101 Dalmatians showed us that perfection is something unreal and that the beauty comes from within. 
Love will always find you
Sometimes we work hard in order to find love, but the reality is that love will always find us no matter what. This is a lesson that you can find in all fairy tales and musicals, as love always prevails, just like Cinderella, she found her prince through a missing glass slipper. 
Cinderella, A Fairly True Story is presented by RWS in association with Belgium's Music Hall. It focuses on the existential problem of Cinderella as an orphan girl growing in forced circumstances among her terrible stepmother and two stepsisters. As the reporter recounts to the audience Cinderella's life and ambitions, he rejects any magical interventions and encourages Cinderella to face up to her own responsibility. Audiences will be brought on an enchanting journey with its high-tech scene projections and spectacular visual effects including the fascinating pumpkin and Cinderella's dress transformations.
This modern adaptation of the classic children story is certainly a big hit, judging from the response from the audience, both adults and children during the opening night of the musical. There were sad moments in the musical when Cinderella's mother and later father passed away and there were also funny moments when both her evil sisters tried to fit into the glass shoe. In the end, like all fairy tales, the couple i.e. Cinderella and her Prince lived happily ever after.
Watch this video at this LINK to hear what the audience has to say after watching Cinderella. Don't miss this enchanting, magical family spectacular musical from now till 4 January 2016!
Additional Information: 
Cinderella, A Fairly True Story
Please click this HERE for more information. 
Date: Premieres 10 December 2015, Thursday, till 4 January 2016, Monday
Time: Thursdays at 7pm and Fridays through Mondays at 2pm and 7pm
Venue: Resorts World Theatre, Resorts World Sentosa
Tickets are priced at S$78, S$108, S$138 and S$168 (premium).
Prices exclude SISTIC booking fees and handling charges.
Tickets can be purchased via: (65) 6348 5555
To purchase tickets at Sistic, please click HERE
To purchase tickets at Resorts World Theatre Box Office, please click HERE