Cirque Du Soleil is back in Singapore!
Look out for the famous, huge blue and yellow Big Top tent along Bayfront Avenue beside Marina Bay Sands, this time Cirque Du Soleil brings its newest production, KOOZA to Singapore. Audience will be excited to know that KOOZA will bring you non-stop thrilling, amazing and heart-stopping acrobatic performance that will keep you at the edge of your seat!
Cirque Du Soleil KOOZA will be performing in Singapore from 12 July to 20 August 2017 featuring 50 acrobats, musicians, singers, magicians, artists from 19 different countries all over the world. Audience can expect to see incredible and mind-blowing acts like Aerial Hoop, Balancing on Chairs, Charivari, Contortion, High Wire, Hoops Manipulation, Teeterboard, Unicycle Duo and Wheel of Death! 
Seen by over 7 million people around the world, KOOZA pays homage to Cirque Du Soleil's origin by combining 2 of the circus traditions on acrobatic performance and the art of clowning. They will be presenting the audience with non-stop entertainment of colourful songs, dances, death-defying feats and thrilling manoeuvres while providing comic relief and funny moments from the adorable clowns. All these stunning performances are accompanied by a live soundtrack fusion of jazz, funk and Bollywood beats.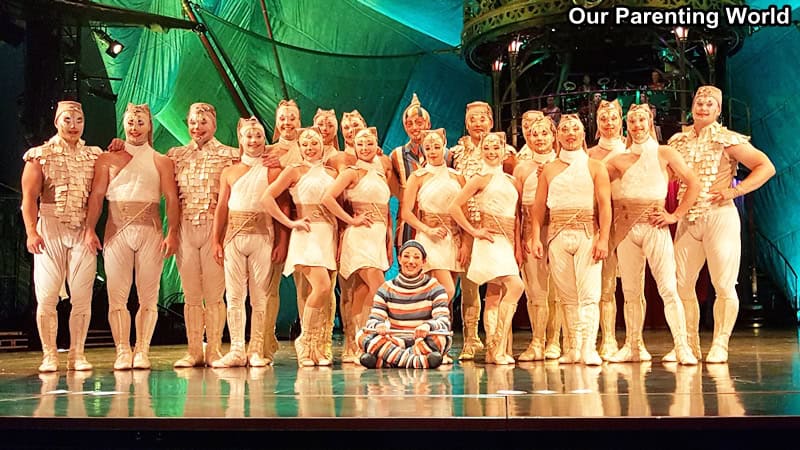 What is KOOZA about? KOOZA drew its inspiration from the Sanskrit word "Koza" which means "box", "chest" or "treasure", presenting the concepts of the production like a "circus in a box". 
KOOZA's story follows "The Innocent" who represents the child within us all, as he takes a journey of self-discovery through a kingdom of eccentric characters like the King, the Trickster, the Heimloss, the Obnoxious Tourist and his Bad Dog, experiencing electrifying thrills and out-of-the-box surprises. The show, KOOZA will spring open like a bejeweled toy box to capture the audience's imagination and set pulses racing.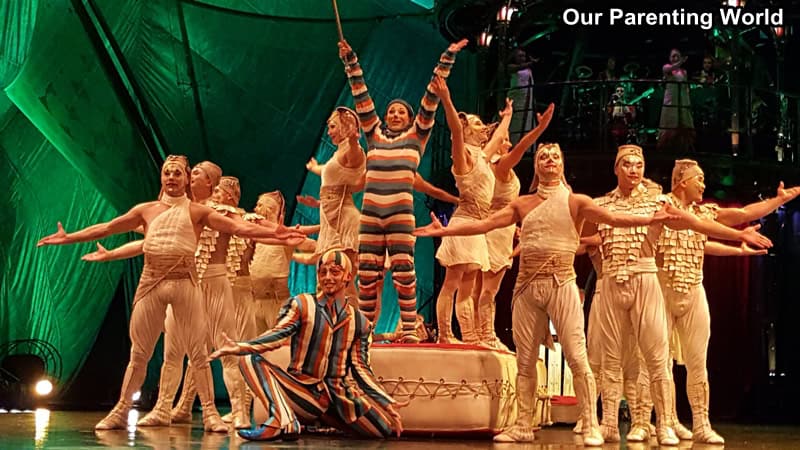 Here's a snippet of the performance taken during the media call of KOOZA, it is a great circus show that you will truly enjoy!
Our Parenting World team is delighted to be able to interview the cast of KOOZA, first up is Baisa and followed by Cedric Belisle.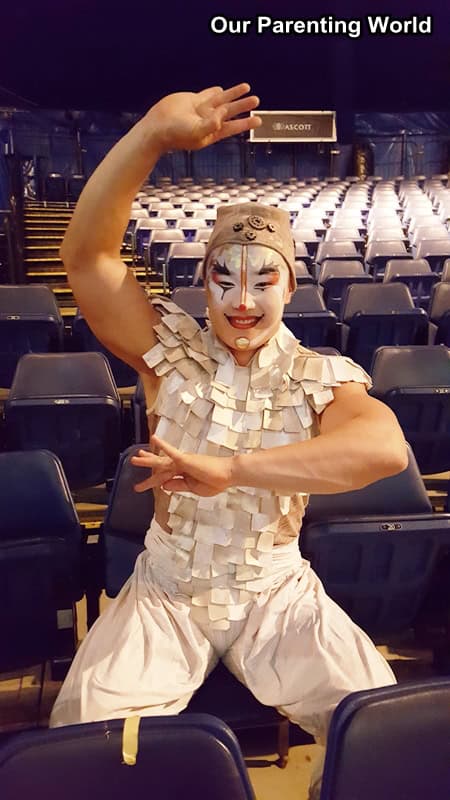 Baisa is from Mongolia, he is performing at the final act of the show, his role is as a porter where he will catch acrobats that have been propelled in the air. He shared with us that he has been performing in the show for one and a half years and has travelled to more than 40 countries to perform. He started training at a circus school at 12 years old and have been in the circus industry for 12 to 13 years. He has been to Singapore six years ago and he loves to be back, it is a amazing and beautiful place.
He would like to encourage Singapore audience to come and watch the show, it is high level acrobatic, beautiful costumes and songs. He guaranteed that you will enjoy the show!
Thank you Baisa for taking our interview!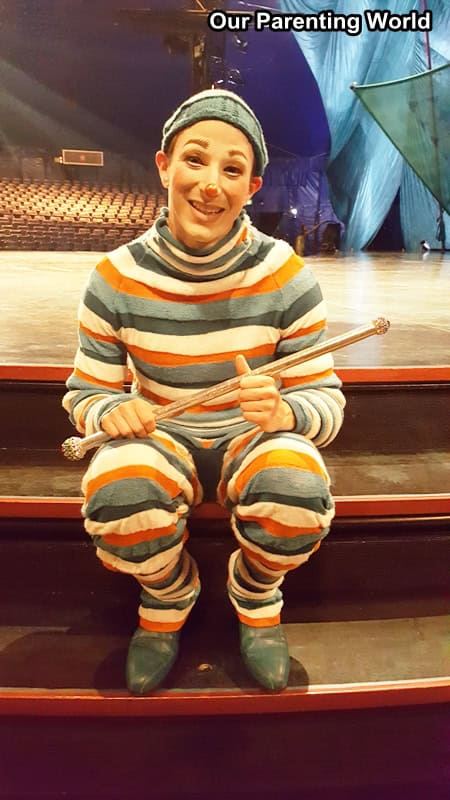 Cedric Belisle played the role of "The Innocent" and he is from Canada, Ottawa. He shared with us that he has background in acrobatic and acting, he started training at 7 years old in gymnastic. He joined the company in 2009 and have been with the company since. He has travelled more than 50 countries performing and he enjoyed his job. This is the first time he is in Singapore and he is very excited to be here! 
Cedric would like to encourage Singapore audience to come and watch the show. "You won't be disappointed, KOOZA has something absolutely for everyone, there is a story that you will be able to relate to, you are going to be touched at one point in the show, you are going to have tears in your eyes and the other minute, you are going to be at the edge of your seat screaming because it is so exciting! Please come to the show, it is going to be absolutely amazing!" 
Thank you Cedric Belisle for taking our interview!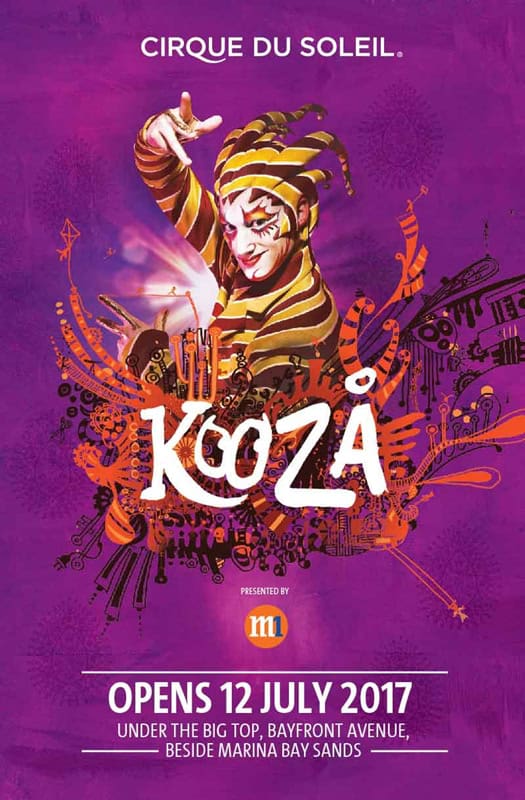 Catch Cirque Du Soleil KOOZA from now till Sunday, 20 Aug 2017! Be in awe with this electrifying show that is full of non-stop thrilling performances, stunning lightings, songs, dances and with excellent comic relief by funny clowns that will make you laugh out loud! This is an amazing performance that is not to be missed!
Cirque Du Soleil KOOZA 
Show Dates and Time: 
Wednesday, 12 July – Sunday, 20 August 2017
12 July 2017
8pm
*Note: Only D Reserved tickets available
13 July 2017 – 16 July 2017
Thursday: 8pm
Friday: 4.30pm & 8pm
Saturday: 3pm & 8.30pm
Sunday: 1.30pm & 5pm
18 July 2017 – 30 Jul 2017
Tuesday – Fri: 8pm
Saturday: 3pm & 8.30pm
Sunday: 1.30pm & 5pm
2 August 2017 – 6 August 2017
Wednesday & Thursday: 8pm
Friday & Saturday: 4.30pm & 8pm
Sunday: 1.30pm & 5pm
8 August 2017 – 13 August 2017
Tuesday & Friday: 8pm
Wednesday: 3pm
Thursday & Saturday: 4.30pm & 8pm
Sunday: 1.30pm & 5pm
15 August 2017 – 20 August 2017
Tuesday – Thursday: 8pm
Friday & Saturday: 4.30pm & 8pm
Sunday: 1.30pm & 5pm
The site opens 1 hour before the show time.
Venue:
Under the Big Top Tent
Next to Marina Bay Sands
To find out more and to purchase the tickets, please go to