This September school holidays, come to City Square Mall and join Nickelodeon's PAW PATROL's Chase, Marshall and Ryder on a rescue mission to save the Adventure Bay Talent Show from now till 11 September (daily except Monday).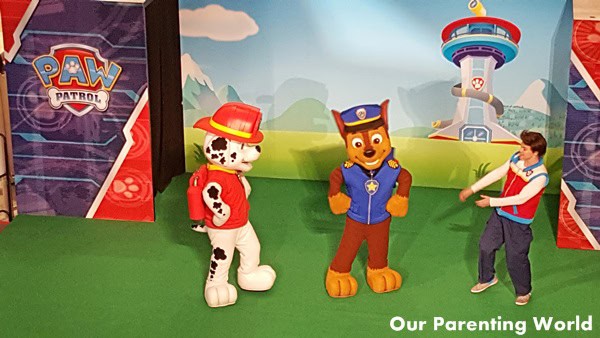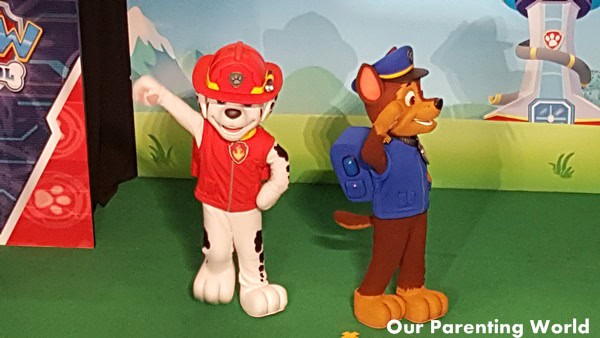 Many children are delighted and excited to see the PAW PATROL's characters live on stage. Expect lots of interaction and children can sing and dance along with the PAW PATROL's cast. Parents and children will enjoy this lively, entertaining performance following a boy named Ryder, who leads a pack of rescue dogs, Chase (police officer) and Marshal (firefighter) known as the PAW PATROL. 
Do come to the stage area at least 30 minutes earlier to get good seats before the start of the show.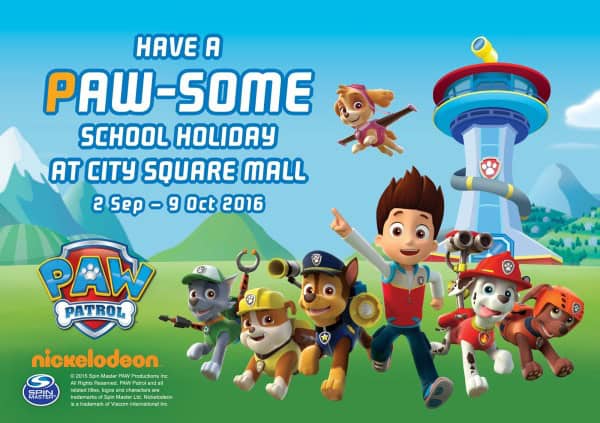 From 3 to 11 September, join Nickelodeon's PAW PATROL's Chase, Marshall and Ryder as they go on a rescue mission to save the Adventure Bay Talent Show! Be entertained by the trio and dance along with them to the Pup Pup Boogie in their first 'Live' show in Asia!
In addition, get your cameras ready as Chase and Marshall will also be available for Meet & Greet sessions after their 'Live' shows!
Here are the details of the sessions:
PAW PATROL 'Ready For Action' 'Live' Shows
Date: 3 to 11 September (daily except Mon)
Time: 2pm & 7pm (Tue – Fri); 1pm, 4pm & 7pm (Sat & Sun)
Venue: Level 1 Atrium
PAW PATROL Meet & Greet
Date: 3 to 11 September (daily except Mon)
Time: 2.45pm & 7.45pm (Tue – Fri); 1.45pm, 4.45pm & 7.45pm (Sat & Sun)
Venue: B2 beside travelator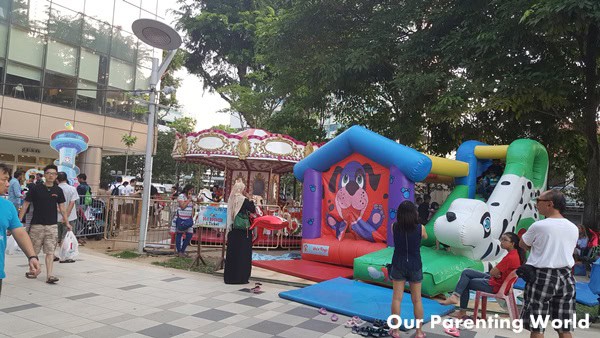 After the show, hop by City Green (Outdoor Park) where the PAW PATROL's fun continues with its outdoor carnival including having bouncing fun at the Dog Bouncer, take pictures with PAW PATROL's life-size 3D vehicles, participate in the carnival games and many more!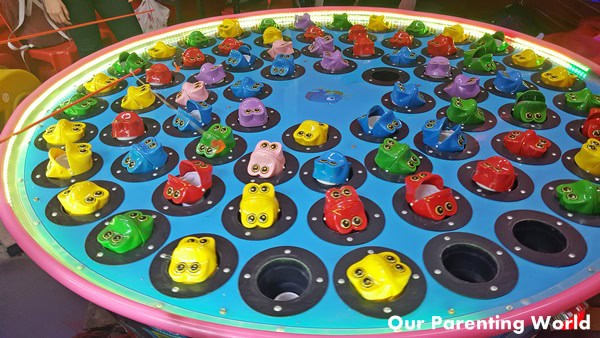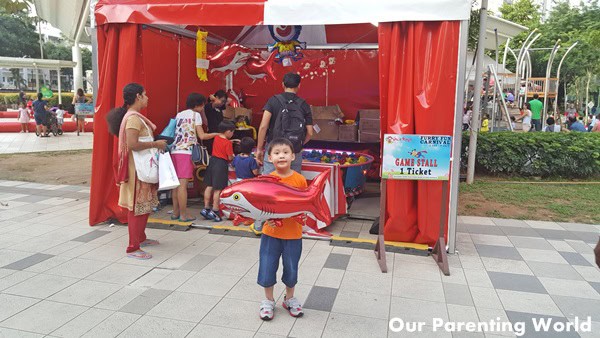 This is one of the more popular activities at the outdoor carnival, the game stall where children can engage in fishing and try to "fish" prizes. Bring your children and have lots of fun at the outdoor carnival. 
In addition, there is something for everyone at City Square Mall:
Satisfy Your Tummy With A Wide Range of F&B Outlets
With over 50 F&B tenants, City Square Mall is a foodie paradise for lovers of all types of cuisines, from Asian delights to Western specialties.
Some of these outlets, such as Face to Face Noodle House, Lai Lai Taiwan Casual Dining, Paddington House of Pancakes are uniquely located only at City Square Mall!
There Is Something For Everyone at City Square Mall
Unleash the shopaholic in you with the wide range of tenants from fashion, to jewellery to sports and wellness.
Children can enjoy their time with indoor playgrounds such as The Petite Park and Fun N Laughter. In addition, they can also explore the mall in a unique manner, by hopping on to the Choo-Choo City Express.
Get in touch with your sporty side with Decathlon's only outlet in a shopping mall, providing you a myriad of sportswear and equipment to select from.
Rewards await City Square Mall's loyal shoppers as PAW PATROL premiums and mall vouchers are also up for grabs!
Appreciate The Eco-Friendly Features of City Square Mall
Did you know that City Square Mall has designated parking spaces for electric and hybrid cars, and has multiple energy-saving methods that would harm the environment less? Learn more about the various green and eco-friendly features of the mall as you navigate through the mall.
The City Green Outdoor Park, Singapore's first urban park to be integrated with a shopping mall, provides a great learning experience to feed your curiosity of the ecosystem and how City Square Mall plays a part in helping the environment.
Catch 'Em All At City Square Mall
For Pokemon-Go lovers, you'll be happy to know that the City Square Mall vicinity has six Poke-Stops and you will never know when they will be turned into a lure. Keep a lookout at City Square Mall's Facebook page to keep yourself updated!
So as you shop, and eat and have a fun day out at City Square Mall, you can also catch 'em Pokemons and be rewarded with shopping vouchers and movie discounts! (We heard that Porygon is attracted to City Square Mall. You might wanna check it out for yourself)
Locations of PokéStops around City Square Mall:
| | |
| --- | --- |
| Angsana Tree @ City Green (Outdoor Park) | |
| Butterfly Garden Signage @ City Green (Outdoor Park) | |
| City Square Mall Mini Fountain (beside staircase, facing City Square residences) | |
| Green Roof Signage @ City Green (Outdoor Park) | |
| New World Gate (entrance to The City Green Outdoor Park) | |
| The Wind, Her Rain and Cloud sculpture @ City Green (Outdoor Park) | |